I know so many folks are eagerly baking right now (one of the side effects of coronavirus quarantine) , so today I want to give you some ideas for how to use your sourdough starter.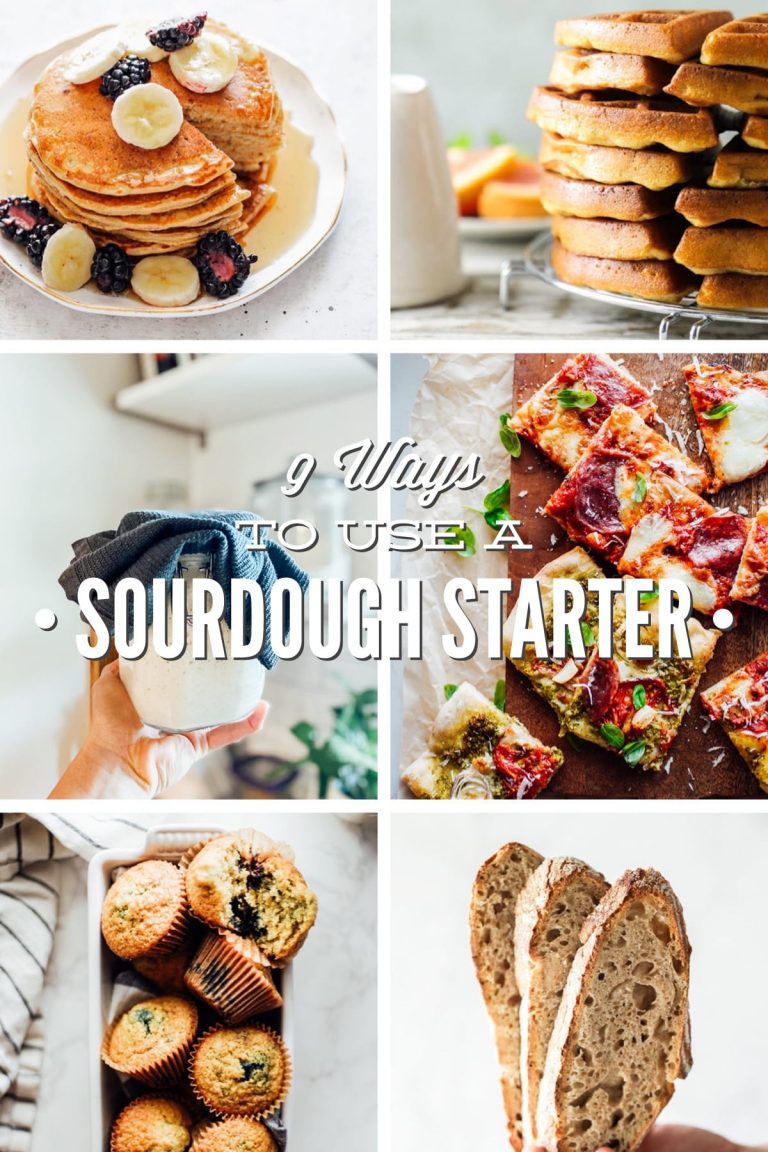 There are many feelings that surround the current state of the world. (If you're reading this in the future, we're currently in 2020, the year of coronavirus, toilet paper and meat shortages, business closures, mask- wearing, and murder hornets…I know it sounds sci-fi like and, trust me, it feels that way.)
Despite the challenging times, there is a glimmer of hope. Folks are turning to local farms and have returned to their kitchens and are now cooking at home (because when you're not hustling 24/7 you have time to make nourishment a priority). I've also noticed the number of people outside, enjoying bike rides and playing with their kids. I know we're all eager to get back to "normal life," but I hope we don't rush back too quickly. I hope we remember the practices we've developed during these "slower times." I hope the sourdough starters continue to thrive, the home-cooked meals continue to be celebrated and enjoyed at our tables, farms continue to experience local demand, and we continue to embrace the beauty and joy that comes from getting outside and connecting with our loved ones. In a way, this virus situation has brought us back to the basics, back to what matters, and for that I'm grateful.
With the hope that all the sourdough starters that were created and loved on during quarantine continue to thrive post-corona, let's talk about some ways to use that starter beyond just a loaf of crusty bread (which don't get me wrong is amazing).
How to Make a Sourdough Starter
If you're reading this post, my guess is that you already have an active sourdough starter. Or, maybe you're about to make one and you're doing some research on how to use your starter once it matures and becomes active. If you're brand new to the idea of sourdough, then before we proceed on, let's talk about what a sourdough starter is and why it's the foundation for all sourdough recipes.
Any type of sourdough (whether pizza or bread or muffins or cake) is made by first creating a sourdough starter. A starter is simply a blend of water and flour and wild yeast. Wild yeast lives everywhere, so the intent of creating a sourdough starter is to capture naturally-occurring wild yeast and use it for baking bread. A sourdough starter is full of life, literally, in the form of healthy and active bacteria. According to Discover Magazine (check out the article, it's fascinating), "Sourdough is teeming with bugs—some 50 million yeasts and 5 billion lactobacilli bacteria in every teaspoon of starter dough."
This bacteria, when mixed with flour (and usually some water and maybe a few other ingredients) and given time (hours to rest and make a fermented dough), goes to work at breaking down (pre-digesting) the gluten and phytic acid found in grains. This makes sourdough easier to digest and full or beneficial nutrients.
Sourdough is truly a magical process. It's fascinating to watch how something so simple (water, flour, and air) can create the most delicious breads, muffins, pancakes, waffles, crackers, and so much more. (PS: If you have Netflix, I recommend watching Michael Pollan's Cooked and the episode about Air which is all about fermentation and sourdough.)
To make a starter, you'll need flour, water, and patience. Here's my tutorial for how to make a sourdough starter. You can also purchase one online or ask a friend.
Where to Find Flour for Sourdough Baking
In order to make sourdough, you need flour. I've found the quality of your flour makes all the difference when it comes to making good sourdough. If you've been around the blog for long, then you know that I love einkorn flour. Einkorn is the original wheat, an ancient grain that hasn't been hybridized. You can learn more about einkorn here. Einkorn is very easy to digest compared to most flours so I prefer to keep my einkorn for quick baking projects like quick breads (banana bread, etc.), muffins, biscuits, pie crusts, etc. Here are my favorite (non-einkorn) sources for quality whole wheat and all-purpose flours (the two flours I use most often for making sourdough bread)…
How to Use a Sourdough Starter
Recipes
Below, you'll find a few of my favorite ways to use my sourdough starter. Along with the sourdough recipes below, I recommend picking up a copy of Artisanal Sourdough Made Simple. This book is my go-to for sourdough recipes. There are so many ideas for how to use a sourdough starter and every recipe is easy to make.
This is my go-to recipe right now to make on Friday night. On Friday morning, I feed my starter and by mid-morning make the dough. In the evening, we roll out the dough and make a couple of pizzas to share with the family. The pizza dough can be made with all-purpose flour or einkorn or a mix of wheat and all-purpose.
This is one of my favorite ways to use my sourdough starter. Trust me, make a focaccia and you'll see why. Focaccia is a wonderful bread to eat as-is with soup or cut in half and enjoyed as a sandwich. For a quick lunch, I love to cut focaccia in half and top with a red sauce and cheese then broil for few minutes until the cheese is melty. The cookbook mentioned above (Artisanal Sourdough Made Simple) offers a few different variations, from a pesto version to a fresh tomato option. Here is an easy recipe for a basic focaccia.
It's currently blueberry season in Florida so we've been making lots of blueberry muffins. This recipe starts by combining a sourdough starter with flour and water and then allows for an overnight fermentation period. In the morning, add a few other ingredients and bake the muffins. You can add a variety of mix-ins to this recipe. I use einkorn flour (since so little flour is used and I love the flavor), but there is room for variation with all-purpose or whole wheat flour.
I've been experimenting with sourdough banana bread, using brown bananas leftover from the week. It's so good! There's a slight tangy and sweetness that's unlike any other banana bread. This recipe only calls for a small amount of honey or maple syrup, too.
Crackers are a good way to use the discard from your starter. (Each day you have to toss half the starter and give the remaining sourdough a fresh feeding, the tossed sourdough is called the discard.) Crackers are a fun way to use that discard and enjoy a delicious and nourishing snack. Pair the crackers with cheese or some homemade hummus.
I haven't tried this recipe yet, but it comes from one of my favorite recipe developers (Carrie was on the podcast back in season 2). The fermentation process that takes place in this recipe makes the cookies easier to digest and I'm sure the flavor is amazing.
We made this recipe over the weekend. I was skeptical because it's just so stinkin' simple, but simplicity is gourmet (as Hilary from Live Yum Yum says, another podcast guest). The kids made the recipe and then we topped the cake with buttercream frosting (this frosting cut in half). The cake was gone that night. We used einkorn flour, but the recipe calls for all-purpose so there's room to work with what you have on hand. This cake is also dairy and egg free (see why I was skeptical), so it's great for anyone with an allergy or anyone wanting to use pantry ingredients and a sourdough starter to make a delicious cake.
This recipe is sooooo good and comes from the book I mentioned above (Artisanal Sourdough Made Simple). Fresh roasted garlic is added to this sourdough recipe to make the best garlic knots you've ever had. I made the knots recently for a friend who had a baby and her family couldn't stop raving about them. Naturally, my family was quite jealous so I had to make another batch for our family the next night. Not a bad problem to have.
This recipe calls for all-purpose flour, but I've made them with einkorn and they're so good! A nice addition to our favorite pancake recipes (found on the blog) and a great way to use my sourdough starter.
Sourdough waffles are another favorite in our home: light and fluffy with a slight sourdough tang. I think your family will love them, too. This recipe is my go-to right now. I usually make the recipe with all-purpose einkorn flour.