Yes, it's summer. Yes, it's 100 degrees outside. Yes, it's salad season.
But I'm going to ask you to turn on your stove-top to make today's recipe, a simple minestrone soup. I promise it will be totally worth the 30 minutes of sweat-drenched, summer cooking time, because this soup is packed with garden-inspired veggies, and it makes enough for dinner and multiple lunches.
Garden veggies + nourishing homemade broth + a handful of cooked beans + al dente whole grain noodles = summer simplicity in a pot. And that pot equals meal after meal of nourishing meals.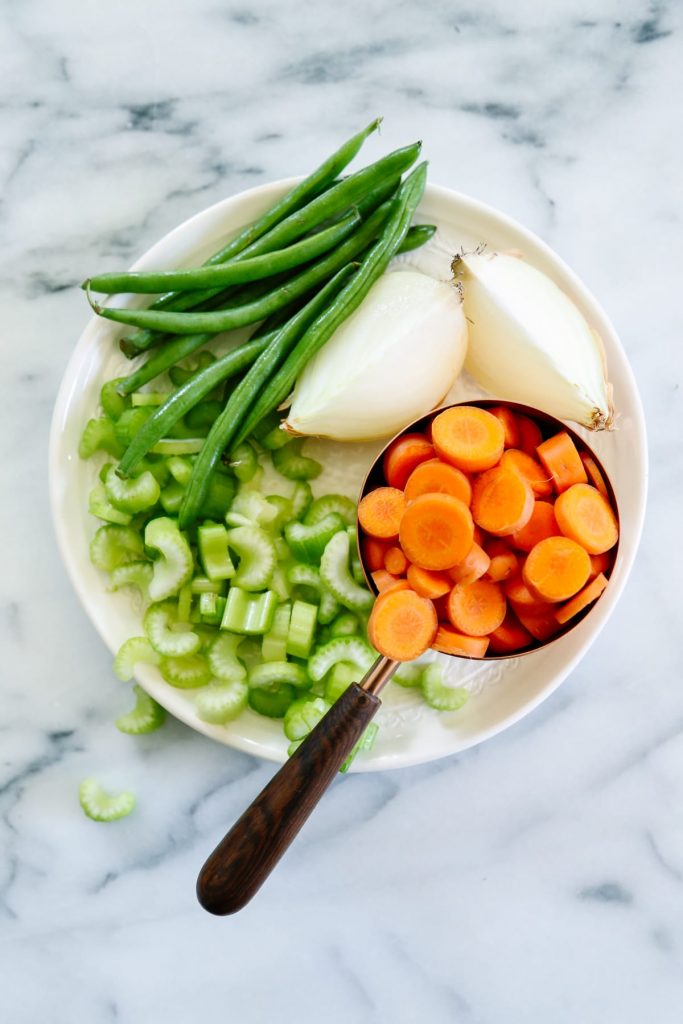 That, my friend, is totally worth cooking in the summertime, which is why this soup is on regular rotation in our home during the summer along with a loaf of sourdough bread.
As you know from our kale slaw chat, summer isn't exactly gardening time in Florida. While the rest of the country is enjoying endless bounties of summer produce, Florida comes to a seasonal food halt. Thank goodness for coast to coast food shipping, because we Floridians wouldn't survive without tomatoes and lettuce greens from California. The extreme heat and, as we've talked about in the past, the bugs that come with the heat, tend to kill just about anything that's not a weed. No exaggeration!
We just planted a few hearty herbs, like mint and rosemary, and a couple of tomato plants. I'm pretty sure they are only alive right now because they are planted in the shadiest spot of our entire front yard, and they are watered/soaked at least five times a day. Those plants are our summer babies–the moment they're looking frail and tender, mamma gardener swoops in to ensure they survive the hottest days of the year.
Since we don't have a full garden during the summer (which is a city-style garden, so "full" is a relative term), I can only imagine that the ingredients for this soup would come from my garden, if I didn't live in Florida during the summer. If you have a flourishing garden this summer, then use the veggie harvest from your garden, making this soup a true "garden minestrone." My true from-the-garden-soup will have to until fall when our small garden is able to survive. For now, our current garden state certainly isn't stopping me from making this soup each week with my grocery store haul of veggies.
I feel like today's chat has been one of endless rambling about soup, gardens, and hot Florida summers (again!). Sorry, sometimes it happens around here. So let's wrap up this conversation, we've got soup to make and, more importantly, eat!
Easy Garden Minestrone Soup
Garden veggies + nourishing homemade broth + a handful of cooked beans + al dente whole grain noodles = summer simplicity in a pot. And that pot equals meal after meal of nourishing meals.
Ingredients
1

TB

extra virgin olive oil

or avocado oil, ghee, or butter

1

cup

chopped carrots

1

cup

chopped celery

3/4

cup

chopped yellow onion

1

cup

sliced green beans

5

garlic cloves

minced

1

TB

Italian seasoning

1

bay leaf

1

cup

chopped zucchini

2

tomatoes

roughly chopped (about 1 1/3 cups)

1-15

oz

cannellini beans

drained and rinsed

6

cups

chicken broth

or veggie broth

1/2

cup

elbow pasta

1/2

cup

frozen peas

or fresh

1-2

tsp

salt

1/4-1/2

tsp

black pepper
Instructions
In a large stock-pot/Dutch oven, over medium-high heat, warm the oil. Add the carrots, celery, onions, and just a pinch of salt. Saute just until the onions are translucent and the veggies begin to sweat, about 5-7 minutes. Add the minced garlic cloves, green beans, Italian seasoning, and bay leaf. Stir and saute for 2-3 minutes. The aromatics (garlic and seasonings) should smell fragrant.

Add the zucchini, tomatoes, beans, and broth. Stir to combine all the ingredients. Bring the soup to a boil, then reduce to a lively simmer. Simmer the soup for about 25 minutes, until the veggies are soft.

After 25 minutes, add the macaroni noodles. Cook the soup for another 7-10 minutes, until the noodles are al dente. Finally, add in the peas. Turn off the heat. Now, add the salt and pepper. The amount of salt and pepper used will depend on if your broth contains salt and pepper. I don't add salt and pepper to my homemade broth, so I usually add about 2 teaspoons of salt. I recommend starting with 1/2 teaspoon of salt, stirring and tasting the soup, and then adding more salt if needed.

Serve the soup with freshly grated parmesan cheese.
Nutrition
Calories:
191
kcal
Carbohydrates:
31
g
Protein:
7
g
Fat:
5
g
Sodium:
1937
mg
Potassium:
811
mg
Fiber:
5
g
Sugar:
7
g
Vitamin A:
6370
IU
Vitamin C:
49.7
mg
Calcium:
104
mg
Iron:
2.5
mg
Ingredient Notes
You could easily change this soup by using different beans. If you don't have cannellini beans, try kidney beans or garbanzo beans.
If you purchase parmesan cheese on a rind, save your rinds and add a rind to your soup. This adds so much flavor to the soup.
I like to use a whole grain or brown rice elbow macaroni. My go-to brand is Field Day.