As the temperature rises, my desire to cook greatly diminishes. Yes, there are exceptions to the rule. There are times when we just need a  good ol' loaf of homemade banana bread, a pot of minestrone soup, or a summer vegetable casserole. But for the most part, my desire to cook a higher-maintenance meal, particularly for dinner, greatly diminishes during the summer. Less time in the kitchen also means more family time, which feels like such a valuable treat with our work schedules and both kids in school nine months out of the year.
Our weekly less-fuss dinners usually include grilled pizza (skip the oven and toss that homemade dough on the grill), blender pancakes and scrambled eggs, cheese and cured meat boards (my life during the summer months), and sandwiches and wraps.
For the most part, it's pretty easy to keep these meals nutrient-rich using fresh ingredients. Grilled pizza is made with homemade einkorn pizza dough and topped with fresh veggies. The scrambled eggs usually include the addition of some sautéed veggies, like tomatoes and spinach. The meat and cheese board is made with olives and fruits, and, of course, cheese ;)! And I usually try to pack as many veggies into our wraps or sandwiches as possible, whether this means adding them directly to a chicken or tuna salad, or piling them on top of a "cleaner" lunch-meat and cheese combo.
This summer, I've decided to up the nutrient factor of our weekly sandwich or wrap night by skipping the bread and replacing it with a humble leafy green known as the collard green. I know, the idea sounds unusual, but hear me out. It's worth a try!
I was first introduced to the idea of using a collard green in place of bread or a flour-based wrap last spring when our local health food store introduced this gluten-free option on their deli menu. While I'm not gluten-free, I do try to look for alternatives to consuming bread at every meal, which is pretty much the American way of eating these days: bagels, sandwiches, bread with every meal, muffins and cakes. It's so important to eat a variety of different real foods, and consuming bread at every meal, particularly made from white flour, doesn't necessarily qualify as variety in my mind.
Since I'm always looking for ways to get more greens into my diet, and consume a variety of nutrients, I decided to order a collard green wrap instead of a wheat wrap from the health food store. I'll admit, I was a bit hesitant of how the collard green may change the taste of my favorite chicken salad wrap. Upon the first bite, I was hooked! Collard green wraps for life!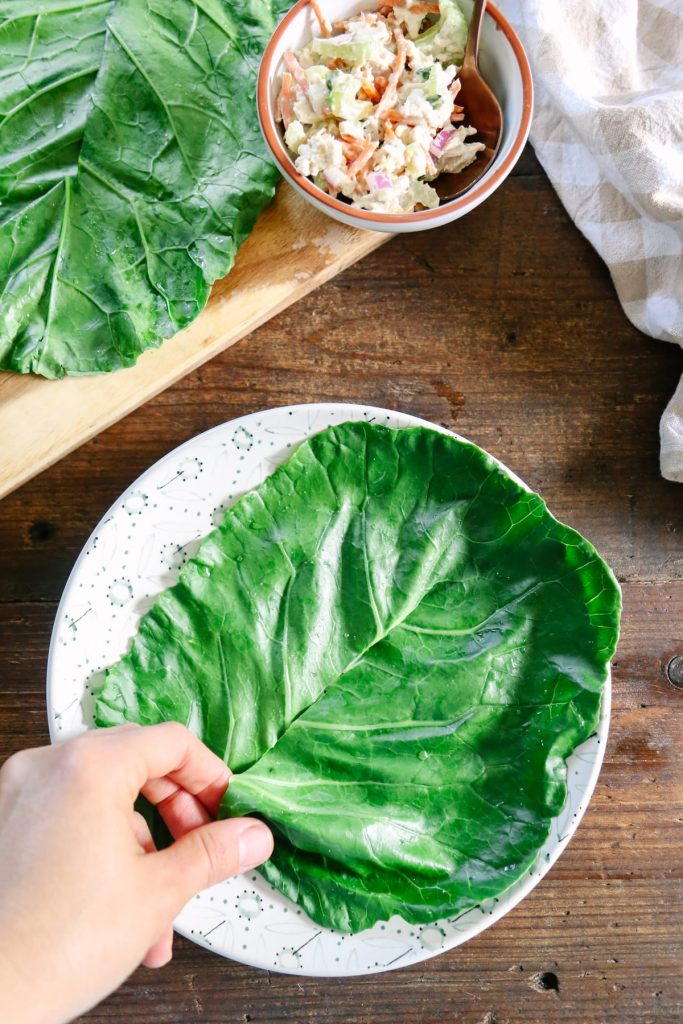 So, this summer collard wraps have made their way to our weekly meal plan rotation. I usually fill the collard green leaves, which are quickly steamed so the leaves are easier to work with, with chicken salad, tuna salad, or a "cleaner" lunch meat (like Applegate brand) and veggies. The kids haven't quite accepted the green leafy wrap alternative, yet, so I still make their wraps or sandwiches using a sourdough bread or flour-based wrap from the health food store.
I think you'll find collard green wraps are a refreshing and fun way to add more leafy greens and nutrients into your real food lifestyle.
How to Make Collards Green Wraps
I think you'll find collard green wraps are a refreshing and fun way to add more leafy greens and nutrients into your real food lifestyle.
Ingredients
1

large

collard green leaf

per wrap
Instructions
Wash and dry the collard green.

Lay the collard green leaf flat on a cutting board. Cut the thick, tough stem away from the leaf. This means you'll need to slice a bit of the thick stem away that's located at the bottom of the collard green leaf, so you'll have a gap in the leaf. This is okay! (I prefer to cut out more of the stem because I don't like the crunch of the stem. Cutting out more of the stem does make the wrap a bit harder to roll later on.) The leaf should be able to lay flat on your cutting board once a portion of the thick stem is removed.

Add a small amount of water to a large saucepan. There should be about 1/2 inch of water covering the bottom of the pan. Heat the skillet and water just until the water begins to bubble, not boil. Place the collard green in the hot water for just about 20 seconds. The goal here is to blanch the collard green until it softens. Using tongs, remove the collard green from the water and place it on a towel. Carefully pat the collard green dry.

To close the gap in the collard green (the stem part that you sliced out), overlap the leaf to fill in the gap, creating one solid leaf. Place your filling (meat, cheese, chicken salad, sliced veggies, tuna salad) in the center of the leaf (avoid overfilling the leaf). Roll the wrap like a burrito, tucking the short ends first, then rolling the longer sides. Slice the wrap in half using a very sharp knife, or enjoy as-is as a long wrap.
Nutrition
Ingredient Notes
If you don't want to go through the work of blanching the collard green, you can certainly consume it raw. I personally find raw collard greens to be too tough and chewy.
Collard green wraps, when they are thoroughly dried from the blanching, may be kept in an air-tight bag or container in the fridge for about 2 days. Although, I think they are best, in terms of taste and texture, when consumed within a few hours of blanching.
The chips pictured in this post are Jackson's Honest brand. These chips are made with coconut oil and sea salt…such a treat! They are quite pricey on Amazon, so look at your local health food store or Whole Foods for this brand.