This post may contain affiliate links. As an Amazon Associate I earn from qualifying purchases.
If you've been around Live Simply for any length of time (or we're friends on Instagram), then you probably know that I'm passionate about preparing food in advance (AKA: food prep). When I talk about food prep, I'm not talking about spending an entire weekend making "all the things." What I am talking about is an intentional action of making a few foods, during a dedicated time, in order to prepare for the week ahead.
Food prep has become a form of self-care for me and my family. It's a way of saying "yes!" to our health and wellness in an intentional way.
Today, I want to give you a food prep plan.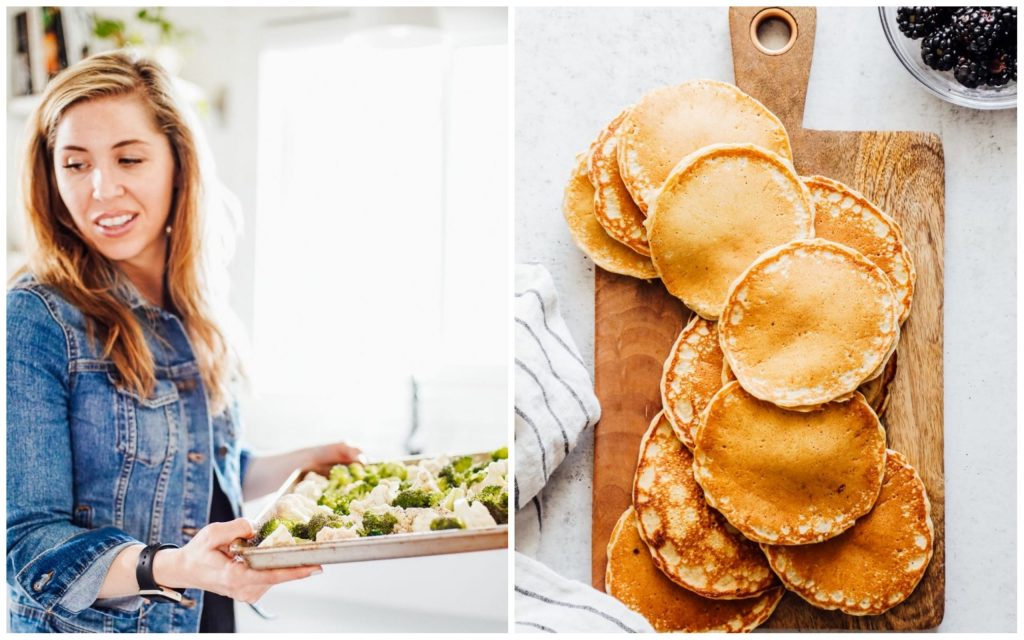 What to Prep
And How to Use It
First,

cook the eggs

in the Instant Pot.

While the eggs cook,

make homemade ranch

.

Allow the eggs to rest on the counter until fully cool. Meanwhile,

add the chicken to the Instant Pot and cook

.

While the chicken cooks,

make the pancakes

. Once fully cool, add the pancakes to a bag or storage container.

Peel and cut the veggies

. Or, ask a family member to help. My kids are master peelers and cutters at this point.

Remove the

chicken

from Instant Pot and

shred

.

Place the bones back in the Instant Pot and

make broth

.

While the broth is cooking, pour yourself a glass of wine and clean up the kitchen

.
Resources To Help You Rock Your Food Prep
Now let's talk about storing this food in your fridge. In this post (and video), I share a tour of my fridge, my number one organization tip, how to store food (from prepped food to individual ingredients), and the best food storage containers.
Food Prep Storage Containers
I've gone through my share of food storage containers over the years. I've settled on a few brands that I love and work very well for me. I love these containers because you can see through the containers, which means food is visible.
Ball Mason Jars (with plastic white lids): I purchase my jars at Target. I find the wide-mouth jars work best for food storage. The metal lids are awful for storage. Trust me, buy the plastic lids! You can find the plastic lids on Amazon or at Target. I use these jars for storing so many things: ranch dip, broth, soup, cut carrots, etc.
Snap Ware or OXO (Snap Ware-Like) Containers: You can also find these containers at Target, sold individually. These come in small and large. Great for shredded chicken, berries, cooked grains (like rice, quinoa, etc.), soup, and eggs.
Pyrex: I have the 3-cup size and a 6-cup container (perfect for large berries or soup). You can find these on Amazon in a set or individually from Target (3 cup size and 6 cup size). I have 6 3-cup containers and 1 6-cup container. Also great for shredded chicken, berries, cooked grains (like rice, quinoa, etc.), soup, and eggs.
The Simplified School Lunch Kit provides you with food prep ideas and recipes for the lunchbox. This kit will also teach you how to confidently plan and pack lunch in a way that's strategic and enjoyable. Plus, this kit includes ready-to-use lunch plans and printable cards for over 20 fully-packed lunches.
Of course, prepping ahead is about more than just simplifying school lunch. These components are also used to feed the adults in my home (me and Dustin) in various ways throughout the week.