This post may contain affiliate links. Affiliate links come at no extra cost to you. These links allow me to share the products I authentically recommend (and use) and support Live Simply by receiving a small commission.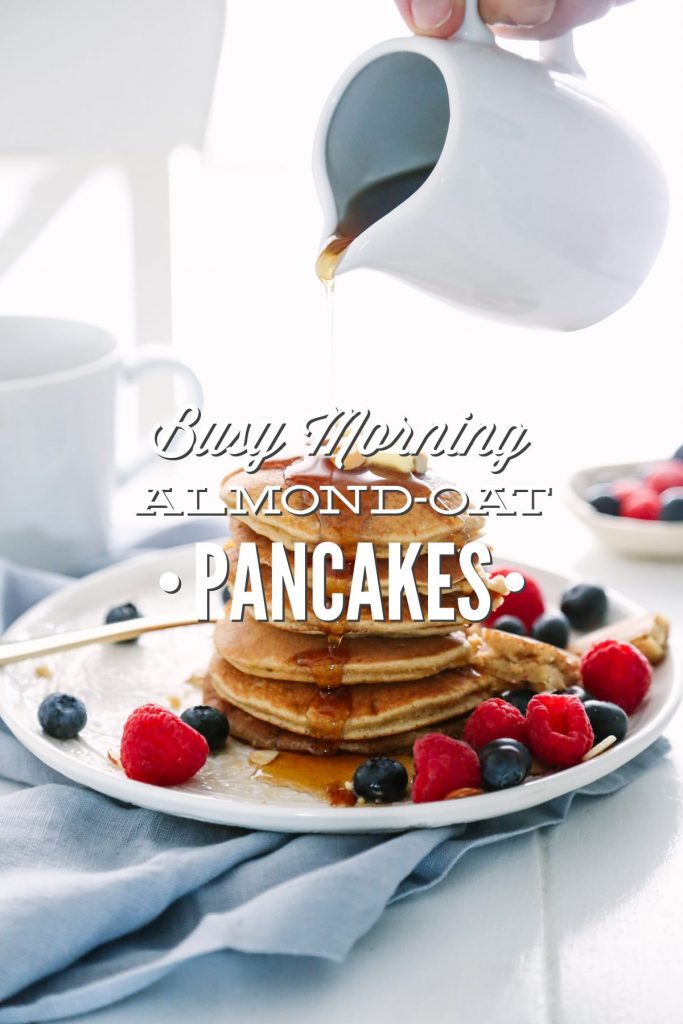 If there's a pancake that qualifies as an early morning superhero pancake, a pancake that does it all, this is the pancake. Actually, these are the pancakes, but let's just stick with the idea of a singular pancake for conversation sake.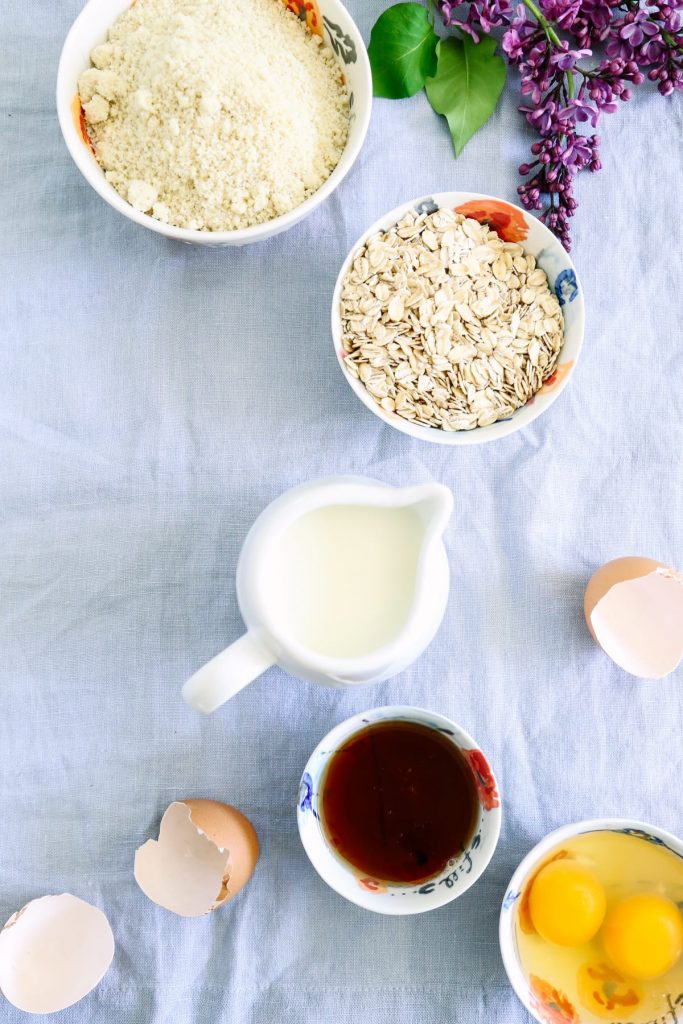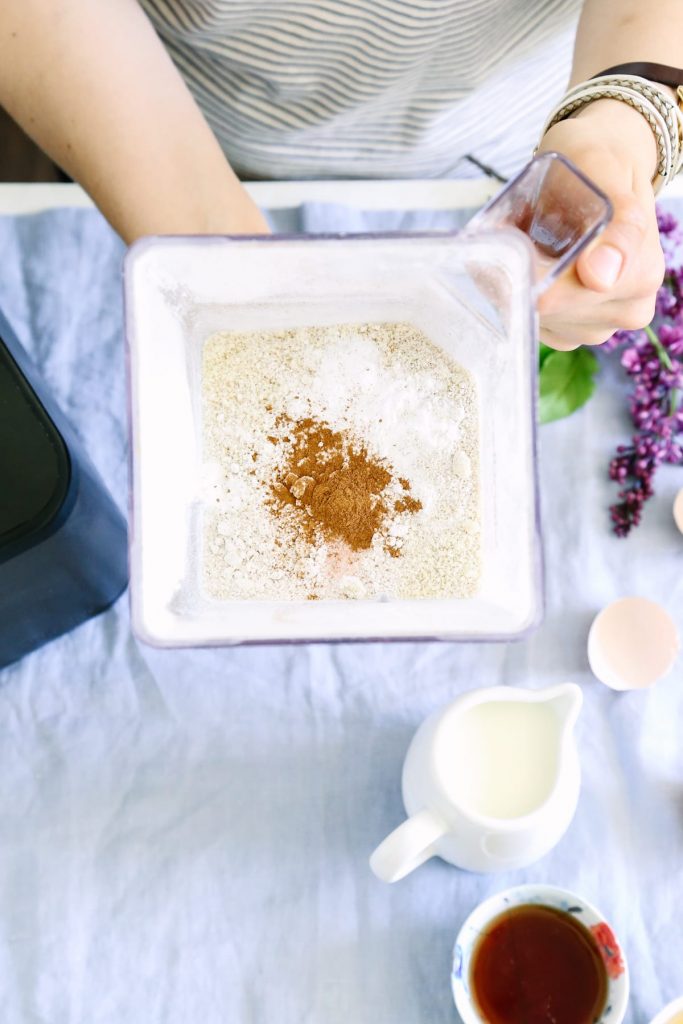 This pancake is wholesome, healthy, naturally-sweetened, easy to make, and nourishing. You name it, this pancake's got it from a nutritional standpoint.
This pancake will win over even the biggest white-flour-lovin pancake purest. Almond flour and oats are the perfect combo to win over anyone that's not quite into the dense texture that sometimes comes from whole grains, like whole wheat.
This pancake also takes less than five minutes to make. Well, to measure and blend that is. Five minutes to measure and blend the ingredients into a pancake batter, which happens to be done in the blender.  Yes, cooking the pancakes will add an additional ten minutes to the process, but fifteen minutes for a hot early morning breakfast? Yes, please!  A time frame like that totally qualifies a pancake for superhero status.
FREE Real Food Crash Course
I get it, switching from processed food to a real food lifestyle can feel overwhelming and confusing. Friend, it doesn't have to be this way.
Here's what to expect: 
printable charts (real food defined, a seasonal produce guide, meal planning)
how to get started with a real food lifestyle
how to create a meal plan and stay within a budget
7 real food recipes
emails from me to help you enjoy real food
Bonus: Step-By-Step Guide to Real Food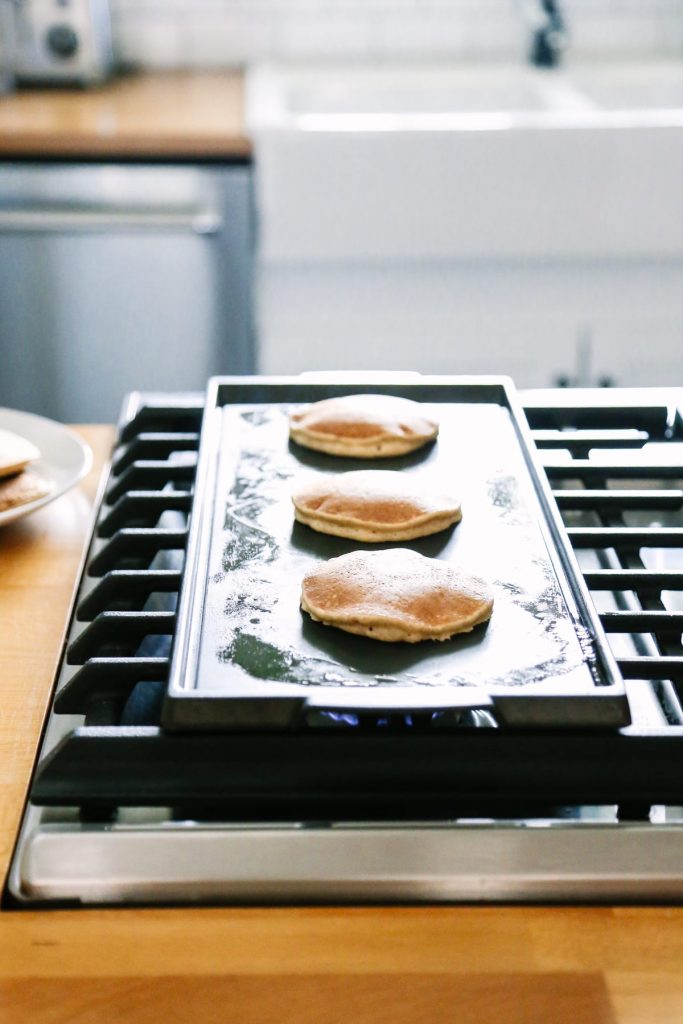 Now, I did claim that this pancake "does it all," so let me add a little disclaimer here. There are a few things this superhero pancake just can't do…
This pancake can't get you or your kids out of bed in the morning.
This pancake can't get your kids dressed in the morning.
This pancake can't help you get to school (or work) on time.
We all knew that, right?! I add this little disclaimer because I also have some really good news.
This pancake will actually help you have more time in the morning, which means there's no excuse for not getting up, getting the kids dressed, and getting to school or work on a busy weekday morning. As I said, this pancake truly does it all, including, making a busy morning easier to tackle.
Would you like me to introduce you to this busy morning superhero pancake?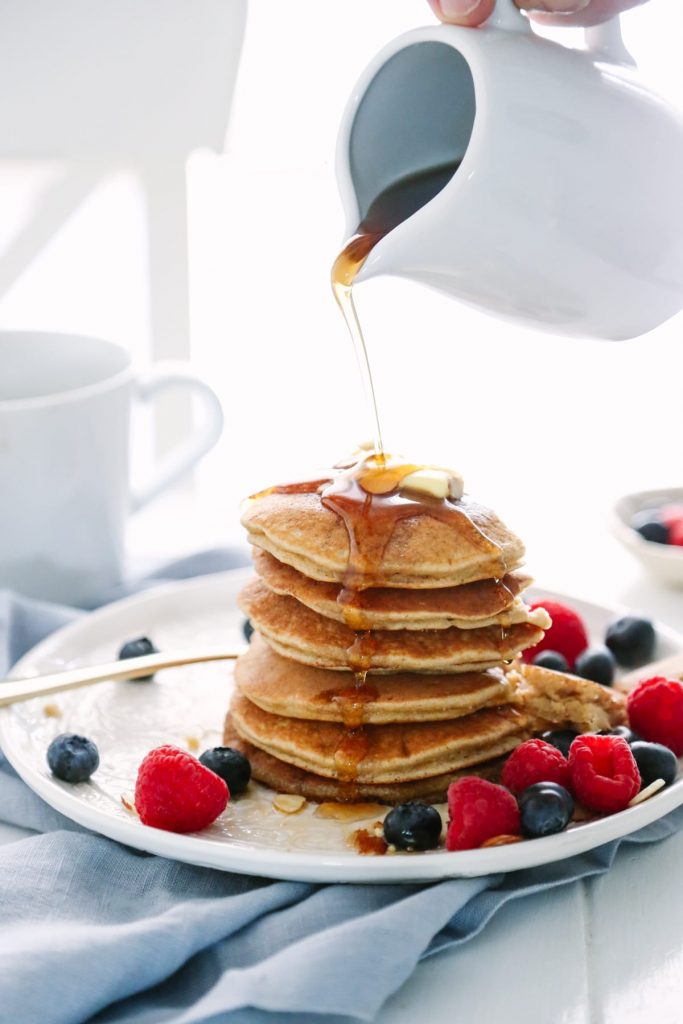 Friend, meet the pancake, or more like pancakes, that save our busy mornings over and over again. These pancakes (let's switch over to plural now) are made with simple ingredients that can regularly be found in my real food fridge or pantry: old-fashioned rolled oats (yep, the same ingredient used to make a bowl of oatmeal), almond flour, spice, milk, maple syrup, butter, and eggs. That's it! The wholesome ingredients are all poured into the jar of a blender, and 60 seconds later…a pancake batter is ready for a hot griddle.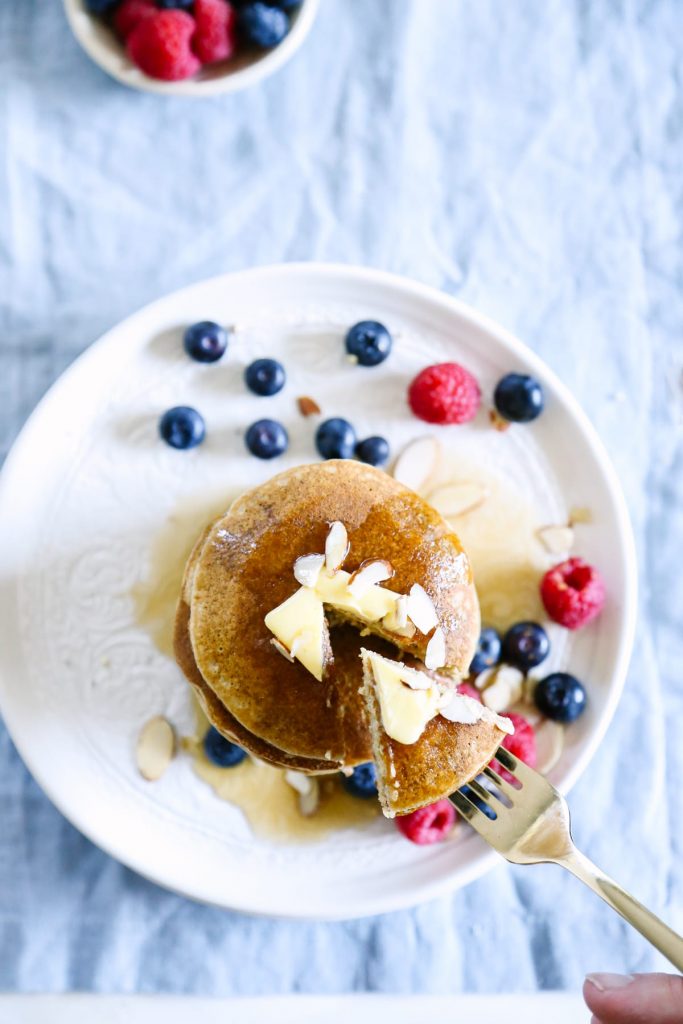 Yes, these pancakes are incredibly simple to make, which is kind of our jam around here (woah, someone had a bit too much coffee this morning…superhero pancakes and now jam?), but that's not the real reason these pancakes save so many of our too-busy-for-a-hot-breakfast mornings.
These pancakes are an ideal meal to prep in advance. On the weekend, when pancakes are a necessity along with pastured bacon, I double the pancake recipe, let the extra pancakes cool, and then store them in the freezer for busy mornings.
On that morning when I can barely pull myself away from the comfy sheets (we've all been there, right?!), the kids need extra help finding shirts and socks, and I'm just not sure we'll make it to school on time, these pancakes guarantee that everyone gets a hot and wholesome breakfast. That definitely earns a superhero status in our home!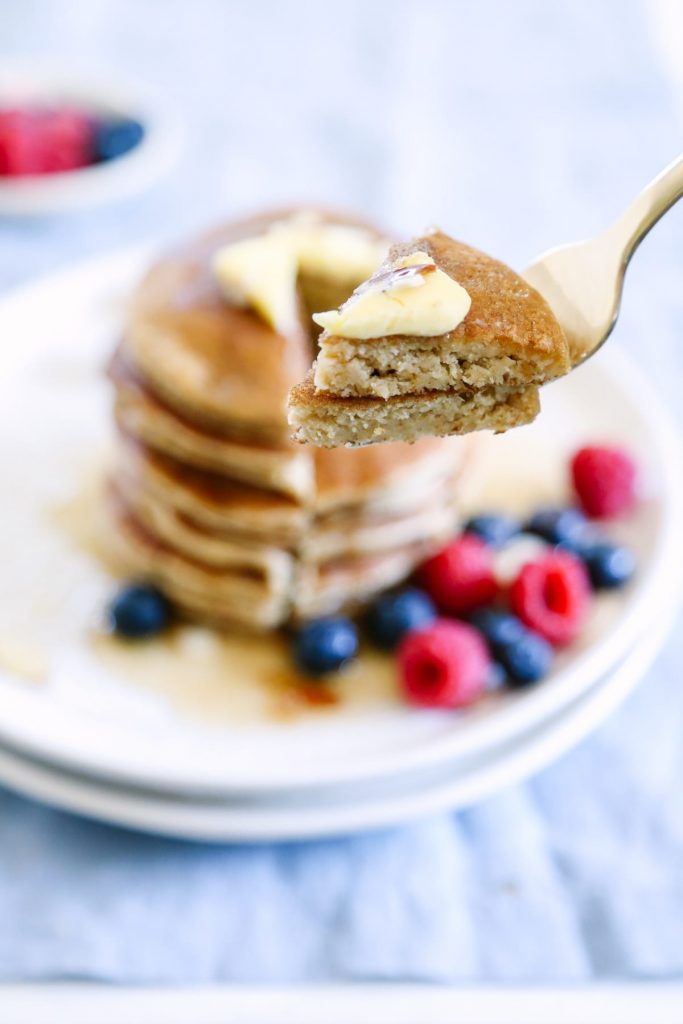 The beauty of pancakes is that nearly every pancake recipe out there, at least every pancake recipe on Live Simply, may be prepped ahead and stored in the freezer for busy mornings. So add this pancake recipe to your weekend pancake rotation, and help it help you save your busy mornings!
Busy Morning Almond-Oat Pancakes
These pancakes are made with simple ingredients that can regularly be found in my real food fridge or pantry: old-fashioned rolled oats, almond flour, spice, milk, maple syrup, butter, and eggs. That's it! The wholesome ingredients are all poured into the jar of a blender, and 60 seconds later…a pancake batter is ready for a hot griddle.
Prep Time 5 minutes
Cook Time 10 minutes
Total Time 15 minutes
Servings 12 -15 pancakes
Calories 172 kcal
Instructions
Add the old-fashioned rolled oats to the jar of a blender. Blend the flour for 20-30 seconds, until it's ground into a flour-like consistency. Add the remaining dry ingredients to the blender jar: almond flour, baking soda, baking powder, cinnamon, and salt. Then add the wet ingredients: milk, maple syrup, butter, eggs, and vanilla extract. Blend the ingredients for 20-30 seconds, until well combined. If you're using a high-speed blender you may only need to blend the ingredients for 10-15 seconds. I love the thick consistency of this batter. If you'd like thinner batter and pancakes, add 2 tablespoon-1/4 cup more milk to the batter.

Heat a griddle or skillet. Grease the griddle or skillet with butter, ghee, or coconut oil. Pour the pancake batter on the griddle or skillet. Once the batter begins to bubble, flip the pancakes. Cook the pancakes for 2-3 minutes on each side, until cooked through. These pancakes are very light and moist thanks to the almond flour.

Enjoy the hot pancakes and/or let the pancakes cool before placing them in a storage container or bag and freezing for later. To enjoy the freezer pancakes, simply reheat the pancakes in the toaster or the microwave for a few seconds.
Recipe Video
Ingredient Notes
If you don't have almond flour on hand, you can use 100% rolled oats in this recipe. I recommend following this blender recipe for the exact ratios (just skip the blueberries), since you'll need to adjust the liquid and dry ingredient ratios.
For dairy-free pancakes use almond, cashew, or (canned) coconut milk. Also, you can sub out the butter with melted ghee or coconut oil.
I've used both salted and unsalted butter in this recipe.
Use the frozen pancakes within 1-2 months for the best taste.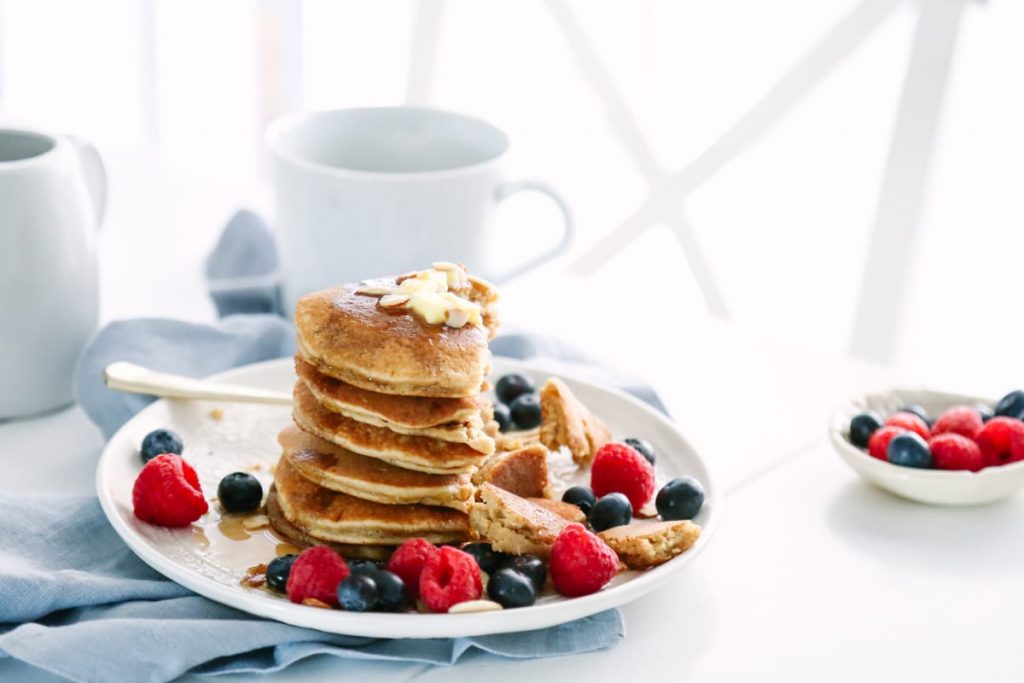 See my lifestyle in real life