Many of my childhood mornings, at least the ones I remember, started with a kiss from my mom and a plate of cut-up freezer waffles. Not only were the waffles fun to pronounce (hint hint), they were also an easy and fast way for my mom to serve breakfast. <–Something I now understand as a mom of two young children…mornings are crazy!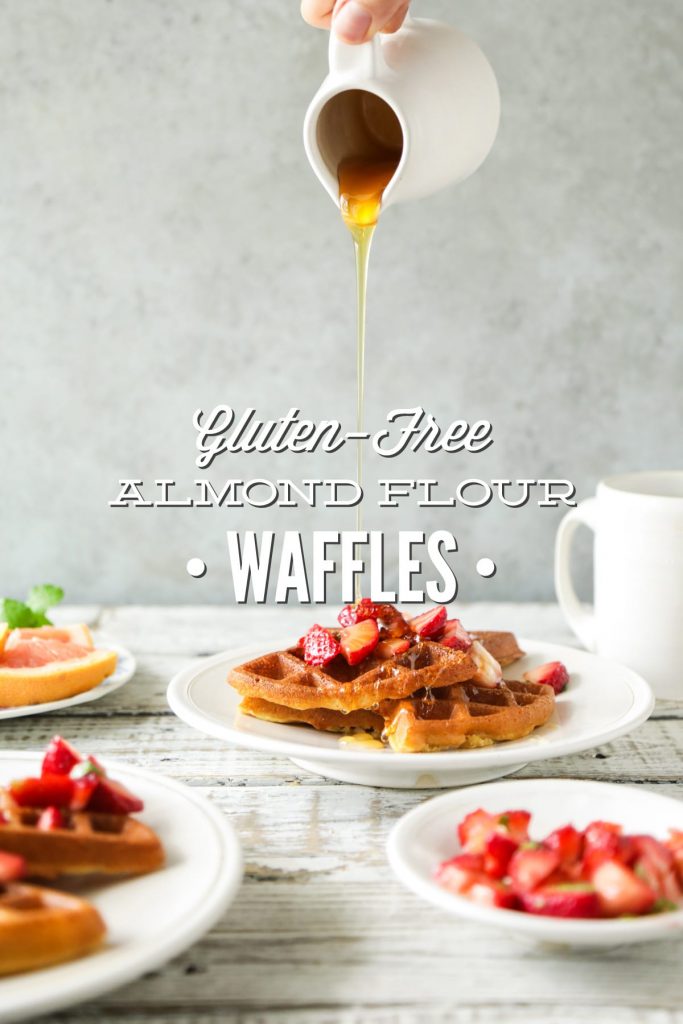 Today, if you open my freezer (and my mom's freezer), you'll still find waffles hiding beneath the frozen fruit and (homemade) popsicles. The waffles no longer come from a box. They're now made in my kitchen, on a lazy weekend, when there's time to scoop flour, whisk ingredients, make messes, and spend a few extra minutes cleaning up the morning dishes.
Making homemade waffles means I have complete control over the ingredients. That, my friend, is the beauty of stocking a home with good ingredients and learning to cook for yourself (and a family)–we can turn something that is "bad" (yeah, I'm thinking about you fun-to-pronounce, overly-processed freezer waffles) into something that's incredibly nourishing, wholesome, and delicious!
Shall we make some waffles today? Nourishing, good-for-you, wholesome, absolutely scrumptious waffles?
Let's do this…
I've shared a couple of waffle recipes on the blog before. First, there was this gluten-free version, and then this einkorn version. Both are really good–you should make them.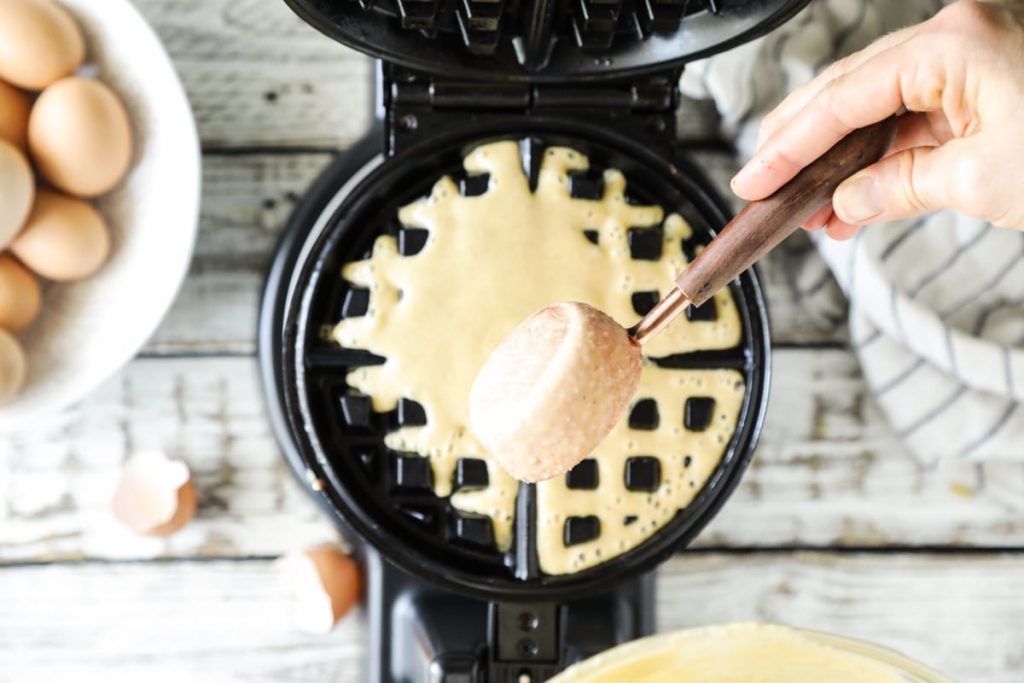 I shared one of my waffle-making sessions on Instagram Story a few weeks ago (making the einkorn recipe). After viewing the Story, a few reader friends messaged me asking for an almond flour/gluten-free/sans rolled oats (even though oats are naturally gluten-free) recipe. Challenge accepted!
I love using almond flour to make pancakes, so I figured an almond flour waffle recipe would be just as good. Boy was I right!
Today's almond flour-based recipe has quickly become a favorite in our house. In fact, I've made this recipe nine times over the past three weeks. I would like to blame recipe testing/perfecting, but that would be a big lie. This recipe was a winner on the first try (a rare event), so every other "test" has been made out of love–love for these waffles, that is.
These waffles are really easy to make (just one bowl and about ten or fifteen minutes of hands-on time), fairly inexpensive (when you calculate the price of gluten-free freezer waffles versus this homemade version), and time-friendly (you can make a double batch on the weekend and freeze the extras for later in the week). The waffles are also flavorful (thanks to the almonds and cinnamon), naturally sweet, and slightly crispy but also fluffy. Even if you can consume gluten (raises hand), I definitely recommend trying this recipe.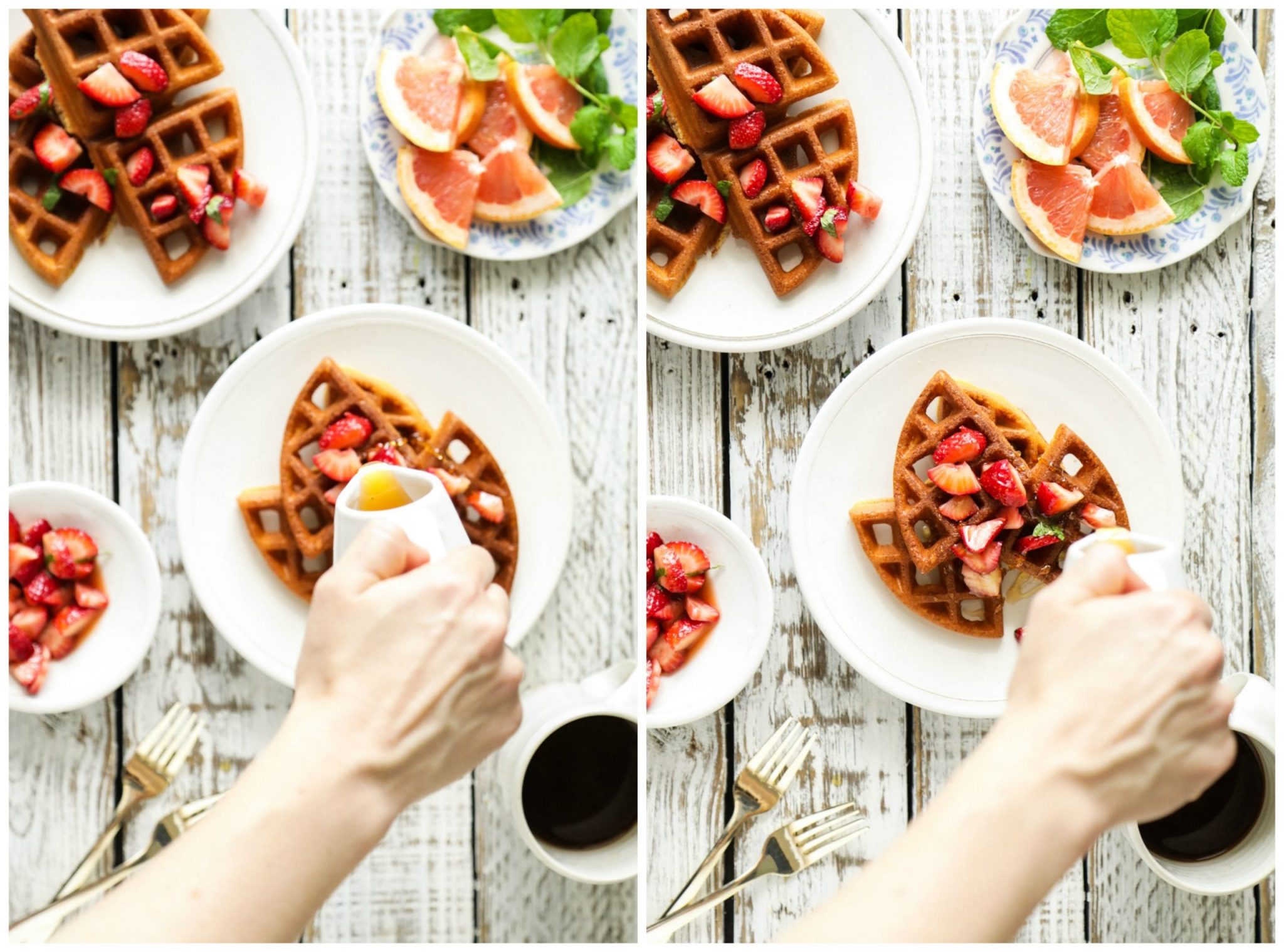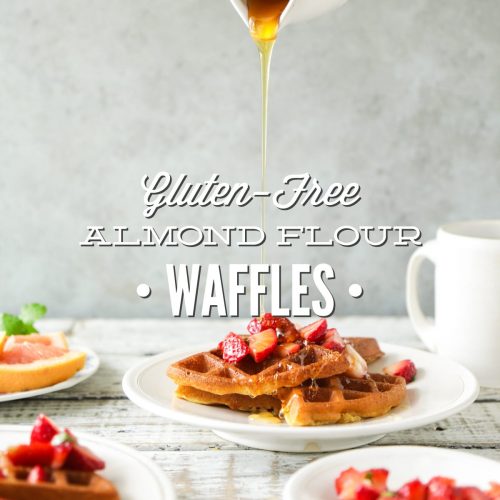 Gluten-Free Almond Flour Waffles
Delicious, simple, and naturally gluten-free. These waffles are made with almond flour, arrowroot, and basic fridge staples to create crispy and fluffy waffles.
Instructions
In a large bowl, whisk together the dry ingredients: almond flour, arrowroot flour, baking powder, cinnamon, and salt.

Add the liquid ingredients to the dry ingredients: milk, maple syrup, melted butter, eggs, and vanilla extract. Whisk to combine all the ingredients (and beat the eggs). Let the batter rest for about 5-10 minutes, then give the batter a stir and proceed on…

Spray the waffle maker with oil (or grease it with your preferred method–oil, butter, or ghee) to prevent the waffles from sticking to the waffle maker. I use Chosen Foods Avocado Oil Spray (found in many grocery stores).

The amount of batter you'll need to make one waffle will depend on your waffle maker. For my waffle maker, I use 1/3-1/2 cup of batter per waffle. Pour the batter into the waffle maker, close the lid, and cook the waffle for a few minutes (on each side if your waffle maker flips). I use the 4-5 temperature setting on my waffle maker. All of this will depend on your waffle maker, so pay close attention to your first waffle–how quickly it cooks, how much batter is required, etc. Always stir the batter before scooping the amount needed for the next waffle–this will prevent any of the ingredients from settling at the bottom.

Serve the waffles warm or at room temperature. Or, allow the waffles to cool and then freeze them in a storage bag or container for up to 3-4 months, or place them in the fridge, in a storage bag or container, for up to a week. I like to warm the waffles, if they're cold from storage, in the toaster.
Nutrition
Calories:
527
kcal
Carbohydrates:
42
g
Protein:
14
g
Fat:
35
g
Saturated Fat:
8
g
Cholesterol:
110
mg
Sodium:
283
mg
Potassium:
408
mg
Fiber:
5
g
Sugar:
17
g
Vitamin A:
485
IU
Calcium:
325
mg
Iron:
2.5
mg
Try these simple, reader-favorite recipes that are naturally gluten-free.