This post may contain affiliate links. As an Amazon Associate I earn from qualifying purchases.
What is Almond Flour?
Almond flour is made by grinding sweet almonds. Typically, almond flour that's used for baking is made from blanched almonds, meaning the skins have been removed before the grinding. Almonds contain less fat than many other nuts, so they can easily be ground into a fine flour that produces moist and slightly nutty-tasting baked goods.
Almond flour has gained popularity over the last few years as people embrace grain-free and paleo diets, but almond meal/flour has been used for many years in making French pastries, macaroons, and cakes.
Why Should I Use Almond Flour?
Even though our family eats grains, I keep a good stock of almond flour on hand. While I love breads and muffins made with wheat, I find the moist and light results produced by almond flour are a welcomed change from the heartiness of wheat. Almond flour is also incredibly sweet and nutty, but not in a sugary or I-just-ate-a-whole-bag-of-almonds kind of way.
Almond flour is high in protein and low in carbohydrates. Almonds are also an excellent source of omega-3 fatty acids.
How Can I Use Almond Flour?
Almond flour can not be subbed 1:1 in all recipes calling for wheat. The fat content and weight of almond flour greatly differs from wheat flour making it hard to make a substitution in all recipes. Wheat and grains contain gluten which helps to hold baked goods together. With that said, in some recipes almond flour can easily be substituted for almond flour 1:1, but this requires a lot of trial and error. I've found quick bread, muffins, and cookies are the easiest to play with when trying to substitute almond flour in grain-based recipes. It's also important to note that almond flour does not contain gluten which is essential for most yeast bread recipes. Using 100% almond flour in these recipes will not work since almond flour lacks gluten which helps dough rise and acts as a binder (making the dough easy to handle and knead).
Too much liquid in a recipe will cause almond flour to produce a soggy, grainy baked good that sinks in the center. Adding a small amount (a few tablespoons) of coconut flour (a flour that absorbs liquid very effectively) or starch (such as arrowroot) can help when absorption is an issue in a recipe.
Over-baking almond flour recipes can be an easy mistake to make since bread and muffins may appear undercooked. But don't overcook almond flour recipes as nut flours easily burn! While almond flour baked goods should not be raw once fully cooked, they often require of a bit resting time after baking to firm up for handling and slicing. Misjudging the moist texture of almond flour baked goods with the need for more baking time can result in burnt goodies.
It's important to note there are two types of almond "flours" available in natural stores: "meal" and "flour." Almond flour is finely milled and light. Flour is made from blanched almonds (no skins). Almond meal on the other hand is more coarse as it's made from whole almonds (including skins). The difference is important to note as using the two interchangeably can affect the texture of baked goods. Almond "meal" is generally best used for breading and a replacement for bread crumbs, making pie crust, and cookies. Almond "flour" is best used for light baking, such as: muffins, coarser cakes, quick breads, and cookies.  The majority of almond flour on store shelves is made from blanched almonds, but it's important to know the difference if you ever have the choice between the two varieties.
If you've been using almond flour and have an understanding of how it works, experimenting with adding almond flour to cookie, quick bread, or muffin recipes can lead to new favorites recipes. That's exactly how I created our family's favorite banana bread recipe. If you're new to grain-free flours (almond flour), I'd recommend using recipes that call for almond flour. I've listed a few of my favorite recipes in the "Recipes to Get You Started" section.
The bottom line: Almond flour is easy to use and produces amazing baked goods, but knowing how to use it in new recipes or making substitutions requires practice, patience, and a bit of experience.
How Do I Store Almond Flour?
Almond flour is best kept in the fridge or freezer, however, using almond flour directly from the freezer requires a bit of defrosting time to prevent clumps. Allow frozen almond flour to sit on the counter until it reaches room temperature to prevent clumping.

Purchasing Tips
Almond flour can be made at home, but is best produced by using a grain mill. When making homemade almond flour caution must be used as the oils can easily separate with the final result being almond butter. There are several companies that produce and sell almond flour. I personally purchase Bob's Red Mill's Almond Flour from either the natural health food store or Amazon. When almond flour goes on sale I always stock up and store the extra in the freezer.
Almond Flour Recipes to Get You Started
To get you started with almond flour, I've compiled a list of my favorite almond flour recipes. Whether you're grain-free or grain-lovin' I know you'll be pleasantly surprised by the amazing taste and texture produced by this healthy, easy to use flour.

Almond Flour Banana Bread from Live Simply
Almond Flour Pumpkin Glazed Donuts from Live Simply
Simple Grain-Free Chocolate Cake from Live Simply
Banana Almond Chocolate Cake from Green Kitchen Stories
Raw Coconut Almonds Macaroons from Real Food Outlaws (No bake recipe)
Almond Flour Biscuits from The Nourishing Home
Almond Flour Snickerdoodles from The Nourishing Home
Grain-Free Oatmeal Cookies from The Nourishing Home (one of my favorite cookie recipes!)
Grain-Free Chai Spice Banana Bread from Homegrown and Healthy
Lemon Thyme Almond Flour Pizza Crust from Homegrown and Healthy
 Chocolate Chunk Cookies from Homegrown and Healthy
Soaked Oatmeal Cookie Muffins from Scratch Mommy (also uses pastry flour)
Magically Moist Almond Cake from Bob's Red Mill
Almond Flour Pumpkin Bread
ULTIMATE FALL BAKING: HOW TO USE ALMOND FLOUR + PUMPKIN BREAD
Total Time
1
hour
10
minutes
Instructions
Preheat the oven to 350F. Line a bread pan with parchment paper or grease the pan with butter or coconut oil.

In a large bowl, whisk together all the dry ingredients, except the pumpkin seeds.

In a medium-size bowl whisk together the wet ingredients.

Pour the wet ingredients into the dry ingredients, stirring until combined.

Add 1/4 cup of crushed pumpkin seeds to the batter and stir, just until mixed.

Pour the batter into the prepared pan. Sprinkle the remaining 1/4 cup of crushed pumpkin seeds over the top of the bread.

Bake for 50-60 minutes. You can test the bread by inserting a toothpick or chopstick in the center. If the toothpick is clean, the bread is done baking.

Allow the bread to cool for at least 10 minutes before slicing. The longer the bread rests (cools), the easier it will be to cut into slices.
Disclosure: This post is sponsored by Bob's Red Mill. The opinions and photos expressed are completely my own. I'm thrilled to team up with my favorite companies to bring you this fall baking series. As a blogger, I'm privileged to partner with companies making a difference in the natural and real food world.  I only endorse companies and products I 100% love and believe in.
More Ultimate Fall Baking You May Like:
How to Use Whole Wheat Flour + Blackberry Scones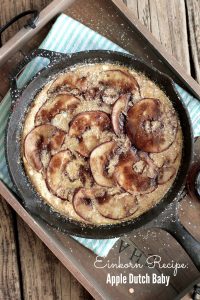 How to Use Einkorn Flour + Apple Dutch Baby
 How to Use Pastry Flour + Pop Tarts