It may sound crazy to start a recipe chat for Almond Flour Banana Bread by sharing that my family eats grains and gluten, but that's the truth. Now, stick with me for a minute…
If you've been around Live Simply for any length of time, you know that we consume grains, like einkorn and spelt. It's not uncommon for us to enjoy homemade pancakes, sourdough bread, and muffins using these flours.
I believe ancient grains, organic grains, and grains that are traditionally prepared (using methods that our ancestors practiced for thousands of years to help make grains more digestible, like sourdough) can be a beautiful part of a real food lifestyle. I also know that some people can not tolerate gluten.
I start today's recipe chat this way (which is all about the BEST banana bread that's made with almond flour), because in our day and age gluten is oftentimes villainized.
When it comes to the subject of gluten, I believe we need to take a step back and ask more in depth questions about how we consume gluten. We need to look at the fact that our entire diet now revolves around heavily processed and manipulated grains (which includes spraying grains with glyphosate), the type of grain we consume and how that grain is prepared, the lack of variety and seasonality in our modern diet, the fact that we no longer consume fermented foods as our ancestors once did (listen to this podcast episode for information about fermented foods), and mega amounts of stress which wreak havoc on the body and gut.
As Robin O'Brien says, "Are we allergic to food, or are we increasingly allergic to what has been done to it?"  
Whether you're able to consume gluten or not, today's recipe is for EVERYONE. You don't have to label yourself as "gluten-free" to enjoy this banana bread or any gluten-free baked good.
I'm a huge believer in variety, so even if you can consume grains and gluten, it's important to not rely on the same flour over and over again. It's important to enjoy a variety of foods in your diet. And if you are gluten-free, this holds true as well. Maybe this means rotating out the flours you use for baking.
I'm not saying you have to overcomplicate things. I'm simply suggesting that variety is a good thing. This variety looks like eating seasonally as produce changes (even real milk changes with the seasons), as well as cooking and baking with a variety of staple ingredients (such as: flours, grains–like rice and quinoa, meats, etc.) When you consume real food, it's very natural to add variety to your diet.
I hope today's recipe becomes a favorite that you add to your meal rotation. This is a recipe that I originally shared on Live Simply back in 2013 (the birth year of the blog). Now, six years later, hundreds of thousands of people have made this recipe. Today, it's time for an update.
What is Almond Flour?
As you probably guessed from the title, the base of this recipe is made with almond flour.
Almond flour is made by grinding almonds into a powder, which makes a "flour" that may be used in the kitchen to prepare various meals, including: cakes, muffins, cookies, breads, and even used as a binder in meatballs or a meatloaf (I do this often as an alternative to breadcrumbs).
Since almonds are naturally gluten-free, this flour has become a popular gluten-free, paleo, and keto flour choice. The flour definitely takes some getting used to since it doesn't sub 1:1 with a gluten flour (like all-purpose flour). But once you get a feel for this flour, it's delicious and easy to work with.
Almond flour adds a nutty, naturally-sweet flavor to baked goods. This means many times you can get away with using less sweetener in a recipe because the almonds naturally lend a sweet flavor to the baked good.
Almond flour is typically divided into two different categories:
Blanched almond flour, the flour used to make this banana bread, is made by grinding up almonds that have had the skin removed. This is typically done by dropping the almonds in boiling water for just a minute or two, then cooling the almonds and peeling away the skin. Once the skin is gone, the almonds are "blanched." Blanched almond flour is a yellow/cream color, and is typically light and fluffy so it's ideal for pastries and lighter cakes and breads. This is what I recommend using to make this banana bread.
Almond meal, on the other hand, is made by grinding up almonds with the skin attached. Because of the skin, this flour is typically brown, has a coarse texture, and results in heavier baked goods.
Where Can I Find Almond Flour?
Almond flour is relatively easy to find. Almond flour can be found at Walmart, Target, Whole Foods, small health food stores, Costco, Vitacost, and Amazon. Both blanched almond flour and almond meal are typically sold in the baking aisle, right next to all-purpose flour.
Costco is my favorite place to purchase almond flour (all my favorite Costco finds can be found here). A 3-pound bag of Costco brand flour is $10.99. That's a crazy good deal! I've also purchased and enjoyed Anthony's, Blue Diamond, and Bob's Red Mill brands over the years.
Tips for Making This Recipe
This was a recipe that I originally shared in 2013 when the blog was just a baby. Over the years, thousands of people have made this recipe and shared the recipe on social media with friends and family. Before making this recipe, here's what you need to know:
1. Weigh your ingredients.
There is one thing that I highly recommend for fail-proof baking: a scale. Well, actually, two things: a scale and quality ingredients.
It's so important to weigh ingredients. My cup of flour may not be the same as yours. In fact, it's probably not. There are too many variables involved with volume measurements. This means that my results may be different than your results and vice versa. When it comes to baking, I recommend weighing your most important ingredients. Plus, weighing ingredients is much easier; just keep adding ingredients to the bowl until the scale essentially tells you to stop. It's easier and way more precise. I've been using this scale, which we originally purchased for making coffee (weighing coffee beans), for a few years now.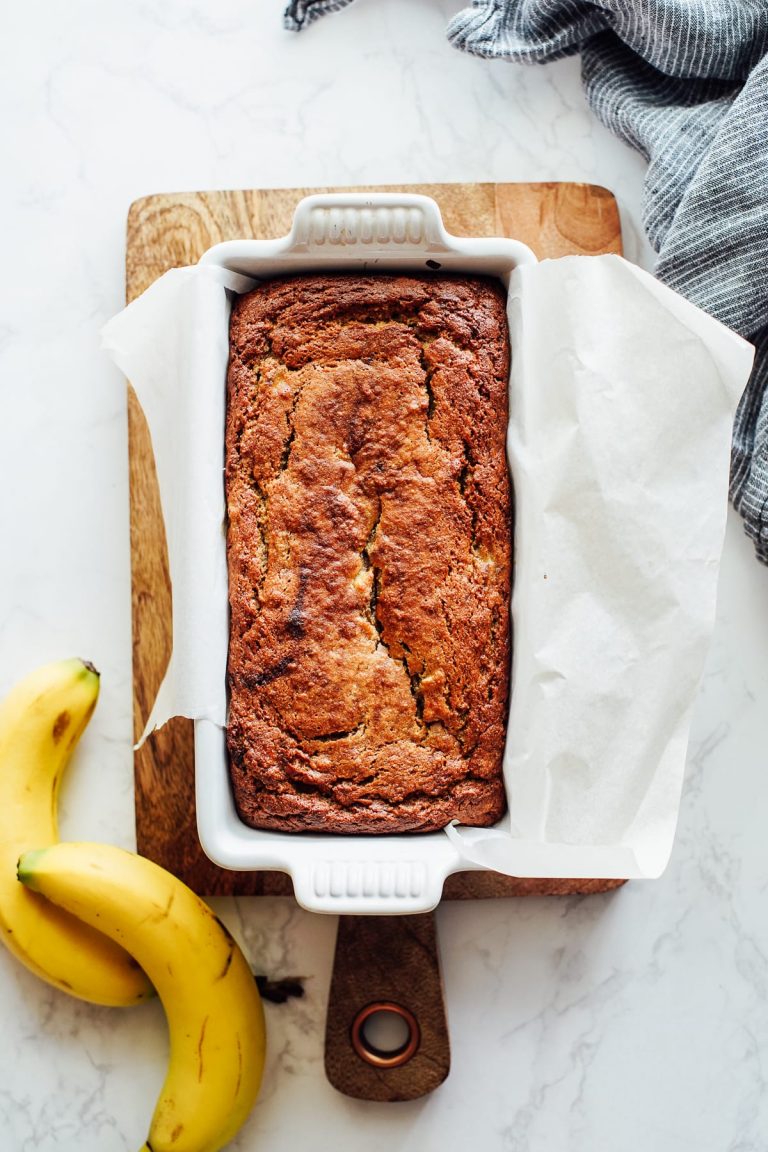 2. This bread is very moist.
This bread is incredibly moist. If you haven't baked with almond flour before, this may come as a surprise when you first slice into the loaf.
One of the reasons I'm re-sharing this recipe is because, in the past, some folks had issues with the bread being under-cooked. The new and improved recipe now includes a small amount of arrowroot starch to keep this from happening. This starch is gluten-free, so it doesn't compromise the naturally gluten-free nature of this recipe (read more about arrowroot starch, here). This bread is still super moist, which is what most people (including myself) love about this recipe. In my opinion, that's what makes this banana bread the absolute BEST!
I recommend waiting to cut into the bread until it's cool. If you cut the bread while it's still hot (and this applies to many almond flour baked goods), the bread will almost be too moist. So wait at least 20 minutes after pulling the bread from the oven to begin slicing.
3. Add this bread to your food prep plans. 
Because this bread is so moist, it doesn't dry out in the fridge. This makes it a great bread to prep ahead on the weekend and enjoy throughout the week with breakfast or lunch, or even for dinner with soup or a salad or roasted chicken and veggies. My kids love this bread, so it's a recipe I rotate often in our weekly breakfast menu. Once the bread cools, store the bread in a bag. Or, cut the bread and store the slices in a large air-tight container (my favorite prep containers can be found, here). Store the bread in the fridge for up to 5 days.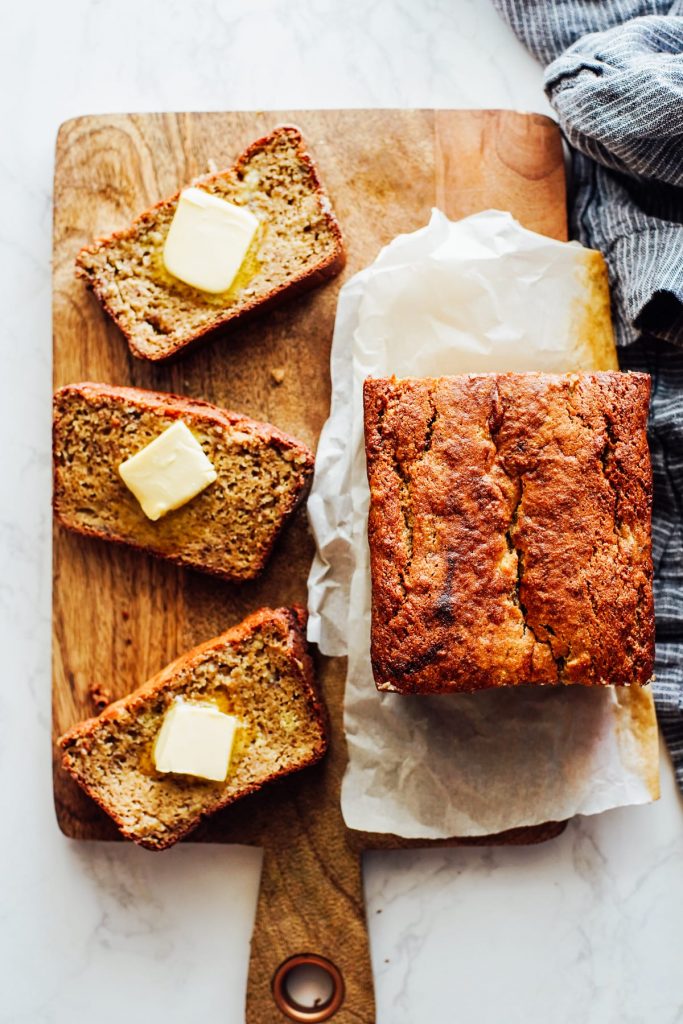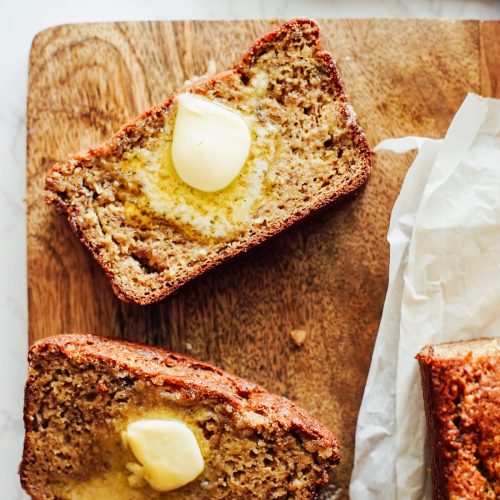 Almond Flour Banana Bread
So heavenly, it's now a regular staple on our breakfast table and quite simply the best banana bread ever. Made with simple real food ingredients, like almond flour. Gluten-free and optional dairy-free alternatives.
Equipment
bread pan

parchment paper

large bowl

medium bowl
Instructions
Preheat the oven to 350ºF.

Line a bread pan with parchment paper, or grease with butter or coconut oil.


In a large bowl, whisk together the dry ingredients: almond flour, arrowroot starch, cinnamon, nutmeg, baking soda, and salt.


In a medium bowl, mash the bananas. Then whisk in the eggs, maple syrup, yogurt, and vanilla extract. Whisk until thoroughly combined.


Add the wet ingredients to the dry ingredients, and stir until combined.


Pour the batter into a bread pan. Bake the bread, in the center of the oven, for 60 minutes, or until the center is firm. You can insert a knife in the center of the bread to check for doneness. The knife should come out clean when the bread is done.


Allow the bread to cool for at least 20-30 minutes. Remove the bread from the pan by lifting the parchment paper out of the pan.


Slice and enjoy. Store any leftover bread in a bag. Or, cut the bread and store the slices in a large air-tight container (my favorite prep containers can be found, here). Store the bread in the fridge for up to 5 days. This bread makes for a great make-ahead breakfast option.
Notes
2019 Update: The original recipe, published back in 2013, did not include arrowroot starch. It also called for 1/4 cup of chopped walnuts (added to the batter). I've found this recipe works best with the small amount of arrowroot now called for in the recipe. If you loved the original version and don't want to include arrowroot starch, I completely understand. By all means, you're welcome to leave it out. That said, I highly recommend using the arrowroot starch. It makes a tremendous difference in the final texture of the bread. Also, if you loved the walnuts, you're welcome to still add them. Keep in mind, you won't see the addition of arrowroot in the video, as the video was made a couple of years ago.
Carb Information: I purposely do not share nutritional information here on the blog, because I believe in eating real food versus counting calories and numbers. But I have received many requests from folks following keto (by the way, I recently hosted Dr. Axe on the podcast and we talked all about keto) and wanting the carb information for this recipe. The number provided is for an entire loaf, not a slice...Carbs: 285g. If you choose to use honey, the carbs will increase. 
Nutrition
Calories:
225
kcal
Carbohydrates:
24
g
Protein:
7
g
Fat:
13
g
Saturated Fat:
1
g
Cholesterol:
42
mg
Sodium:
221
mg
Potassium:
159
mg
Fiber:
4
g
Sugar:
13
g
Vitamin A:
85
IU
Vitamin C:
2.6
mg
Calcium:
82
mg
Iron:
1.2
mg
More Almond Flour Recipes
I know, you really want to make this almond flour banana bread. I get it. I promise, the recipe is coming up next. Before we bake together, I want to share a few of my favorite ways to use almond flour beyond today's banana bread recipe…
Note: This post was originally shared in June 2013 with an update to photos and important information to help you as a reader, in 2020.