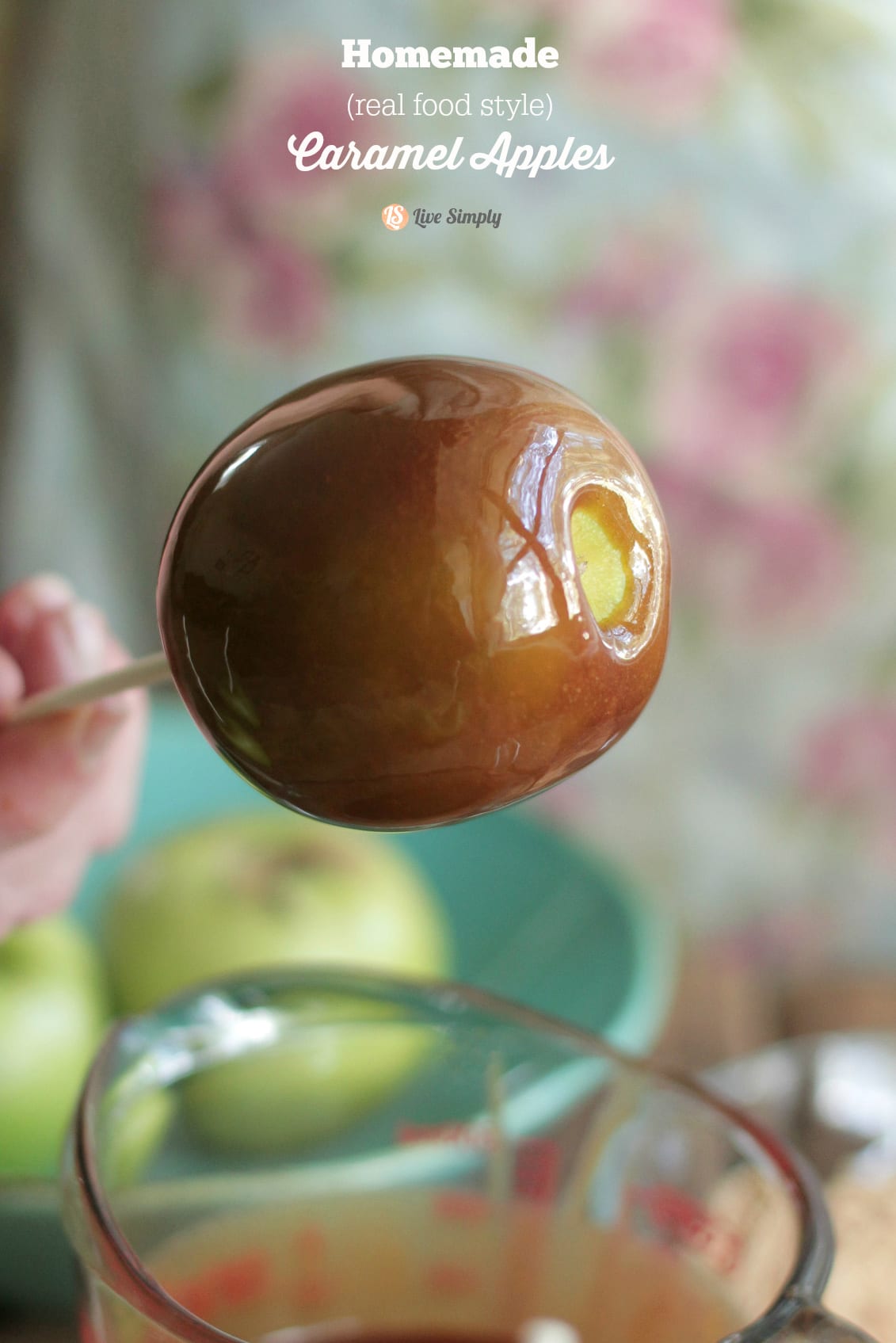 Today started with a great debate: homemade hand sanitizer or caramel apples. A decision had to be made. Sugar or germs?
So maybe the choice wasn't that difficult after all. First, apples. Then, germs. Sound fair? I think so.
Before we proceed, I need to warn you. This recipe is a bit out the ordinary for Live Simply due to its high sugar content. The fact is, you simply can't make a good homemade caramel without pure sugar. In fact, the very essence of caramel is sugar. So, here's your warning: if you're afraid of sugar, this recipe is not for you. If you're looking for a real food version of homemade caramel that doesn't require store-bought candies, this recipe is exactly what you're looking for. Let's proceed.
Homemade caramel apples are a simple treat that must be made at least once each fall, a treat that's just as much about the process and memories as the sweet indulgence that follows.
First, comes the caramel. Butter, sucanat, honey, and cream are melted together and stirred, turning into a rich golden caramel that tantalizes the senses. Patience and frequent stirring are required, but I promise the entire fifteen minutes spent making homemade caramel is well worth the labor.
Then, it's time for crisp, sour apples. I prefer a few Granny Smiths, but the actual kind of apple is up to you and your apple preference.
With apples and caramel, memories can be made. Apples are dunked. Caramel droppings are stolen. Sticky little hands are licked. Apples are shared. Slice a caramel apple and enjoy a sliver at a time or enjoy a whole treat on a stick.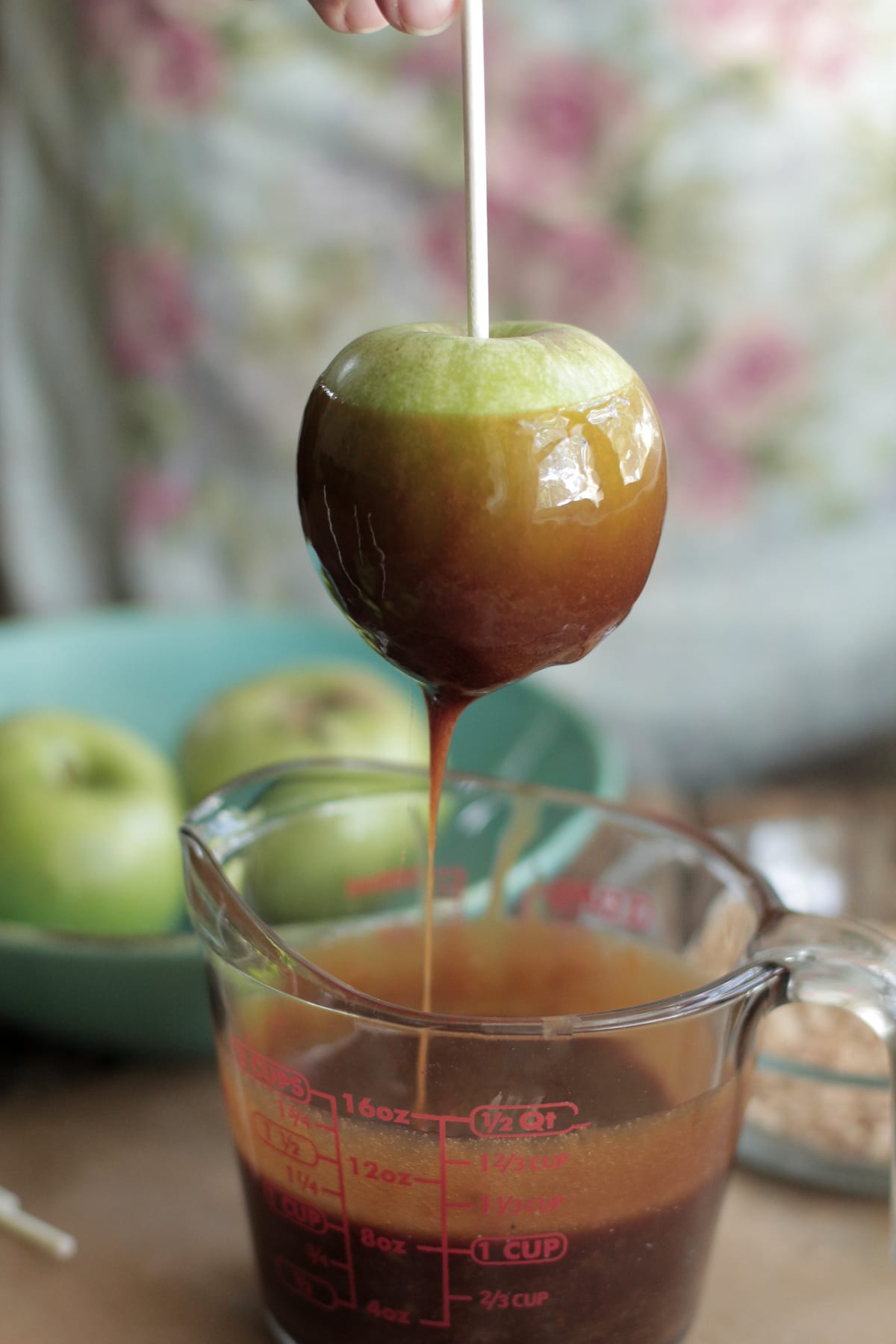 Homemade caramel apples represent everything fall is about: family, memories, traditions, and homemade treats that only come around once a year. So indulge in a little sugary goodness, maybe just a small slice, and embrace the memories and sticky fingers. Homemade hand soap awaits around the corner, now is the time for memories and a bit of sugar!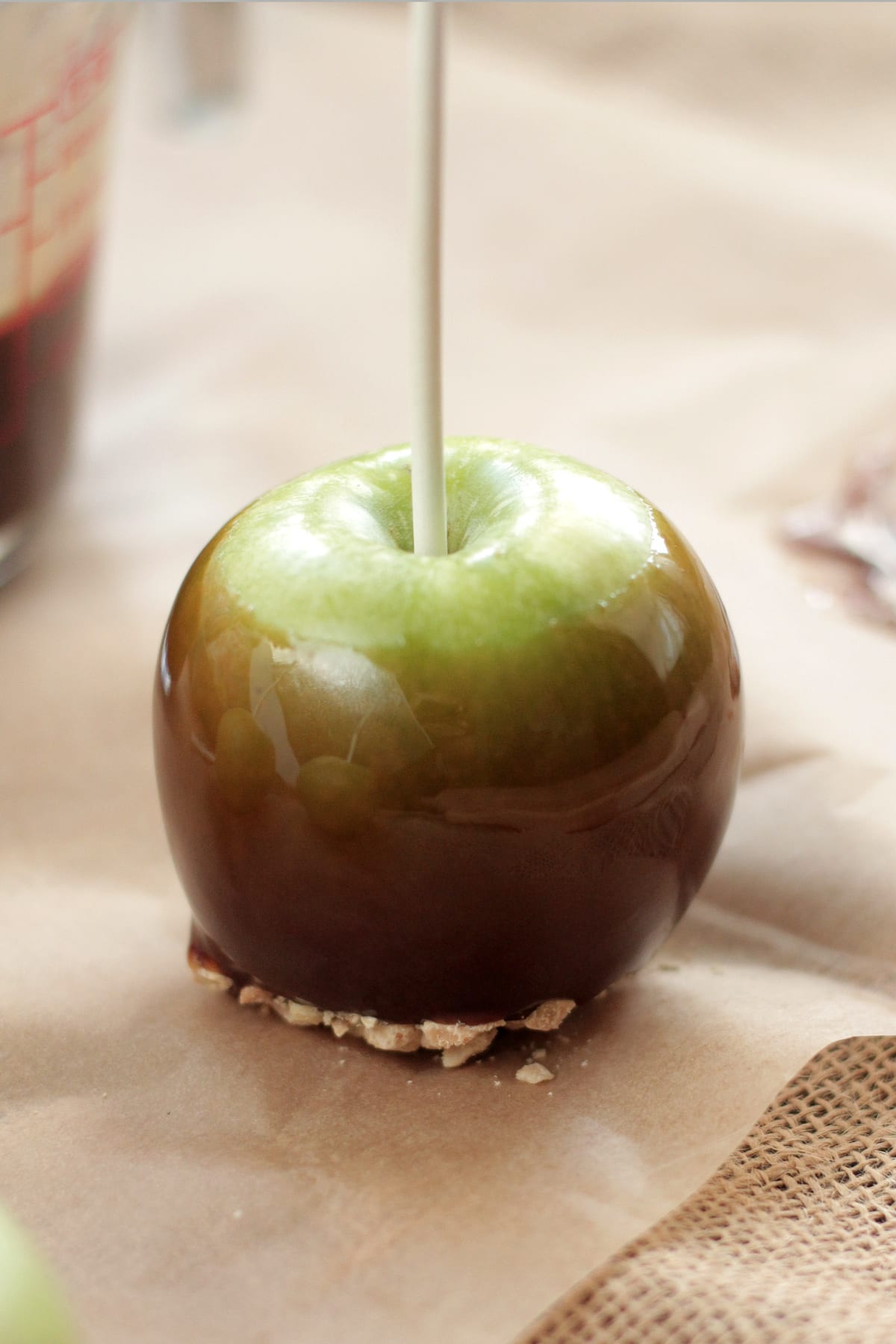 Homemade Caramel Apples
Homemade caramel apples are a simple treat that must be made at least once each fall, a treat that's just as much about the process and memories as the sweet indulgence that follows.
Ingredients
1

cup

sucanat

1/2

cup

honey

1/2

cup

heavy cream

or coconut cream, skim from the top of a can of coconut milk

4

TB

butter

1

tsp

pure vanilla extract

6

apples

I prefer sour apples
Instructions
In a large saucepan, over medium-high heat, bring the sucanat, honey, cream, and butter to a boil, stirring frequently. Continue to stir the caramel as it cooks (it will produce large bubbles) for 15 minutes. Don't reduce the cooking time, this is the trick to creating a sticky caramel.

Turn off the heat and add the vanilla extract. The caramel will bubble as the alcohol reduces. This is a normal reaction. Allow the caramel to cool for 5 minutes before using, stirring a couple of times as it sits.

While the caramel cools, poke a hole in the top of each apple (I use a chopstick) and insert the sticks. Set aside.

Keep the caramel apples wrapped for several days on the counter if you don't plan to eat all the apples or give them away.

Extra caramel sauce can be used for ice cream or can be poured on a silicone baking mat and pulled apart with your hands and rolled into small caramel candies.
Nutrition
Calories:
631
kcal
Carbohydrates:
89
g
Protein:
6
g
Fat:
31
g
Saturated Fat:
15
g
Cholesterol:
47
mg
Sodium:
85
mg
Potassium:
437
mg
Fiber:
7
g
Sugar:
76
g
Vitamin A:
625
IU
Vitamin C:
8.5
mg
Calcium:
51
mg
Iron:
1.9
mg
Caramel Tip: To test the caramel, place a 1/4 of an apple in the caramel. If the caramel runs off the apple it hasn't fully "developed". Simply repeat the heating process for 10 more minutes, stirring frequently as it boils. Caramel should stick to the apple and harden.
 More Fall Recipes You May Like: