This post may contain affiliate links. As an Amazon Associate I earn from qualifying purchases.
I was only six years-old in 1991. I can remember like it was yesterday begging my mom for big hair. Not just any big hair. I wanted 1991 big hair with Shirley Temple style ringlet curls.
Big hair was an important accessory needed to complement my bleached denim overalls and tie-dyed shirts. It was that year, my mom finally spoke the words I had waited so long to hear (it seemed like "so long" as a six year-old) , "YES!"
The big day finally arrived. My mom turned our living room into a full-working beauty salon. A few hours later my first perm was complete. I ran to the my parent's bathroom to check out my new do.
The excitement only lasted for so long. Perms only last so long. Within a few months my hair went back to my natural straight locks.
Even after the style of the '90s passed (although the clothing of today is starting to reflect the outfits I wore in first grade…who decided to bring back faded overalls??), I've longed for big curly hair. Maybe it's one of those "the grass is always greener" scenarios. I want what I can't have– gorgeous curls!
Three years ago, my second child was born. Londyn was quite the surprise baby. She was delivered in less than four hours, naturally. Just for perspective, Piper was born after a thirty-six hour labor so four hours was quite the surprise! Londyn also surprised us by weighing in at 10 pounds 6 ounces. She was quite the chunk, and oh so cute.
The greatest surprise of all (granted, she's only three now, so I'm sure there are many more surprises to come) appeared around her first birthday with the sighting of a ringlet curl. Two years have now passed since her first birthday, and that one little ringlet has turned into big, gorgeous curls.
While I haven't been able to achieve the curls I so desire, I'm now living vicariously through Londyn.
The end.
Wait, just kidding. There's more.
We have a DIY recipe to talk about.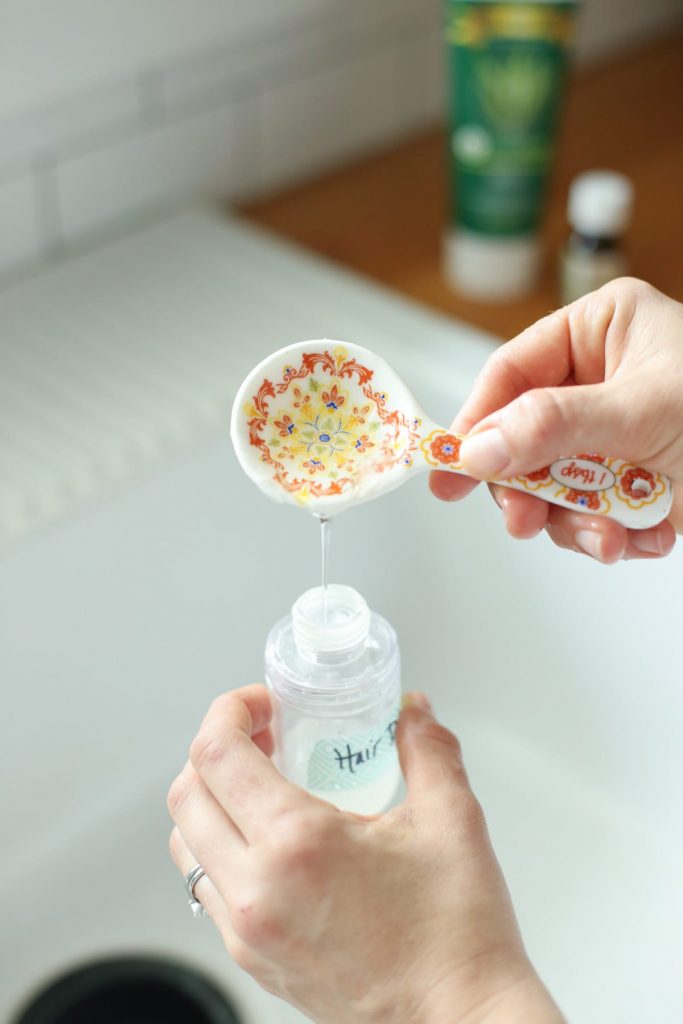 As Londyn's hair grows, I'm learning curls can be very hard to care for.
Curls just can't be combed with a "regular" hair brush and tied back in a ponytail. Oh no, that's a recipe for pure disaster, at least that's been my experience with Londyn's hair. Curly hair must be delicately cared for in very specific ways. A gentle comb and moisturizing detangler are essential to maintaining Londyn's voluminous curls.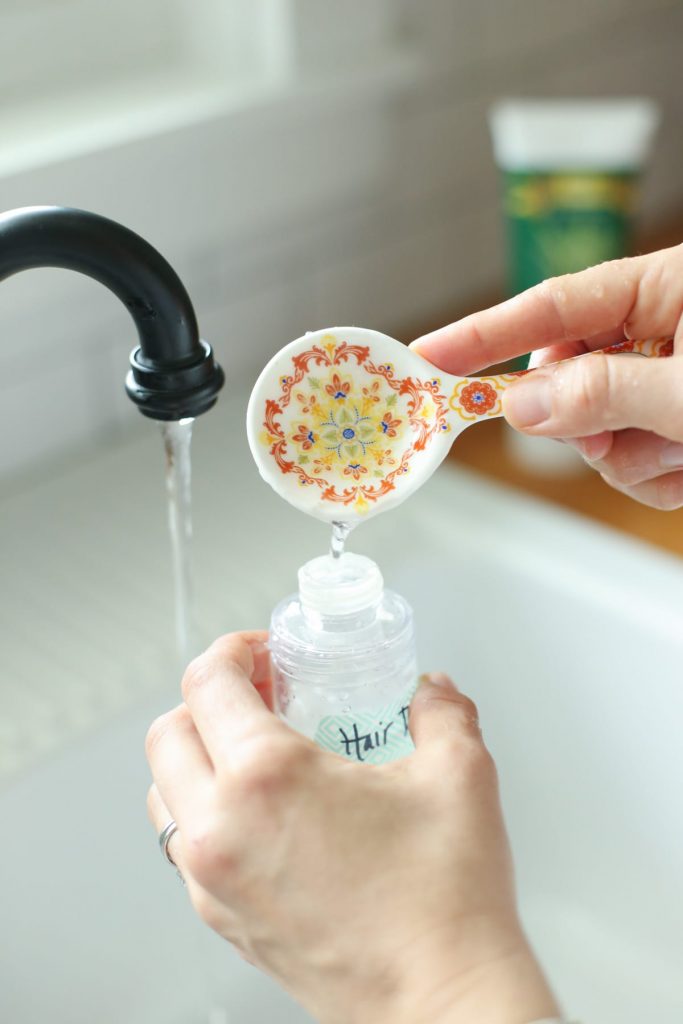 Thankfully, a homemade leave-in conditioner/moisturizing detangler recipe is very easy to make. Not only is it super easy to make a homemade detangler, the ingredients work better than most store-bought products (in my opinion)! In fact, I've tried a lot of hair detanglers on Londyn's hair over the last year and a half, and by far the homemade version is the best. Let's take a look at the super effective ingredients that make such a great detangler:
Note: Yes, there was an outfit change between the first picture (above) and the next picture. Morning routines must go on, even when Mom needs a blog photo.
Glycerin: Glycerin is a sugar alcohol derived from plants or vegetable fats (there is also a synthetic version which I recommend staying away from). Glycerin is used in many beauty products due to its moisturizing properties. Glycerin is known as a "hygroscopic." This means glycerin pulls moisture from the air.  This is why glycerin makes a fantastic detangler! On its own glycerin can destroy the hair and strip it of moisture, but when diluted glycerin softens the hair and even reduces frizz.
Aloe Vera Gel: Aloe vera gel comes from the aloe vera plant. The gel (found inside the leaves) is great for moisturizing the skin and hair. Aloe not only attracts moisture to the hair, but also seals it in. Aloe also contains many minerals which are beneficial for the body (including the hair and skin!).
Essential Oil: This ingredient is completely optional. If you would like to add essential oils for scent, I recommend going with an oil that may provide some beneficial properties to the hair. Orange, lavender, and rosemary are great oils to add to this recipe.
Let's recap today:
The '90s: First perm. Big hair.
Overalls: Please don't bring them back, Target.
Londyn: My beautiful surprise baby girl–4 hours, 10 pounds. Woah, look at that gorgeous curly hair.
Leave-In Conditioner/Hair Detangler: Magic moisturizing hair juice. It's a must!
Homemade Leave-In Conditioner Hair Detangler
Thankfully, a homemade leave-in conditioner/moisturizing detangler recipe is very easy to make. Not only is it super easy to make a homemade detangler, the ingredients work better than most store-bought products (in my opinion)!
Instructions
In a spray bottle, combine all the ingredients. Give the bottle a gentle shake until the aloe vera is combined. That's it! Store the detangler at room temperature.
Ingredient Notes
*Rosemary essential oil isn't recommended for children under 10 years-old.
When you introduce water into a product without a preservative you always run the risk of introducing bacteria, so use water-based products quickly.
Recipe Variation: If you don't have aloe on hand, skip it! I've used glycerin and water many times when I don't have aloe available.  I like the moisturizing benefits and even the "hold" aloes provides curly hair, but for a simple detangler just glycerin and water also work great. Use the same recipe as above, just omit the aloe.
Climate Note: Glycerin may cause the hair to swell when it's applied in a very humid environment (remember, glycerin pulls moisture from the air). If you live in a very dry climate, glycerin may cause hair breakage. The bottom line: If you don't live in an extreme climate, diluted glycerin is a great hair product.