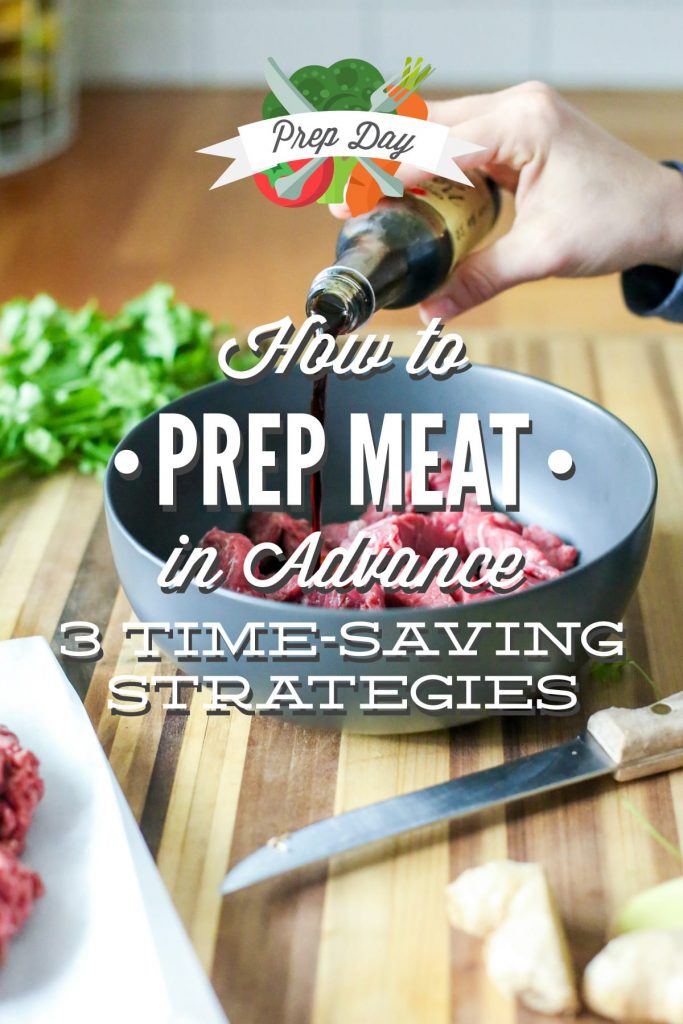 If Pillsbury or Marie Callender can prep food in advance (granted, I wouldn't deem other company's food as "food" ;)), then I can too. Can I get an amen?
That's been my prep day motto this year. One of my greatest sources of inspiration for my prep day sessions comes from wandering the freezer section of the grocery store. While prepping doesn't always equate to freezing food (although the freezer is quite helpful for prepping in advance), the processed food companies know a thing or two about making meals more convenient.
Convenience is also the goal of prepping real food in advance.
Prep day = convenience = healthy, stress-free meals!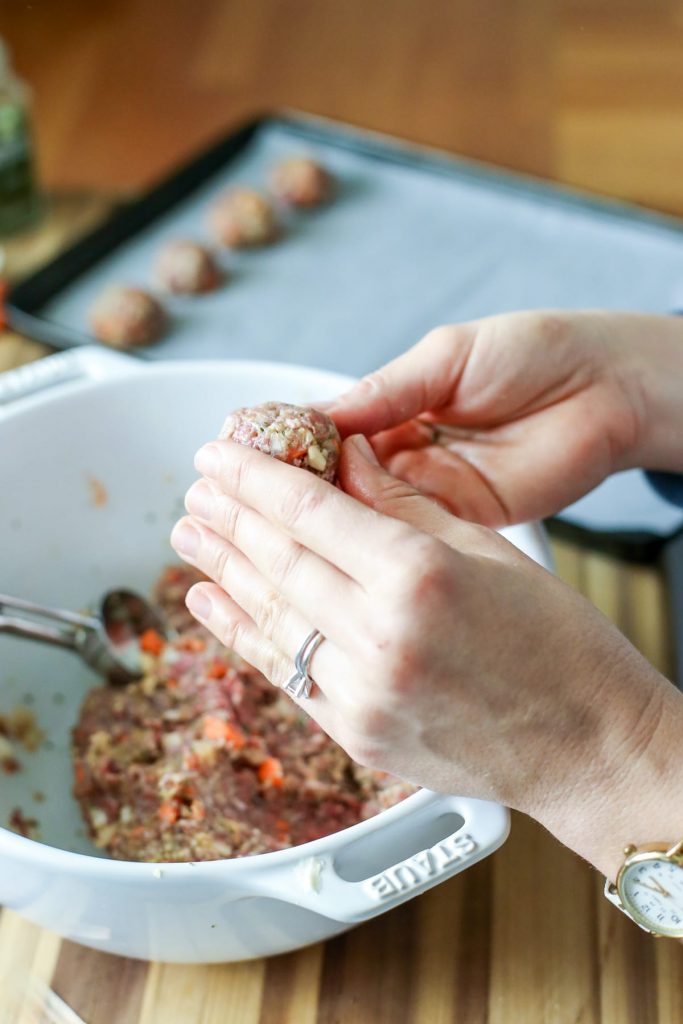 This week's prep day post is all about making meals simpler and more convenient by prepping meat in advance.
Meat requires immediate attention (it spoils quickly) and demands lots of hands-on time (marinating, browning, mixing, chopping, etc.).  Thankfully, meat can be prepped in advance, safely, without compromising taste or texture. In fact, often times meat that is prepped in advance (for example: marinating) tastes better than meat that's pulled from the fridge and made on the spot.
Before I share my three time-saving strategies, let's focus on the main reasons why you should think about preparing meat in advance. After all, if you're going to include a task on your prep day printable or mental plan, it must help maximize your time throughout the week (AKA: it better be important!) 
Why You Should Prep Meat in Advance
1. Life Happens:
As you know, I'm a huge meal plan advocate. Having a meal plan is a meal-saver, but I also live in the real world where life just happens. When life happens (the unexpected trip to school, the late afternoon meeting, not getting enough sleep the night before and waking up late), it can be hard to stick to a meal plan that calls for a chopping, marinating, browning, and mixing.
Prepping meat in advance gives you an advantage when life happens. When you've prepped in advance, making a spaghetti dinner doesn't seem so time-consuming on Tuesday night because the meatballs are ready to go. And the crock-pot chili you planned to make on Thursday night is all set for the crock-pot because you chopped the veggies and browned the meat during prep time.
2. Lunchbox Help:
Three of my favorite lunchbox meals to prep in advance are: chicken nuggets, meatballs, and crock-pot shredded chicken. Chicken nuggets and meatballs are easy to freeze (they don't require much freezer space) and can be defrosted the night before and cooked in the oven before Dustin and Piper leave for the day. Shredded chicken doesn't require any reheating, just a defrost overnight in the fridge, and can be used as lunchmeat or chicken salad for sandwiches. Of course, these foods can also be used as a dinner option, but I love having them available for packing lunches.
3. Tenderize Meat:
Making the switch from conventional, corn-fed beef to grass-fed beef can be quite a challenge due to taste and texture differences. Grass-fed beef can be tough and lack the marbleized texture many of us have come to enjoy. Marinating (thanks to the acidic ingredient usually found in a marinade) or seasoning (thanks to the salt) is the best way to ensure tough cuts are tender and juicy.
How to Prep Meat in Advance: 3 Time-Saving Strategies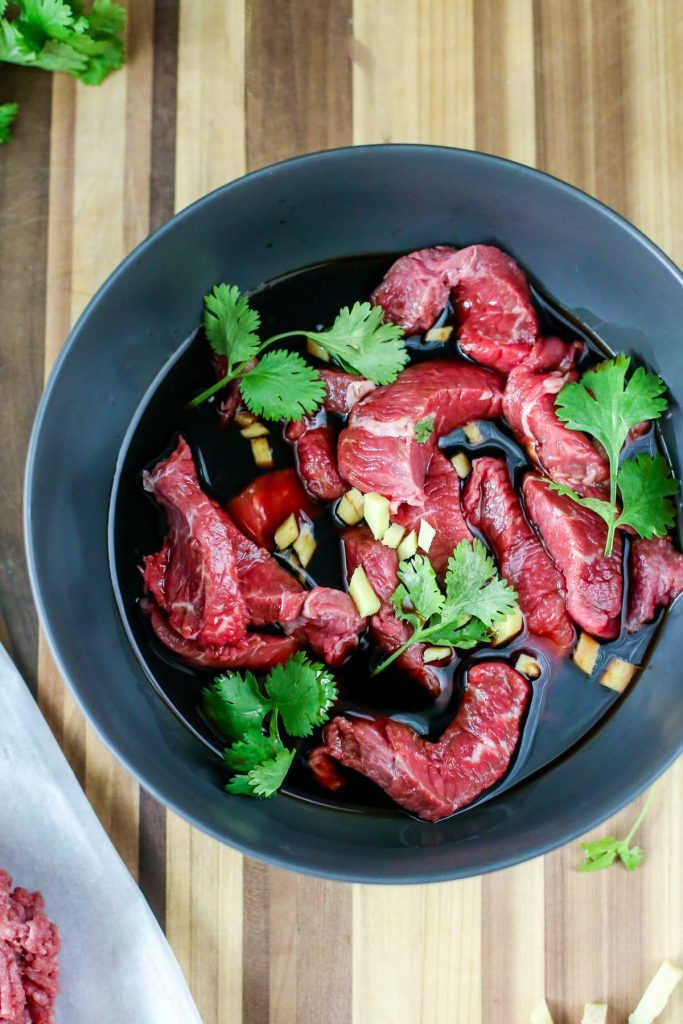 Marinate or Rub: This strategy is the easiest way to prep meat in advance. When a recipe calls for a marinade or rub (spices that are rubbed on a meat), simply prep this step in advance. Here's a great chicken kabob recipe to get you started with this method. Food safety experts usually recommend tossing a marinade before cooking the meat when using this method.
Be careful of marinating tender meats in acidic liquids for a long period of time.
Make in Advance Method: Freezer (about 4-6 months)–defrost overnight in the fridge. Fridge (Chicken: up to 2 days. Beef, pork or lamb: up to 5 days).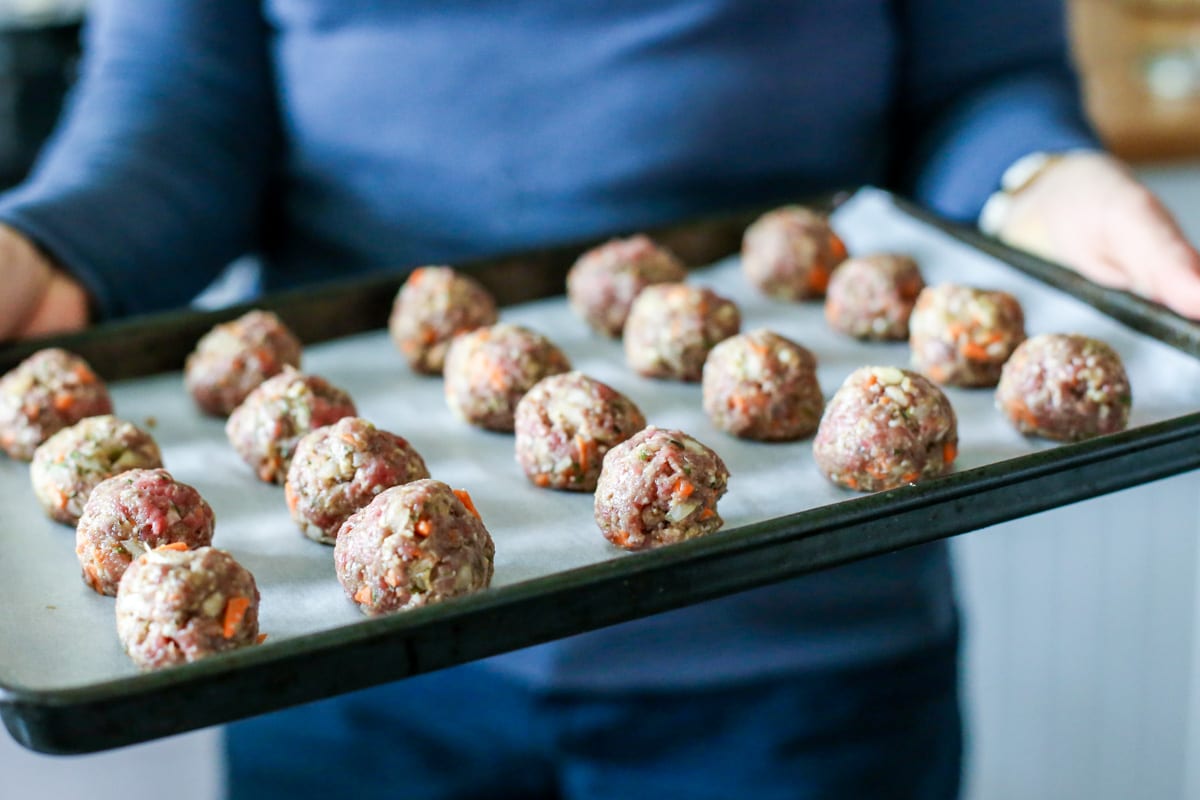 Freeze Raw: This method require a bit more time in the kitchen since you'll be mixing ingredients and forming "meals." This method can also prove to be a challenge if you purchase meat in bulk since the meat is previously frozen (it's hard to keep half a cow fresh). Always use fresh (not previously frozen) meat when freezing meat in advance. Using previously frozen meat can be a safety issue and change the texture of the meat.
My favorite meals to make and freeze are: meatballs, homemade chicken nuggets, individual hamburger patties, and meatloaf (freeze the glaze in a separate bag or container). Freeze meatballs, hamburger patties, and chicken nuggets on a parchment-lined plate or cookie sheet for 30 minutes-1 hour, then transfer the meat to an appropriate freezer container or bag. I like to freeze meatloaf in parchment-lined bread pans for several hours (until firm), then transfer the parchment wrapped meat into a freezer-safe bag. Defrost the meat in a bread pan, in the fridge, the night before cooking.
Make in Advance Method: Freezer (about 3-4 months)–defrost overnight in the fridge. Fridge (about 1-2 days).
Cook or Brown: When a recipe on my meal plan calls for cooked chicken (a salad, casserole, etc.) or browned meat (taquitos, taco salad, chili, etc.) I often cook the meat during prep time and either store it in the fridge or freeze for later. I use the crock-pot to cook whole chicken, then shred the meat. This meat can be frozen for later or stored in the fridge for lunchmeat, chicken salad, a salad topping, or a casserole.  Ground beef can be browned in a pan, then cooled and stored in the freezer or fridge. When reheating ground beef by itself (for examples: tacos), I add a few tablespoons of water to the pan and heat the beef over stovetop.
Make in Advance Method: Freezer (about 3-4 months)–defrost overnight in the fridge. Fridge (about 3-4 days).
This week, your homework is to create a meal plan, go shopping for the food you'll need to implement the meal plan, set aside a specific day/time for prep time, and then print and fill out the Prep Day Action Plan printable. Focus on five foods you can prep this week based on your meal plan and schedule: making soup, cooking and shredding chicken, washing storing greens, prepping muffins/biscuits/pancakes, making eggs, or blending smoothies, etc.
More Real Food You May Like: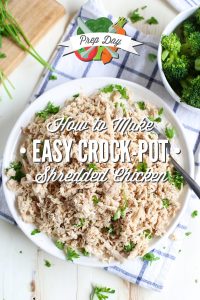 Prep Day: How to Make Easy Crock-Pot Shredded Chicken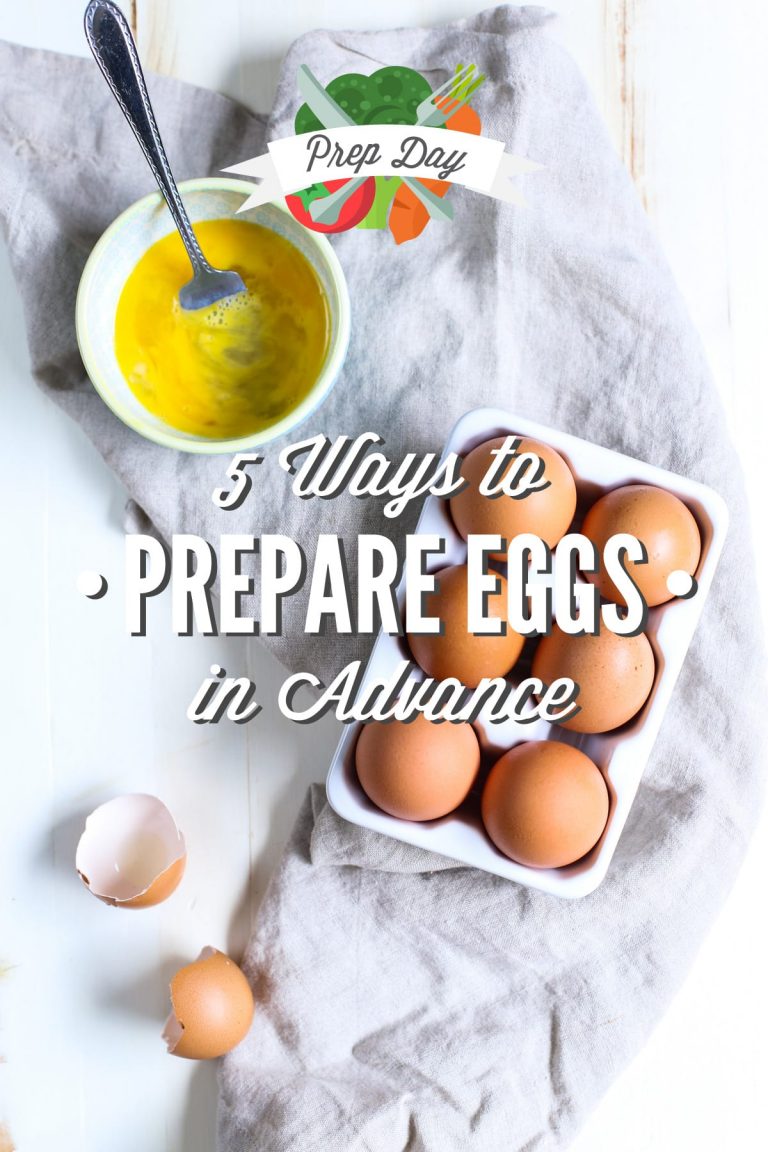 Prep Day: 5 Ways to Prepare Eggs in Advance