This post may contain affiliate links. Affiliate links come at no extra cost to you. These links allow me to share the products I authentically recommend (and use) and support Live Simply by receiving a small commission.
Today's recipe, a from-scratch berry pie, is one of those classic desserts that must be made at least once before the summer ends. (And please don't let the words from-scratch scare you! I promise, you can do it.). It's the kind of pie that makes me want to post a picture on Instagram and declare, "I made this! I made the dough, filling, everything!"
Which, by the way, is exactly what I did last week ;). No shame. That's basically the reason Instagram exists, right?! So we can share what we're making, eating, and loving. Which then results in us feeling even better about what we made, ate, and loved when our friends applaud our achievement with lots of red hearts. Oh, Instagram, you're a silly and wonderful little place.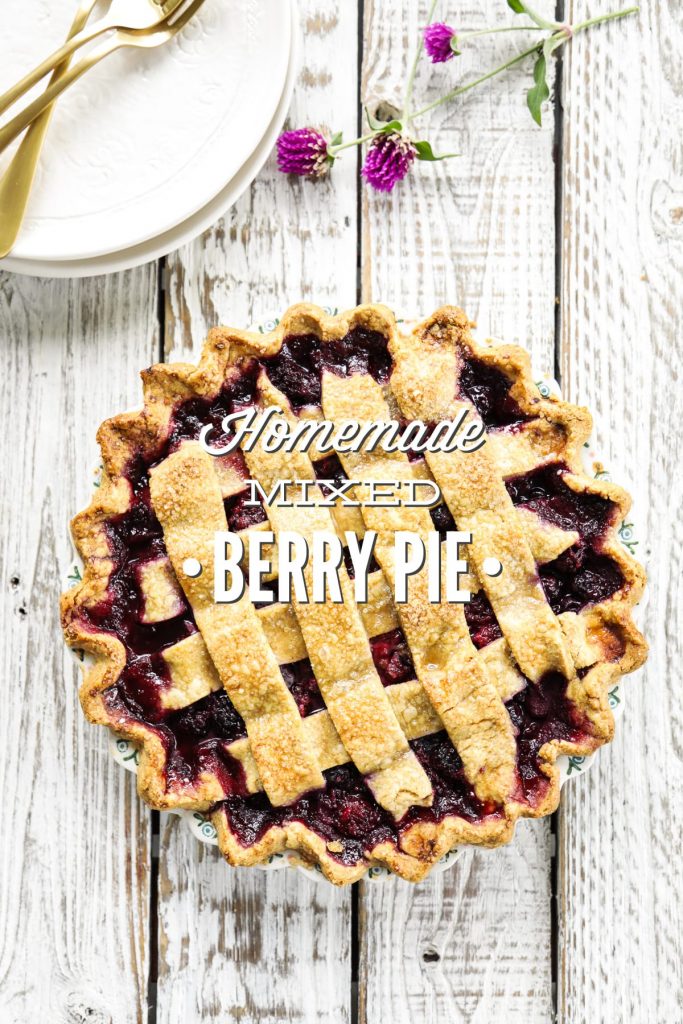 Some of my favorite memories from childhood come from my mom's kitchen, and the times we baked sweet treats together. I know my mom didn't always have extra time in her schedule for making homemade treats (as a graduate student, mom, wife, school volunteer, and full-time nurse she didn't have any extra time in her schedule), but she always made the time. I honestly don't know if she loved baking or not, but she loved spending time with me in the kitchen and baking allowed her to do so.
As a busy generation, I believe baking is something we need to make time for in our lives. Baking makes us slow down, work with our hands, and then share our treats with the people we love. It seems like sharing is just a natural by-product of baking something extra delicious. And the world could certainly use more slowing down and sharing right now.
FREE Real Food Crash Course
I get it, switching from processed food to a real food lifestyle can feel overwhelming and confusing. Friend, it doesn't have to be this way.
Here's what to expect: 
printable charts (real food defined, a seasonal produce guide, 

meal planning)

how to get started with a real food lifestyle

how to create a meal plan and stay within a budget

7 real food recipes

emails from me to help you enjoy real food
Bonus: Step-By-Step Guide to Real Food
A homemade pie is exactly the kind of treat that requires us to slow down and make a bit of a mess, along with shareable memories. It's the kind of recipe that's made with love–mixing the dough, rolling out the dough, tossing the berries and grated apple together, and then carefully waiting for our creation to bake and cool.
Isn't real food and cooking just amazing? It has the power to nourish our own bodies and soul, along with the people we love and care about. I hope this pie does exactly that for you and your family!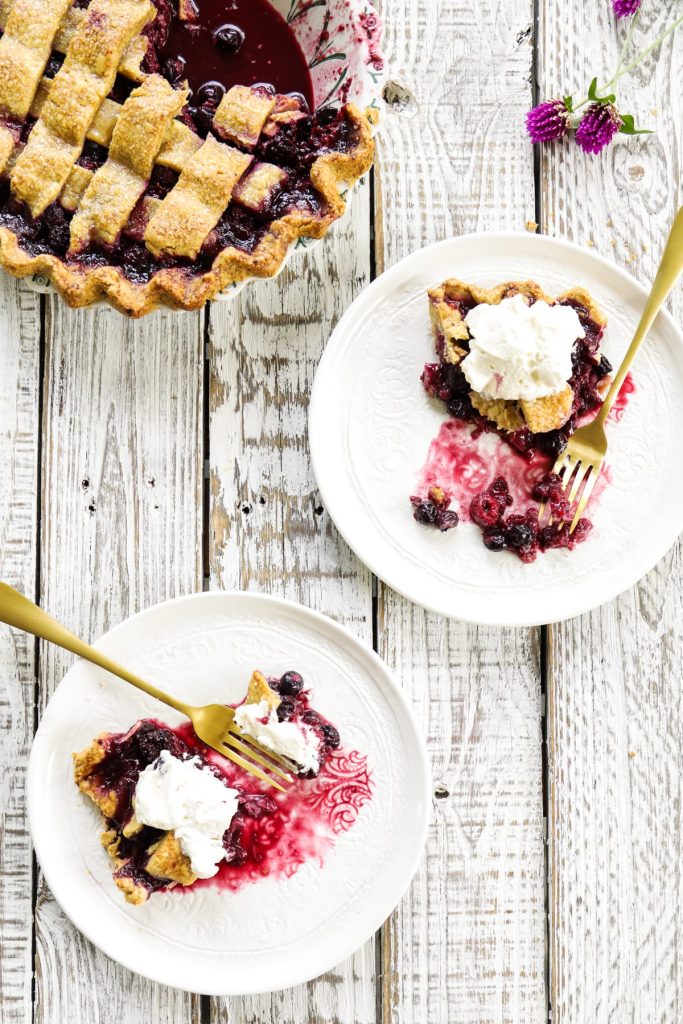 Homemade Mixed Berry Pie
A homemade mixed berry pie featuring frozen (summer) berries and a flaky, einkorn crust. 
Cook Time
1
hour
10
minutes
Total Time
2
hours
10
minutes
Instructions
For the Crust:
Double the pie crust recipe and retain the egg whites (the dough recipe calls for egg yolks). Split the dough into two disks before refrigerating. Chill per the recipe.
For the Filling:
Preheat the oven to 425F.

Roll out the bottom crust into a pie plate. Return the rolled-out crust to the fridge while mixing the filling.

In a small bowl, using your fingers, massage together the sugar and lemon zest (about a minute). Whisk in the cinnamon. Set aside.

In a large bowl, grate the apple (do not peel). You should have about 3/4 cup grated apple (137g).  

Add the berries to the grated apple. Add the flour and toss to coat evenly. Pour the sugar mixture over the berries, along with the lemon juice, and stir to coat.
Assemble the Pie:
Add the filling to the bottom crust. Return the pie to the fridge.

Roll out the top crust. A lattice topping (pictured) is recommended. A lattice top helps water evaporate from the filling to help it set. A full top crust may result in a looser filling. To make a lattice top, use a pizza cutter (or knife) to cut 6-8 strips of dough. Carefully lay each strip over the top of the filling, pressing the ends into the bottom crust.

Whisk the egg whites with a tiny bit of water. Brush the egg whites over the top of the crust. Optional: Sprinkle the crust with turbinado sugar. 

Set the pie plate on a rimmed baking sheet.

Bake the pie in a 425F oven for 15 minutes. Baking your pie on the bottom/middle rack will help achieve a golden brown crust. Drop the oven temperature to 375F. Bake an additional 55-65 minutes, until the crust is golden and the filling is bubbling in the center of the pie. 

Remove the pie from the oven and let it cool for at least 4 hours; 12 hours is best. Serve at room temperature with homemade whipped cream or vanilla ice cream. Store any leftover pie in the fridge. 
See my lifestyle in real life