Can we talk about 2015 just one more time?
I promise there's an amazing probiotic (yep, you heard that right) chicken caesar salad at the finish line of this grand discussion.
2014 was an amazing year for our family. We survived the baby phase and successfully ventured into the preschool and almost-kindergarten stage of parenting. Live Simply grew, beyond our wildest imaginations, and trust me, they can be pretty wild. Dustin and I enjoyed our first vacation together as a couple in over six years! We decided to venture to Chicago to visit family. We loved every minute, including the polar vortex that hit the week we arrived.
Life's been good, and busy!
Busy is my way of life, but not in a "I barely have time to make dinner or wash clothes" kind of busy. I like simple busy. The two sound like an oxymoron, but they can go hand-in-hand. As I shared in my vapor rub recipe post, the last week of 2014 was a time of reflection, and drinking my fair share of hot chocolate (which you should check out after enjoying this caesar salad). As I reflected on the past, I developed actions for 2015 to simplify our life, but still maintain the "busy" we thrive on.
Here are a few of my actions for 2015…
1. Spend less time on Facebook. Please tell me I'm not the only one who gets sucked into the big blue hole called, "Facebook." Friends, I love looking at your pictures and reading about your lunch, but that's the problem…your lives are just way too entertaining!
I created a social media schedule for 2015. Seriously, there are little time blocks that say, "Facebook and Instagram" on my calendar.
2. Prep more. Prep time is already high on my priority list. Without a prep day/time, real food can become time consuming. I love being in the kitchen, but I also want to get out and walk, spend time with my kids, and work. This year, I'm spending more time prepping on Sunday to help avoid the mid-week cooking burn-out. The benefits of prep day/time have already been enjoyed by our family, so the plan is to increase the return on investment with an extra 30 minutes of prepping the most important ingredients and meals for the week.
3. Take one day off.  Monday is my day off in 2015. This means no phone, computer, or work…just family time! A day of refreshment, surrounded by family, is critical for one's well-being.
4. Read more. There's nothing more relaxing (to me) than a book, my bed, and cup of tea or homemade hot chocolate. This year, one of my actions is to read at least three nights a week in my comfy bed. Three of the books I plan to read have already been purchased and currently sit on my nightstand. I'm currently reading The War on Art. If you're in a creative job, it's a must read.
5. Embrace simple meals. I grew up in a home where my mom always set the table for dinner with beautiful napkins, plates, and a four-course meal. I love that Mom made meal time a priority.
With my childhood regularly dancing in my head, guilt takes over when I can't create a picture-perfect table for dinner.
2015 is my year for embracing the simple, imperfect dinner. Essentially, I'm giving myself permission (I know that sounds silly, but it's something that needed to be done) to serve a big salad with a side of roasted chicken thighs and homemade dressing. It's okay if we have leftover black beans, rice, and cilantro for dinner another night. Yes, we will enjoy fancier dinners, but this year is the year a simple dinner is going to be A-okay.
One of my favorite meals has always been caesar salad, and this year it's going on my "simple meals" list. Homemade caesar dressing is easy to make and incredibly nourishing, with healthy fats and even probiotics (when made the Live Simply way!).
Traditionally, homemade caesar dressing is made with a raw egg yolk which kind of grosses me out, if I'm totally honest. Blending raw egg yolks (from our hens) in smoothies is okay, because I know smoothies are consumed right away. The thought of adding an egg yolk to a salad dressing that sits in the fridge for a week bothers me. Just a personal opinion.
This homemade caesar salad dressing replaces the egg yolk with probiotic-rich yogurt, creating a creamy dressing that will keep in the fridge for two weeks. This dressing can be made on prep day which creates multiple simple meals throughout the week: chicken caesar salad, steak caesar salad wraps, and even a veggie dip for the kids. It's a winner dressing.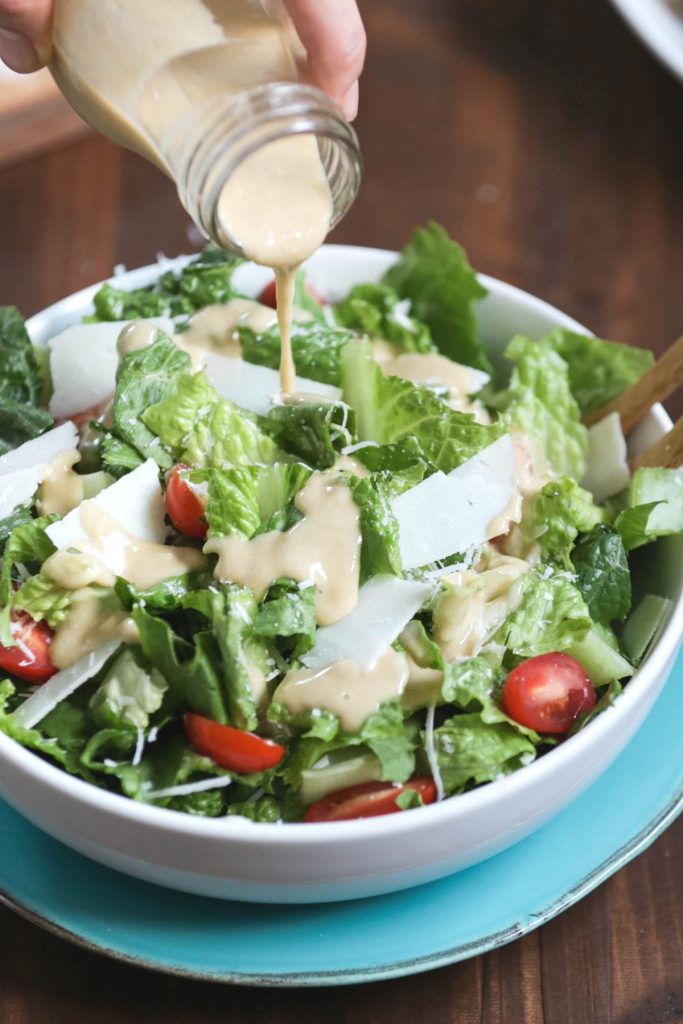 Just to emphasis that winner point, let's count how many actions this meal qualifies for on my 2015 list…
Number 2:  Prep more. Check.
Number 3: Take a day off. Check…minimal time cooking.
Number 4:  Read more. Check…less dishes, more book time.
Number 5: Embrace simpler meals. Check.
We have a winner, folks!
And now for that end of the discussion finish line treat, a giant bowl of probiotic-rich homemade chicken caesar salad.  Thank you for lending your ear. Let's dive in.
Homemade Probiotic Chicken Caesar Salad
And now for that end of the discussion finish line treat, a giant bowl of probiotic-rich homemade chicken caesar salad. Thank you for lending your ear. Let's dive in.
Ingredients
Probiotic Caesar Dressing:
7

filets

anchovy

approximately 1 can

1/2

cup

extra virgin olive oil

1/3

cup

grated parmesan cheese

1

lemon

juiced

2

garlic cloves

chopped

2

TB

plain whole milk yogurt

Real yogurt contains "active live cultures." The culturesthe yogurt provide the probiotic boost.

2

tsp

dijon mustard

1 1/2

tsp

red wine vinegar
Salad:
1

head

romaine lettuce

torn into pieces

1/2

cup

grape tomatoes

halved

1/3

cup

grated parmesan cheese

or more is preferred

Probiotic Caesar Salad Dressing

see recipe above
Chicken:
4

chicken thighs

I use thighs with skin and bones for added flavor. Remember to save the bones for homemade broth.

1

TB

butter

1

tsp

salt

to taste

1

tsp

black pepper

to taste
Instructions
Probiotic Caesar Dressing:
In a food processor

(I use this one)

, add the anchovies, parmesan cheese, lemon juice, garlic cloves, whole milk yogurt, dijon mustard, and red wine vinegar. Pulse for 1 minute.

With the food processor on, slowly add the olive oil through the feed tube. Pulse for an additional 30 seconds after adding all the olive oil. Pour the dressing into a desired container and store in the fridge for up to 2 weeks.
Salad:
In a large bowl, toss the romaine lettuce, parmesan cheese, and tomatoes. Add the desired amount of dressing (the recipe provided will make enough for multiple salads). Add the shredded chicken (recipe below). Serve with additional shaved or shredded parmesan cheese.
Chicken:
Preheat the oven to 425F. In a large skillet

(I use this cast iron skillet)

, melt the butter on the stove-top over medium-high heat. As the butter melts, sprinkle the chicken thighs with salt and pepper. Add the chicken thighs to the butter and brown on each side for 4-5 minutes. Place the skillet (with chicken) in the oven and bake for 25 minutes, until no longer pink. Once cool, shred the chicken with two forks and serve with the salad.
Nutrition
Calories:
1270
kcal
Carbohydrates:
21
g
Protein:
56
g
Fat:
109
g
Saturated Fat:
27
g
Cholesterol:
270
mg
Sodium:
1996
mg
Potassium:
1471
mg
Fiber:
8
g
Sugar:
7
g
Vitamin A:
28215
IU
Vitamin C:
47.2
mg
Calcium:
540
mg
Iron:
5.8
mg
More Real Food You May Like: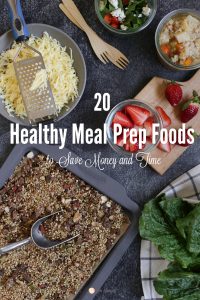 20 Healthy Meal Prep Foods to Save Money and Time
 Easy Cheesy Vegetable Sausage Lasagna