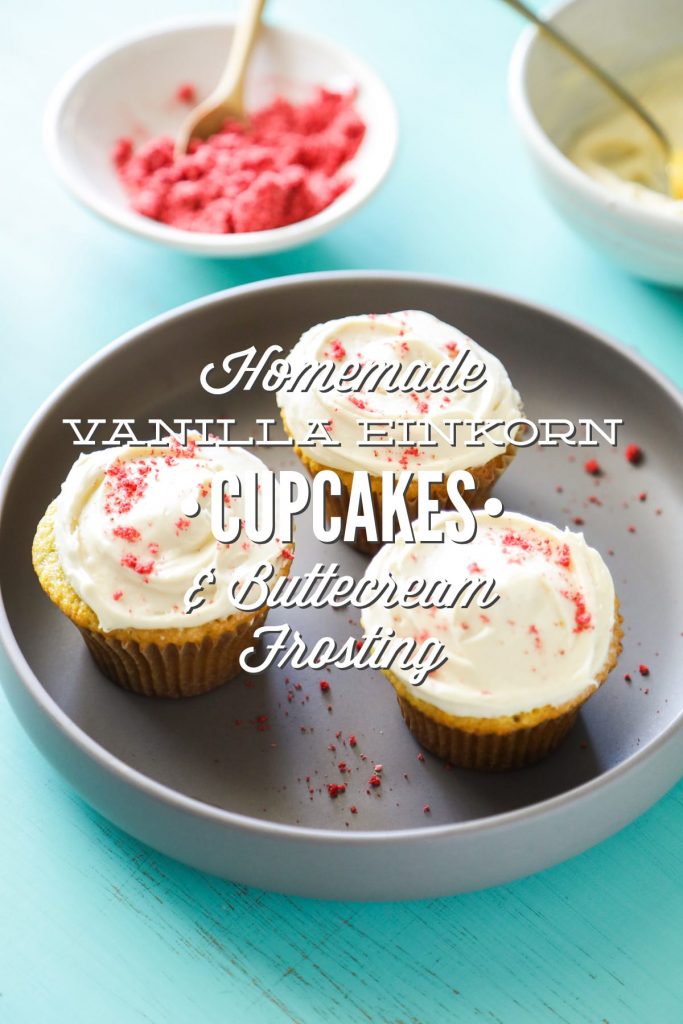 It seems like every few years, our culture picks one particular ingredient or food to villainize.
When I was a kid, fat was the big villain. Americans were obsessed with fat-free products, margarine, and egg whites. The craze resulted in food companies adding all sorts of far-from-natural ingredients to food products in order to make them appealing to the consumer. Natural fat=flavor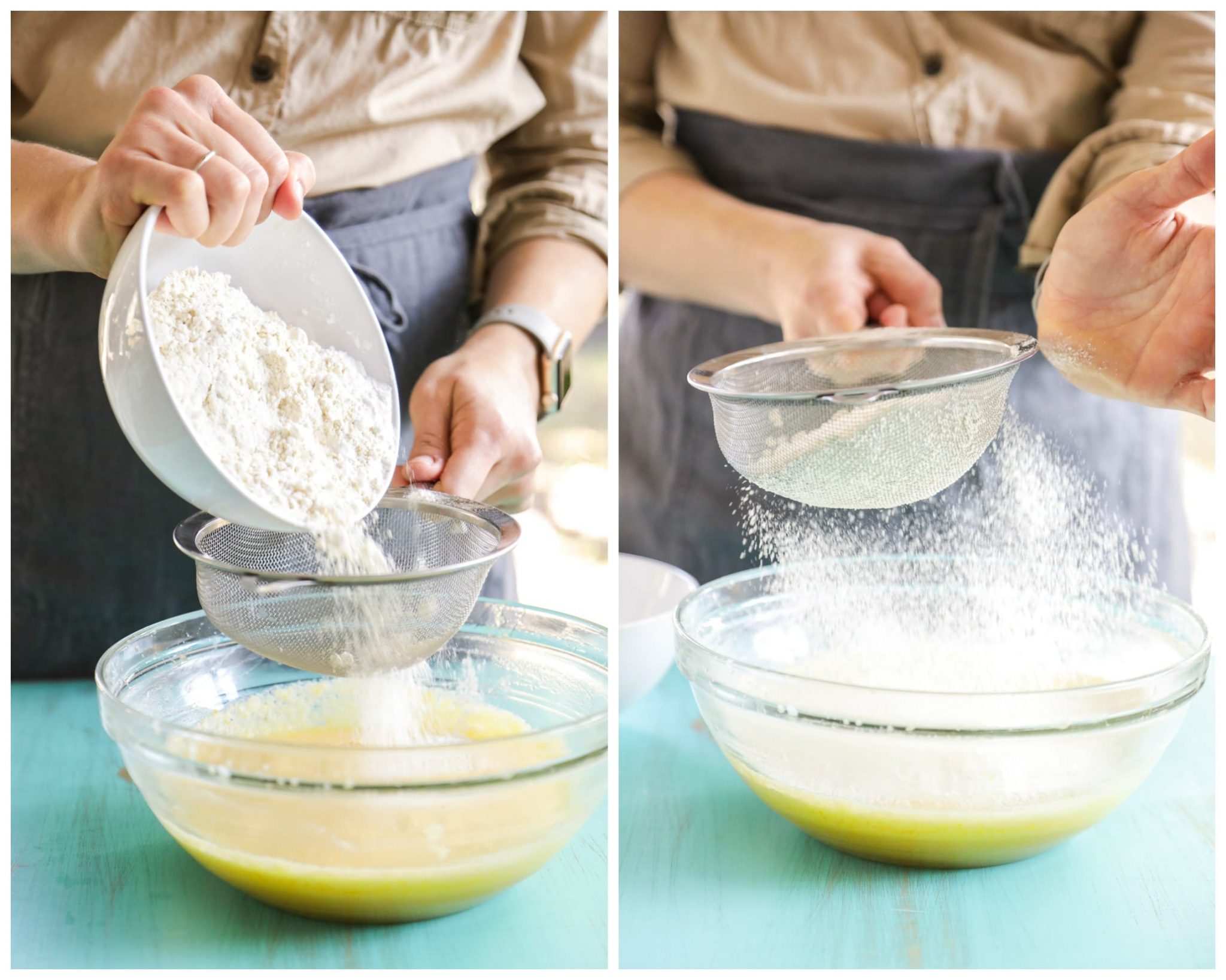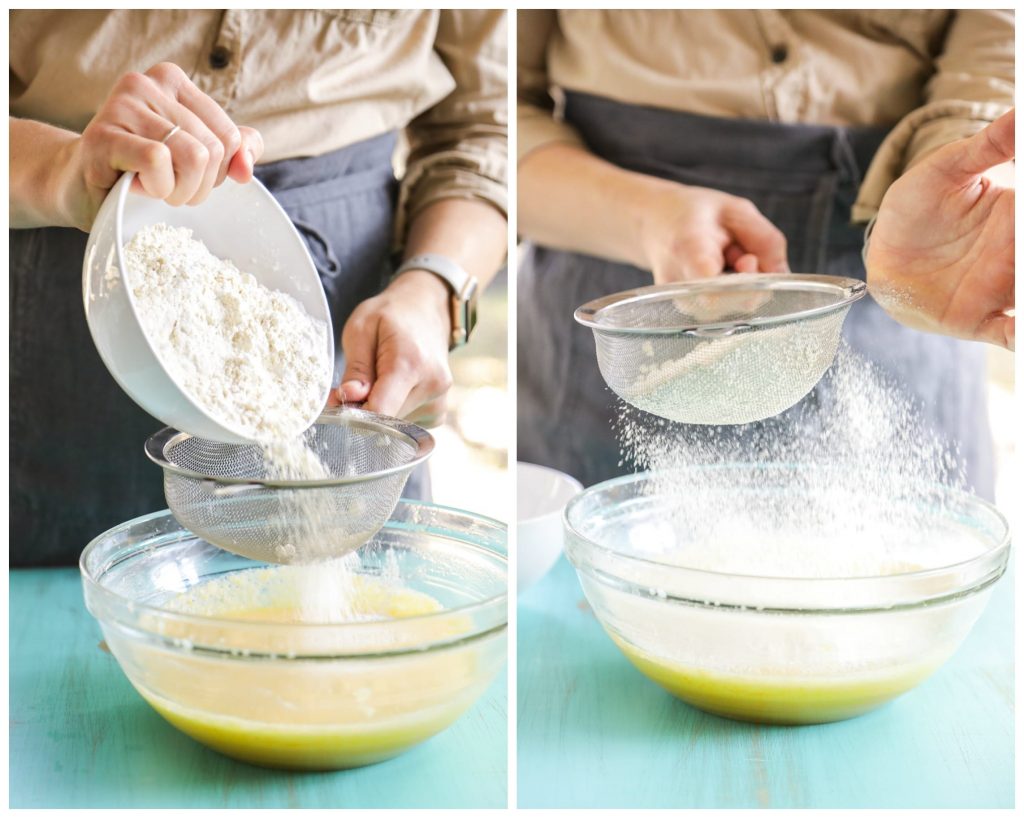 After the attack on fat, I remember cane sugar (and other natural sweeteners) became an ingredient to avoid at all costs. Artificial sweeteners, like Splenda and Equal, became the go-to alternatives.
Spoiler Alert: These not-so-natural, highly-addictive alternative sweeteners aren't so great for human (or animal) bodies. If you're still on the fence about these sweeteners, do a quick Google search about the dangers of artificial sweeteners. We probably should have known that a substance formulated in labs versus the beehive or a field wouldn't be so welcomed by our bodies. Did we learn anything from the invention of margarine?
In recent years, avoiding all animal products, including honey, has become all the rage. And while I agree that we need to be picky about the kind of animal products we consume (doing our best to source meat, eggs, and/or dairy from properly-raised animals), I wonder how long this fad will last.
The same goes for the gluten-free trend. Now there are folks who truly can't consume gluten, but for most of our culture avoiding gluten has become more of a fad than a total food lifestyle change. Big processed food companies are even jumping on board with this trend, and I suspect it's not because they're concerned about people's health ($$$). Instead of focusing on quality grains (like ancient grains), real ingredients, and grain preparation methods (like soaking and sprouting wheat), the focus is on creating gluten-free processed food (and even fast food) options.
I believe we're missing the bigger picture by villainizing (real) foods and(real) ingredients. Our focus should be on getting back to the basics with our food. How does this happen?
We start sourcing real ingredients and getting back into our kitchens. When we do this, we know exactly what goes into our food and how it's prepared. We develop a deep respect and appreciation for the real ingredients we use to make our food. It's that simple.
I absolutely love what Harry Balzer, an expert in food consulting, eating behaviors, and diet trends, says in Cooked, "Eat anything you want. Enjoy all of your food. Anything you want. You want apple pie? Have a whole apple pie tonight. You wanna have cookies with that apple pie? And ice cream with that apple pie? I'll allow you to eat all the cookies, all the ice cream, all the pie you can have tonight. I'm just gonna ask you to do one thing. Make all of them."
With this mindset, non-essential foods (the foods made to nourish our bodies on a daily basis) become special treats, because they require extra time and effort. We must source quality ingredients, mix the ingredients, heat the oven, and then wait for our treats to cool.
I think this idea is so fitting for today's recipe. A recipe that calls for cane sugar, lots of butter, and even more sugar in the form of powdered sugar–ingredients that are many times looked at as villains. These ingredients come together to create a special treat for celebrations in our home. A treat that's made in our kitchen with real, quality ingredients.
As Michael Pollan says (in Cooked–I just watched this series again), "I don't want to lecture people into the kitchen, I want to lure them into the kitchen with pleasure! That's what brought me into the kitchen." Amen, Michael, Amen! Let's stop villainzing (real) food and ingredients. Instead, let's find pleasure in real ingredients and homemade treats and meals.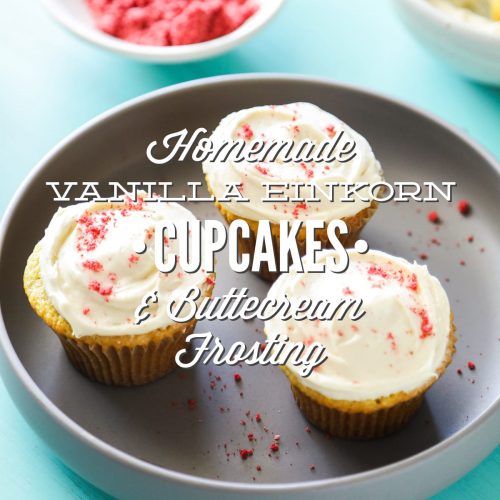 Homemade Vanilla (Einkorn) Cupcakes and Buttercream Frosting
A fluffy, from-scratch yellow cupcake made with einkorn flour.
Ingredients
Vanilla Einkorn Cupcakes:
Buttercream Frosting:
8

TB

unsalted butter

(1/2 cup//105g) softened to room temperature

1

tsp

pure vanilla extract

pinch

salt

2 1/4

cups

organic powdered sugar

(305g)

splash

whole milk

or heavy cream
Instructions
For the Vanilla Einkorn Cupcakes:
Preheat the oven to 350F. Line a muffin pan with cupcake/muffin liners.

In a small bowl, combine the milk and vinegar. Set aside.

In a large bowl, using a hand-mixer, beat together the melted butter and sugar for 30 seconds on medium speed. Add the remaining wet ingredients (milk and vinegar mixture, eggs, and vanilla extract) and beat for 30 seconds on low-medium speed.

Add the dry ingredients to a sifter/sieve/strainer. Sift the dry ingredients into the wet ingredients.

On low-medium speed (so the flour doesn't fly all over the counter), carefully beat the dry ingredients into the wet ingredients for about 30 seconds. Don't over-beat the batter--just mix until the ingredients are combined.

Scoop the batter into the individual liners in the muffin pan. Don't overfill the individual liners with batter--about 1/4-1/3 of the way full is ideal. If you have any extra batter, go back and add a small amount to each cupcake, or if you don't want any "muffin tops" on your cupcakes, bake the extra batter as extra cupcakes.

Reduce the oven temperature to 325F. Bake the cupcakes for about 20-22 minutes, until the the tops are firm and have a bit of a "spring" when touched.

Allow the cupcakes to fully cool before frosting.
For the Buttercream Frosting:
Using a hand-mixer, beat the butter, vanilla extract, and pinch of salt on medium speed until it's creamy and slightly fluffy.

Add the powdered sugar, one cup at a time, beating the sugar and butter together. Continue until all the sugar is added.

Finally, add the milk, a splash at a time, beating the frosting until you reach the desired consistency. Less milk results in a thicker frosting. More milk results in a fluffier frosting. Use as many splashes of milk as needed.

Frost each cooled cupcake with the buttercream frosting. I use an ice cream scooper to scoop and drop the frosting on the cupcakes, and then level and spread the frosting with a knife.

The frosted cupcakes can be kept at room temperature for several hours. Store any leftover cupcakes in the fridge.
Notes
Depending on how much you fill the muffin pan, you'll probably get between 12-15 cupcakes (12 if you fill them 1/3 way full, and the cupcakes with have "muffin tops"; 15 if you don't want the "muffin top" look)
*Einkorn is known as the oldest variety of wheat making it an ancient grain. The ancient grain is believed to have originated in the Tigris-Euphrates region and is possibly the main grain referenced in the earliest accounts of the Bible. To put it simply, einkorn is the wheat men were eating in the earliest days before modern-day wheat varieties. While modern wheat has undergone hybridization, einkorn still holds true to its original properties. Einkorn is slowly gaining popularity, but is still grown in only a few regions in Europe.
The sweet, ancient grain has a lighter texture and taste than modern-day wheat, and contains a more favorable gluten ratio. People with minor gluten sensitives may be able to consume einkorn without the issues associated with whole wheat due the lack of D-genome, however, einkorn is not gluten-free. 
Einkorn looks and tastes similar to white flour. Einkorn is sold in some health food stores and online.
**I believe organic corn starch can be substituted for the arrowroot flour/starch. 
Muffin Pan: I use a dark, non-stick muffin pan. If you're using a light, ceramic pan you may need to cook the cupcakes a bit longer than recommended or even keep the oven temperature at a 350F.   
Sprinkles? I used crushed dehydrated strawberries in the photos. I also like India Tree company for sprinkles and natural dyes. 
Nutrition
Calories:
158
kcal
Carbohydrates:
1
g
Protein:
1
g
Fat:
16
g
Saturated Fat:
10
g
Cholesterol:
69
mg
Sodium:
118
mg
Potassium:
65
mg
Vitamin A:
530
IU
Calcium:
38
mg
Iron:
0.2
mg