We're officially back to normal life after our two-week adventure in Michigan and Chicago. I would call our trip a vacation, but when you travel with kids a trip is more of an adventure than a curl-up-with-a-book-and-forget-about-the-world vacation. A family adventure is fun and relaxing in its own unique way.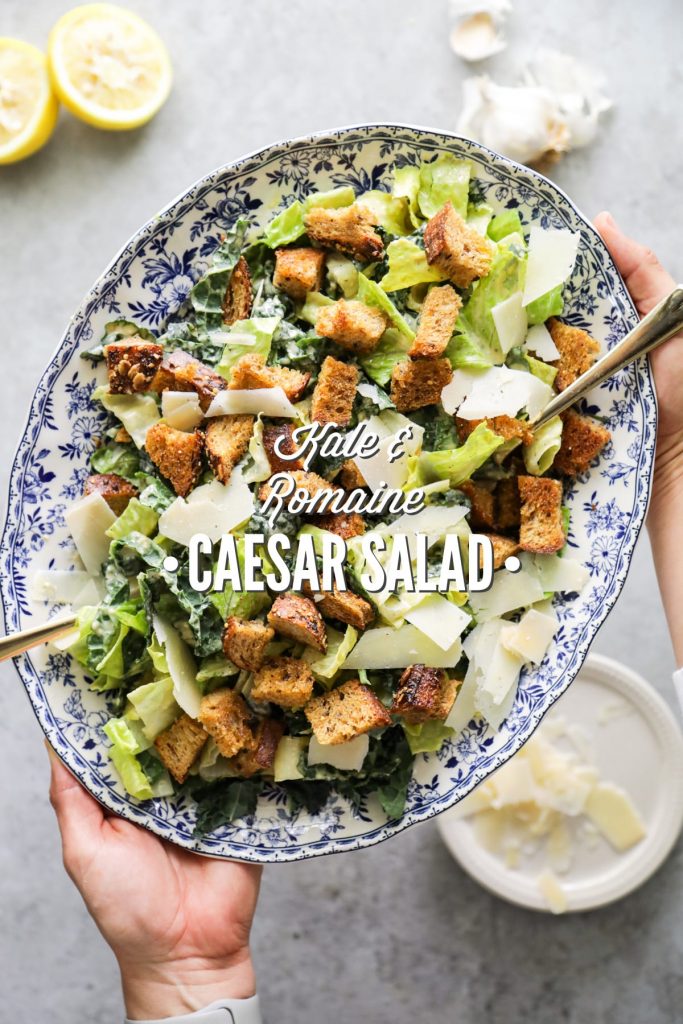 I've been so impressed with our kids when it comes to traveling. They are such troopers. On this particular trip, we took every transportation possible (planes, rental cars and Ubers, long-distance trains, city subways and buses, horse and carriage, and boats), dined in "adult" restaurants (you know, the kind of restaurants that purposely avoid kid menus), and lived out of just one suitcase for two weeks. We also enjoyed many "kid" activities, from playing at an indoor waterpark to rolling down the famous Sleeping Bear Dunes to spending the day at an interactive museum.
Dustin spent the weekend putting together a video, which I'll upload below. It's long, as was our adventure ;).
One of my favorite things about getting away from home is the opportunity to enjoy "other people's" food. We only spent two or three days at each location on our trip, which meant I couldn't purchase groceries and cook. For most of our trip, we relied on restaurants to feed us. This was such a treat for me, since I spend so much time in the kitchen cooking for my family and developing recipes for the blog and freelance clients.
The restaurants (and a couple of family-friendly breweries) we visited were suggestions from Google or family members. And most of the restaurants were farm-to-table in nature. I found the farm-to-table movement to be quite extensive in Michigan and very affordable. Quite the contrast from where we live.
Thanks to our food experiences, I returned home with fresh inspiration and enthusiasm for spending time in my kitchen. Sometimes getting away can be just the inspiration needed to keep going.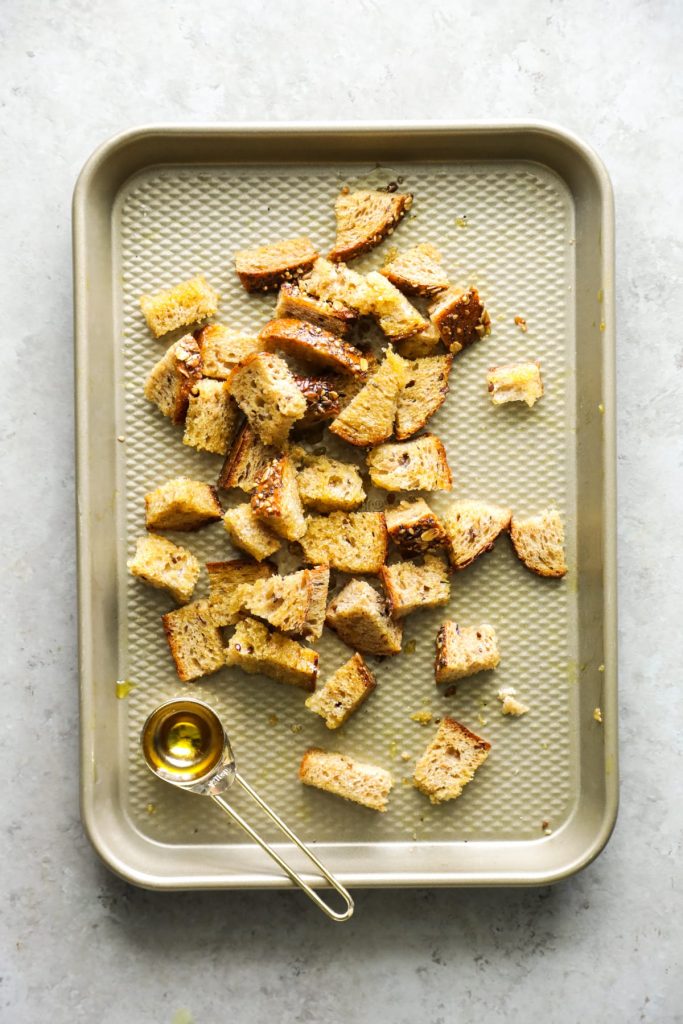 While we were in Chicago, I wanted to dine at The Girl and The Goat, but since a reservation should be made three or four months in advance, that wasn't going to happen. I was thrilled to learn that Stephanie, the mastermind behind The Girl and The Goat, opened up two other restaurants in the area. One of the restaurants, Little Goat Diner, had a few seats available on the day we visited the West Loop.
There were so many interesting, not-your-typical-diner-meals, on the menu. I had a hard time choosing between the options. (We had "reservations" at the famous AuCheval later that afternoon, so I didn't want to order too much food.) I ended up ordering a caesar salad with homemade caesar dressing, baby romaine, homemade croutons, and radishes.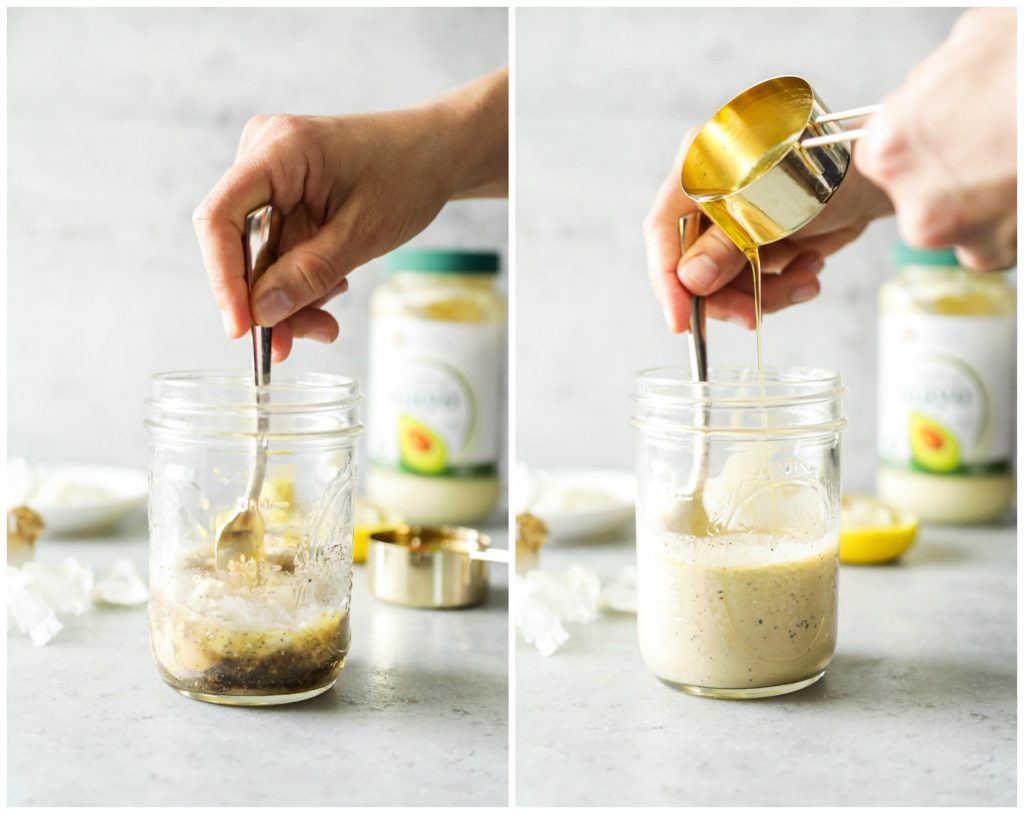 Now, you should know something about me and food. There are a few meals that make me weak at the knees: black beans, caesar salad, tacos, guacamole, and burgers. I could probably live off these five foods the rest of my life and be perfectly happy. And when you think about, I'd probably enjoy a well-balanced diet.
Unfortunately, caesar salad is one of the foods that I usually stay away from on menus due to the salad dressing (most are commercial dressings, from a bottle, with all sorts of headache-inducing ingredients). So when I noticed a homemade caesar salad was available at the diner, accompanied by homemade croutons and radishes (a vegetable I've come to desire and love over the past couple of years), I knew it had to be mine.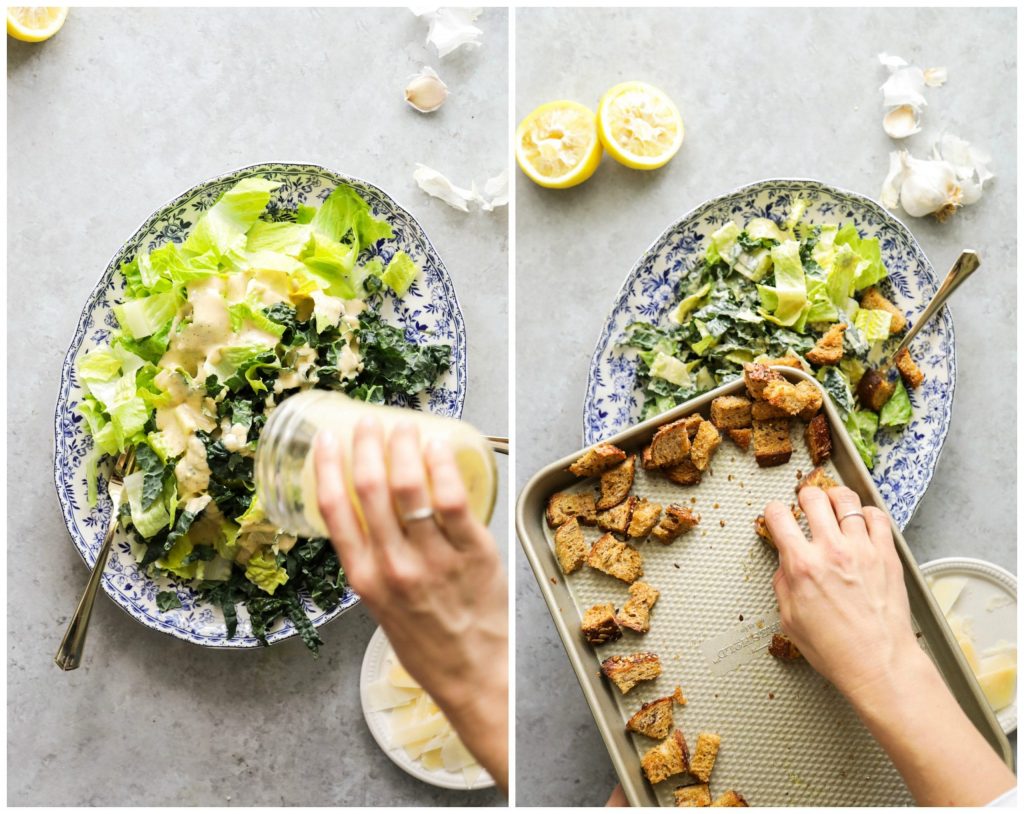 The salad was amazing. Every bite was better than the last. If you're in Chicago, I highly recommend ordering the caesar salad at Little Goat Diner. It won't disappoint. And the burger at AuCheval was also incredible. It wasn't grass-fed (at least I don't believe so) or topped with a single vegetable other than red onions, but it was worth it! There's a reason the AuCheval burger is rated the best burger in America (according to Bon Appetite).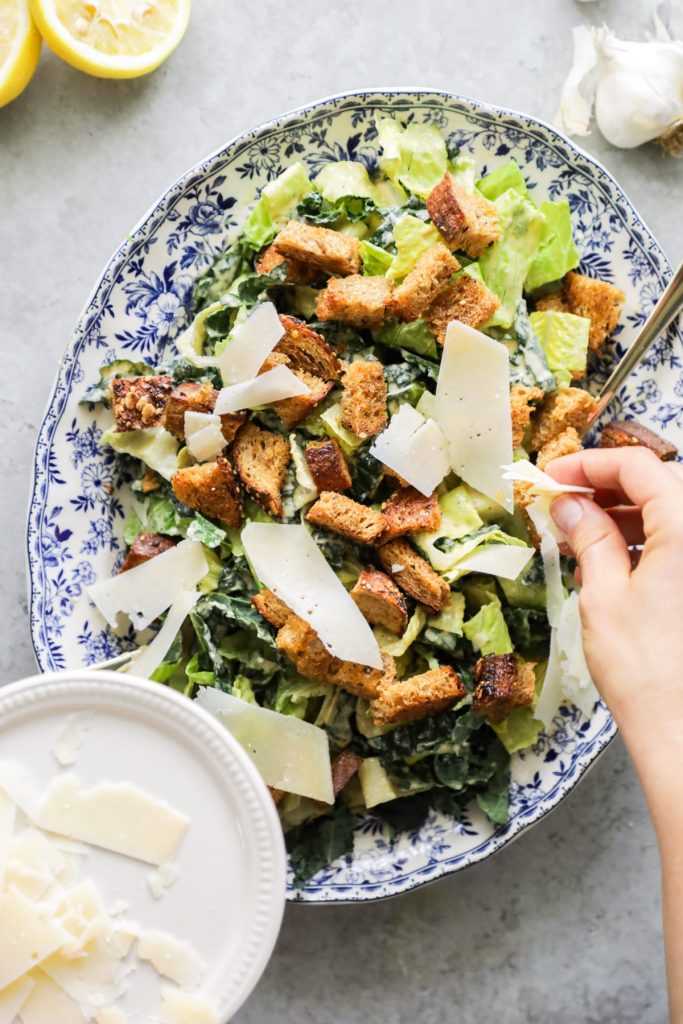 After my caesar salad experience in Chicago, I was so excited to make and photograph today's recipe.
This homemade caesar salad is made with romaine and kale (a nice variety of crunchy and soft), a simple homemade dressing and fresh croutons. I asked Laura, a recipe developer/tester for Live Simply, to work on perfecting this recipe last month and she absolutely nailed it! This salad is everything summer eating should be: fresh, simple, satisfying, and bursting with flavor.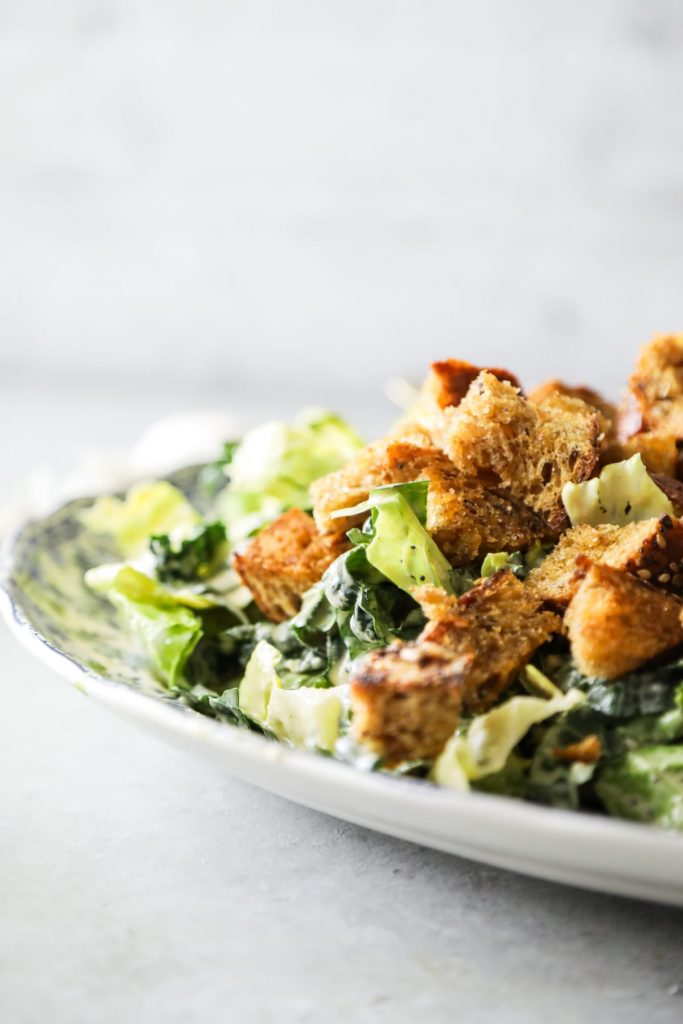 Kale and Romaine Caesar Salad with Homemade Dressing and Croutons
A fresh, real food take on classic caesar salad.
Ingredients
Croutons:
2

cups

bread

cut in 1" cubes

2

TB

extra virgin olive oil

or avocado oil

pinch

salt
Homemade Caesar Dressing:
1/4

cup

mayonnaise

2

TB

lemon juice

about 1/2 a large lemon, juiced

1

TB

dijon mustard

1

medium

garlic clove

minced

1/4

tsp

salt

1/4

tsp

black pepper

1

tsp

worcestershire sauce

1/3

cup

extra virgin olive oil

1/4

cup

grated parmesan cheese
Salad:
2 1/2

cups

lacinato kale

(about 1 small bundle) washed, dried, destemmed and chopped

2 1/2

cups

romaine lettuce

(about 1 romaine heart, or half a head of romaine) washed and chopped

shaved parmesan cheese

as much as desired
Instructions
For the croutons:
Preheat the oven to 375°F.

Toss the bread squares in the olive oil and spread them on a baking sheet lined with parchment paper. Parchment is optional if your baking sheet doesn't have an issue with food sticking.

Sprinkle the bread with a pinch of salt.

Bake until the bread is crispy, or about 15 minutes.
For the dressing:
Add the mayo, lemon juice, mustard, garlic, salt, pepper, and worcestershire sauce to a small bowl and whisk until combined, then slowly stream in the olive oil while continuing to whisk.

Stir in the parmesan.
Assemble the Salad:
Add the romaine and kale to a salad bowl, then top with the prepared dressing.

With clean hands, massage the salad until the kale leaves have softened slightly and the dressing evenly coats the leaves. Your hands will get messy, so this optional. The massage step helps to break down the tough kale. If you'd like to massage the kale a bit before adding the dressing, feel free to do so. Then simply toss the dressing and greens with two spoons.

Top the salad with shaved parmesan cheese and croutons. Serve immediately.
Nutrition
Calories:
398
kcal
Carbohydrates:
10
g
Protein:
5
g
Fat:
38
g
Saturated Fat:
6
g
Cholesterol:
11
mg
Sodium:
467
mg
Potassium:
174
mg
Fiber:
1
g
Sugar:
1
g
Vitamin A:
3925
IU
Vitamin C:
19.8
mg
Calcium:
118
mg
Iron:
1.3
mg