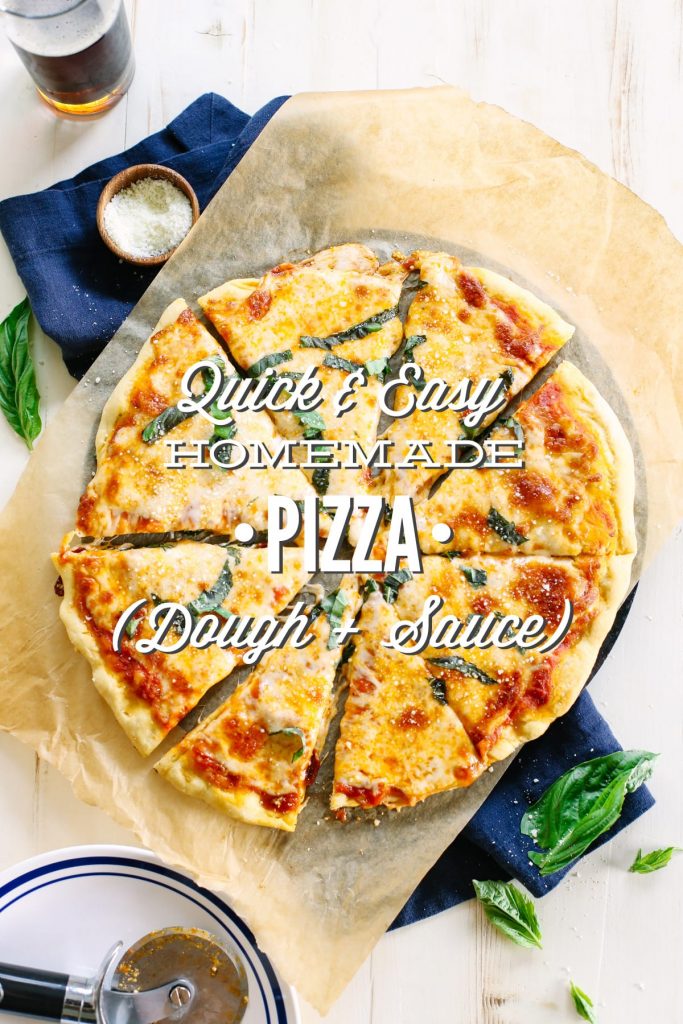 Friday means one thing in our house, pizza!
It's a tradition.
If you've ever watched Fiddler on the Roof then you know, don't EVER mess with tradition!
"Tradition, Tradition!"
Tradition can be changed-up, such as pizza rolls or pizza pockets, but Friday night always consists of some sort of dough, sauce, and cheese. Tradition!
Before real food, we ate a lot of pizza from a box or freezer section. Can that stuff really be called pizza? Special occasions called for our version of "homemade" pizza. A package of Pillsbury Dough or dough from the bakery of our grocery store.
After turning to real food and label reading, I realized pre-made pizza and dough just weren't going to make the cut anymore. There is absolutely no reason real pizza should contain over 10, 20, 30 plus ingredients. Even the "fresh" pizza dough from my grocery store was filled with preservatives and dough stabilizers. Ingredients I didn't want to feed my family.
What's a tradition-loving girl to do?
Make my own.
My first few attempts were awful. That's putting it nicely. My pizzas either turned out like a brick or sponge. I just couldn't get pizza right.
One Friday it happened. The perfect pizza was made. Perfectly melted cheese. The sauce, just the right consistency and flavor. The crust, crispy and soft.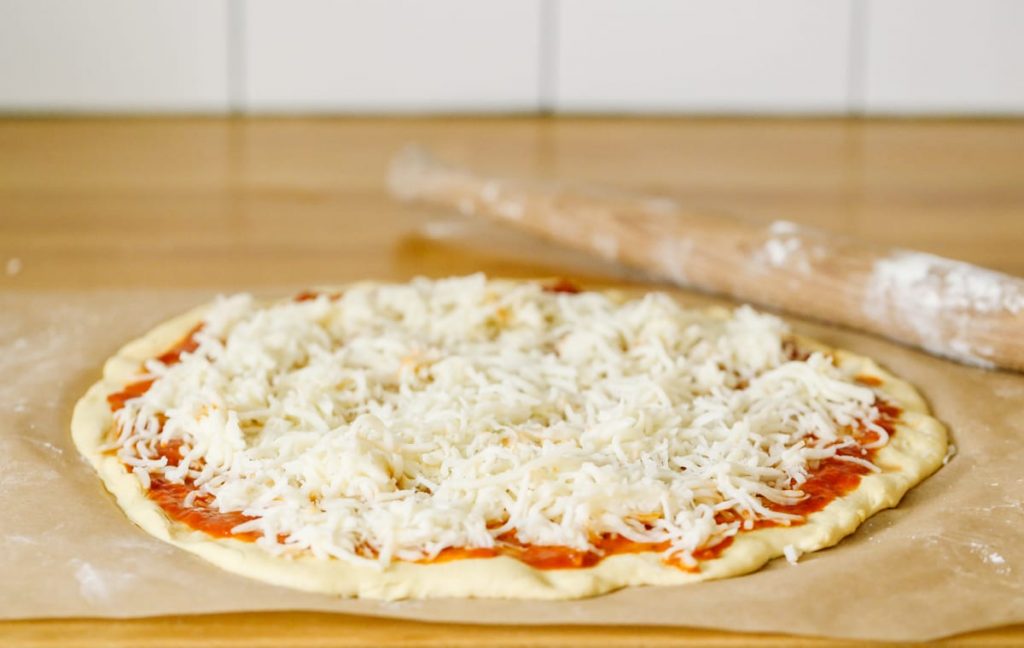 Today, I am going to share two recipes with you: perfect pizza dough and a delicious multipurpose red sauce.
Perfect Homemade Pizza (and Sauce)
Perfect pizza dough and a delicious multipurpose red sauce.
Instructions
For the Sauce: Combine all the ingredients in a blender or food processor. Pulse on high until smooth. If you're using this recipe for spaghetti, simmer the sauce on the stovetop for 30 minutes. No cooking is required if you're using this recipe for pizza.

For the Dough: In a large mixing bowl, sprinkle the yeast over the warm water. After about 5 minutes, the yeast will begin to foam. Stir in the salt.

Using the dough hook on your stand mixer (you can also mix the dough by hand), gradually add one cup of flour at at time. Mix the flour and yeast mixture together.

Knead the dough with the bread hook or by hand until the dough is smooth and elastic, adding a tsp of water at a time, if needed. You may not need all 3 cups of flour.

Coat the dough with olive oil (2 Tablespoons). Cover the bowl with a towel. Let the dough rest on the counter for 1 hour, until doubled in size.

Place a baking stone in the oven and preheat the oven to 490F.

While the oven is heating and stone is getting hot, roll out the dough on a well floured surface.

Remove the baking stone from the oven and quickly place the dough on the hot stone. Top with sauce, cheese, and toppings.

Bake for 15- 20 minutes, until the crust is golden and cheese bubbles. Makes 2 medium pizzas or 1 large.
Nutrition
Calories:
1785
kcal
Carbohydrates:
328
g
Protein:
66
g
Fat:
36
g
Saturated Fat:
4
g
Sodium:
6095
mg
Potassium:
3805
mg
Fiber:
54
g
Sugar:
42
g
Vitamin A:
4155
IU
Vitamin C:
119.2
mg
Calcium:
624
mg
Iron:
22.3
mg
Flour Note: I used einkorn flour in the updated photos (2015).
Einkorn is known as the oldest variety of wheat making it an "ancient" grain. The ancient grain is believed to have originated in the Tigris-Euphrates region and is possibly the main grain referenced in the earliest accounts of the Bible. To put it simply, einkorn is the wheat men were eating in the earliest days before modern-day wheat varieties. While modern wheat has undergone hybridization, einkorn still holds true to its original properties. Einkorn is slowly gaining popularity, but is still grown in only a few regions in Europe.
The sweet, ancient grain has a lighter texture and taste than modern-day wheat, and contains a more favorable gluten ratio. People with minor gluten sensitives may be able to consume einkorn without the issues associated with whole wheat due the lack of D-genome, however, einkorn is not gluten-free. Einkorn is packed with nutrition, containing high levels of protein along with the antioxidant beta-carotene lutein and minerals.
Einkorn looks and tastes similar to white flour, so it's the perfect healthy flour to use when making pizza dough. Einkorn is sold in some health food stores and online.
Einkorn doesn't like to be kneaded or overworked, so you'll want to stop kneading einkorn pizza dough once the flour is combined into the dough. If you continue to knead the dough, it will "deconstruct" and turn into a mushy dough that's impossible to handle.
The secret to making the perfect pizza and cooking instructions:
Secret 1: You will need a baking stone. Despite my love for cooking and making everything in my kitchen, I hate spending money on new kitchen gadgets, so when I say "You need a baking stone to cook pizza," I mean it. I actually have three. Pizza cooks perfectly on a baking stone. (My baking stone)
Secret 2: Oven temperature. A temperature as close to 500º as possible. I have a natural gas oven and this means my oven gets extremely hot. I tend to set my oven around 490º. You want a really hot oven.