Today, we're going to make an easy, family-friendly recipe: a homemade honey mustard chicken dinner with potatoes and spinach. Not only is this meal healthy and delicious, it's also incredibly easy to make because it's prepared on just one sheet pan.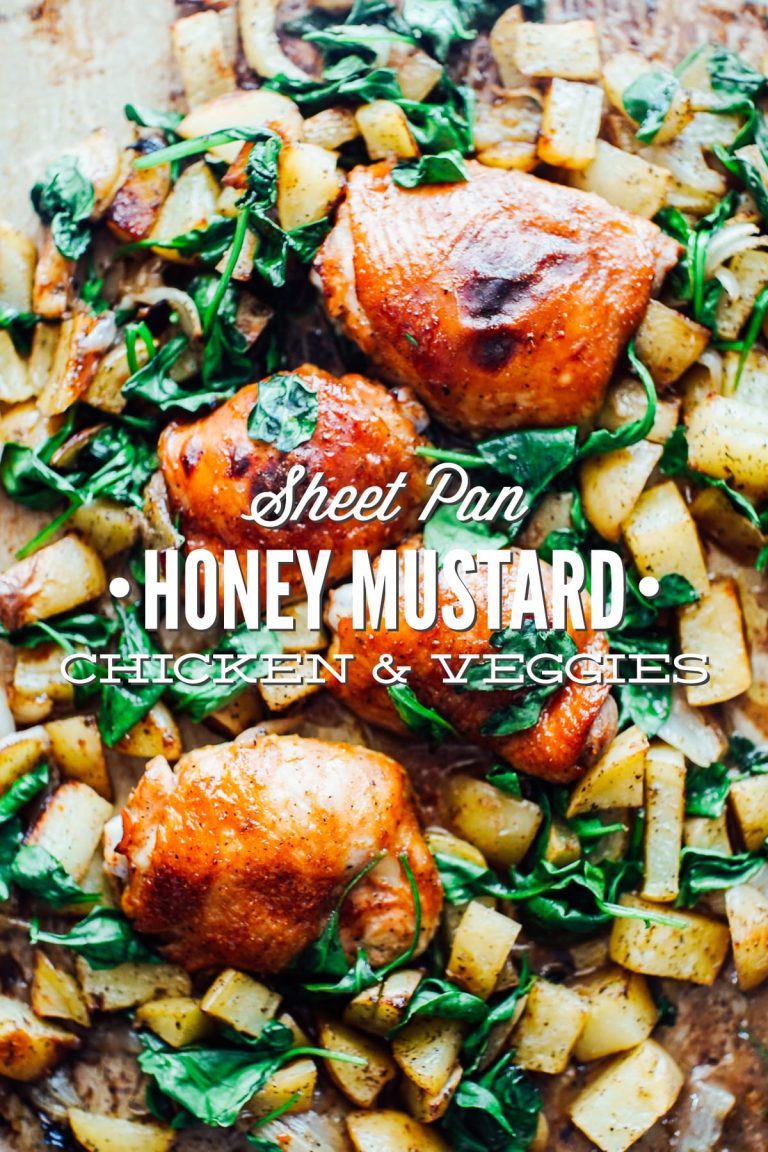 As a working mom with two kids and a husband with an interesting work schedule, I've been on a quest over the past few years to figure out how to make traditional, real food work in our current season of life. A season that, despite my love for cooking, doesn't lend itself to spending hours in the kitchen each day. I know a lot of us– whether you're a stay-at-home, a working mom, or a single lady–are in the same boat. We want to serve healthy, real food meals, but we need the tools, strategies, and recipes that enable us to do this in a relatively easy way that works with our modern day life demands.
I believe that slowing down to nourish ourselves is important, especially in our hustle, go-go-go culture. That said, I don't think we have to spend hours in the kitchen each day to make this slowing down happen.
We can
prepare dinner, in a timely fashion, and still have time to sit and eat. We can prioritize life, real food meals, and develop a culture of good food in our homes and the community that comes with that.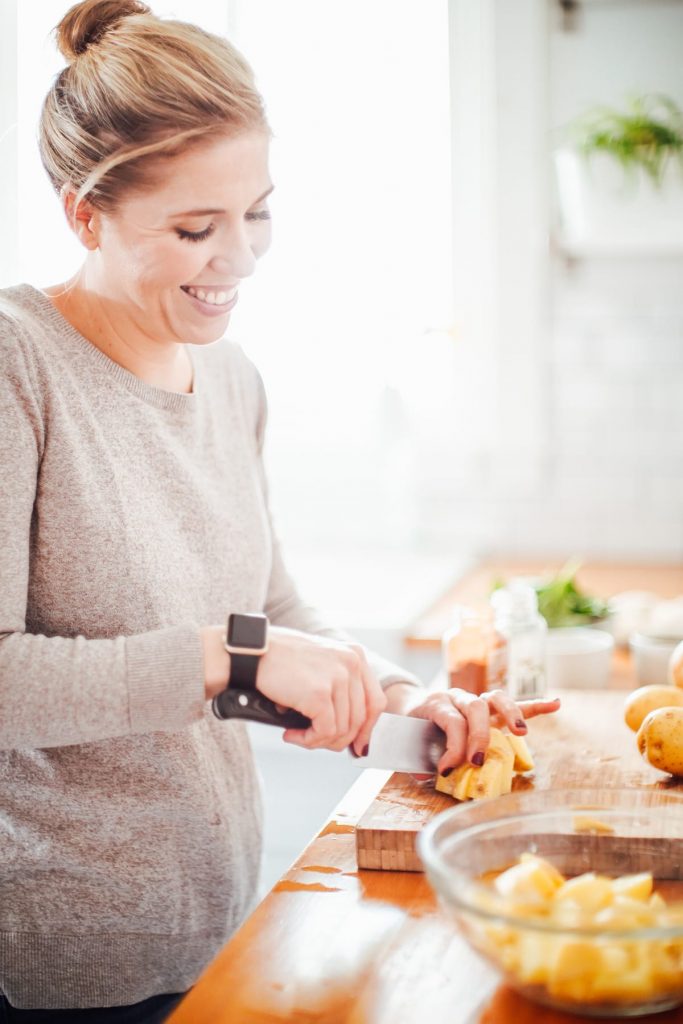 One way I do this is to keep easy meals on rotation during the week. For me, this isn't a time to experiment with a new recipe (which requires extra time to get a feel for the recipe) or cook anything that requires slow methods (like a slow-cooked roast).
Instead, during the week, I focus on meals that I can approach at 5pm each night with ease and confidence. Most of these recipes are made in a skillet (like fried rice), the Instant Pot (like soup), or on a sheet pan (like today's meal). Today, I'm sharing what has become one of our favorite sheet pan dinners.
What is a Sheet Pan Dinner?
A sheet pan dinner is simply a meal that's made on a sheet pan. The concept is similar to a one pot meal, but instead of a pot you use a sheet pan to create an entire meal.
Sometimes a sheet pan dinner is made on just one large sheet pan and other times the ingredients are divided between two sheet pans. The number of sheet pans needed depends on the ingredients used, the size of the ingredients, cooking times, etc. For today's meal, we're going to use one large sheet pan.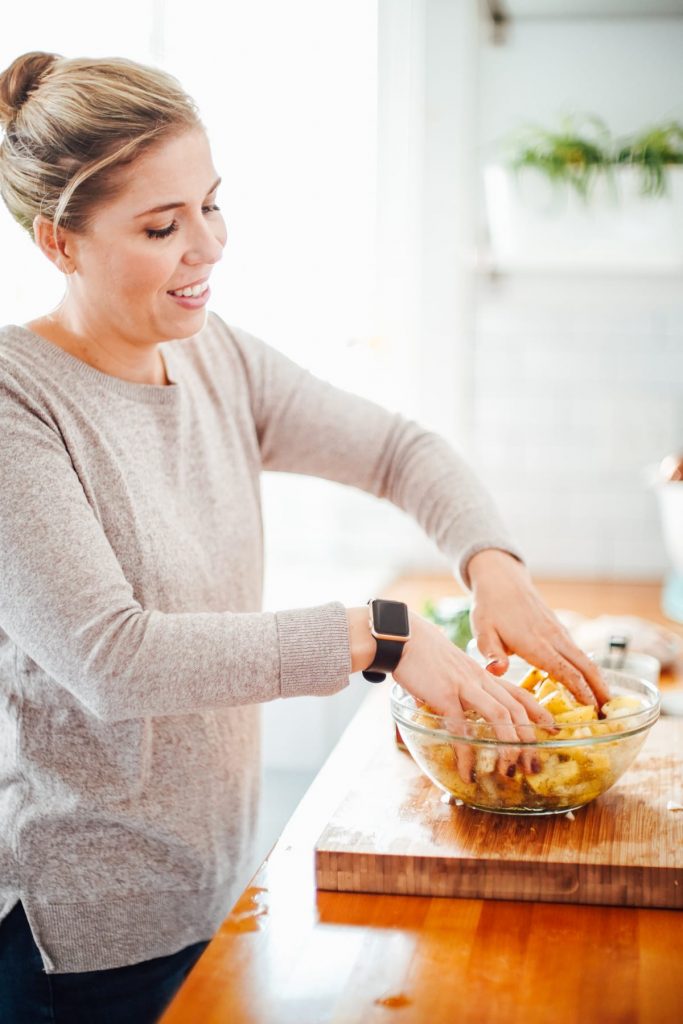 The idea of creating an entire dinner on a sheet pan is to simplify in all areas: cleanup, the equipment needed to make the meal, the ingredients used to make the meal, and your overall time spent in the kitchen.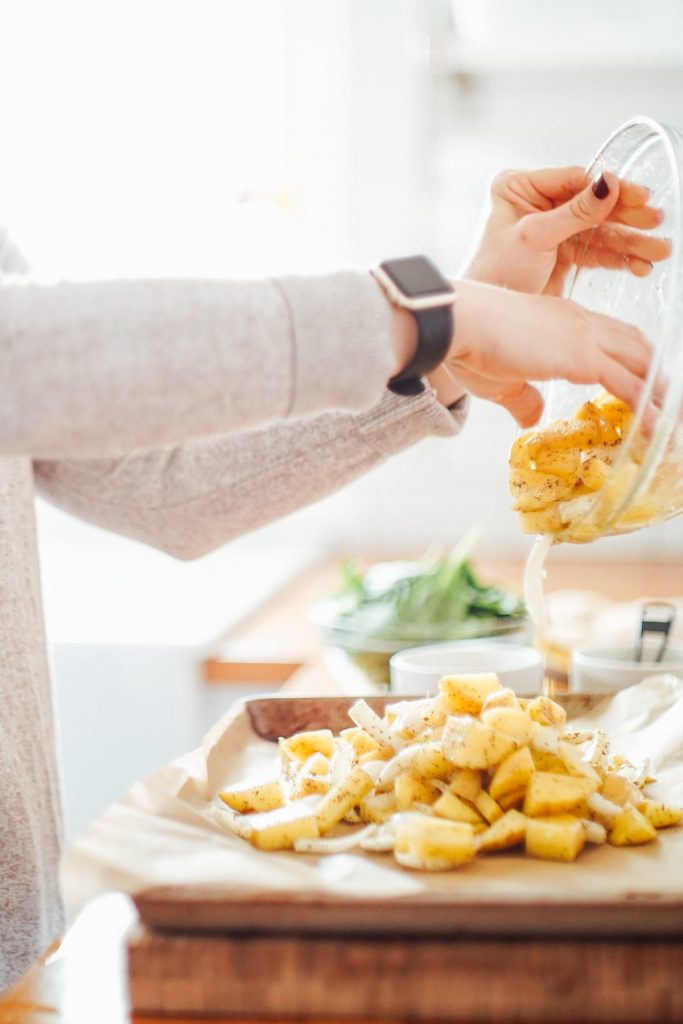 Sheet pan meals are usually made with veggies (which should be cut in a consistent manner), a protein, a fat, and seasonings. In today's recipe, the veggies are potatoes, onion, and spinach, the protein is chicken thighs, the fat is olive oil and the naturally-occurring fat found on the chicken thighs and skin, and the seasoning is a homemade honey mustard sauce along with salt and pepper and thyme.
Once you have this formula down (veggie, protein, fat, and seasoning), you can create your own sheet pan dinner recipes.
Sheet Pan Meal Formula: Veggie, Protein, Fat, Seasoning
How to Make This Chicken Sheet Pan Dinner
Since we're going for one-pan, one-meal simplicity with this recipe, vegetables (potatoes and onions) are roasted up alongside the meat. Before we can do that, the veggies get a head start in the oven. To start, add the potatoes and onions to a bowl (or just directly to your sheet pan to save time), along with the olive oil, salt, pepper, and thyme. Toss everything together and then roast the veggies in the oven for 15 minutes in a 400F oven.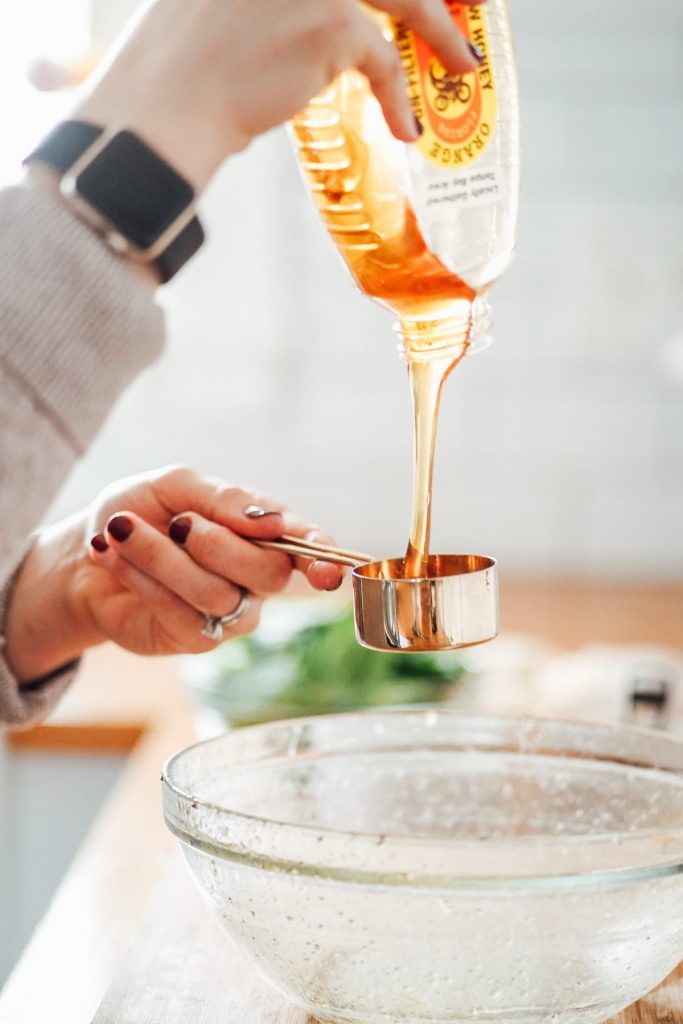 While the veggies cook, make the honey mustard marinade (just a few basic pantry ingredients like honey, Dijon mustard, apple cider vinegar) and rub the chicken thighs with the marinade.
By this time, the veggies will be ready to exit the oven. Give the veggies a stir and then push them to the perimeter of the sheet pan. Place the chicken in the center of the pan and return the pan to the oven for 30-45 minutes, or until cooked through (which you can determine by using an oven thermometer). The cooking time will depend on your oven and also the size of the chicken thighs.
Once the chicken is cooked through, the spinach is added to the veggie mixture. Since the veggies are hot, the spinach will naturally wilt.
And there you go, a quick and easy complete dinner all on one sheet pan!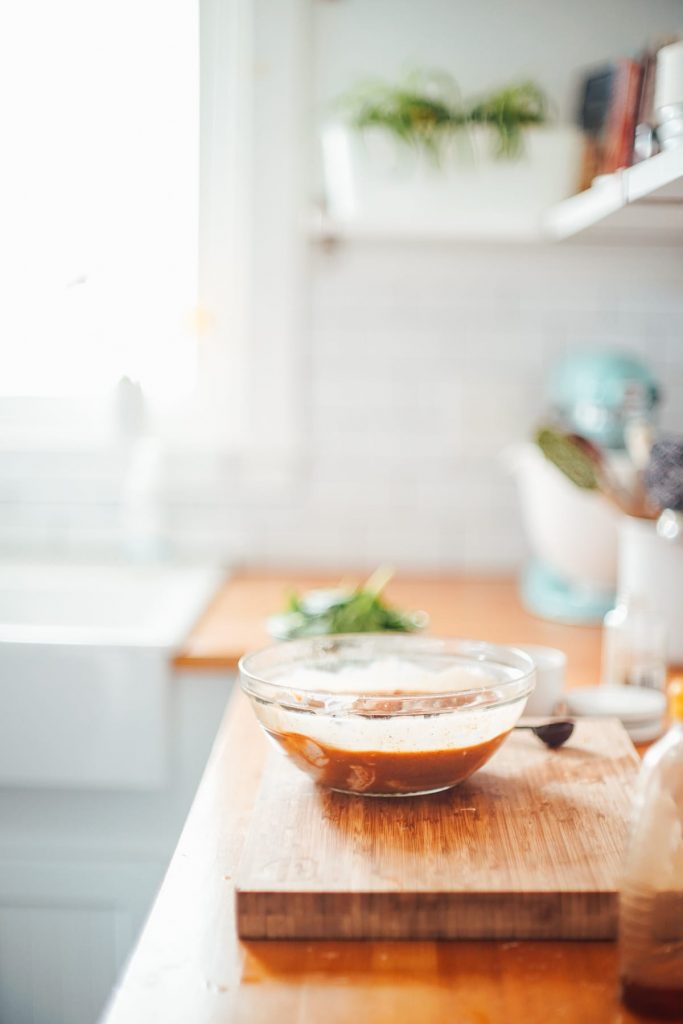 Sheet Pan Chicken Variations
The beauty of a sheet pan meal is that variation is totally possible. Personally, I love to change up the veggies depending on the season and what's available at the farmer's market. To do this, think about the heartiness of the veggies called for in a recipe.
For example, if potatoes are used in a recipe (like this), adding zucchini in place of the potatoes probably isn't a great idea. Why? Well, zucchini cooks for about 20 minutes. Potatoes require a much longer cooking time.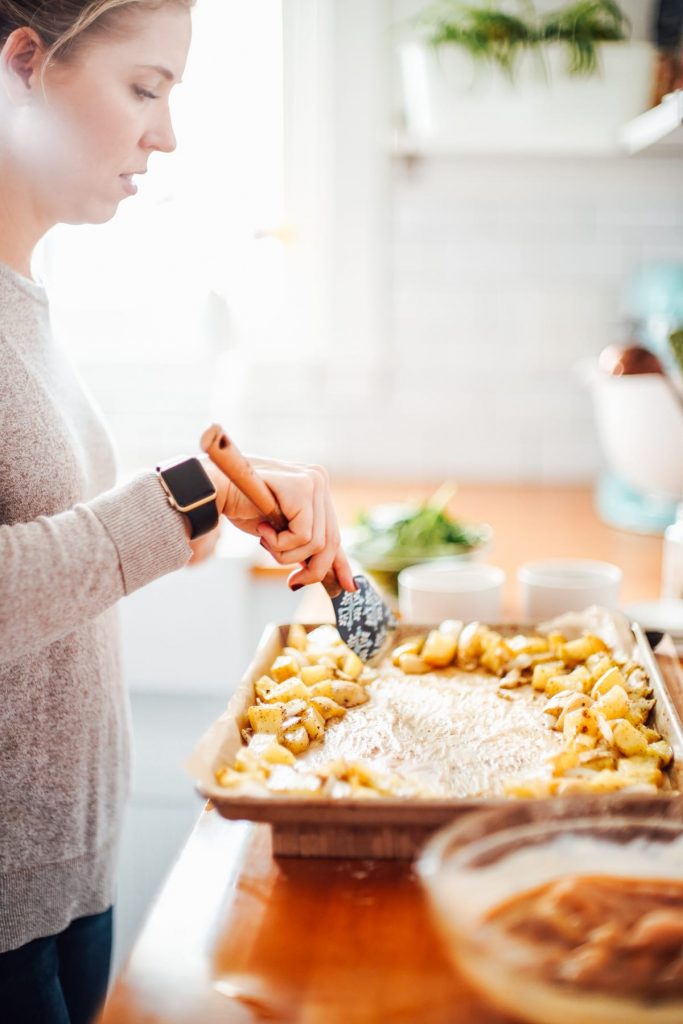 In this recipe, hardier veggies may easily be substituted for the potatoes. This could be butternut squash or other hard squash, sweet potatoes, or Brussels sprouts. All of these options would be lovely paired with the honey mustard chicken and the onions and spinach.
Another variation is to change up the spinach with a different leafy green. Think delicate greens here, so arugula (would add a lovely spicy flavor) or baby kale.
Time-Saving Food Prep Tips
If you know that you have a particularly busy day ahead of you and want to prep this meal in advance, here are some ideas…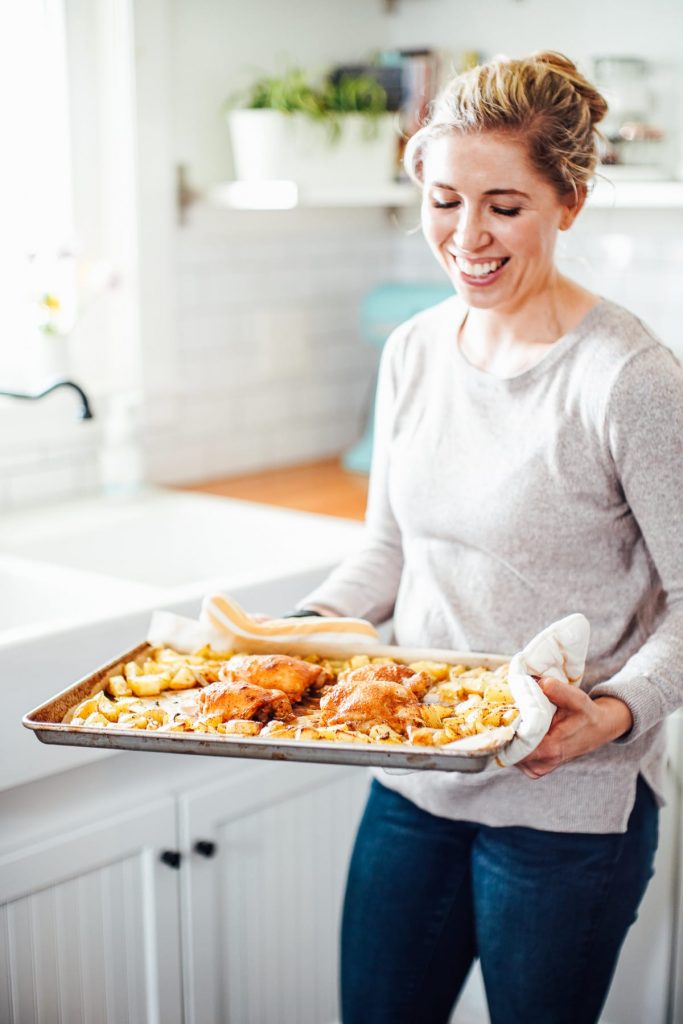 Chop the veggies in advance. Potatoes may be chopped 2-3 days in advance. To do this, chop the potatoes and store them in a jar of water (with a lid), in the fridge. I know, that sounds crazy but it works. This prevents the potatoes from drying out and turning brown.
Make the marinade and prep the chicken. Mix together the homemade honey mustard marinade and coat the chicken in this marinade. This may be done up to 1 day in advance. Store the chicken in the fridge in a bag or storage container.
Don't make dinner at all. I'm just kidding. That would save time, but that's not an option ;). We all gotta eat.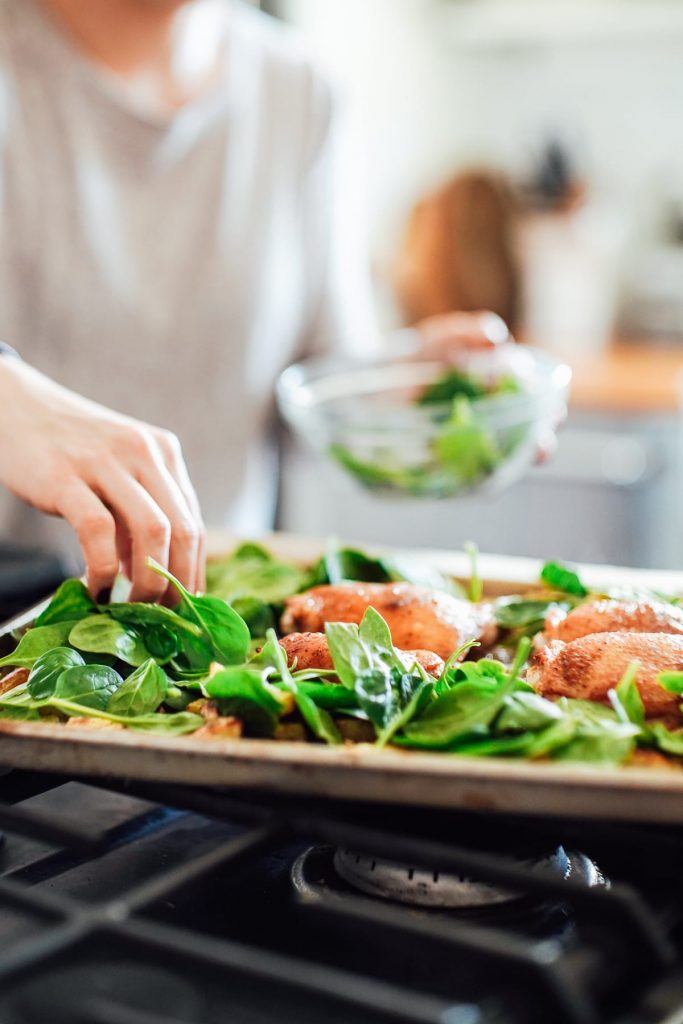 More Sheet Pan Dinner Recipes
We've arrived! It's time to share this family-favorite, easy-to-make recipe with you. I also want to leave you with a few other time-saving (as in, they don't take hours to make) dinner recipes that you can try out and add to your weeknight dinner rotation.
Take the Guess Work OUt of meal planning
Free 64 Rotational Meals Ideas Cheat Sheet
Breakfast, lunch, dinner, and snack recipes to rotate week after week. Put healthy meals on auto-pilot.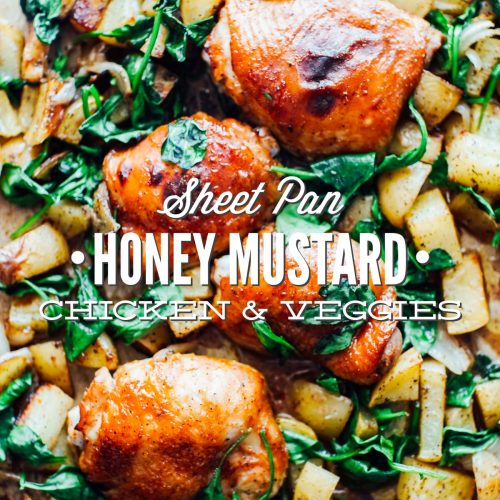 Sheet Pan Honey Mustard Chicken, Potatoes, and Spinach
An easy chicken and veggie inspired sheet pan dinner made with chicken thighs, homemade honey mustard sauce, potatoes, and spinach.
Ingredients
Vegetables:
2

lbs

Yukon potatoes

quartered lengthwise or chopped to your desired size (not diced or chopped too small)

1

medium

white onion

cut into eighths

2

TB

extra virgin olive oil

or avocado oil

1-1 1/2

tsp

salt

to taste

1/2-3/4

tsp

black pepper

to taste

1/2

tsp

dried thyme

5

oz

baby spinach
Chicken:
4

bone-in and skin-on chicken thighs

(see note below if more chicken is needed)

1/4

cup

honey

preferably a light-colored and tasting honey like Orange Blossom

3

TB

Dijon mustard

1

TB

apple cider vinegar

1

tsp

salt

1

tsp

paprika

1/2

tsp

pepper
Special Equipment:
large

sheet pan

or two medium size sheet pan (and divide the chicken and veggies between the two pans)
Instructions
Preheat oven to 400F and line a sheet pan with parchment paper.

Add all vegetable ingredients (potatoes, spinach, olive oil, salt, pepper, thyme) except spinach to a large mixing bowl. Combine well and spread on the prepared sheet pan.

Roast the potatoes for 15 minutes.

While potatoes bake, combine the chicken marinade ingredients in the same large mixing bowl: honey, Dijon mustard, apple cider vinegar, salt, paprika, pepper . Add the chicken thighs to the bowl, skin down.

After 15 minutes, remove the baking sheet from the oven and stir the potatoes, then move to the edges of the pan to create room for the chicken.

Rub marinade into the chicken, under the skin, then place skin side up in the middle of the baking sheet.

Return the sheet pan to the oven for 30-45 minutes (depending on your oven and the size of the thighs), until the chicken reaches 165 in the thickest part. Chicken thighs won't dry out (like chicken breasts) so there's no issue with leaving the chicken in the oven for a few extra minutes. Chicken thighs are very forgiving. I like to finish the thighs off for a few extra minutes under the broiler just to crisp up the skin.

Remove the chicken to a plate to rest.

Add the spinach to the sheet pan and stir to combine with the potatoes. Return to the oven for 5-10 minutes to wilt the spinach. If you choose to change up the leafy green and use arugula instead, don't add the arugula back to the oven.
Notes
Need more chicken? 
This recipe serves one chicken thigh per person (making this meal enough for 4 people). If you want to make 6-8 total pieces of chicken, you can definitely do that. For 6, you'll have no issues. For 8, you'll need to make more sauce and also use two sheet pans: one sheet pan for the chicken and one for the veggies. 
The same goes for potatoes. If you want to make more potatoes, you could easily add up to 3lbs (one bag) to this recipe without issue. Add just enough oil and salt to coat. Use a second sheet pan if needed. 
Nutrition
Calories:
604
kcal
Carbohydrates:
51
g
Protein:
31
g
Fat:
32
g
Saturated Fat:
8
g
Cholesterol:
142
mg
Sodium:
1759
mg
Potassium:
1509
mg
Fiber:
8
g
Sugar:
19
g
Vitamin A:
3682
IU
Vitamin C:
38
mg
Calcium:
128
mg
Iron:
10
mg
5 FAVORITE
Easy Chicken Recipes