I think one of the most basic and important foods you can learn to make when making the switch from processed "food" to real food is vinaigrette salad dressing. Why?

Learning to make homemade, from-scratch salad dressing will first of all save you a ton of money. One of the questions that came in for the Q&A podcast episode was for tips on saving money and eating real food. Making your own salad dressing is a great example of how you can save money and enjoy a real food lifestyle.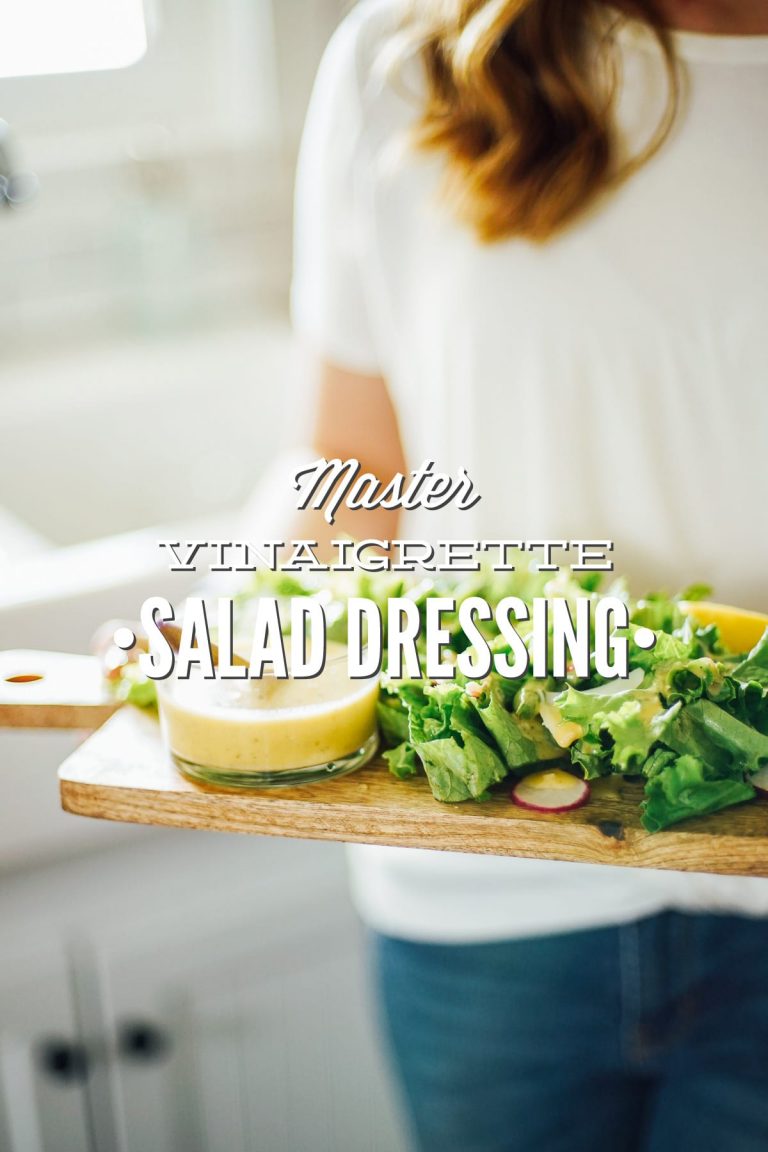 Making a simple vinaigrette dressing only requires a few basic ingredients. These ingredients may be used beyond making a salad dressing, too. For example: olive oil is used for roasting and sautéing just about anything and everything. Salt is used in everything! Salt not only adds the pop and flavor most dishes need, but also beneficial minerals.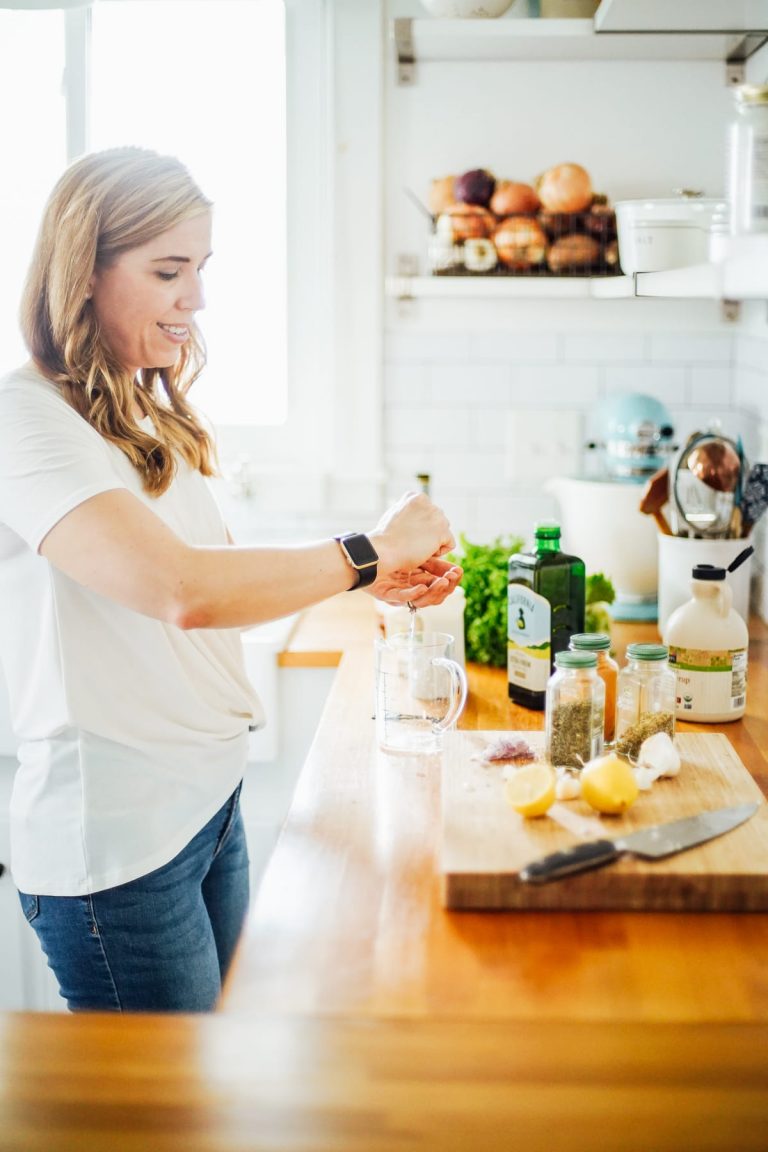 Packaged food, like a bottled dressing, will cost you $4-5 for a product made with decent ingredients. And that's just for one food, with one purpose. Sure, individual ingredients will cost more, but they'll also last twice as long and may be used in a variety of other ways.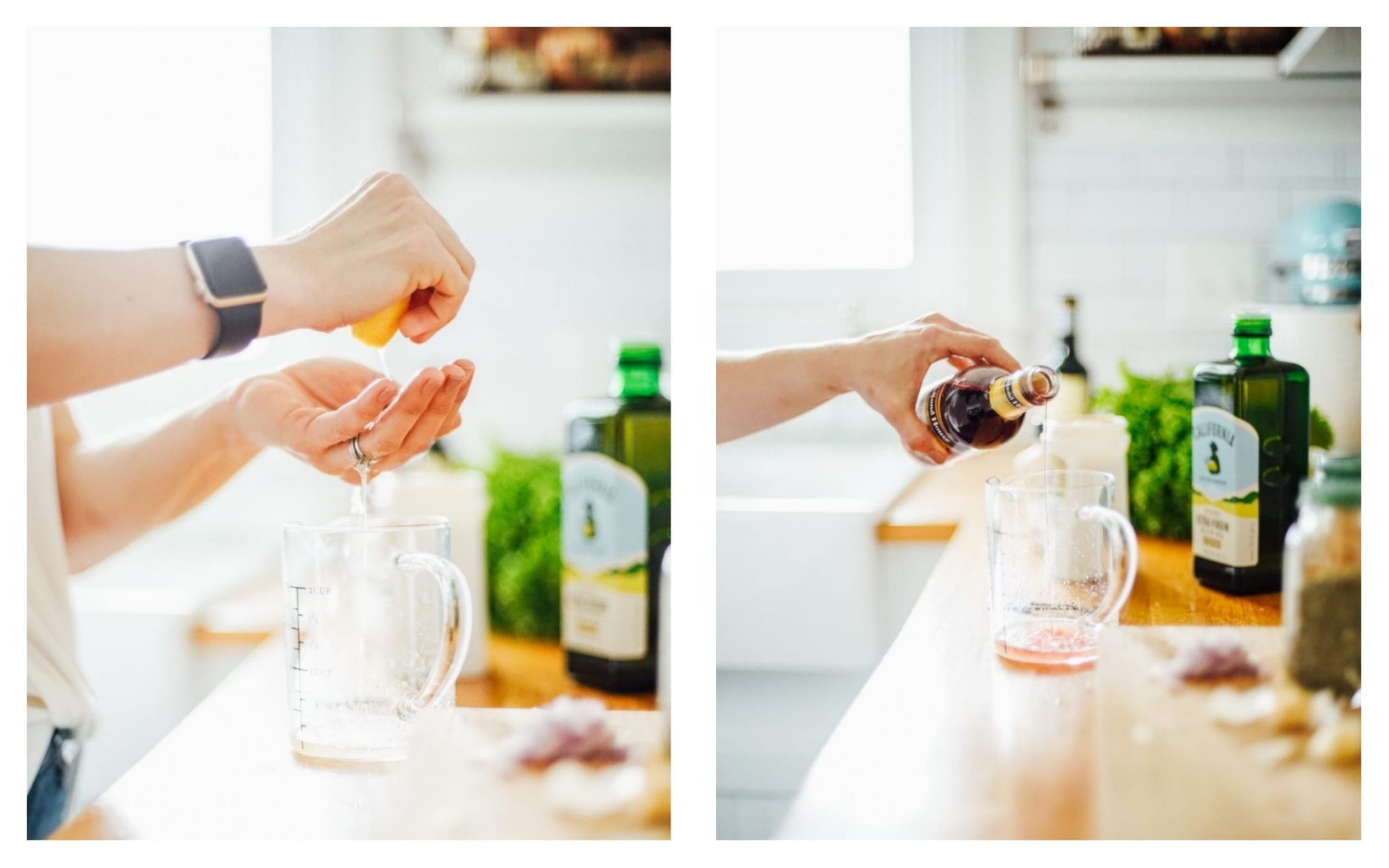 Beyond the money-saving aspect, there's also the avoiding crappy ingredients part. Most salad dressings on store shelves are far from simple, real foods. Most are made with preservatives (which is understandable for a product that needs to last many years) and even artificial colors and flavors. That's just a couple of concerns. Next time you're in a grocery store, even a place like Whole Foods, pick up a few salad dressing options and read the ingredient lists. It's quite an eye-opening experience. 
Finally, homemade salad dressing tastes amazing! It's fresh and easy to customize. Once you get the basics down—mixing oil and vinegar with salt—you can customize your dressing with multiple combos and other ingredients to create your own flavor profiles. During market season, add fresh herbs to your dressing. In the winter, go with dried herbs from your pantry stock. Want a creamy vinaigrette? Add tahini or mustard. Want more of a honey-mustard vinaigrette? Add honey and mustard to the oil and vinegar or lemon juice base.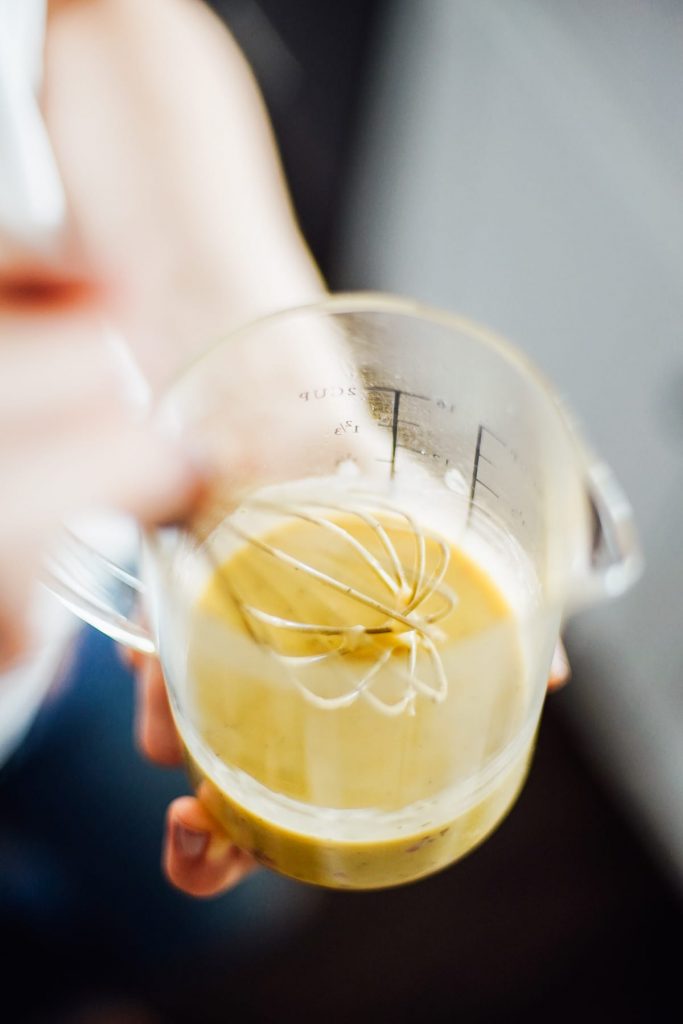 Let's talk about the base of a homemade vinaigrette. Then, I'll share how to customize this base.
One Recipe, Multiple Possibilities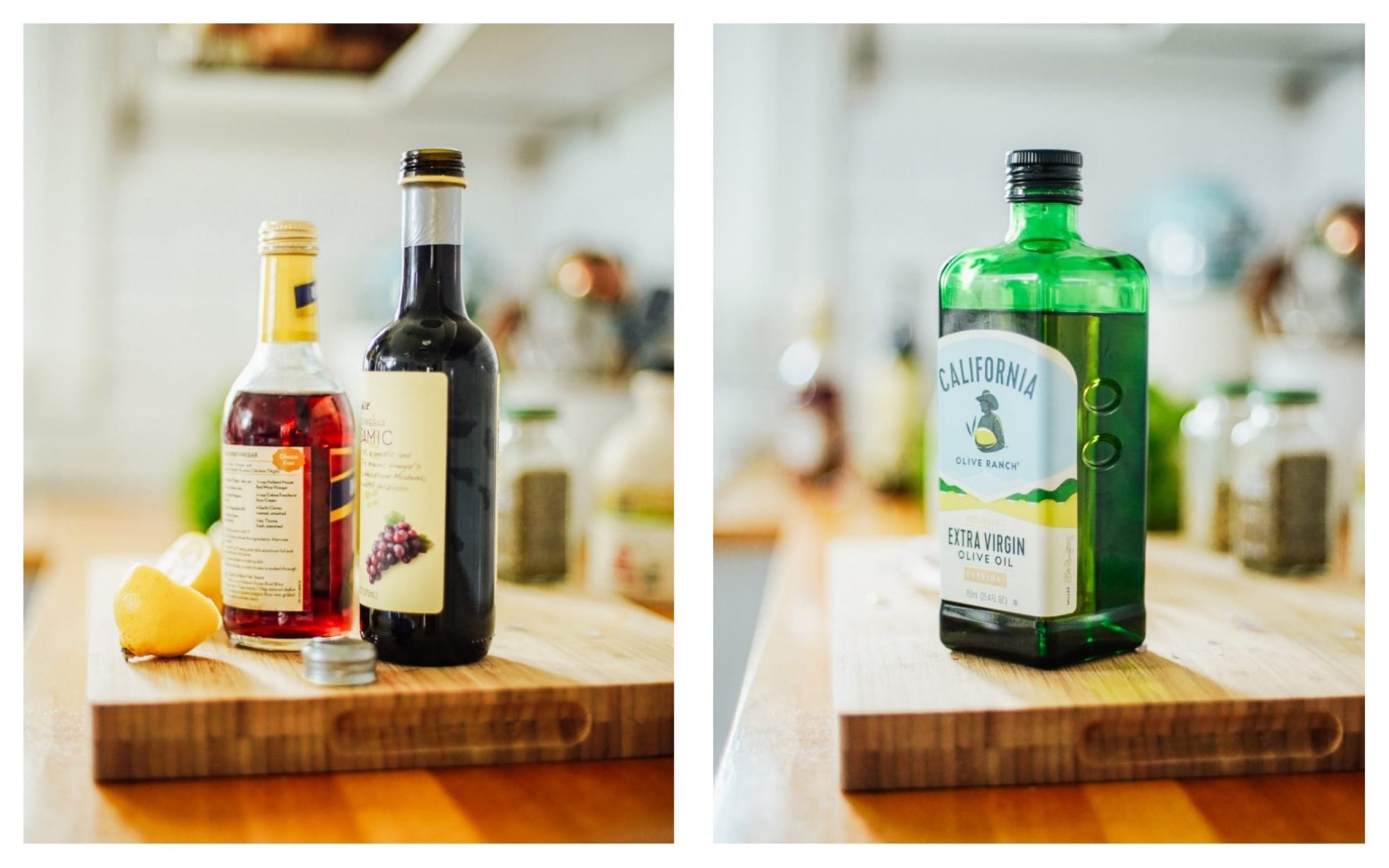 Base Ingredients: Vinegar, Lemon Juice (or Citrus Juice), Extra Virgin Olive Oil, Salt 
First, homemade vinaigrette dressing is made with just a few simple ingredients: vinegar or lemon juice, extra virgin olive oil, and salt. That's it! You can make an amazing dressing with just 3 ingredients: lemon juice, oil, and salt. There are many nights when I do just that.
I always go with 3 tablespoons of vinegar or lemon juice to 1/2 cup of olive oil. That's my suggestion and taste preference, but here's the thing about salad dressing. You can customize it to your liking and it's easy to do this. Try my suggestion and if you find you want more of an acidic dressing, try upping the amount of vinegar or lemon juice by a tablespoon. Another suggestion is to mix vinegar and lemon juice, or even the juice from an orange for a citrus pop. You can also add variety and customize your dressing with different vinegars: red wine, apple cider, white wine, balsamic.
With this base, you can customize a vinaigrette dressing to your liking. Let's talk about how to do this…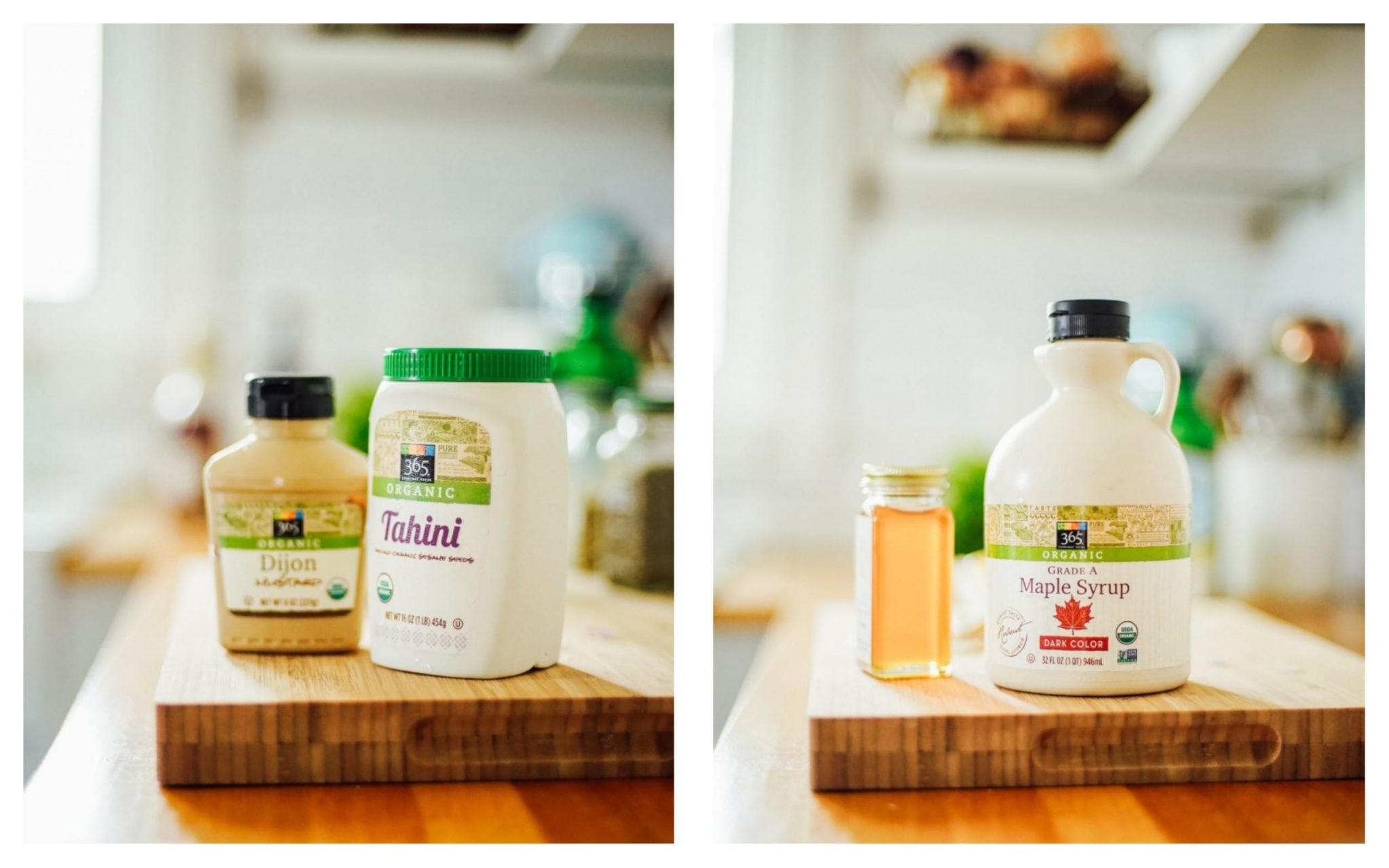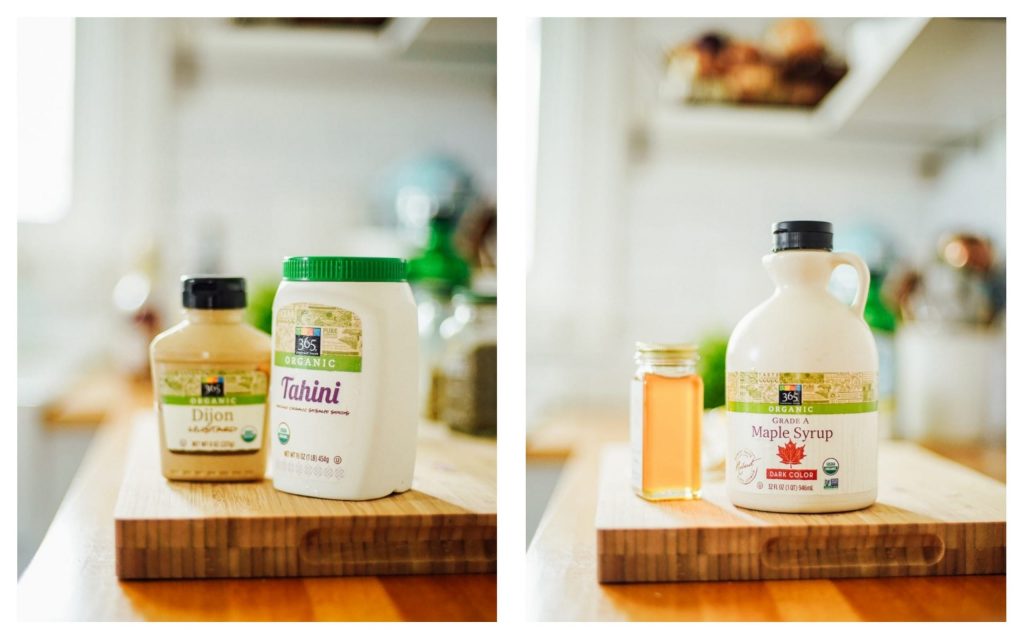 Optional "Customize It" Ingredients: Sweetener, Mustard, Tahini, Seasoning
Tahini is my favorite "extra" ingredient to customize a basic vinaigrette. Tahini is a paste made from sesame seeds, and it's quickly become one of my favorite ingredients to add to salad dressing. When added to the oil and vinegar, it makes for the creamiest vinaigrette with a slightly nutty taste. You can find tahini in just about any grocery store.
Dijon mustard is another popular ingredient added to make a creamy vinaigrette dressing. It does add a very distinct mustard flavor to the dressing and acts as an emulsifier for the vinegar and oil. Dijon mustard is definitely the recommendation. No yellow mustard here.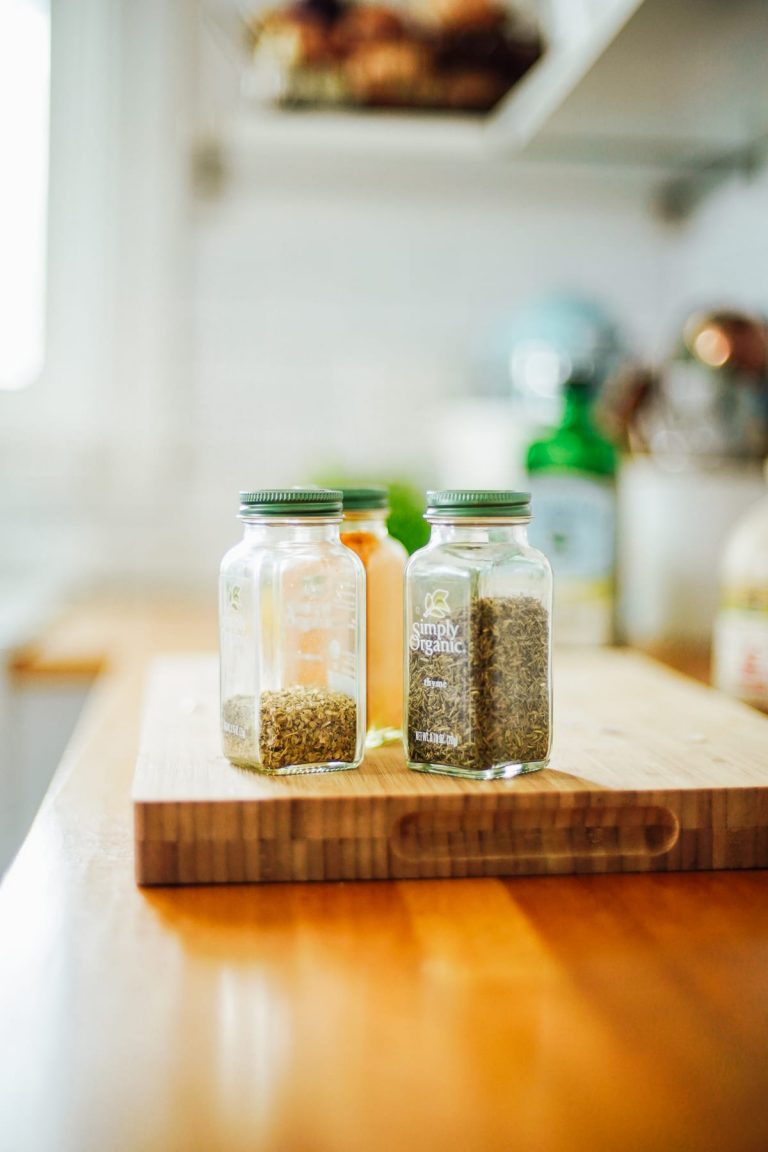 Next, you can add seasonings like fresh garlic and herbs. These will add unique flavor to any vinaigrette. My favorite seasonings to add to a vinaigrette are oregano or herbs de provence (a blend that's amazing for anything and everything, particularly chicken and fish). Turmeric is a fun option as well, although it can be quite strong so start with a small amount (1/4 teaspoon) and add more according to your preference. During the market season, when herbs abound, try adding chopped fresh herbs instead of dried herbs. Or, when working with fresh herbs, add them directly to your salad and skip the herbs in your salad dressing.
Finally, in order to balance the acidic taste of the vinegar, adding a natural sweetener like honey or maple syrup can lend a wonderful flavor. Acidity and sweetness pair perfectly. You don't need a ton of sweetener to balance out the acid, just a touch will do.
Now, if you're opposed to adding sweetener to a dressing, you certainly don't have to add it. But if you find the vinegar or lemon juice is too overpowering for you, try adding some sweet honey or maple syrup.
When it comes to customizing your dressing, choose just one optional ingredient or choose one seasoning, sweetener, and either tahini or mustard. Play around with different combos and note what you like best.
And just like that, you can make your own homemade vinaigrette, with so many variations and possibilities.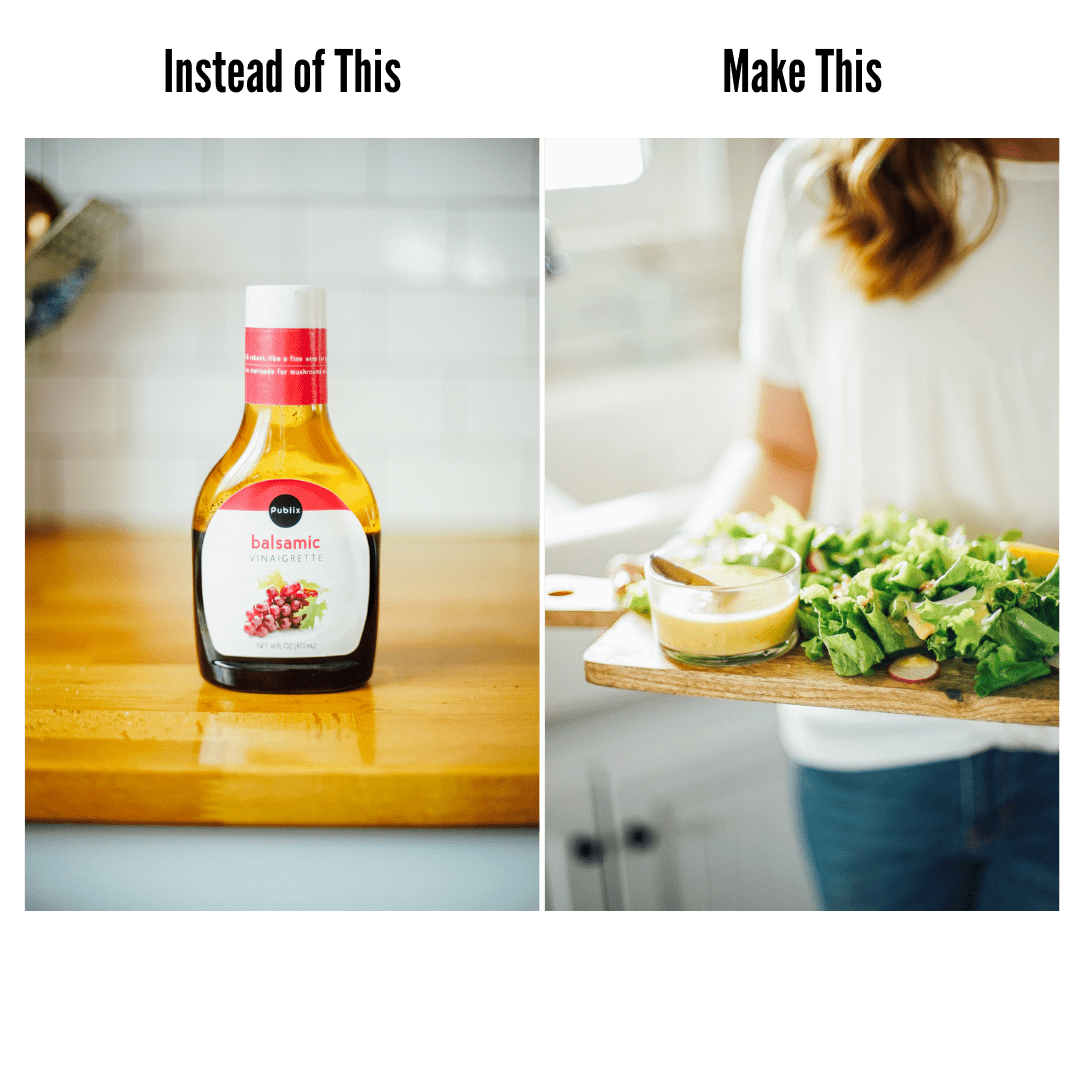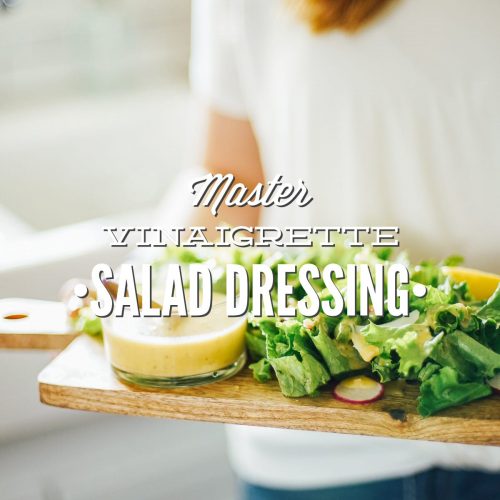 Master Vinaigrette Salad Dressing: One Recipe, Multiple Possibilities
How to make a vinaigrette salad dressing and customize it to your liking. This master recipe may be used as a salad dressing or meat marinade.
Ingredients
Base Ingredients:
3

TB

vinegar

such as: red wine, apple cider, white wine, balsamic, OR lemon juice

1/2

cup

extra virgin olive oil

or avocado oil for a neutral tasting oil

1/2

tsp

salt

to taste

1/8

tsp

black pepper

to taste
"Customize It" Options (choose one or multiple options, read the post above for more information):
1-2

TB

tahini

or Dijon Mustard

1/2-1

tsp

honey

or maple syrup

1/2-1

tsp

dried herbs

such as: basil, a salt-free herb mix, oregano, turmeric, herbs de provence*

1

garlic clove

minced
Special Equipment:
medium bowl

or mason jar (or similar jar)

mason jar

or a similar jar with a lid for storage in the fridge

whisk

or simply use a fork to whisk the ingredients
Instructions
Add the vinegar or lemon juice to a medium bowl, or a mason jar. Add the salt, pepper, and any desired custom options.

Slowly add the olive oil, vigorously whisking as you pour the oil into the bowl. Whisk until the ingredients are well combined (30 seconds to 1 minute of whisking).

Use the dressing immediately, or store in the fridge for about 7-14 days. If you used fresh ingredients (like fresh herbs), 7 days is my max. If you used shelf-stable ingredients (like vinegar and oil with some dried herbs), 14 days is my max. Use the dressing on salads or as a meat marinade (such as: chicken breasts) before cooking the meat. A vinaigrette is also lovely to drizzle over warm roasted veggies (after cooking).
Notes
*Alternatively, you can use fresh herbs in a vinaigrette dressing. Dill is particularly delicious, but any fresh herb will work depending on the flavor you wish to achieve. I recommend a couple of tablespoons when using fresh herbs. 
Note: Salad dressing made with real olive oil will solidify in the fridge. To use the dressing, place the jar on the counter until liquid and then shake or whisk the ingredients. Or, place the jar in hot water until the ingredients return to a liquid state, then whisk ingredients or shake the jar. 
Nutrition
Calories:
213
kcal
Carbohydrates:
1
g
Fat:
23
g
Saturated Fat:
3
g
Sodium:
234
mg
Potassium:
13
mg
Vitamin C:
0.2
mg
Calcium:
7
mg
Iron:
0.4
mg