Today is the last day of the podcast. Season 1, that is. To celebrate the end of the season, I'm going solo to answer your questions, everything from the business side of LS to if my husband works with me to the difference between the Instant Pot and crock-pot to how to save money on real food.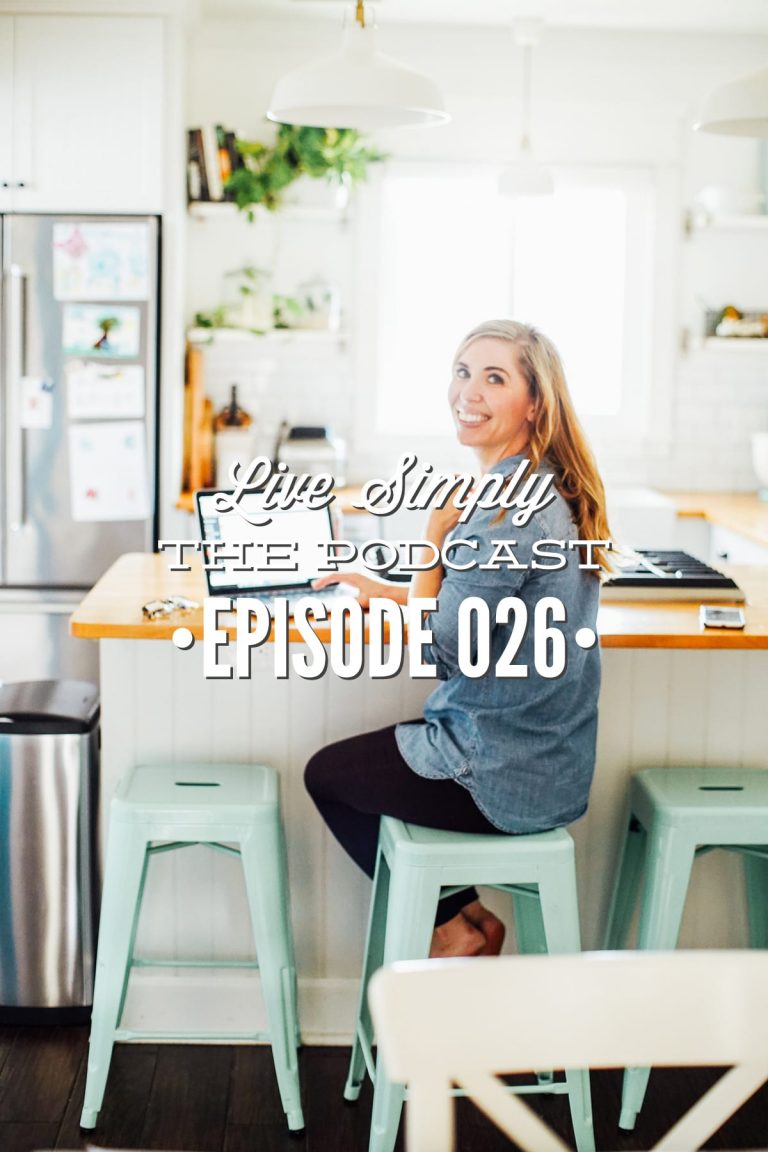 Listen Here
You can listen to the podcast episodes here on the blog, iTunes, Stitcher, or Google Play. 
Show Notes 
After today, I'll be taking a break from the podcast for about a month. I'll be back in January with a brand new season, and it's going to be so good. A few of the guests include: Dr. Axe talking about keto, Vani Hari (Food Babe) talking about the lies of the food industry, and Carrie Vitt talking all-things thyroid health.

Question: What inspired you to start Live Simply?
Live Simply started after my family made changes to our lifestyle. My husband and I grew up on processed food and drive thrus, mixed with home-cooked meals. We never questioned what were eating, until one day in 2008 when we rented the documentary Food INC. 
From there, I went full on vegan, not knowing another way to eat animal products or enjoy real food. A vegan diet ended up being harmful for both myself and my son. At 2 years old, we faced a diagnosis for my son. At that point, we found a nutritionist and started reading Nourishing Traditions by Sally Fallon, which is all about traditional eating. I also became a big fan of Michael Pollan's work, which if you haven't read Pollan's books they are a must-read. We started sourcing local meats and raw milk and eggs and incorporating naturally-occurring fats into our diet. We also started cooking from scratch. With changes to our diet, we began to see significant improvement in our son.
I gave birth to my daughter at this time and was a stay at home mom. Friends began suggesting that I start a blog to document our lifestyle changes and share recipes. Dustin put together a website for me in April 2013 and I started blogging. I've been going ever since.
Today, Live Simply is my job and passion. I share more details about Live Simply and our story in Episode 2.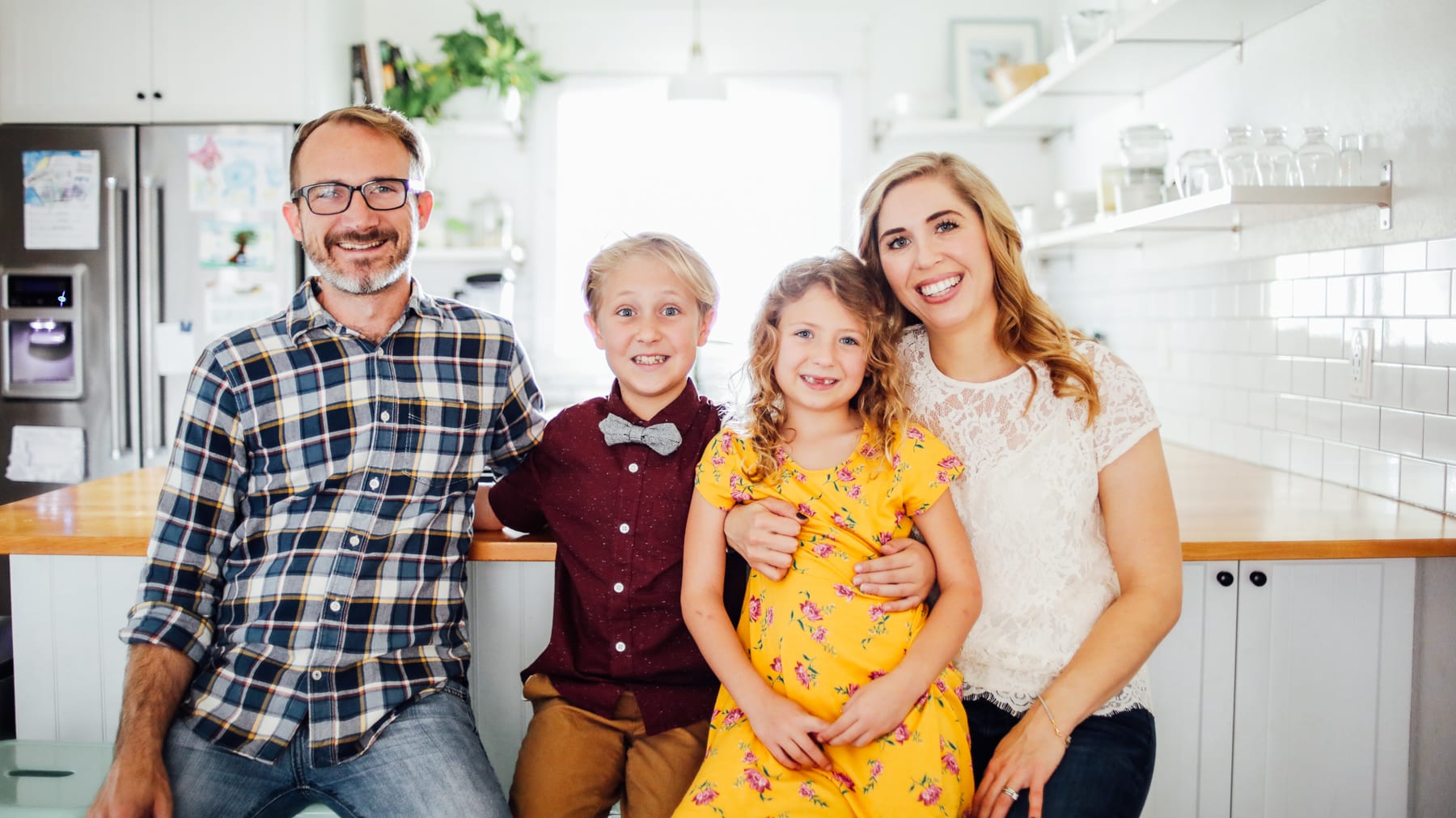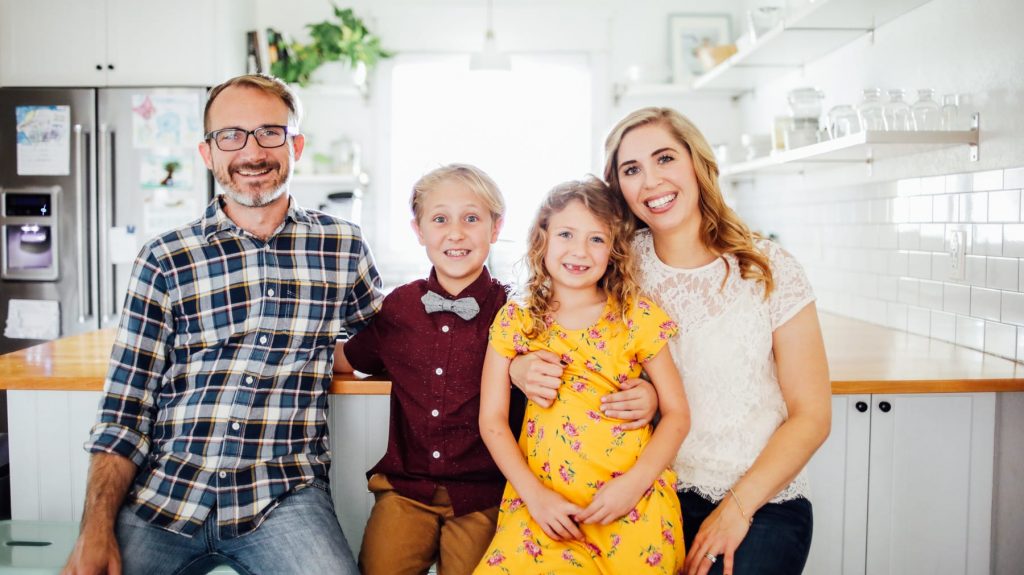 Question: Does your husband work a job outside of the home or work with you?
Dustin, my husband, helped me start the blog 5 ½ years ago. When the blog started, it didn't make any money. In fact, we didn't even know blogs could make money. At the time, he worked as a media engineer for a large church in our area. Over the past 5 years, he's played a key role in the development of Live Simply: teaching me photography, maintaining the tech challenges and support for the blog, and when the blog started making money he took over bookkeeping as well. He's been a hard-working volunteer the entire time.
During this time, he's also had a job outside of Live Simply. A couple of years ago he took an exciting career shift and now works as an audio engineer. Currently, most of his work is with NBC National News. He absolutely loves the work he does, and while we love working together on projects for the blog–when he was a free minute to volunteer–we both enjoy having separate passions or main lines of work. I think it's really healthy for us, but at the same time we work very well together when we do come together to work on blog stuff.
Today, he has a very busy schedule, but he still sneaks in the time to help out with bookkeeping, photography (we batch photography so when he has a day off we photograph a ton of recipes), and Chief Listening Officer–I bounce a ton of ideas off him, constantly.
Short answer: He doesn't work for Live Simply in a paid capacity. He does have a job outside of Live Simply, which he loves. But he does work on stuff for Live Simply, which I truly appreciate. Without him, Live Simply just wouldn't be what it is today.
Question: What started you on this real food journey. What are some specific resources you used?
I would say Food INC was definitely what started us on our real food journey. Before watching Food INC, we hadn't ever given thought to what we were eating. That documentary opened our eyes to the idea of something other than processed food.
For resources, I have two posts on the blog. I'll link to both in the show notes. First, is a list of my favorite real food books. And the second post is a list of my favorite documentaries.
For books, the resources that have made the biggest impact on our journey, so far, is Nourishing Traditions by Sally Fallon, Food Rules by Michael Pollan, Omnivore's Dilemma by Michael Pollan, and In Defense of Food by Michael Pollan. Can you tell I'm a fan girl? Last year, I picked up the cookbook Salt Fat Acid Heat by Samon Nosrat, which has been turned into a documentary on Netflix, and I fell in love. That book is a must-have for anyone wanting to learn how to cook real food at home.
As far as documentaries, Sustainable on Netflix and Amazon is my favorite. I think a lot of documentaries today are poorly done. They cast too much fear over food or demonize ingredients without painting a full picture. Sustainable is different. Of course, I have to say Food INC because that was the documentary that started our journey.
Once I started getting involved in local food in our area, I began meeting so many people who were also interested in eating real. And I've learned so much for these folks over the years, from how to cook to where to buy food. The local food community has been a great resource for me. 
Question: How do you monetize Live Simply?
I'll answer with a short answer and then explain more about the progression of monetizing Live Simply: ads, Live Simply products, affiliates, and freelance work.
In order to continue Live Simply, it's been important to find ways to monetize. There are many costs involved with running a large site like Live Simply, from paying to send emails to paying to keep the blog online (hosting) to paying for ingredients and gear to test and develop recipes and photograph them. We even pay to keep the podcast going and on air. And then there's all the time and work that goes into the blog–so paying people to help out and, just recently, paying myself. There are a lot of expenses.
We started monetizing Live Simply about 3 ½ years ago. For the first couple of years, we didn't even know you could monetize a blog. I had joined a blogging group after my first year of blogging, and other bloggers in the group regularly talked about monetizing their sites. At the time, this was mainly through ads.
At the time, we were begin to incur operating costs, like hosting online, so we decided to give ads a try.
From there, I created my first product. A in-depth 150ish page guide to real food, shopping, and meal planning, along with printables. It was called the Real Food Planning Challenge. We put that on sale for $8.99. Over the last couple of years, I've seen areas where readers need help, say with switching over to non-toxic body products or simplifying school lunch, and I've created products to meet the end. Almost all of our products are digital, and I think all of them are around 150ish pages.
Around this time we also signed up for Amazon's affiliate program. People would ask on the blog, "Where do you get that sheet pan? What aloe vera do you recommend?" With Amazon affiliate, I'm able to link to the very product I use and receive a small commission at no cost to the reader from Amazon. Since Amazon literally has everything, this is a perfect fit. 
I continued to blog regularly–usually 2-3 posts a week–sharing free recipes and tips and the blog numbers grew. As blog numbers grew, our ad revenue grew. These are ads that would be placed on our site by Google and other networks. We never worked directly with companies to put ads on the site. A couple of years ago, a company called AdThrive took over our ad management. Since we had a large amount of traffic coming to the blog, ads became a great way to monetize while still providing so much free and valuable content.
There's also freelance. A few years ago, as we worked to perfect photography skills, companies began approaching me to shoot food photos. Over the years, we've worked with real food based companies, or kitchen product companies, shooting photos of their products and recipes. Just recently, a friend noticed our kitchen in a company's holiday food campaign–yep, that was us!
The key to monetizing Live Simply has been to be smart, considerate to our audience (no flying ads), keeping my passion as the number one driver, and diversifying the income sources.
Question: Would love to see your daily routine.
Since I work for myself, meaning I don't have to report to an office daily at 8am and stay until 5pm, my daily routine looks slightly different from day to day, but there is some consistency.
Most days, I wake up around 6:30am. I used to wake up earlier and work in the early morning hours, but I've learned to value sleep this year. I've been working on getting at least 8-9 hours of sleep each night. I wake up around 6:30am, make my coffee (I grind the beans the night before in our burr grinder), then use a pour over coffee maker thing to make the coffee. I use an immersion blender to blend unsalted Kerrygold butter and sometimes Collagen Peptides from Vital Proteins with my coffee, and then get ready for the day: shower, dressed, pack lunches, get breakfast out, and wake up the kids. I don't put a ton of makeup on during the week, usually just a tinted moisturizer from W3LL People and some Honest People Blush, and chapstick.
I've been trying really hard to avoid checking the blog or anything online during this time. We eat the same things for breakfast each week: hard boiled eggs from the Instant Pot, smoothies, oatmeal, muffins with eggs or smoothies, and yogurt and fruit.
I take the kids to school around 8:15am and get back to my home office around 9am and work until 3 or 4ish. Then I commute back to the school to pick up the kids.
I'm a huge fan of batch working, so I'll work on writing all blog posts one day, and then work on all upcoming podcast editing another day, and all photography another day. I usually have leftovers for lunch and I try to take a break when eating lunch versus working straight on through–for my digestion and mental health. A couple of times a week, I'm joined by Chardea who works with me in-house. She edits photos or helps out with photography or testing recipes. Everyone else on the Live Simply Team is a freelancer, so they live all over the US.
When we get home from school, I get started on making dinner. The kids have free time and sometimes help in the kitchen. After dinner, the kids take a shower and I usually wrap up any work–usually emails–that didn't get taken care of that day. Then we read and they're off to bed. 
I start my nightly skincare routine. I cleanse with Osea Ocean Cleanser, use a toner-like spray from Marie Veronique called Prep and Probiotic Mist, use the Intensive Repair Serum from Marie Veronique and then finally use True Botanicals Pure Radiance Oil mixed with their Antioxidant Booster as a moisturizer.
I love to read before bed or watch a show. The Office or Marvelous Ms. Maisel are my binge shows. Just one show. Trust me, I could easily stay up watching multiple shows. Some nights, I'll have a cup of tea while watching or reading. I've found I need this un-wind time. It's part of my self-care routine. I try to be in bed, going to sleep, by 10pm at the latest each night.
A couple of times during the weekday, I go to a kickboxing class after dropping the kids off at school. On these mornings, I don't start work until around 10:30am.  
Question: How do you save money shopping at Whole Foods?  Money saving tips for eating a real food diet.
I'm going to answer both of these together, because I think you can use these tips no matter where you shop. 
My biggest tip is to purchase ingredients, and ingredients that can be used in multiple ways. For example: butter, veggies, fruits, eggs, beans, grains, flour, meat. If you focus the bulk of your purchase on these items, you'll naturally save money. Because packaged foods, particularly organic or real food convenience options, will spike your grocery bill and you'll be left visiting the store in just a few days because these items are usually limited in their use. Another suggestion is to try a grocery delivery service if you find you're regularly picking up food you don't need to buy. I've found the cost of a delivery service (like Instacart, Prime Now, or Shipt) is worth it because I have to stick to my list. I actually save money because I'm not browsing the store and adding products, not on my list, to my cart. Sometimes it's just too tempting!
Shop seasonally. I'm an apple addict, but apples aren't always in season. Purchasing produce that's out-of-season can add-up quickly. Buying seasonal produce saves our family money. Instead of one bag of apples, I can buy a couple of pounds of strawberries and citrus. Plus, seasonal eating benefits the body with healthy variety. Real food should be a monetary priority, but it's possible to pay too much for real food, simply by not knowing how to shop the seasons. Look at the price of produce in the grocery store, you can usually tell what's in season based on price and what's on sale. You can also get out of the store and visit a farmer's market, if there's one in your area, where you'll find local produce that's in season. Episodes 7 and 8 are a good place start.
Use meat as a flavoring or a side. Pastured or grass-fed meat and dairy and eggs can be expensive and add up quickly. My suggestion is to stretch these between multiple meals. While we love a burger night, the rest of our meals feature meat not as a star of the show. We might have a veggie soup night. Another night we may have stir-fry with chicken but we don't need as much meat since stir-fry is also lots of veggies and rice. The idea is to think about how to stretch your meat in meals or even skip meat a couple of nights a week.
Buy in bulk. Purchasing ingredients individually can add up. For example: A small honey bear from the health food store shelf costs $7.99. Purchasing local honey in bulk (1 gallon jug) costs $45. This bulk purchase alone saves me $200 a year. My favorite items to purchase in bulk are: dry beans and rice (from the health food store bulk bins), honey (local farm), beef and pork (local farm), wheat/flour (food co-op).
Regularly shop your inventory. Shop your own food stock. When you sit down to meal plan take a look at your inventory list(s) and plan as many meals from your own food stock before creating a shopping list.
Meal plan. And do so strategically. Write down what you'll make that week so you have a plan for what to look for at the store and think of ways as you plan to reuse ingredients. For help with meal planning, listen to podcast episode 13.
Question: What are your favorite packaged foods?
My go-to when it comes to buying package food is:
Tortillas. Although they're easy to make, I always like to have a package in the freezer for convenience. My favorite brands are: Siete, One Degree, Rudi's Spelt, and Food for Life Corn Tortillas.  
Crackers. Simple Mills or Jovial. I also like a brand called Jilz but they're expensive for what you get so they're not a regular purchase.
Mayo and other condiments, like ketchup and mustard. Chosen Foods is usually my go-to for mayo. And for the other things, I just look at ingredient lists and sales.
Plantain chips. My favorite chips! There are quite a few good options out there. Just read ingredient lists. Also, Jackson Honest chips.
Rao's spaghetti sauce. Real ingredients and tastes great! I try to keep a jar in the pantry at all times. I recommend stocking up when it goes on sale.
Simple Mills pumpkin muffin mix
Simple Mills Frosting (parties and holiday time)
Question: Can you suggest other bloggers or resources that would be helpful for someone wanting to follow a vegetarian or plant-based whole food lifestyle? (The options are overwhelming! ?)
Cookie and Kate is my favorite real food vegetarian blog. Her book Love Real Food is also fantastic. You can tell she spends a lot of time perfecting her recipes and even meat lovers enjoy them.
Naturally Ella. She is a bit more creative when it comes to the ingredients she uses and her recipes. Meaning, Cookie and Kate is where you'll find lots of favorite meals turned vegetarian. Naturally Ella is where you'll find lots of creative new ways to use veggies, grains, and eggs.
Minimalist Baker is a vegan blog with lots of plant-based recipes. My only caveat to recommending a vegan blog is that I don't recommend veganism. While I love eating plants, and I'm inspired by vegan recipes and love eating at vegan restaurants, I'm hesitant to endorse a 100% vegan lifestyle. Vegetarianism is different.
Question: Can you do a comparison between a crock-pot and an instant pot? I've always thought a crock pot would be better for our lifestyle, since I have time earlier in the day and work for the 5 hours before supper time, but some people say that an instant pot can be used like a crock pot. As someone who has used both, can you explain the pros and cons of each, please? Thanks so much, and I love your show! 
An Instant Pot is an electric pressure cooker. It uses steam pressure to cook food, which means it can cook food in a fraction of the time a slow cooker will cook food. Generations have been using a pressure cooker. The Instant Pot is electric and safer. 
I personally don't use a slow-cooker anymore, but I also never was big into slow-cooking. I had too many issues with a slow-cooker. I would either forget to take my meat out from the freezer or ran out of time in the morning to put everything in the slow-cooker, or when I got home the food was over-cooked or not cooked all the way through.
With the Instant Pot, food doesn't turn to mush and it doesn't all taste the same and have the same texture. And it's a very accurate way of cooking. Also, you can make so many things in the Instant Pot that you can't make in the slow-cooker: the best hard or soft boiled eggs that peel perfectly, rice, rice and chicken, frozen meat, soup in just a few minutes, and spaghetti sauce with meat and pasta all in one. You can even make cakes and egg bites in the Instant Pot. There are so many possibilities with a pressure cooker. Plus, the Instant Pot has a saute feature, so you can saute veggies or brown meat, or scramble eggs (say for fried rice) directly in the pot you also use to pressure cook the meal. It's literally a one-pot wonder.
One similar thing to note about both the Instant Pot and slow-cooker is the hands-off nature.
Now, the Instant Pot is a brand. But I believe it was the first electric pressure cooker on the market, and it continues to be the leader in electric pressure cookers. The Instant Pot does have a slow-cooker function, which I don't think is all that great. My recommendation is if you love your slow-cooker and have recipes you love making in your slow-cooker, but also want the faster and multi-function option of the Instant Pot, to hold on to your slow-cooker and get an Instant Pot. I know, that's two big (small) appliances, but I think adding the Instant Pot is worth it. It's been a gamer-changer for my kitchen. I use my Instant Pot at least 2 times a week, usually once to make a eggs for the week and another time for dinner–sometimes more than twice a week.
So, if you have some time in the evening (let's say you plan to use your appliance mainly for dinner) to cook food in the Instant Pot, I think it's a great addition to the kitchen.
If you get home late and need a meal to be ready as soon you get home, I think the slow-cooker is the best choice.
Question: Any suggestions for feminine products? Or clothes?
For feminine products, I'm guessing you're talking about tampons/pads? Right now, I use the Seventh Generation brand tampons and pads. That said, I don't love them, but they're the best thing I can find for that time of the month. In 2019, I plan to try a Diva Cup. Maybe I'll talk about, if I can find the courage.
For clothes, I love Carly Jean Los Angeles. The clothes aren't organic or dyed with the tears of unicorns, or anything extra special, but they are capsule wardrobe pieces and many of their garments are made in the US, in Los Angeles.
I also personally love Madewell. They hands-down make the best jeans and pieces that last for years. 
Question: What are your thoughts on EMF exposure, avoiding it, etc.?
This is a subject I haven't dived too deep with, yet. The only thing I have researched is microwaves, which I personally have one in my home and use on an occasional basis. That said, Suzi from Gurl Gone Green wrote a blogpost about this topic and dedicated an entire podcast to the subject, which I'll link to in the show notes.
Here's my thing. I think we can become very paranoid about almost everything these days and that's not good for our health–stress is so damaging. Right now, I focus on what I can do and at some point I may research other things. 
Question: You speak of minimally processed sugars. What are these? Would honey, maple syrup or turbinado sugar be examples?
Yes, that's exactly right. Minimally processed sugars are simple sugars that don't go through an extensive processing to get them on the store shelf. What you're consuming isn't far from what the sugar is like in its natural state, like honey and maple syrup. Although it might look slightly different as is the case for coconut sugar or raw cane sugar. And these sugars should still retain some of their natural benefits, like minerals.
Now, these are still sugars, so even though they're minimally-processed they should be used minimally. That's why when I create muffin recipes, I try to stick with the minimum amount of sweetener needed, even if it's is a minimally-processed sugar.
Question: What is your opinion on sweetness like xylitol and erythritol?
Xylitol and erythritol are sugar alcohols, although that name is kind of deceiving because they aren't essentially sugar or an alcohol. I think they're fine to use and consume, they're just not part of my real food lifestyle. These aren't the same as artificial sweeteners, which are literally made in a lab to mimic sugar.
My only concern is how they're processed, so getting to the know the brands out there and talking to them about how they process their product is important. Also, xylitol can be very deadly for dogs, so if you have a dog, that might a reason to avoid it. And from my understanding you don't want to consume large amounts of it.
That said, I don't have experience working these. Lindsey from All the Nourishing Things has a free guide to xylitol and erythritol on her website. It's a 26 page PDF that's packed full of information. 
Thank you again for joining me this season. I've loved spending time with the guests and you each week, as together we've explored the topics of real food and natural wellness. If you loved the podcast this season and found it helpful, will you leave a review today in iTunes? Scroll down and leave a review and star rating. Reviews and ratings mean so much and truly do keep the podcast going. Plus, I would love to hear what you've loved about season 1 and anything you'd like to hear about or suggestions for season 2.
Until January, have a great holiday season!