If we're friends over on Instagram, then the fact that we went to Europe over the winter holiday comes as no surprise. If we're not friends on Instagram (yet), let me bring you up to speed since today's post may feel a bit off from the regular recipes and food and wellness tips.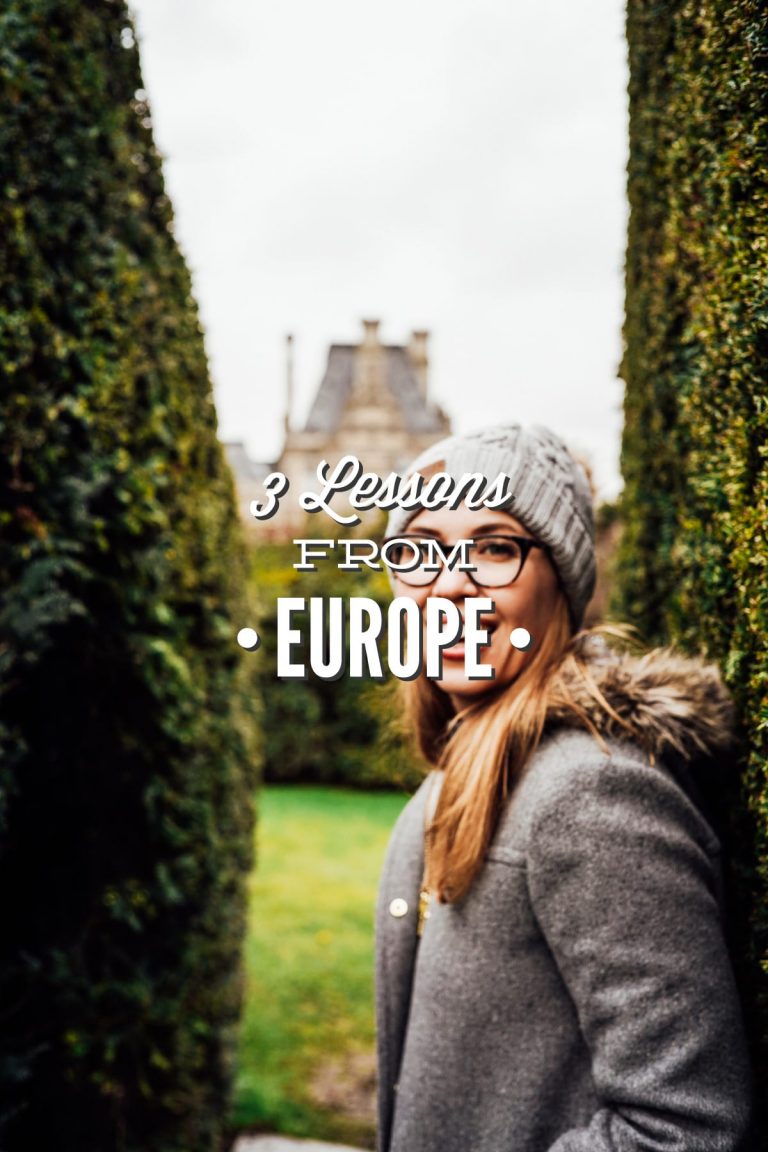 Back in September, Dustin mentioned that he was planning to take 2-3 weeks off around Christmas and New Years. If we wanted to travel, that was the time to book a trip.
I don't share much about what my husband does for work (I did talk briefly about his job in this Q&A podcast), but I think the context of his job is important here. Dustin works in network news, so travel is a natural and regular part of his job.
When you travel that much, and have a job that's very unpredictable–the news is that way, you take full advantage of guaranteed time off and use all the hotel points you've gathered over the past several months or year to visit a new place for fun; not work.
Dustin and I both love to travel and experience new cultures, food, and landscapes together. This travel bond has been something we've treasured for a long time, way before having kids.
After our babies were born, we took a break from traveling due to finances and the fact that we had little kids in tow. Those years were all about survival; not seeing the world together. Now that our kids are old enough to sit still in a car for a road trip or on an airplane, we made the choice a few years ago (when Londyn was almost 4) to start traveling again when the resources and time allowed.
Also, instead of Christmas gifts in the form of toys, we give the gift of experiences, together. We've given trips (which also combine as our family vacation) over the past few years. Plus, trips are a family gift, which means this is also Mom and Dad's present. The money that would have been spent on toys and other stuff goes into the family vacation fund, and this accumulates over time.
After Dustin called me about his time off, I started looking for flights. I knew our stay would be covered by hotel points, so we didn't have to worry about checking on Airbnb this time around. We would simply need to choose a destination with reasonable airfare prices. I searched for about 3 weeks, checking on the different airline options, looking for a deal on airline tickets to the destinations we narrowed down as a our top "bucket list" locations: Paris, Spain, Hawaii, or Colorado.
One particular airfare to and from Paris caught my eye. If we flew on the dates of December 22 and January 4, the price of the tickets, on Icelandair, was half the amount as other airlines and the surrounding dates with the very same airline. In fact, we could fly to Europe cheaper than we could fly to Colorado!
Knowing we had the hotel points and time off to stay this long in Europe, we took advantage of the greatly reduced airfare price and booked the trip. On some airlines, particularly the Trans-Atlantic airlines, children under the age of 12 receive a kid discount, so this helped bring down the cost even more.
As I mentioned, I shared our travels over on Instagram Story. During and after our trip, many friends asked for a post about where we went and stayed. And, of course, to see all the photos from the trip. <–It wouldn't be a Marr family trip without Dustin and his camera.
As I thought about sharing our trip on the blog, I kept thinking about a few lessons. Lessons that align with the goal of Live Simply–to simplify real food and natural wellness. After I share a bit about our trip (per reader friends' requests), I'm going to end with three important lessons I walked away with and am applying to my own life now that we're back in the States.
The Details
Our Accommodations, Destinations, and Tips
Itinerary
We flew Icelandair from Tampa to Iceland to Paris. We spent December 22-26 in Paris, then moved onto Stuttgart from the 26-28, then went to Munich from the 28-30, then went to a small ski resort area in the German Alps for one night and returned back to Munich before spending time in Zurich from December 31-January 3. We returned back to Paris on the 3rd for one final stay and then flew Icelandair back home on the 4th of January.
I didn't plan a lot of activities for this trip, other than train rides to our final destinations. We were definitely on the move a lot. We determined what were going to do each day based on how we felt and what was open (particularly on Christmas Day and New Years Day). We knew there were some attractions we wanted to see (for example, in Paris) and a few food places we wanted to try (macarons from Laduree, hot chocolate from Angelina's, and fondue in Switzerland) and we were definitely going sledding in the Alps. Other than that, we just explored in the present moment.
Transportation
Europe has the best public transportation systems. When visiting Europe, put them to use!
In Paris, we rode the metro everywhere and walked. Once we landed in Paris, Google Maps automatically updated with the metro system routes, so it was a breeze to figure out. Keep in mind, I did have an International phone plan (we're with AT&T and that's something you have to set up ahead of time). I don't know if my phone would have updated without cell reception. Since we had kids with us, we decided to ride a taxi and uber to and from the airport to the hotel. This was expensive, but worth it with kids in tow.
In Germany, we mostly walked everywhere and then used the MyTaxi App (it was a great app to use during our trip since Uber isn't available in some places). We didn't find the German "metro" as easy to figure out as the French system, and since we weren't in one location for long we decided the taxi was our best option.
Finally, in Switzerland, we went with Uber and lots of walking. We were in Zurich, which is just the most magical city to walk, so we spent a lot of time on our feet. We did go ice skating at the Dolder Kunsteisbahn (an ice skating rink) which required an uber. We stayed outside the downtown area (right next to the airport) , so an uber was also required to get to the city center. We had to stick with Hilton hotels. If you're not limited to just Hiltons, I would definitely look for an Airbnb or hotel closer to the river and city center. That way you'll eliminate your need for an uber.
We traveled from country to country and city to city during this trip, covering a lot of ground over a 2-week time period. We used the high speed rail system to get from one city (and country) to another. The train system was great, some cleaner than others. I purchased all the tickets in advance, online, directly through the SCNF (French) and bahn (German) websites. Not having to rent a car saved us a ton of money.
Language
Most people spoke English in France, Germany, and Switzerland, but knowing a few initial phrases in French and German definitely helped. If you go overseas, learn how to say hi, how are you, thank you, I speak English, and a few other essentials. Trust me, trying to communicate just a few phrases in the native tongue goes a long way!
Since we can't read German or French, we used the Google Translate App for translating written words to English. This app is so good. Simply hold your phone's camera over the text and it will translate the text into your preferred language. It's not always spot on, but you can get a general idea of what a sign or menu says using this app.
Money
We exchanged Dollars for Euros before we left the States. When we visited Iceland, we never needed cash. In France and Germany, cash definitely came in handy. We used a credit card most of the time, but in some cafes and shops cash was a necessity. In Zurich, we never exchanged money (for the Swiss Franc) and never needed cash.
Traveling with Kids
I wrote a post about traveling with kids last year. You can read it here. When you travel with kids, you have to consider that you'll need to go at a slower pace, which means you may not get to do everything in one trip. That's okay! Choose activities the kids will enjoy mixed with the top places you want to visit as well. Remember, a family trip is about being together as a family.
Accommodations
We wouldn't have been able to go on this trip if it weren't for all the hotel points Dustin accumulated, so let me start out by saying that I realize the privilege of this fact. I'm incredibly thankful for this.
That said, if we didn't have the hotel points, we probably would have stayed at Airbnb's. The beautiful thing about Airbnb is you can find a variety of options, in a variety of areas, at a variety of price points. Plus, you can buy groceries (always cheaper than eating out) and prepare your own food and you usually have access to a laundry facility–always a plus when traveling with kids and packing light.
Since we were using hotel points, we got a free breakfast at the hotel each morning. Now, you're probably thinking, "Yuck! You ate the free hotel breakfast?" I get it.
Hotels in Europe know how to do breakfast. Every single breakfast was INCREDIBLE! If you choose to go the hotel route and can get a free breakfast as part of your stay, do it. You will not be disappointed. The breakfasts were so filling, we usually skipped lunch and went to an early dinner. Many Europeans, at least in France, eat relatively late compared to our American dinner hour. Going early meant less crowds, which is great when you have tired kids.
One thing to consider when booking hotels in Europe is the occupancy limit. At one hotel, we had to book two rooms because we had four people staying. I'm not talking about super tiny rooms. There's no reason one room couldn't accommodate 4 people, 2 kids and 2 adults. Keep this in mind when booking hotels. For this reason, if you want to take a family to Europe and don't have hotel points or don't want to spend a lot on accommodations, an Airbnb is probably a more reasonable option.
Niepce Paris Hotel, Curio Collection by Hilton
This hotel is in the 14th district of Paris. This district is far less touristy and crowded than other districts since it's about 20 minutes from any tourist attraction (the Louvre, Eiffel Tower, etc.). This district felt like the place where the locals gather and live. Since the hotel wasn't super busy, we ended up getting a nice (free) room upgrade, which wouldn't have been possible if we stayed in a busy hotel in the touristy area. The metro station was only 2 minutes away, so we rode the metro to the Eiffel Tower, Louvre, to get macarons, etc.
Maison Astor Paris, Curio Collection by Hilton
This was our last hotel stay before leaving Europe (we came back to Paris for one night). This chic hotel was in a great location (a business district, the 8th district) with lots of traffic. The hotel felt very "French" and had recently been updated. That said, it was nice for one night but if we returned I would go back to the Niepce Paris Hotel. I much preferred the quiet and local feel of the 14th district.
Stuttgart was a nice stopover between Paris and Munich. This is the only hotel we stayed in with a guest laundry facility (which happen to be free to use #score). It was wonderful to have a day to sleep in and wash clothes. After resting in Stuttgart, we headed to Munich.
Hilton Munich Park and Hilton Munich City
In Munich, we stayed at two different hotels. Between the hotels, the Munich Park was my favorite. Both hotels were in great locations, so it was easy to walk to bier gardens (yes, family friendly!), the river, restaurants and cafes, and a lovely Christmas market that was still going on.
Arabella Aplen Hotel AM Spitzingsee
This hotel and location was our favorite stay on the trip. This little ski town was as far from touristy as you can get. We took a local BOB train from Munich to Spitzingsee (an hour ride), where the hotel then arranged for free taxi pick up and transportation to the hotel (about 15 minutes away).
This hotel is surrounded by the German Alps. It's a very popular destination for families, although I think we were the only tourists in the area. Part of the hotel fee included dinner (a 6-course dinner with the most amazing appetizer and dessert buffet) and a breakfast unlike anything I've ever seen before. I'm still dreaming about that dinner and breakfast!
I can't rave enough about this hotel and the location. While in Spitzingsee, we went sledding (you can also ski, but we're inexperienced Floridians). We received over 7 inches of fresh snow fall during our stay–talk about the most magical winter wonderland. If we return to any of the places we visited, Spitzingsee is top of my list!
Keep in mind, chain hotels don't exist in this area. The only options are the most charming local hotels. Rooms book up FAST for these hotels, so you need to book (during the winter) months in advance.
This wasn't the most ideal location for exploring downtown Zurich, but since we were limited to mainly Hilton Hotels, this was the best option. From the hotel, it took about 20 minutes via Uber to get downtown and the public transportation was hard to access (from our hotel). If you're headed to Zurich, stay downtown near the river, not the airport. You'll be happy you did.
Okay, I think I've covered everything. Real quick, let's talk about 3 lessons I learned from our trip.
These lessons are based on my observations and only being in the countries we visited for a short time.
1. When it comes to beauty, minimalism is beautiful and chic.
One thing I noticed, particularly in France, was the emphasis women placed on a minimal look when it comes to appearance. There was this chic, minimal vibe going on that I absolutely loved. And there seemed to be more of an emphasis on taking care of the skin versus just covering up with lots of makeup.
Growing up, I learned just the opposite from magazines and media. I learned how to use makeup to cover up my face; instead, I should have been placing an emphasis on my skincare and taking care of my skin.
2. Food is a celebration, brings people together, something to be savored, and not something to be feared.
I think it's such a beautiful thing to watch the relationship European cultures have with their food. There's a sense of tradition, of love and care in the way food is prepared, and a sense of bringing people together around food. And, most importantly, there isn't the same fear surrounding food that we have in America. I'm not saying the food is perfect or that processed food doesn't exist in Europe, but what I am saying is there is still a sense of celebration around cooking and preparing meals together. I noticed this same culture of tradition and a healthy relationship with food in Iceland. This is something I strive to pass down to my own children–a sense of celebration and joy in preparing a meal, the communal aspect of enjoying a meal, and the art of slowing down to enjoy good food.
In an upcoming podcast episode, Jenny from Nourished Kitchen shares that our relationship with food can actually disrupt how we digest that food. I find that so interesting. If we're constantly living in fear of calories, (quality) dairy, and (quality) meat (just three examples), does this impact the way we digest these foods in a negative way? It's something to think about.
3. Enjoy the present and put the phone away.
I didn't take many photos of food on our trip, because I felt awkward bringing my phone out in cafes and restaurants. The lack of phones was definitely something that caused me to think about my own habits and behaviors. Everywhere we went, people seemed to be enjoying the present moment–the cafe chat, the meal at dinner, the company sitting across the table; not their phones.