This post may contain affiliate links. Affiliate links come at no extra cost to you. These links allow me to share the products I authentically recommend (and use) and support Live Simply by receiving a small commission.
Have I ever mentioned how much I love fall time?
I love the changing leaves, knee-high boots, and big sweaters. Oh, and the apple picking, pumpkin patches, and hayrides. Those things, in my mind, are what make fall, fall. They make the months of September, October, and November extra cozy and special.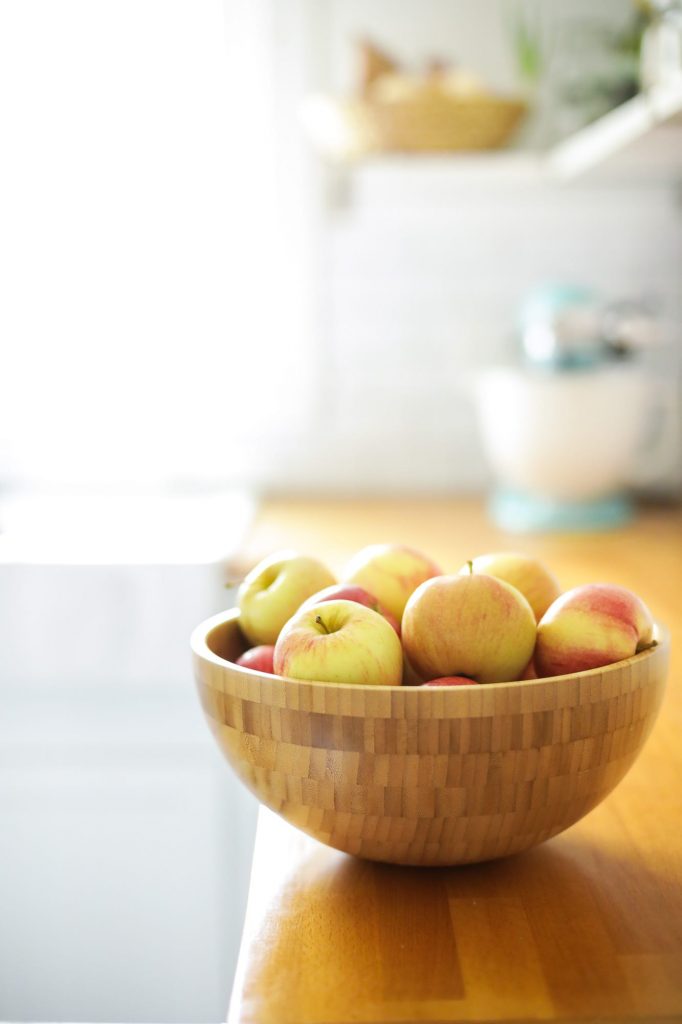 While I love this season, I don't get to experience much of what makes fall so special due to the fact that I live in Florida. Most of the time, I live vicariously through the beautiful fall pictures on Instagram, the fall produce and large pumpkins that arrive via large trucks to the grocery store, and the simple fall decorations and warm fragrances that fill my home. Speaking of fragrances, this Spiced Orange (Essential Oil) Blend from Plant Therapy is giving me life right now. I've been adding a few drops to my essential oil diffuser.
This past weekend, the grocery store had apples on sale (a sign that fall time is here), so I snagged a few bags. Of course, a sale on seasonal apples can only mean one thing…homemade applesauce.
FREE Real Food Crash Course
I get it, switching from processed food to a real food lifestyle can feel overwhelming and confusing. Friend, it doesn't have to be this way.
Here's what to expect: 
printable charts (real food defined, a seasonal produce guide, 

meal planning)

how to get started with a real food lifestyle

how to create a meal plan and stay within a budget

7 real food recipes

emails from me to help you enjoy real food
Bonus: Step-By-Step Guide to Real Food
If we lived in a place with seasons, we'd probably drive to an orchard and pick our own apples. (By the way, I know exactly what songs we would sing on the way to the orchard, the boots I would wear, and the picking basket I would bring with us. I've thoroughly thought this out!) Since we live in Florida, I just wait for apples to arrive in the grocery store. As soon as apples go on sale, and there's a variety to choose from, I purchase a few bags. Some of the apples are enjoyed as snacks (with nut butter, of course), and some are cooked and blended to make homemade applesauce.
If you've ever tasted homemade applesauce, you know how amazing it is. If you've never tried homemade applesauce, this is your year.
In the past, I've made applesauce in the slow-cooker. This year, I decided to experiment with the Instant Pot (electric pressure cooker). Since today's post is titled, Instant Pot Homemade Applesauce, you can probably guess that my experiment passed the taste test.
Making applesauce in the Instant Pot only requires 8 minutes. Of course, that time doesn't include the peeling and chopping, and then pureeing/blending. There's still some hands-on prep required, even when using the Instant Pot. Once the hands-on prep is done (peeling and chopping), the Instant Pot does the rest of the work–cooking and softening the apples and intensifying the flavors.
Today's recipe makes two full quarts of applesauce. I like to keep one jar in the fridge to add to the kids' lunchboxes, pour over pancakes and waffles, and spoon over yogurt. I put the other jar in the freezer to enjoy at a later time.
Instant Pot Homemade Applesauce
A simple five-ingredient homemade applesauce recipe that's made in an electric pressure cooker (Instant Pot). 
Ingredients
6

lbs

apples

*

1 1/4

cups

water

1/2

cup

honey

2

lemons

juiced

1/2

lemon

zested

use one of the lemons from above (juiced)

2

tsp

ground cinnamon

1/2

tsp

salt
Special Equipment:
apple peeler and corer

or a knife

storage jars or containers
Instructions
Roughly chop the apples. Add the apples to the pot, along with the remaining ingredients: water, honey, lemon juice, lemon zest, ground cinnamon, and salt. Stir to combine the ingredients. Make sure the apples are below the max fill line inside the Instant Pot.

Lock the lid on and set the Instant Pot to Manual, High Pressure for 8 minutes. The valve on top should be set to Sealed. 

Let pressure release naturally for 10 minutes before releasing the remaining pressure (use a hot pad holder or towel) and opening the lid. 

Use an immersion blender to blend the apples and liquid until smooth (or desired consistency). If you feel there's too much liquid in the pot, or you want a chunky applesauce, you're welcome to remove some liquid before blending. I (usually) don't need to do this. 

Spoon the applesauce into storage containers (I use quart-size mason jars). Allow the applesauce to fully cool before storing the jars in the fridge for up to 2 weeks. Alternatively, the applesauce may be stored in the freezer (Don't fill the glass jars to the top, if using mason jars. The applesauce will expand as it chills.) for up to 2 months. The applesauce will thicken as it cools. 
Recipe Video