Growing up, Thanksgiving Day was a huge celebration.
The morning started with the Macy's Thanksgiving Day Parade on the TV, and a home-cooked breakfast at the table.
Later, our extended family would come over to my parent's house for an afternoon dinner. My mom always prepared a huge turkey and ham, and we enjoyed a plethora of traditional sides: stuffing from a box, mashed potatoes, gravy, some kind of salad, and a weird (Sorry, Mom!) jiggly fruit gelatin thing.
While the dinner was amazing, my favorite part of Thanksgiving was the dessert, especially the homemade pumpkin pie.
My grandmother (technically, my step-grandmother), was the master pie baker of our family. She always used real butter for her pie crusts, and from-scratch ingredients for her sweet pie fillings. As a child, I wasn't very interested in learning about making homemade pie. Unfortunately, my grandmother passed away before I ever took interest in baking, so I never learned from the master herself.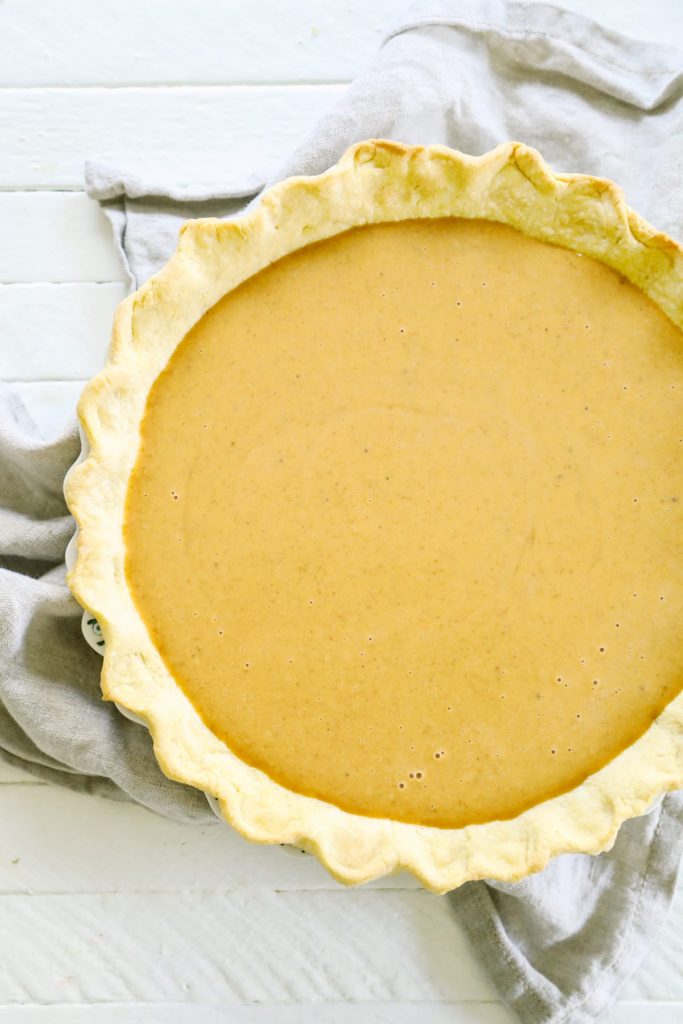 After her passing, we never found a single written recipe in her home. I'm not even sure she ever used written recipes to cook or bake. For her, cooking and baking was an art–a pinch of this and a splash of that.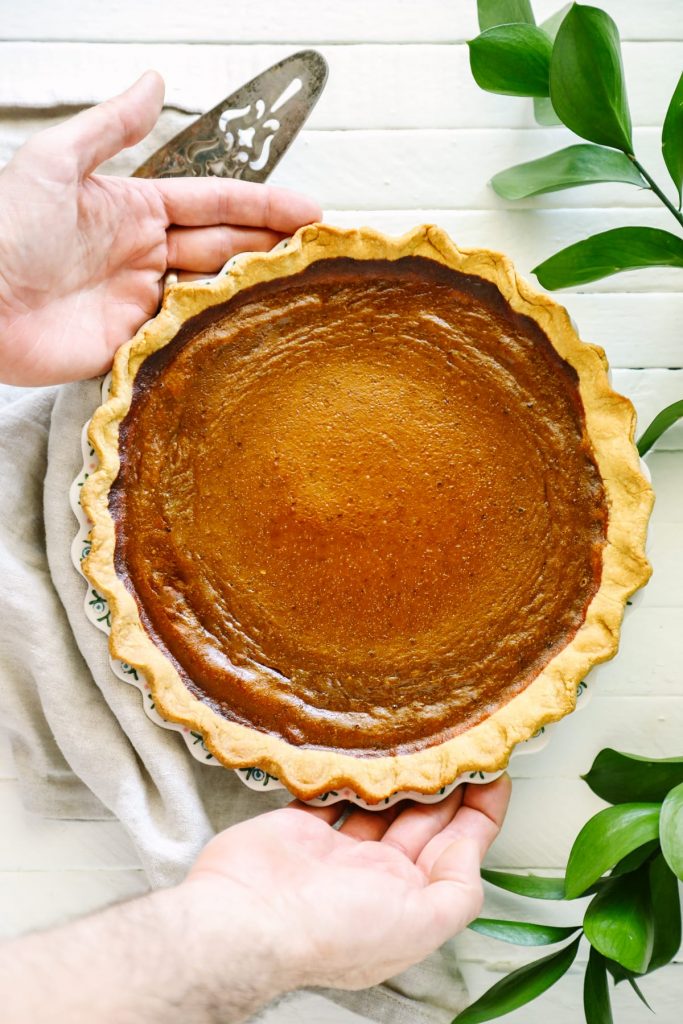 I've hesitated over the past few years to create a homemade pumpkin pie recipe. Honestly, I was terrified that my attempts would result in failure, at least when my pie was compared to Grandma's famous pumpkin pie.
As it turns out, the pie-baking gene was passed on to me, too. I'm convinced that genes can transcend blood relation ;).  Why did I let fear hold me back?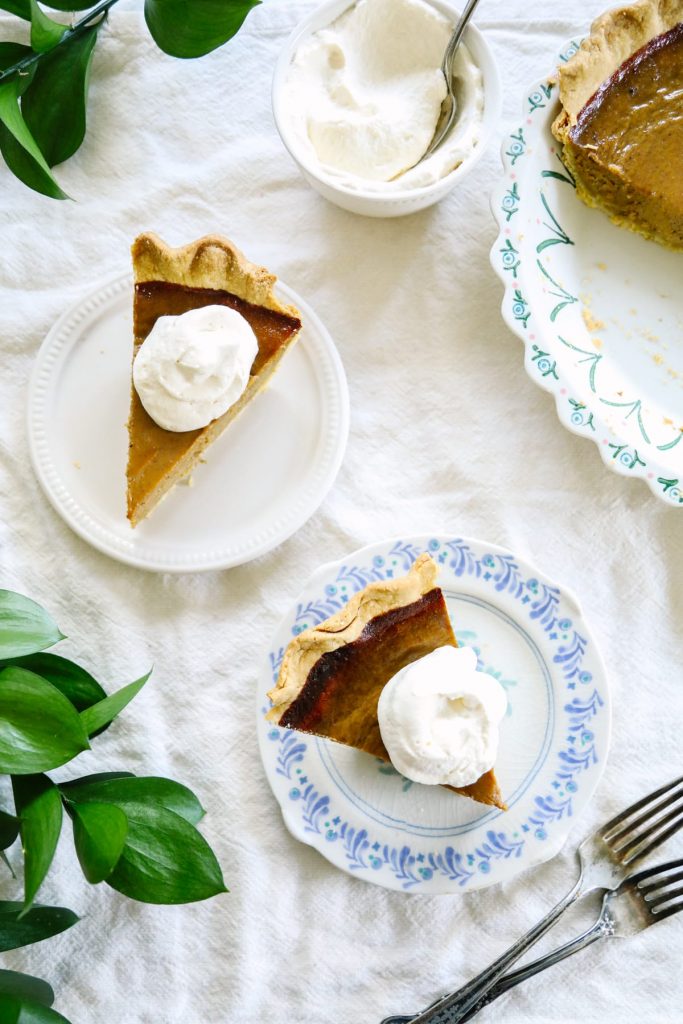 After just a few attempts at making a naturally-sweetened pumpkin pie, with a few tweaks here and there for sweetness and texture, I'm so excited to finally share this recipe with you.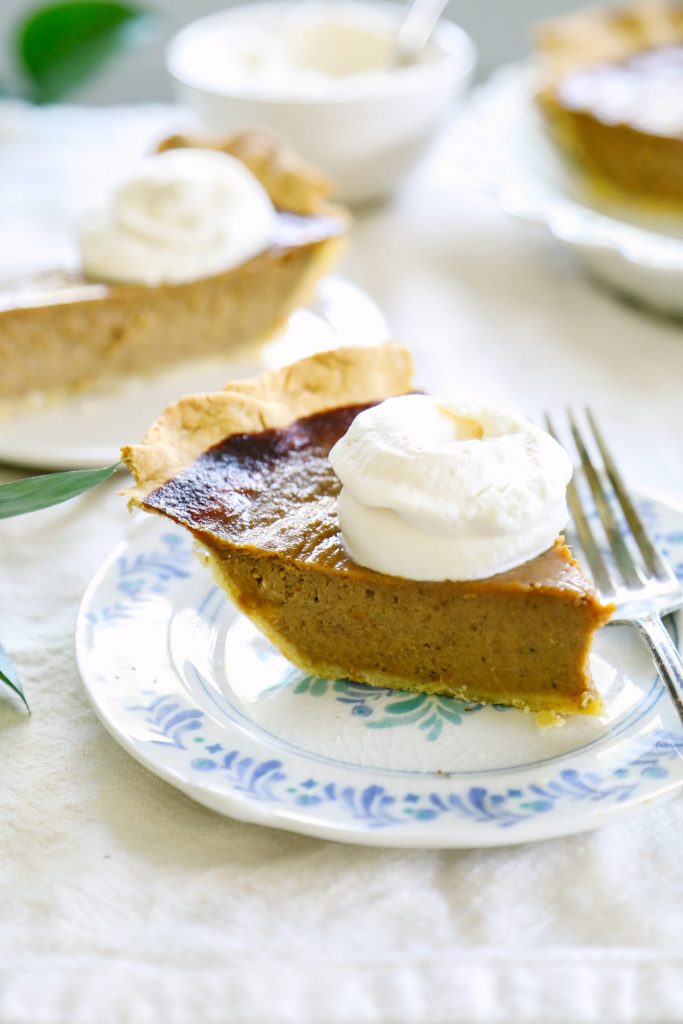 This pie is so easy to make. It only requires one bowl to mix the filling, and one simple pie crust. The filling is made with real food ingredients, so you won't find any sweetened condensed milk or evaporated milk in this recipe. The crust comes together in less than five minutes, and once it's baked, the final result is a naturally-sweetened "healthy" pumpkin pie. PS: I'm not a big fan of using the word "healthy" to describe a recipe in 2016, but I think this recipe deserves the title since it's so much healthier than the alternative (tons of refined sugar, canned milks, and Crisco in the crust).
If my grandmother was still alive today, she would be proud to enjoy a slice of this homemade pumpkin pie. 
Naturally-Sweetened Healthy Pumpkin Pie
This pie is so easy to make. It only requires one bowl to mix the filling, and one simple pie crust. The filling is made with real food ingredients, so you won't find any sweetened condensed milk or evaporated milk in this recipe.
Instructions
Prepare your pie crust. If you're using a homemade pie crust, I recommend a par-bake before adding the pumpkin pie filling. To do this, heat the oven to 400F. Bake the crust for 10 minutes. Remove the pie from the oven, and then add the pumpkin pie filling. Reduce the oven to 350F after the par-bake.

To make the pumpkin pie filling, in a large bowl, whisk the 4 eggs. Add the pure maple syrup and heavy cream, and then whisk again until all the ingredients are combined. Whisk in the pumpkin puree, and then the corn starch and spices. It's best if the ingredients aren't super cold when you add the corn starch. Vigorously whisk the filling until all the ingredients are combined.

Pour the pumpkin pie filling in the par-baked pie crust, and bake the pie at 350F for about an hour. The pie is done when the center isn't liquid, but has a firm jiggle. The pie will continue to cook, internally, after you remove it from the oven. If the pie is overcooked, it will split in the center (you'll notice large cracks form). This doesn't change the taste, just the appearance--it's not a big deal.

Allow the pie to fully cool (this takes a few hours) before slicing and serving. I prefer to make the pie a day before serving, and allow it to rest in the fridge. I highly recommend keeping the pie in the fridge for several hours after cooling and before serving. Top the pie with

homemade whipped cream

, if desired.
Nutrition
Calories:
2384
kcal
Carbohydrates:
287
g
Protein:
40
g
Fat:
121
g
Saturated Fat:
56
g
Cholesterol:
872
mg
Sodium:
1050
mg
Potassium:
1885
mg
Fiber:
18
g
Sugar:
143
g
Vitamin A:
69465
IU
Vitamin C:
18.8
mg
Calcium:
618
mg
Iron:
14.3
mg
Ingredient Notes
See the notes in the recipe next to each ingredient.
I highly recommend using a from-scratch pie crust, but if you'd like to reduce the prep time involved to make this recipe, I recommend the brand Wholly Wholesome. This company sells real food-style frozen pie crusts. Whole Foods and most health food stores carry this brand in the freezer section. I've used their pie crusts in a pinch, and I've always had great results.
I think pumpkin pie spice could work in a pinch, if you don't have the individual spices, but I'm not sure about how much you'll need…maybe 1-2 tablespoons? I prefer the flavor of this pie when using the individual spices.
If you read the ingredient list on many heavy cream options, you'll probably find carrageenan, which is an ingredient that I like to avoid when possible. I recommend using cream that doesn't contain carrageenan, if possible.  Natural by Nature and Lazy Meadows are two of my favorite store-bought brands. That said, if you can only find heavy cream with carrageenan added, I think it's a much better choice than condensed or evaporated milk–so go with the carrageenan option.