Chocolate.
Does a strong enough word exist to express the way I feel about chocolate?
Probably not!
Without an adequate word, let's just say the feelings I have for chocolate are intense (slight understatement).
Last weekend while skimming through the recipe section of the blog, as I frequently do, I noticed a problem. I'm talking huge! Almost a misrepresentation of Live Simply and who I am.
The problem…
There is only ONE chocolate recipe, this one.
One solitary chocolate muffin recipe.
That's it!
Here I have been blogging and sharing recipes and you are probably thinking I feast on beet smoothies, kale chips, and butter (you know my deep affections for butter) all day. I assure you, I do. I do eat these foods and crave them, but then there's chocolate! Has there ever been a day in my life I haven't dreamed, ate, drank, or in some way thought about it? Absolutely not. Chocolate is just one of those things. One of those heavenly things that just tastes so right, how could it ever be wrong? At least that's what this girl is sticking with and my taste buds heartily agree.
I need chocolate.
More chocolate.
Now, when I make food, I can't just make say mac and cheese or a smoothie without packing them full of nutrients. When I make or create a recipe I am always looking to get the most "bang for my buck" or however you would say that as it applies to nutrients in food. I want to pack the most nutrients possible in the recipes I feed my family. My gracious family has become slightly suspicious. "What's really in here?" I get the looks. But when something tastes fantastic and delights the senses, they quickly forget mom "sneaks" ingredients in just about everything.
In my defense, I don't believe in just sneaking ingredients without my taste-testers knowing exactly what they are enjoying. Sometimes I wait till the second sip or bite, but I always tell. I want my family to appreciate the food we eat and understand a food that was once feared can taste amazing when prepared in a variety of ways.
When I make brownies, or in this case Raw Brownie Bites, I approach them with the same mindset, "Hmm, what can I pack in here? Beets?" Just kidding on the beets. I haven't totally lost it to beets, yet.
When I created this recipe I had that "packing" mentality. I went with avocados. Avocados, as you know, are not my favorite food. In fact, other than guacamole, I generally tend to avoid them. I know they are good for me and so if I am going to eat them, I "hide" them. Somehow hiding avocado in these brownies causes my brain to switch from "Yuck, avocados!"  to "Give me more avocados!"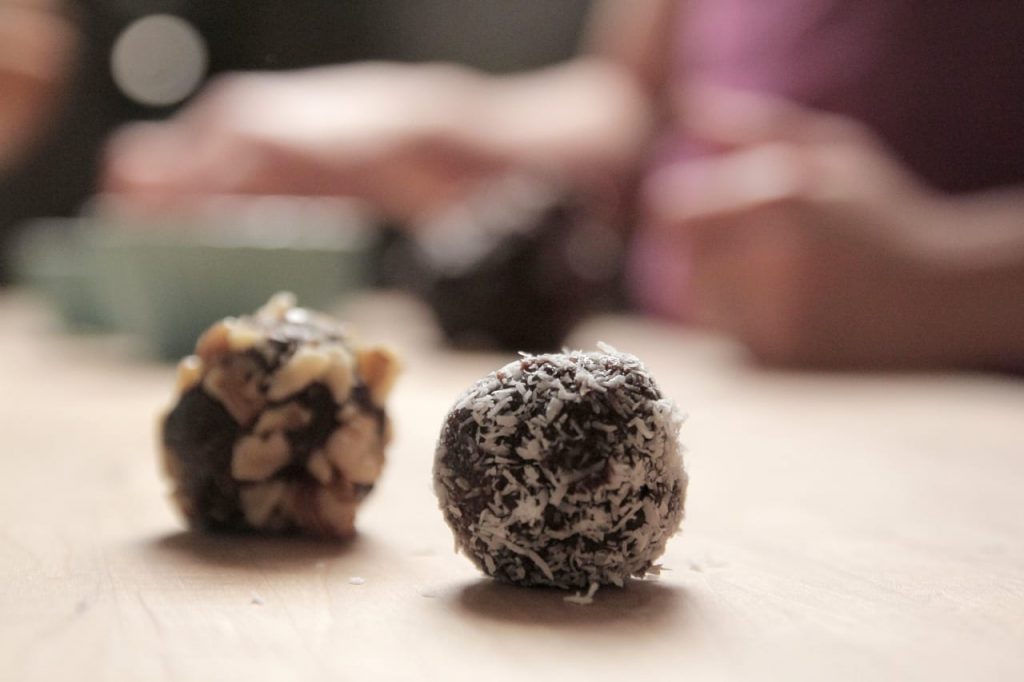 It's really magical!
Behold, the power of chocolate, my friends.
These little treats packed with an avocado, walnuts, coconut oil, and other goodies, make these brownie bites not only tasty and chocolatey, but also nourishing. These are super easy to make and require only a few minutes of time spent with a trusty food processor. These little treats are also perfect for little hands to make and of course, eat!
I need these in my life.
I need more chocolate.
And of course, avocados, and all the goodness tucked away in these bites, but most of all I need chocolate.
That's a legit need!
At least for a mom it is.
Raw Brownie Bites
These little treats packed with an avocado, walnuts, coconut oil, and other goodies, make these brownie bites not only tasty and chocolatey, but also nourishing.
Instructions
Add the walnuts and dates (pitted) to the food processor and pulse for a minute or two until they are finely chopped and begin to stick together.

Add in the remaining ingredients (except the toppings) until all the ingredients are blended together. The brownie "dough" will stick together and be moist.

Remove the brownie "dough" from the food processor and form into a ball.

Gather your toppings.

Break off small chunks of the "dough" and roll into small bites ("balls").

Roll the "balls" in the toppings of your choice (or sprinkle if using sea salt).

Once rolled, place the brownie bites in the fridge. This will allow the coconut oil to firm-up creating a delicious fudge-like brownie.
Nutrition
Calories:
194
kcal
Carbohydrates:
14
g
Protein:
3
g
Fat:
16
g
Saturated Fat:
5
g
Sodium:
4
mg
Potassium:
238
mg
Fiber:
3
g
Sugar:
8
g
Vitamin A:
30
IU
Vitamin C:
1.5
mg
Calcium:
25
mg
Iron:
1
mg