Welcome to week three of the unintentional food prep series I've been sharing here on the blog and Instagram. By unintentional, I mean I didn't plan to create a series for food prep. You'll find the previous food prep plans here and here.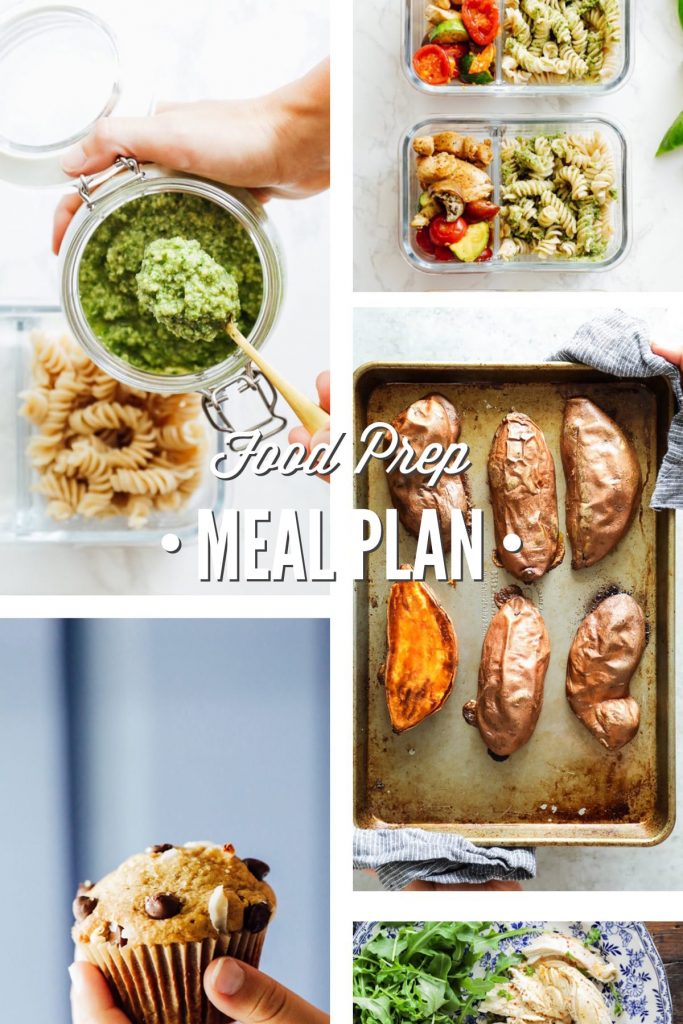 Three weeks ago, while sipping my coffee on a Sunday morning, I decided to create a few Instagram Stories, showcasing exactly what and how I was food prepping for the week ahead. Friends on Instagram loved that series so much, I decided put together a quick blogpost that weekend. That blogpost then turned into an email to the Live Simply Family. Everyone loved the ideas and the written food prep plan.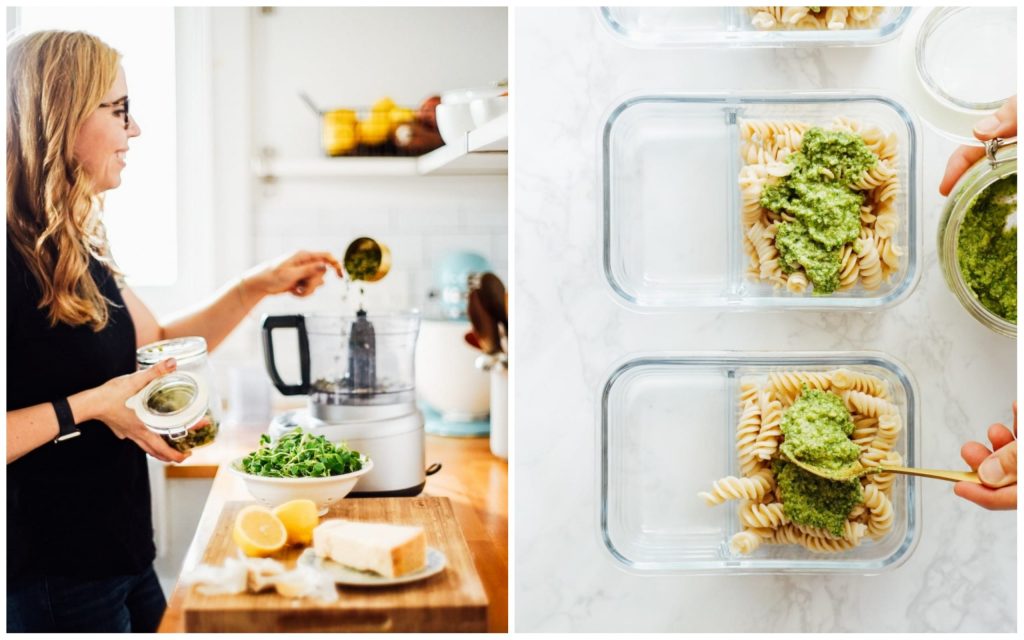 My food prep isn't mega creativity, but it is practical. It works for me. For me, food prep is about making a few nourishing components that I can mix and match with other foods throughout the week to build breakfast and lunch. I don't focus on dinners, usually, since I find dinner is easy to piece together and I enjoy spending more time in the kitchen in the evening. That said, sometimes my food prep naturally rolls into dinner, like a broth becoming a soup or extra chicken becoming a stir-fry or fajitas or quesadillas.
I mention the lack of mega creativity because I think it's important to note. I want variety, but also consistency and routine. Variety keeps our meals from feeling meh and routine allows me to get in a groove without overthinking the act of prepping food. For me, routine looks like having some staple ideas that are rotated often. For example: oatmeal, eggs, muffins, protein, grains, veggies. Within these capsule ideas, a lot of variety exists:
For oatmeal, I can prep a tray of baked oatmeal, oatmeal cups, overnight oats, or standard oatmeal (made on the stove-top).
For eggs, I can make hard or soft cooked eggs in the Instant Pot, scrambled eggs (you can prep these in advance), egg burritos, a frittata, or mini egg omelette cups.
For muffins, I can make a variety of different muffins depending on what's in season or in the fridge.
For protein, I can make beans, chicken (Instant Pot or stove-top method), meatballs (Instant Pot or oven), ground beef browned with spices, or a roast on Sunday with plans to use the extra meat throughout the week.
For grains, I can make rice, quinoa, barley, a mixture of grains, einkorn berries (cooked like rice), millet, or pasta.
And finally, for veggies, I can cut up raw veggies, roast a tray of veggies, cook potatoes, make a slaw to enjoy throughout the week, or make veggie fried rice.
Sometimes I like to make a dressing or dip for the week. Usually this is a salad dressing, pesto, or a dip like hummus or ranch (which can also be used as a salad dressing).
You'll notice this theme of consistency and variety echoed throughout the three food prep plans now on the blog. I'm not planning to make this into a long-term series, but I'll definitely create a few plans to give you a source of inspiration and practical tools for your own food prep. My hope is that with a few plans, you'll have the inspiration to create your own food prep plans–using the method of consistency and variety.
Okay, with all that said, let's talk about this week's plan…
What to Prep
And How to Use It
I like to view food prep in terms of components versus full meals. These foods can be mixed and matched with other foods to make a complete meal or snack, and some may be enjoyed alone. I generally focus on breakfast and lunch foods.
Make Muffins: Make any muffin recipe desired. There are a bunch of options on the blog: gluten-free, whole wheat, einkorn, and spelt. Serve muffins in the lunchbox, for breakfast with smoothies or yogurt and fruit, or eggs. For extra prep, make a double batch of muffins and freeze the extra for later. Here are a few options: 

Master Einkorn Recipe

, 

Einkorn Banana Muffins

,

Einkorn Pumpkin Spice Muffins,

 

Lemon Poppy Seed Muffins (Einkorn)

, 

Homemade Naturally-Sweetened Blueberry Muffins (Spelt)

, 

Blueberry Almond-Oat Muffins (Gluten-Free), 

Whole Grain Morning Glory Muffins (Whole Wheat)

, 

Spiced Applesauce Oat Muffins (Whole Wheat)

Roast Sweet Potatoes: Roast up a few sweet potatoes. Serve with a salad for lunch or enjoy as a veggie in the lunchbox. Or, toss some shredded (cooked) chicken with barbecue sauce and serve on top of the sweet potatoes–add broccoli or salad for a complete meal. For breakfast, top with nut butter, cinnamon, butter, and/or hemp seeds. Serve alongside eggs, toast, sautéed spinach and bacon, yogurt, or muffins. Or, add some of the sweet potato to a smoothie along with fruit. Get the recipe for the best sweet potatoes.
Cook a Whole Chicken: Cook a whole chicken in the Instant Pot. Shred and/or cube the chicken and store in the fridge. Use the meat for sandwiches, wraps, on salads, to make chicken salad or chicken noodle soup. Or, serve as a lunchable-style lunch with crackers, cheese, and chicken. Mix with pasta and pesto. Mix shredded or cubed chicken with pesto and then serve in butter lettuce cups with a tomato, or serve on bread for an open face sandwich. Make quesadillas for lunch (or dinner) with cheese, spinach, and shredded chicken. For a dinner idea, mix the shredded chicken with sautéed veg (like cabbage, carrots, bell pepper, snow peas, broccoli, garlic, and ginger) and soy sauce to make a quick stir-fry. Serve the stir-fry with rice or quinoa. So many possibilities! Get my recipe for Instant Pot chicken, or use your oven to cook a whole chicken.
Make Pasta: Cook your favorite pasta. I like to go with a spiral pasta or macaroni-shaped pasta. My favorite pasta is from Jovial. Mix reheated pasta with pesto, fresh tomatoes, and/or chicken. Or, toss with fresh tomatoes, olives, and torn mozzarella cheese to make a cold pasta salad. If you'd like to reheat the pasta, use the microwave or add a small amount of water to a saucepan and reheat the pasta over medium heat.
Blend Pesto: Make a traditional basil, pea shoot, or spinach pesto. Mix pesto with prepped pasta for a quick lunch (serve with cherry tomatoes or chicken), or toss with shredded or cubed chicken or spoon on lettuce lettuce leaves and top with tomato. If you want to roast up some extra veggies, you could even make this make-ahead meal. Use any remaining pesto at the end of the week to make pesto pizzas or flatbreads. I also love to use pesto as a dip with raw veggies or crackers. Get my recipe for basil pesto or pea shoot pesto (can also use spinach).
(Extra Bonus) Make Broth: Turn your chicken bones (from cooking a whole chicken) into a nourishing broth to use later in the week for soup or to cook rice. If you don't want to use your broth soon, store it in the freezer. Get my Instant Pot broth recipe or slow-cooker recipe.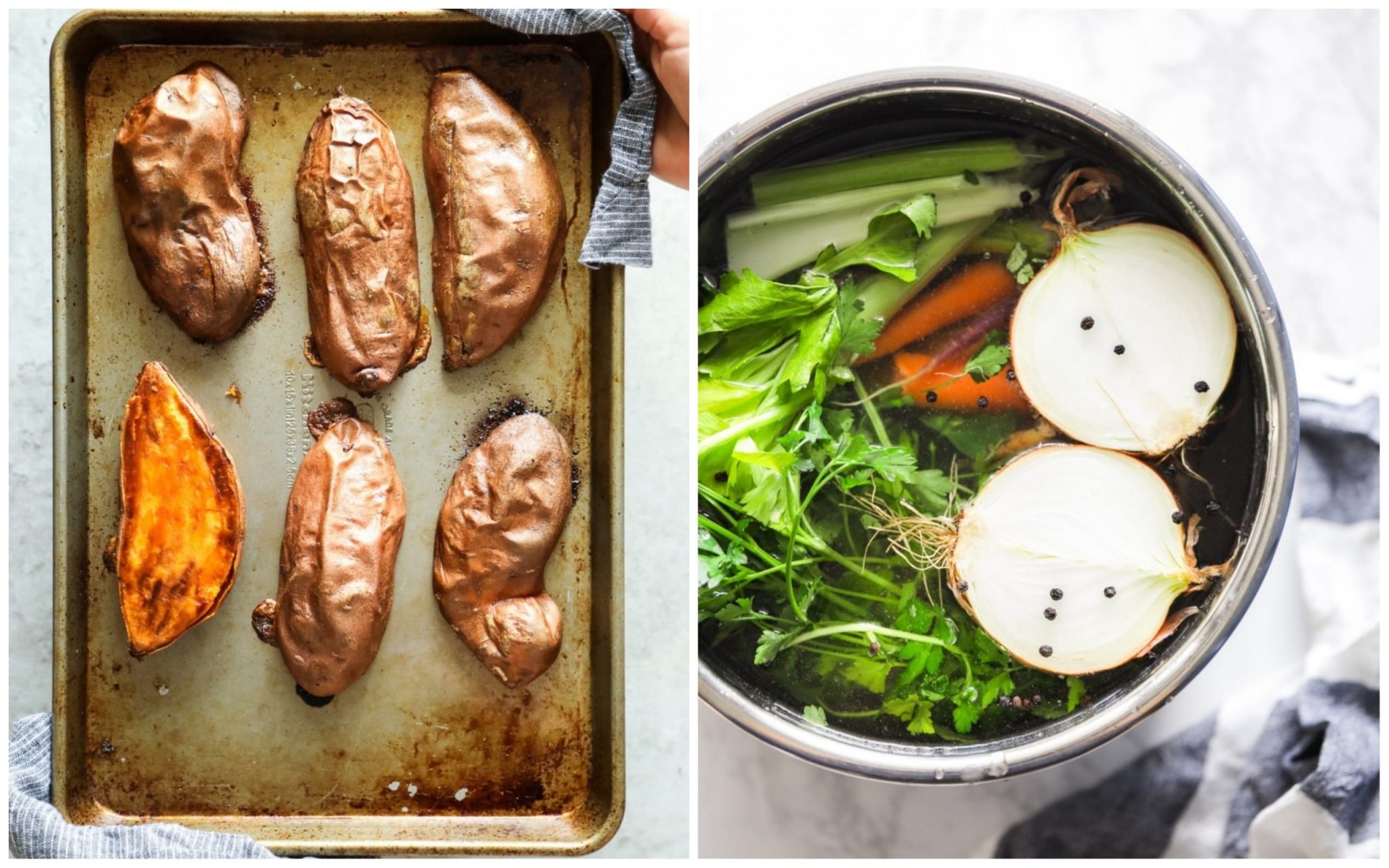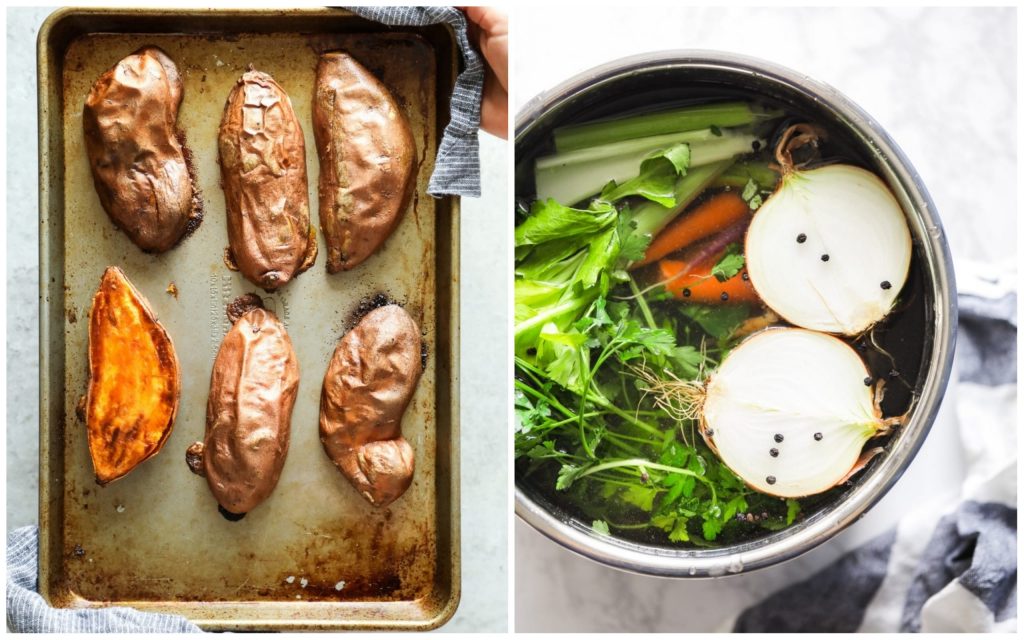 First,

make the muffins in the oven. 
While the muffins cook, prepare the sweet potatoes: cut in half and rub with oil.
Once the muffins are done cooking, increase the oven temperature. Cook the sweet potatoes.

Meanwhile,

add the chicken to the Instant Pot and cook

.

While the chicken cooks,

cook the pasta

. Once cooked, drain the pasta and add to a storage container. 

Blend pesto in a food processor

. Spoon into a storage container. 

Remove the

chicken

from Instant Pot and

shred

. Place the shredded chicken in a storage container. 

Place the bones back in the Instant Pot and

make broth

.

While the broth is cooking, pour yourself a glass of wine and clean up the kitchen

. By now, the muffins and sweet potatoes should be cool. Add the muffins and sweet potatoes to storage containers. Once the broth is ready, spoon into mason jars. Once fully cool, store in fridge or freezer.
Store the food in the fridge, in storage containers, and use throughout the week to build meals.
Examples of Meals Using This Week's Food Prep
I'm a visual person, so I find it best to share visuals for how this component food prep thing works. Below, you'll find a few examples of how food prep components come together to form multiple meals. I hope these examples serve as inspiration for what you can make with your food prep.
Breakfast: Cook up eggs and serve with the roasted sweet potatoes (reheat in a skillet or microwave) and top with nut butter (maybe even this homemade nut and seed butter) and banana slices. You could also serve this with a muffin.
Lunch Ideas: (Top Photo) Serve a muffin (or two), cook up some hard or soft boiled eggs (Instant Pot recipe), and serve with yogurt and fruit. (Middle Photo) Salad made with shredded chicken, lettuce, cherry tomatoes, cucumbers, and carrots. Served with a dressing of choice. Make the salad the night before with dinner and add chicken for a lunch the next day. (Bottom Photo) Use shredded chicken, lettuce or baby spinach, and cheese to make a wrap.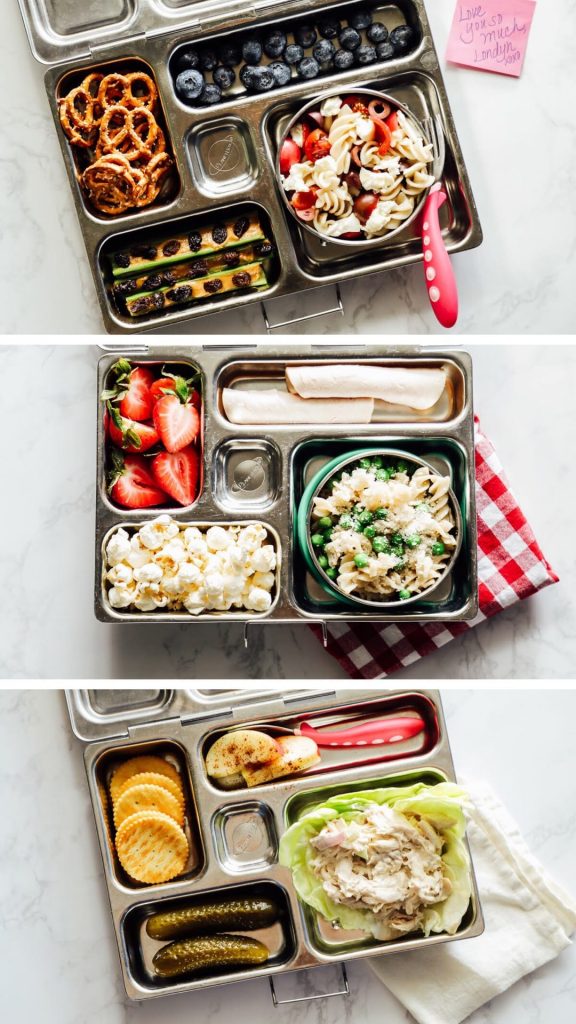 More Lunch Ideas: (Top Photo) Pasta salad with tomatoes, olives, feta cheese or mozzarella, and homemade vinaigrette. (Middle Photo) Pasta with parmesan cheese, butter, and peas. (Bottom Photo) Shredded chicken used to make a homemade chicken salad.
Lunch or Dinner: Use the shredded chicken paired with baby spinach and cheese to make quesadillas. Serve with salsa, sour cream, guacamole, and/or cilantro. Use this recipe as a guide for cooking the quesadillas.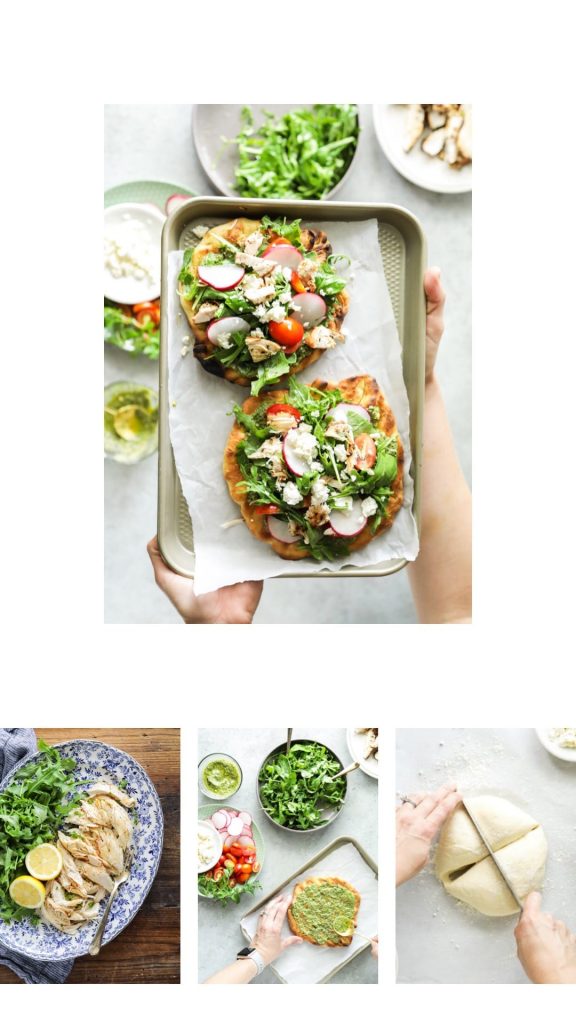 Dinner: Make grilled pesto flatbreads. For this meal, you'll need shredded chicken (or cook chicken breasts later in the week just for this dinner), pesto, and einkorn flatbreads. This is a fun meal to make for dinner as the weather warms up. Get the recipe.
Dinner: Make a soup for dinner using the homemade chicken broth. Explore all the soup possibilities on the blog. The soup pictured is a veggie barely soup made in the Instant Pot.
Resources To Help You Rock Your Food Prep

Now let's talk about storing this food in your fridge. In this post (and video), I share a tour of my fridge, my number one organization tip, how to store food (from prepped food to individual ingredients), and the best food storage containers.
Food Prep Storage Containers
I've gone through my share of food storage containers over the years. I've settled on a few brands that I love and work very well for me. I love these containers because you can see through the containers, which means food is visible.
Ball Mason Jars (with plastic white lids): I purchase my jars at Target. I find the wide-mouth jars work best for food storage. The metal lids are awful for storage. Trust me, buy the plastic lids! You can find the plastic lids on Amazon or at Target. I use these jars for storing so many things: ranch dip, broth, soup, cut carrots, etc.
Snap Ware or OXO (Snap Ware-Like) Containers: You can also find these containers at Target, sold individually. These come in small and large. Great for shredded chicken, berries, cooked grains (like rice, quinoa, etc.), soup, and eggs.
Pyrex: I have the 3-cup size and a 6-cup container (perfect for large berries or soup). You can find these on Amazon in a set or individually from Target (3 cup size and 6 cup size). I have 6 3-cup containers and 1 6-cup container. Also great for shredded chicken, berries, cooked grains (like rice, quinoa, etc.), soup, and eggs.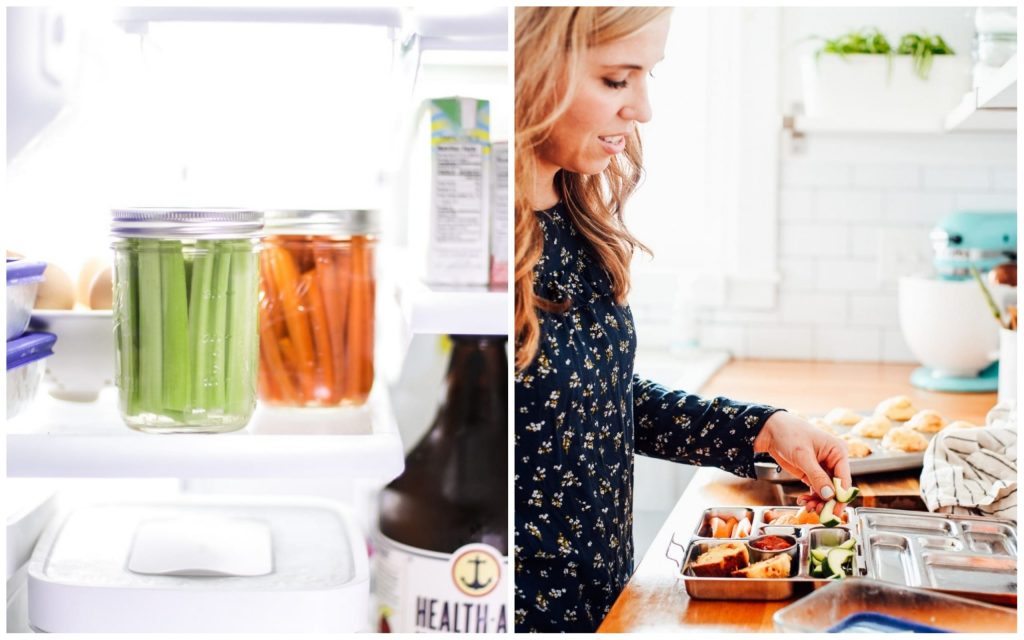 The Simplified School Lunch Kit provides you with food prep ideas and recipes for the lunchbox. This kit will also teach you how to confidently plan and pack lunch in a way that's strategic and enjoyable. Plus, this kit includes ready-to-use lunch plans and printable cards for over 20 fully-packed lunches.