I thought it would be helpful to follow-up last week's food prep plan with a new plan for this coming week.
Food prep has become a form of self-care for me and my family. It's a way of saying "yes!" to our health and wellness in an intentional way.
My goal in sharing a few food prep plans is to show you exactly how I food prep. It's taken me time to develop a routine and find my groove, but now food prep is second nature.
Before sharing another food prep plan, I think it's important to note that you don't have to "food prep" to enjoy a real food lifestyle. Food prep isn't a required real food lifestyle activity. When I was a stay-at-home with little kiddos, I had more time to spend in the kitchen and loved the ability to make food in the moment. Food prep wasn't something on my radar. It wasn't a necessity in our life.
Today, I work full time, Dustin works a demanding job in terms of travel and a weird schedule, and we have kiddos in school. This is a season that requires pivoting in terms of how we embrace real food. I still love being in the kitchen, but I don't have as much time to spend in this space. Food prep is the key to keeping our real food lifestyle possible. As Robin Long said in our recent podcast chat, "There are seasons to our life and we need to remember to adapt to our seasons." Adding food prep to my Sunday schedule is my way of adapting and pivoting in our current season of life.
That said, if you're interested in adding food prep to your weekly schedule, I hope these posts are helpful. I'm not going to make food prep plans a weekly thing. My goal is to provide you with a few plans you can rotate regularly in order to simplify your food prep routine.
What to Prep
And How to Use It
I like to view food prep in terms of components versus full meals. These foods can be mixed and matched with other foods to make a complete meal or snack, and some may be enjoyed alone. I generally focus on breakfast and lunch foods.
Make Soup: Make any soup in the Instant Pot or on the stove-top and enjoy throughout the week for lunch. There are many soup recipes to choose from on the blog. Right now, I'm loving this Cauliflower Baked-Potato Soup. Choose a soup recipe from the blog.
Make Instant Pot Chickpeas: Make chickpeas in the Instant Pot. Once cooked, use half the chickpeas to make hummus and the other half to make roasted chickpeas.
Make Hummus: Use half the chickpeas to make homemade hummus. Use as a dip with cut veggies or crackers. Or, use as a spread on sandwiches or wraps. Get my recipe for hummus and crispy chickpeas (and how to make chickpeas in the Instant Pot).
Make Roasted Chickpeas: Use the other half of the chickpeas to make roasted chickpeas. Heat oven to 400F. Line a sheet pan with parchment paper. Spread the chickpeas on the paper. Toss with a splash of olive oil and sprinkle of salt. Roast until crispy. Store in fridge. Use on salads and enjoy as a snack. Get my recipe for hummus and crispy chickpeas (and how to make chickpeas in the Instant Pot)..
Cut veggies: Store carrots and celery in water. Sweet bell peppers and cucumbers are also great to cut in advance–don't store in water. Use for snacking, lunches, chop smaller for soup or salads later in the week.

Check out how to store carrots and celery in water

.  

Make a Salad Dressing: Make an all-purpose vinaigrette to use as a salad dressing. You can also use this as a marinade for chicken breasts for dinner later in the week (you can grill, bake, or cook the breasts on the stove-top). Get my master vinaigrette salad dressing recipe.
Baked Oatmeal: Make a pan of baked oatmeal and serve the squares throughout the week for breakfast. Pair the oatmeal with scrambled eggs, green smoothies, yogurt, bacon or breakfast sausage, or alone. Get my baked oatmeal recipe. Or, you could make baked oatmeal muffin cups.
First,

cook the chickpeas in the Instant Pot. 
While the chickpeas cook, make the baked oatmeal in the oven. 
Drain the chickpeas from the liquid. Increase the oven temperature. On a sheet pan, toss half the chickpeas with olive oil and salt. Roast the chickpeas in the oven. 
Peel and cut the veggies

. Or, ask a family member to help. My kids are master peelers and cutters at this point.

Make the soup (of choice) in the Instant Pot.
While the soup cooks, make the hummus in the food processor using the remaining half of the chickpeas.
Make salad dressing.
While everything cools, pour yourself a glass of wine and clean up the kitchen

.

Store food in storage containers and place in fridge.
Resources To Help You Rock Your Food Prep

Now let's talk about storing this food in your fridge. In this post (and video), I share a tour of my fridge, my number one organization tip, how to store food (from prepped food to individual ingredients), and the best food storage containers.
Food Prep Storage Containers
I've gone through my share of food storage containers over the years. I've settled on a few brands that I love and work very well for me. I love these containers because you can see through the containers, which means food is visible.
Ball Mason Jars (with plastic white lids): I purchase my jars at Target. I find the wide-mouth jars work best for food storage. The metal lids are awful for storage. Trust me, buy the plastic lids! You can find the plastic lids on Amazon or at Target. I use these jars for storing so many things: ranch dip, broth, soup, cut carrots, etc.
Snap Ware or OXO (Snap Ware-Like) Containers: You can also find these containers at Target, sold individually. These come in small and large. Great for shredded chicken, berries, cooked grains (like rice, quinoa, etc.), soup, and eggs.
Pyrex: I have the 3-cup size and a 6-cup container (perfect for large berries or soup). You can find these on Amazon in a set or individually from Target (3 cup size and 6 cup size). I have 6 3-cup containers and 1 6-cup container. Also great for shredded chicken, berries, cooked grains (like rice, quinoa, etc.), soup, and eggs.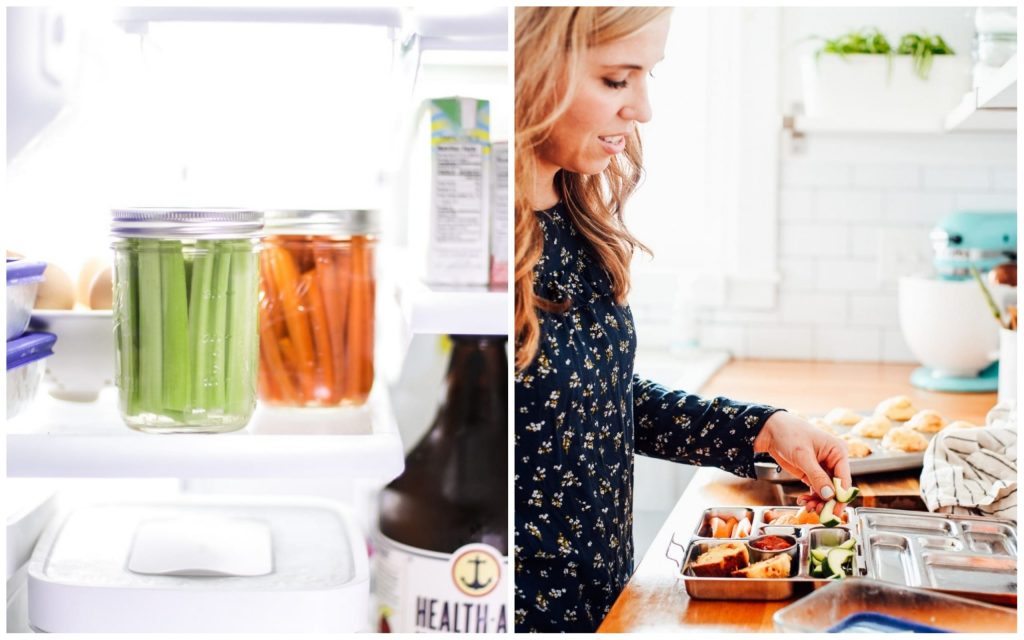 The Simplified School Lunch Kit provides you with food prep ideas and recipes for the lunchbox. This kit will also teach you how to confidently plan and pack lunch in a way that's strategic and enjoyable. Plus, this kit includes ready-to-use lunch plans and printable cards for over 20 fully-packed lunches.