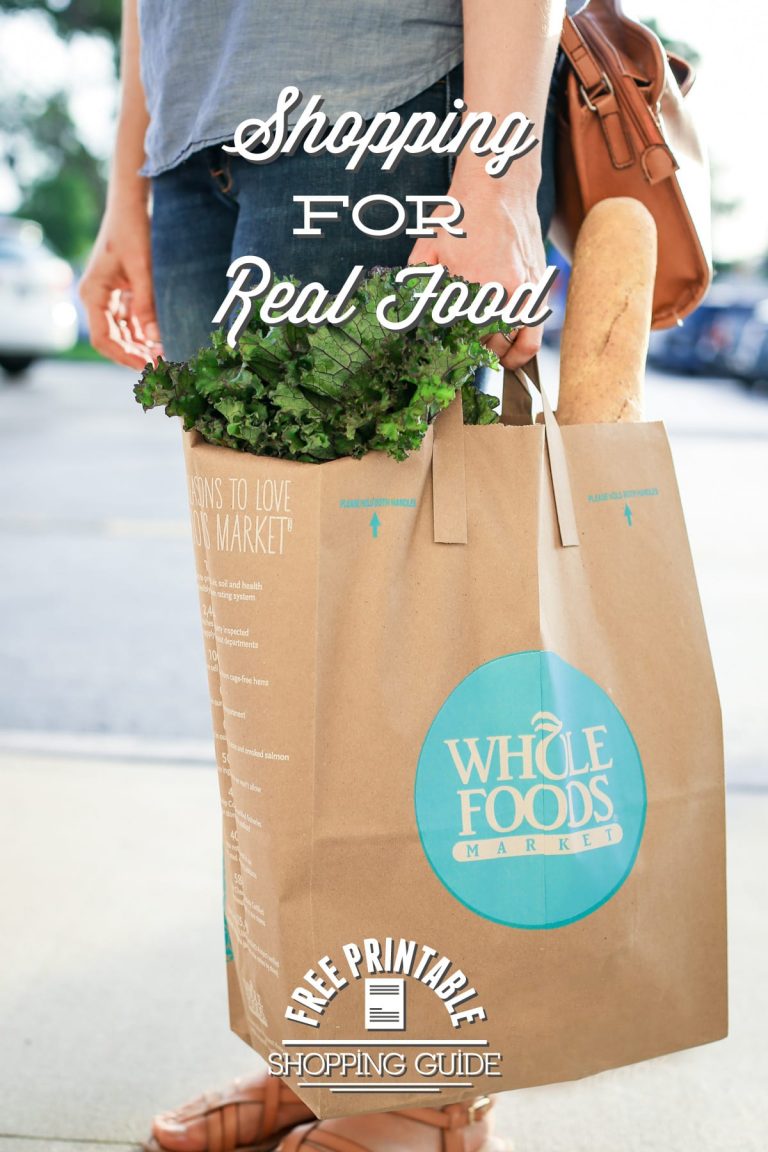 Note: This series isn't about endorsing any particular company or brand. My goal is to cover major stores, where most Americans shop, to show people that just making a switch in the products they purchase is a huge first start in adopting a real food lifestyle–this only requires changing what you put in your cart. Once this hurdle is conquered, other options may be explored–farms, co-ops, and local health stores. Small, but practical changes lead to a doable lifestyle! Learn more about shopping for real food under the "Shopping 101" section on the blog.
Have you ever walked into a store and immediately felt overwhelmed by the millions of food choices available? Even simple departments like produce have become an overwhelming jungle of packages and boxes. With so many choices it can be difficult to know where to source real food and what to buy.
I truly believe the greatest asset one can possess when making the real food switch is knowledge: knowledge of how to define "real food," where to find it, how to strategically shop and how to plan and cook it. With this knowledge, real food can be lived out in practical ways every single day.
This summer, I'm excited to share a much requested series specifically designed to provide an insider look at the real food options available at various popular stores. Some stores may not come as a surprise (Whole Foods), while others may leave you thinking, "No way! Real food at ____?" I can't possibly highlight every real food option available, so I'm going to stick with the food items I personally purchase (or would purchase) for my family.
The selection highlighted in each post will include my top food picks, based on the Live Simply definition of real food. While everyone defines "real" in various ways, here's my definition: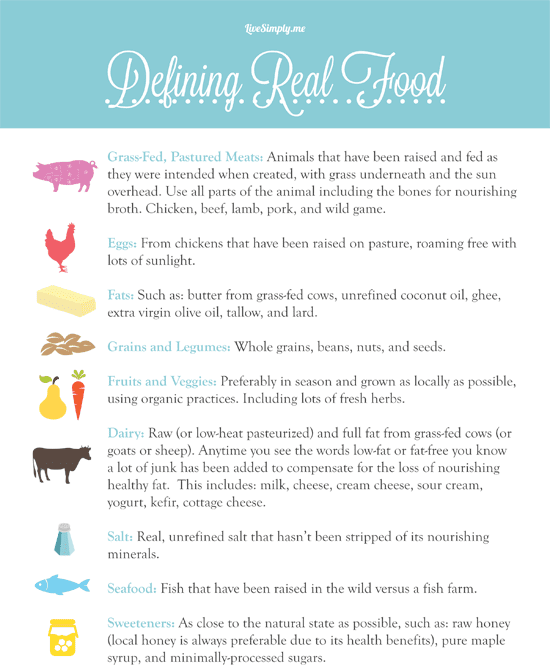 Before we get started, it's important to note that I'm not affiliated with any food company. I haven't been paid by any store or brand.
To start this series, let's go shopping at Whole Foods. I'll highlight some of the foods I purchase from Whole Foods via photos below, while others have been reserved for the printable shopping guide (due to space).  Along with photos and a printable guide, each week I'll share valuable shopping tips.
Practical Shopping Tips
1. Make a List:
Whole Foods is often referred to as "Whole Paycheck." Whole Foods is certainly on the pricier end of the shopping spectrum; however, a trip doesn't need to cost you an entire paycheck. My best advice for maintaining a food budget and shopping at Whole Foods is to never enter the inviting front doors (they're so inviting, aren't they?!) without a shopping list! And remember, stick to the list!
2.  Shop Sales:
Every week Whole Foods publishes a sales flyer, usually on Wednesday. This flyer highlights all the deals for the new week. Repeat after me, "The sales flyer is my friend!" That's right, this flyer is your ticket to actually saving money and stocking your kitchen with real food. This flyer is often available online or at the front of the store.
3.  Go Bulk:
One of my favorite departments in Whole Foods is the bulk section. This section offers a huge variety of grains, dried fruit, flours, sweeteners, chocolate chips,  pasta, rice, and even coffee. Purchasing food from the bulk bins can often equate to significant savings!
4.  Shop 365:
Whole Foods offers a line of exclusive products called, 365. This line is less expensive than popular natural brands. I'm often surprised by the high-quality and clean ingredients found in many 365 packaged foods, beans are a good example.
Shopping for Real Food at Whole Foods: My Top Picks
1. Produce:
The produce at Whole Foods is always fresh and so inviting (AKA: tempting!!). Stores offer a huge variety of both organic and conventional produce options. To help keep the budget in check, shop from the "Buy Organic" list (find it here). The produce department also offers great sale prices on seasonal fruits and vegetables.
Whole Foods also offers a large selection of frozen fruits and veggies. To save money, I recommend shopping the 365 options.
Note: "Produce" isn't included in the printable shopping guide–I think we all expect Whole Foods to sell produce.
2. Convenience Produce:
Whole Foods offers a huge variety of ready-to-go fruits and veggies. This means the store has taken the time to shop/dice/arrange vegetables and fruits for the shopper. While these foods are expensive, compared to purchasing whole veggies/fruit, this option is convenient on super busy days.
I'm a huge fan of homemade salad dressing (it's so easy–take a look at these dressings), but I also love the fact that Whole Foods sells Tessemae's–a clean line of delicious dressings!
3. Meat and Seafood:
Whole Foods has created a system that makes shopping for meat and seafood pretty easy.
In the meat department, meats are categorized into "steps" based on animal welfare, diet, etc. Basically, the higher the step (for example: "Step 4"), the better the meat. Whole Foods offers a wide range of meat from more conventional to grass-fed selections. Purchasing individual cuts of meat can add up quickly, which is why I choose to purchase bulk grass-fed meat from a local farmer.
The seafood department uses a different ranking system based on sustainability: red, yellow, and green. I'm always very impressed by the variety and quality found in the Whole Foods seafood department.
4. Bulk Goodies:

The bulk department, clearly marked by rows of bins, offers a huge variety of bulk nut butters (almond/peanut butter), honey on the tap (bottles provided), rice, grains, dried beans, dried fruit, nuts/seeds, and so much more! Purchasing foods from the bulk section versus individual bags sold within the inner aisles can equate to significant savings.
5. Dry Goods:
When a particular food item can't be found in the bulk section, head to the interior aisles. My favorite boxed/canned/packaged dry goods include: coconut milk, cooked beans (365 offers a carton option), pasta, canned/glass jar tomatoes, tomato paste, baking soda/powder, flours (grain-free, ancient, and modern-day classics), oils, a very clean two-ingredient cereal, sweeteners (dry sugars and maple syrup), oats, tuna fish, spices and more. I've listed my favorite items and some brands in the printable shopping guide.
6. Dairy:  Whole Foods offers a huge variety of milk and yogurt, everything from flavored creations to products boasting significant nutritional benefits. My best advice is to ignore all the fancy labels and stick with the basics: whole milk (low-temperature pasteurized), heavy cream without carrageenan, and whole milk plain yogurt. I'll occasionally purchase individual cups of yogurt for traveling, but the smaller the cartons the more expensive the grocery bill.
My favorite dairy brands are listed in the shopping guide: Natural by Nature, Seven Stars Farm, Organic Valley Grass Milk, and Stonyfield Yogurt (if Seven Stars isn't available).
7. Eggs and Cheese: 
Whole Foods sells pastured eggs which can be incredibly difficult to source in a big grocery store. Vital Farms is my favorite choice for pastured eggs (other than my backyard or a local farmer). These eggs are expensive–$7.99/dozen.
The cheese selection at Whole Foods is out of this world, and can really put a dent in a grocery bill (not that I know from experience or anything, cough cough). While Whole Foods offers sliced, chopped, and shredded cheese options, buying block cheese saves money.
8. Sliced Lunch Meat and Bread
One of my favorite selections at Whole Foods is the lunch meat! While I try not to purchase lunch meat weekly, it's a nice option to have during the busy seasons of life. Whole Foods sells freshly cooked meat selections which are sliced according to your liking. Some of the selections contain canola oil (boo!), but a handful are clean three-ingredient options.
I also love the bread selections in the bakery. I recommend staying away from the packaged breads and sticking with the bakery options. When I don't have time or the willpower to make bread, I purchase San Francisco Sourdough.
9. Convenience Foods:
Life can get busy, really busy! It's during these busy seasons that I'm thankful for the convenience options at Whole Foods. I don't recommend purchasing these foods every week (stick with homemade as much as possible), but it's nice to know a "better" whole roasted chicken, whole pizza, and hot food items are available. My only caution: Watch out for the excessive use of canola oil in many prepared foods!
10. Beauty and Health Products:
Whole Foods offers a variety of beauty and health products for DIY projects (homemade hand soap, face wash, etc.). I prefer Amazon due to Whole Foods' higher prices, but in a time crunch, running to the local store is a nice option. A few items to look for: castile soap, nourishing oils (jojoba, coconut, almond, etc.), toothpaste (if you don't want to make it), bentonite clay, witch hazel, shea butter, cocoa butter, and essential oils.
11. Treats:
A few of my favorite Whole Foods' treats (they are just that…treats!) are: Justin's Peanut Butter Cups (soooo good!), AlterEgo Chocolate, Whole Foods' Gelato (a clean store-bought "ice cream"), and Stumptown Cold Brew Coffee.
My Whole Foods' Shopping Guide
Thank you so much for joining me today for our first field trip! I can't wait to go shopping with you again next week.  Before we part ways, I want to leave you with a special gift- a way to remember our field trip (can you tell I was a first grade teacher??)– a printable shopping guide!
Click on the image below to download and print your shopping guide.
More Real Food You May Like: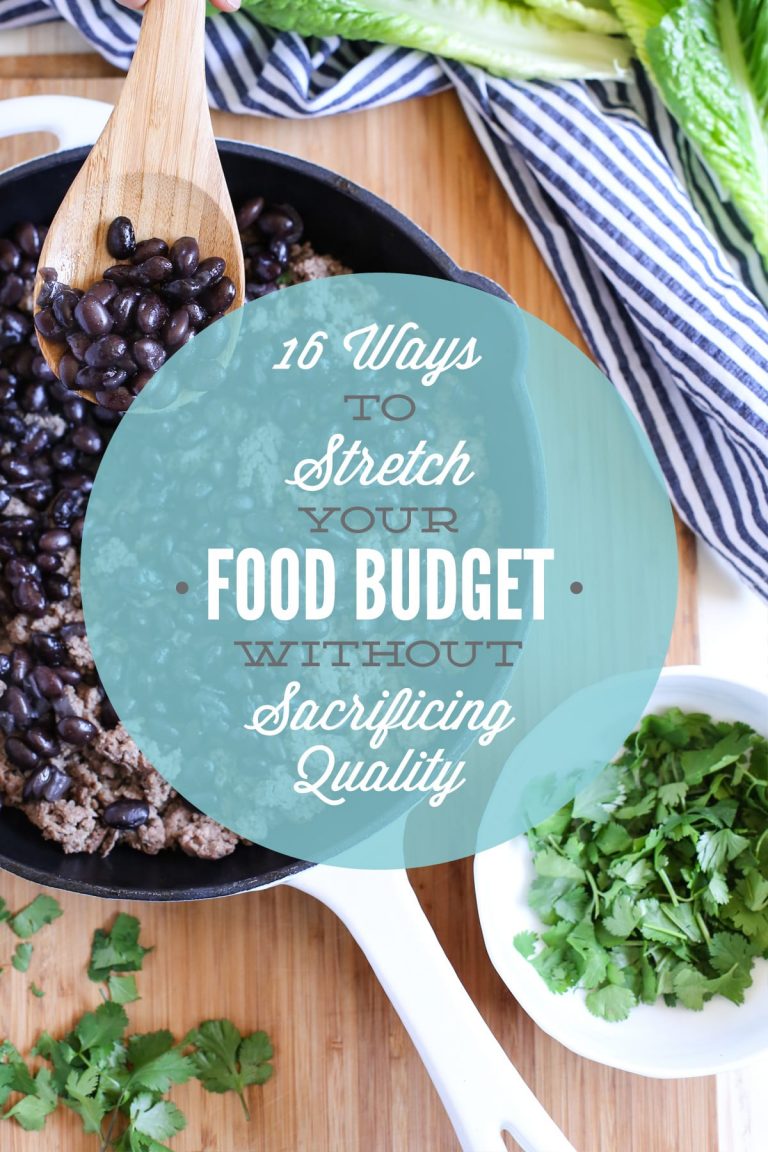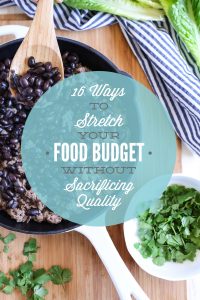 16 Ways to Stretch Your Food Budget Without Sacrificing Quality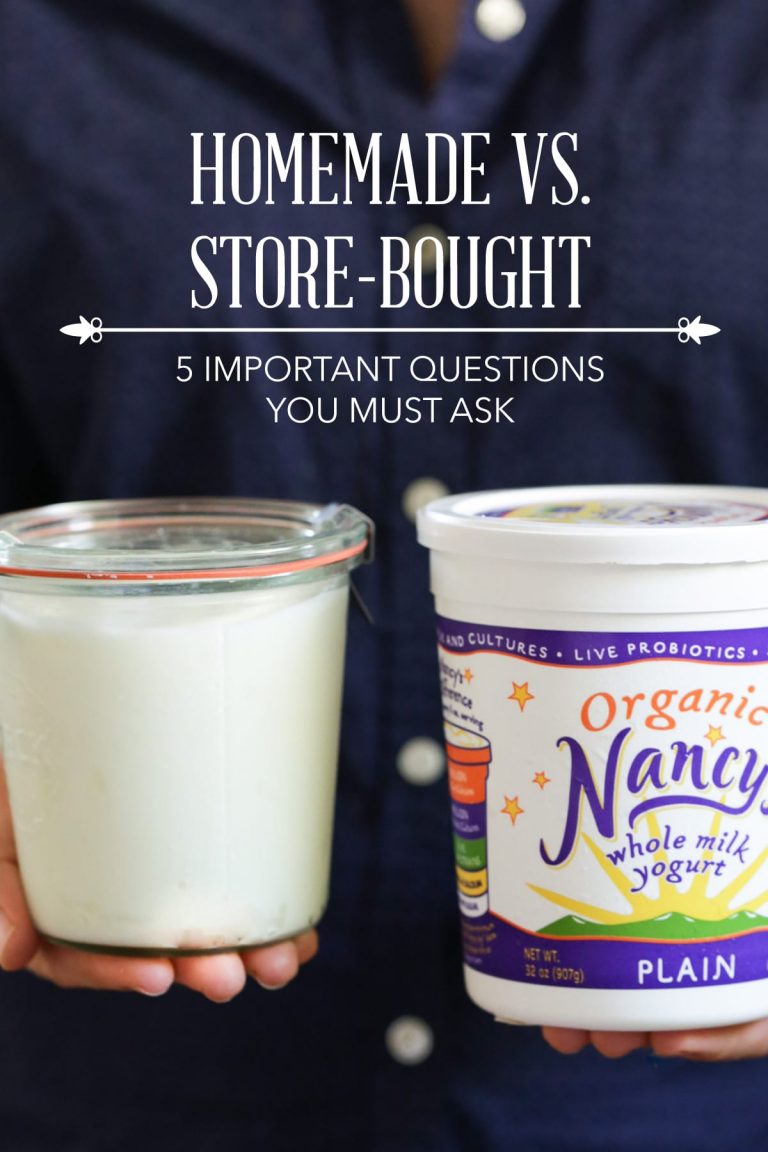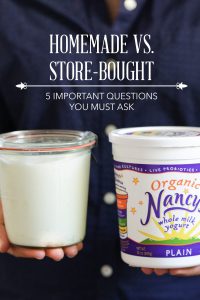 Homemade vs. Store-Bought: 5 Important Questions You Must Ask