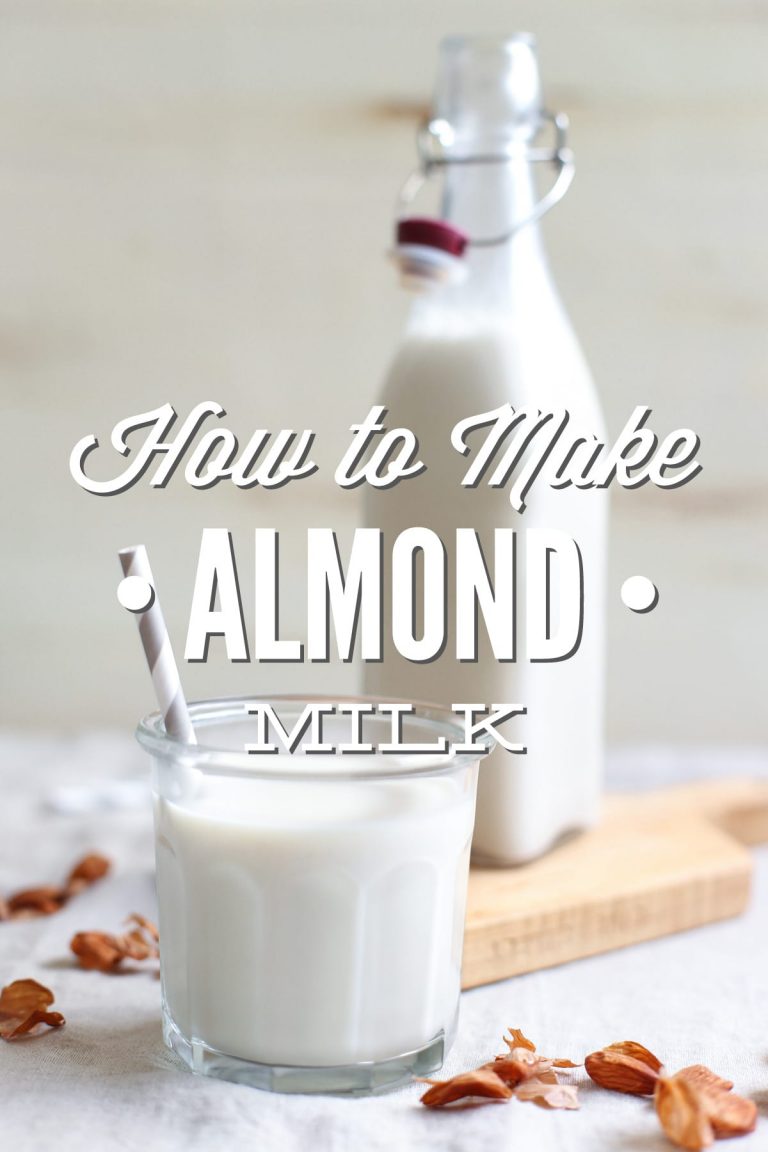 Okay, my beloved raw milk, cover your milky ears for one minute.
I have a new obsession: creamy, naturally-sweetened almond milk. I hear ya, "Almond milk? How do you milk an almond?" Trust me, I was there. I had multiple objections to the whole idea of a little nut being turned into some imposter white substance and proclaiming itself as "milk." But desperate times call for desperate measures.
See, there's this thing we often forget with our year-round grocery store supply, something called seasons. The modern-day grocery store is an amazing place, but its constant supply of any and every food also leads to forgetfulness: melons peak during the summer months, the taste and consistency of milk changes as grass withers and then flourishes, and chickens take "egg breaks." Our ability to ship food in a million different directions has been an amazing perk of the modern-day food system, but also leads to greed, in my humble opinion.
While I love shopping at grocery stores (I practice my love weekly), I also enjoy sourcing our food from local farms. My selection is a bit limited in Florida, due to bugs and extreme heat, but I have a few local food options.
One of my favorite local food sources is a family-owned raw milk farm. My love for our local raw milk runs deep within my food loving veins. The rich, creamy texture with the floating cream on top is flat out the best food in the world, besides chocolate. And when you mix the two together–homemade chocolate syrup and local raw milk—oh, heavens. I can't even begin to describe the amazingness of this wonder drink. 
Since raw milk isn't available 365 days out of the year, I've learned to embrace the seasonal changes and look for milk alternatives when needed. Truthfully, the whole idea of dairy-free milk kinda grossed me out for a long time (even during my vegan years). I've never been able to get past the watery consistency and bland taste of store-bought "milk." Milk should be many things, but watery is not one of them. So wrong! Much like 1% dairy milk— let's not even go there. So so so wrong. This post isn't about depressing milk, because there's hope! 
Enter homemade almond milk. 
Homemade almond milk is the mind-blowing milk alternative I turn to whenever good ol' Bessie starts slowing down on production. It's okay, Bessie, it's just natural. There's a season for everything. Homemade almond milk is nothing like the "milk" sold in the store. It's perfectly creamy and naturally sweet, with a hint of natural vanilla flavor. Perfection! In fact, it's so good I make this homemade treat even when my beloved raw milk is in season. I guess that's called "double dipping" or "double drinking." 
I never ever in a million years thought a How to Make Almond Milk post would appear on Live Simply, but today, that changes. Why? Because homemade almond milk is so easy to make and utterly delicious, it deserves a day/post in the Live Simply spotlight. It's also my latest obsession. Just take a sip, just one, and you'll see why. 
Disclaimer: This blogger is not responsible for the addiction caused by making homemade almond milk. Proceed with caution and delight! 
How to Make Almond Milk
Homemade almond milk is nothing like the "milk" sold in the store. It's perfectly creamy and naturally sweet, with a hint of natural vanilla flavor.
Instructions
Place the almonds, water, and salt in a medium-size bowl. Soak the almonds overnight.

After the soaking period is complete, drain the water and rinse the almonds. Squeeze the almonds to remove the peels. Discard the peels. This step is optional, but highly recommended.

Place the almonds, 4 cups of water, dates (remember to remove the pits!), and scraped vanilla beans into the blender. Note: To scrape the vanilla beans, cut the long beans in half, use a butter knife to scrape the little black seeds into the blender. Discard the long beans or

add them to vodka to make vanilla extract

.

Blend the ingredients for 60 seconds on high. Hold the lid on the blender (trust me!). We don't want any explosions.

Strain the milk through a nut bag/towel/shirt by slowing squeezing the bag like you're milking a cow. The pulp inside the bag may be dehydrated and pulsed in the food processor to make almond meal/flour, or discarded.
Nutrition
Calories:
289
kcal
Carbohydrates:
74
g
Protein:
1
g
Fat:
1
g
Sodium:
1213
mg
Potassium:
668
mg
Fiber:
6
g
Sugar:
63
g
Vitamin A:
145
IU
Calcium:
91
mg
Iron:
0.9
mg
*Vanilla Beans: Purchasing individual vanilla beans can add up quickly. If you're planning to make almond milk, ice cream, extract, etc. I recommend purchasing beans in bulk. I purchase a large bag from Frontier (the "where to buy" link).
*Nut Bag: I've been using a large linen towel from IKEA to make almond milk (pictured). If you're planning to make homemade almond milk frequently, I recommend purchasing a nut bag. I just bought the "where to buy" bag the other day.
Update: Recently I didn't have any dates or vanilla beans in my pantry. I used 2 tablespoons of maple syrup and 1 teaspoon of vanilla extract instead of the beans and dates. The taste was still amazing! 
More Real Food You May Like:
My Favorite Kitchen Essentials