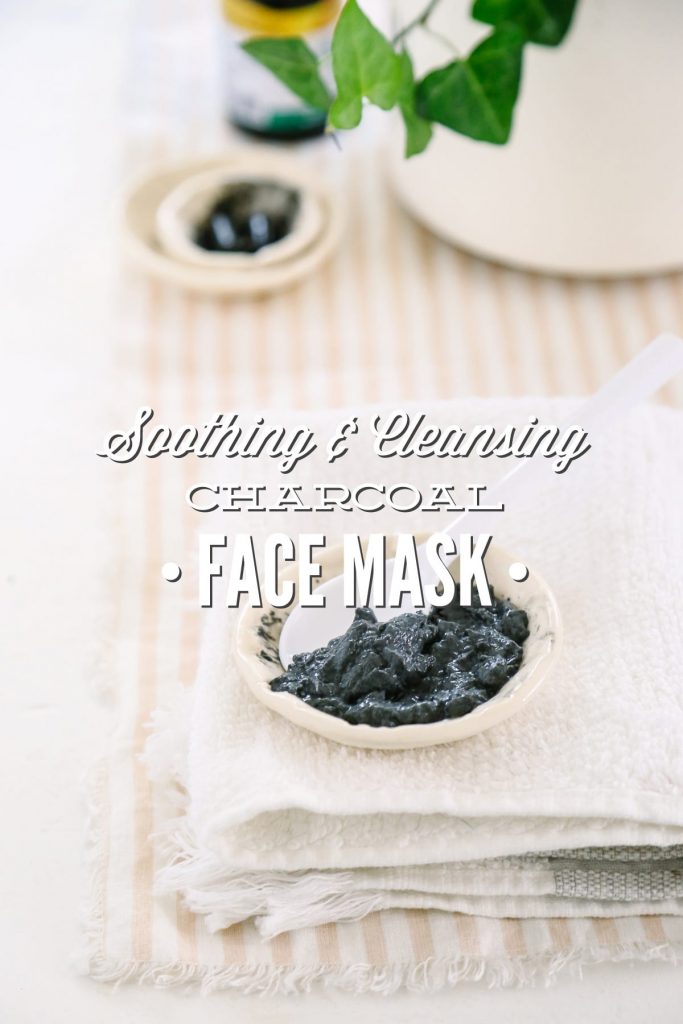 Today's DIY recipe, Soothing and Cleansing Charcoal Face Mask, has definitely made its way to the top of my What I'm Loving Right Now (mental) list.
This mask currently outranks my new found obsession with homemade cashew milk, weekend breakfast tacos, oatmeal and coconut chocolate chip cookies, and my spring moisturizer. And just in case you're wondering, I've got you covered over the next few weeks with those recipe. Today, let's talk about the face mask and its secret ingredient: activated charcoal.
A couple of months ago, I decided to take a peek inside my DIY cabinet in hopes of finding something "new" to add to my occasional clay face masks. As I skimmed the cabinet shelf, the little black and white bottle labeled activated charcoal stood out to me, so I decided to grab it along with aloe vera (you know I have quite a love for aloe vera!).
Now, a little disclaimer. I wouldn't categorize myself as a hippie, despite my love for making some beauty and cleaning products at home and drinking kombucha. In fact, if we were to randomly meet on the street this afternoon, and you didn't know anything about this blog, I'd like to think that you'd find my DIY ways very surprising. I just don't have that hippie look. I know, that probably sounds very stereotypical, so hopefully you understand what I mean.
With that said, if I were to choose the one product in my DIY cabinet that is the most "hippie thing" I've ever purchased and used, activated charcoal definitely wins! I don't think the average American family has a small bottle of activated charcoal just sitting around in their medicine cabinet.
Activated charcoal was first introduced to our family during a vicious food poisoning saga last year. After six hours of regular trips to the toilet (I know, TMI, sorry), I finally sent Dustin to the local drug store to find a product that a few of my natural friends highly recommended: activated charcoal.
When Dustin brought the bottle home I was scared to take the little black capsules inside. They weren't exactly the friendliest looking little pills. After the seventh hour of food poisoning torture, I opened a capsule, sprinkled the scary powder in a glass of water, and then took a sip.
I know, this story probably sounds out of place for a beauty discussion, but I think all of this will start piecing together right about now…
After taking the activated charcoal, my vomiting sessions stopped.  I was shocked that such a scary-looking pill had so much "power" over my food poisoning. Once I was back to feeling normal again, I placed the bottle in my DIY cabinet and vowed to never go without activated charcoal in my home. #callmeahippie 😉
For months and months, that bottle of activated charcoal sat in my DIY cabinet, just waiting to prove its usefulness beyond a bad a case of food poisoning.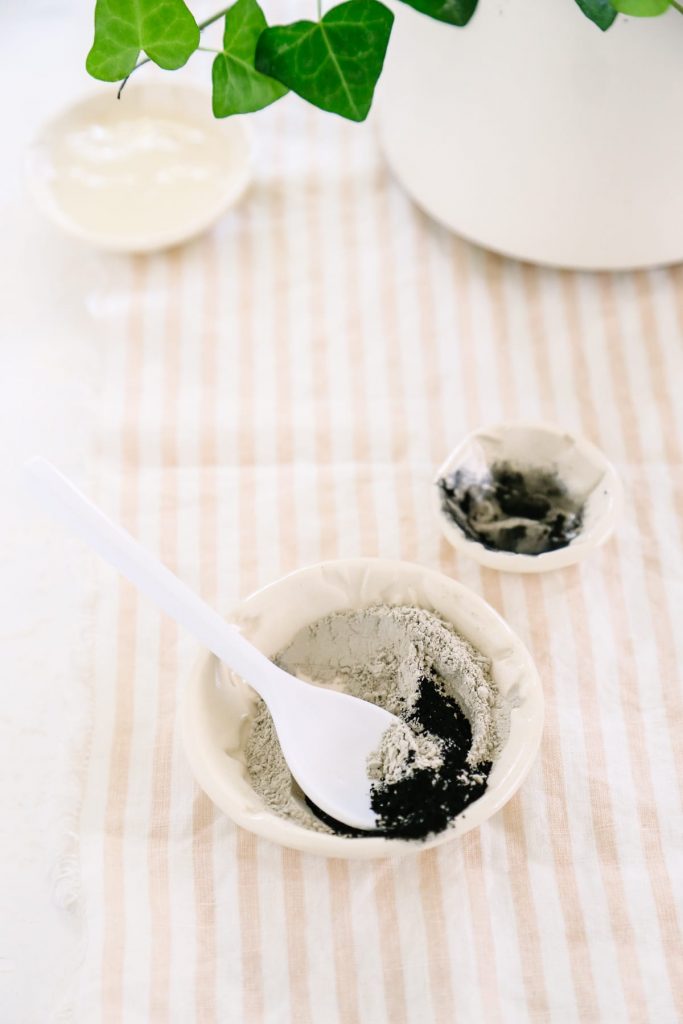 So, what is activated charcoal? Why did it help end my vomiting? And why are we talking about charcoal and food poisoning in a face mask post?
According to Dr. Axe (which many other sources confirm), "Activated charcoal is a potent natural treatment used to trap toxins and chemicals in the body, allowing them to be flushed out so the body doesn't reabsorb them. It's made from a variety of sources, but when used for natural healing, it's important to select activated charcoal made from coconut shells or other natural sources." As described in my story, activated charcoal is sometimes used to help treat (food) poisoning. Dr. Axe goes onto to share that activated charcoal works through a process called adsorption, which he describes as "the chemical reaction where elements bind to a surface."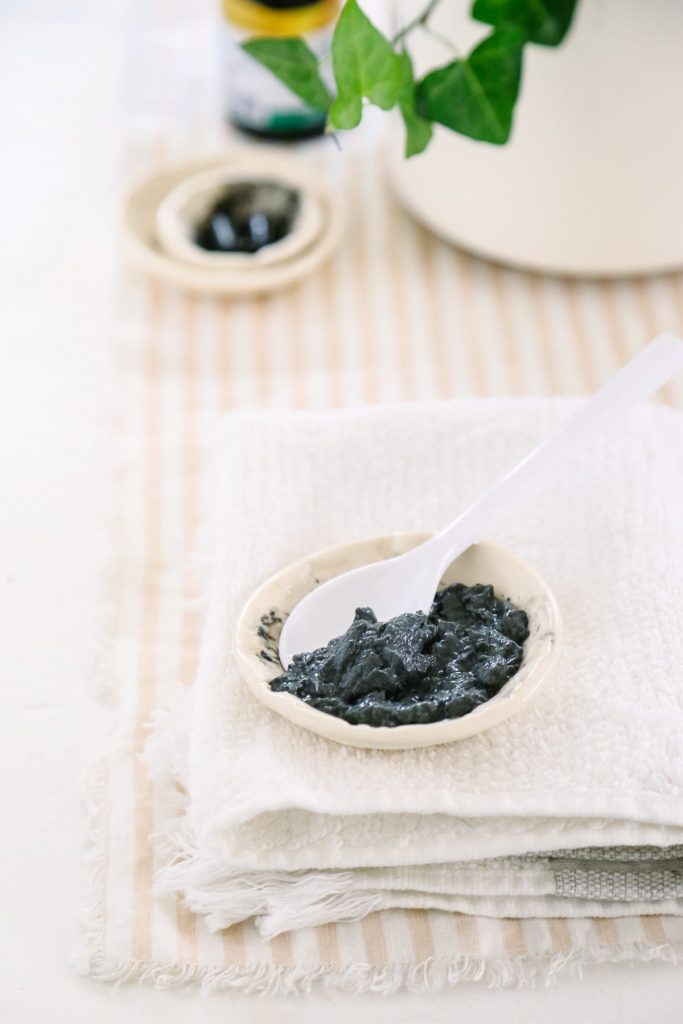 Little did I know, when Dustin purchased the bottle of charcoal, that activated charcoal would eventually make its way into a homemade face mask recipe for my skin. But now, months and months later, it all makes perfect sense.
Just like the activated charcoal drew out the "bad guys" inside my body during my food poisoning saga, the same powder may attract (unwanted) dirt and oils on my face. And with the hot spring and summer months now here, something that provides a bit of extra cleansing/dirt-attracting power is definitely my friend.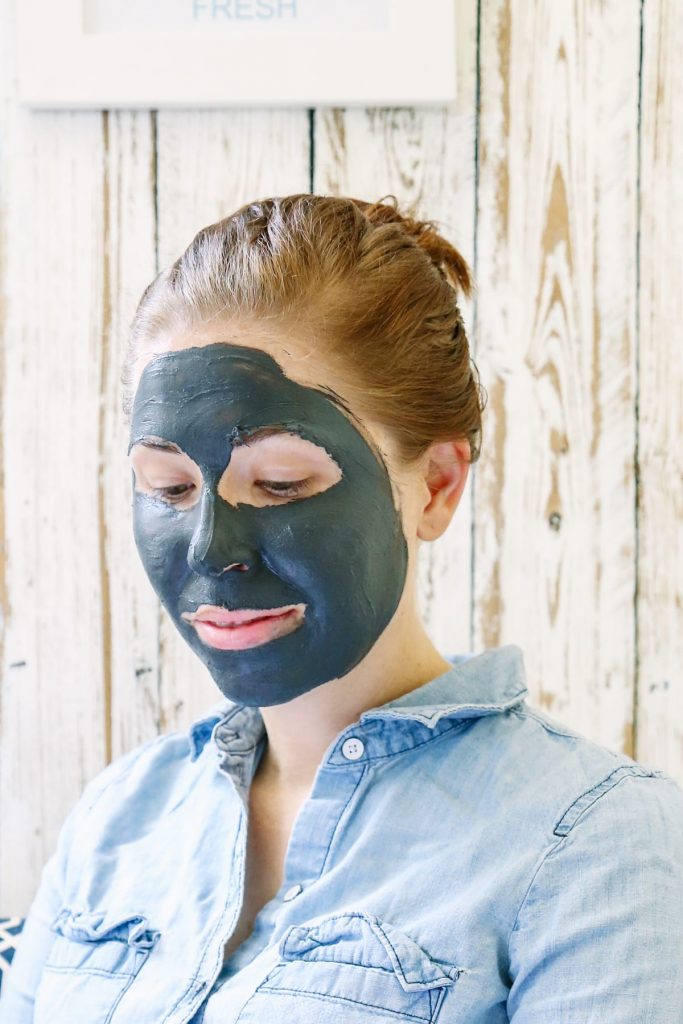 So there it is, my friend, the story of how a scary-looking, hippie product became my favorite skincare ingredient of the season.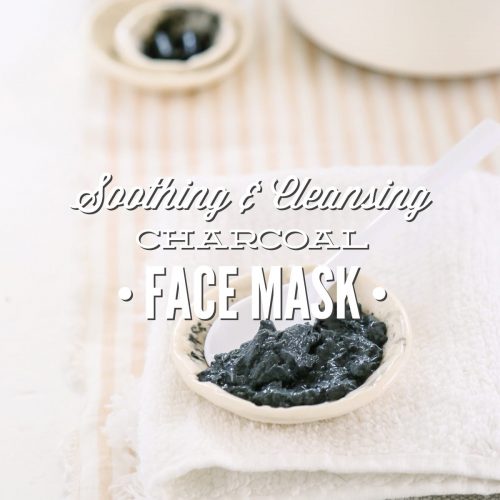 Soothing and Cleansing Charcoal Face Mask
Activated charcoal has become a popular skincare ingredient due to its ability to draw out dirt and bacteria from the skin. To keep this mask gentle and detoxfying at the same time, I've used kaolin clay. The charcoal draws out impurities and the clay naturally exfoliates.
Instructions
In a medium-size bowl (you'll want lots of room to stir the ingredients), stir or whisk together the clay and activated charcoal powder (from inside the capsules). Discard the exterior capsules. It's important to avoid using metal when working with bentonite clay, so opt for a wooden or plastic spoon or fork.

Add the aloe vera gel to the powder ingredients, and stir to combine. The mask should be wet and a bit lumpy (as pictured). If the mask is too dry or hard to stir, add a bit more aloe vera gel until you reach the desired consistency.
Ingredient Notes:
I use bentonite clay since I keep it on hand for face masks, foundation powder, and even bug bite relief. If you don't want to use bentonite clay, try French green clay. You can learn more about both ingredients, here.
Aloe vera is a common ingredient in natural skincare products due to its soothing and antioxidant properties. If you're interested in some of the benefits of aloe vera, this article from Mind Body Green is very insightful. It's important to purchase a quality aloe vera gel that doesn't contain a bunch of yucky ingredients. My favorite brand is Real Aloe (sold in health food stores and online). Since this recipe only makes enough for a one-time application, you may also use fresh aloe from an aloe plant in this recipe.
If you'd like to enjoy a relaxing aromatherapy experience with this mask, add 2-3 drops of your favorite skin-friendly essential oil with the aloe vera gel. I like to use carrot seed essential oil or lavender essential oil.
From my experience, the black charcoal powder easily washes off cloth surfaces once they are washed in the washing machine with laundry soap. After rinsing your face, your washcloth will probably look like it visited your garden and played in the mud. That said, I don't recommend using your favorite white Anthropologie washcloth to rinse off this mask :).