I took a look at my calendar yesterday and realized that Thanksgiving (American Thanksgiving, that is) is only two weeks from today. What? How is this possible? I'm not prepared for the holiday season, as is clearly demonstrated by my lack of holiday themed recipes going up on Live Simply.
Can you forgive me for not posting a single holiday recipe so far?
Thank you, I appreciate it!
Today's non-holiday recipe is a good one. If you follow me over on Instagram, you're probably familiar with this dressing. I'm obsessed with it!
I make this tahini dressing once a week to enjoy on salads, baked potatoes, as a veggie dip, or just eat with a spoon. I'm serious about the spoon. It's honestly that good. In fact, this is the best vinaigrette salad dressing ever, in my humble opinion.
The salad dressing is made with the simplest of ingredients. The main star in this dressing is, tahini.
Tahini is made from ground sesame seeds. It's a creamy, nut butter-like food. Tahini is commonly used to make hummus and other dips, and may be found either in the nut butter section or ethnic section in the grocery store. When tahini is mixed with olive oil, lemon juice, garlic, and a touch of salt, the end result is today's salad dressing.
While this dressing is easy and simple enough to make even on the busiest of weeknights, I personally like to make a jar on the weekend during my prep time. It's nice to know that a jar of ready-to-use dressing is sitting in my fridge. This means I have one less thing to make during the week.
I'm going leave you here (for today), because I have some holiday recipes to test and photograph. Pumpkin scones, maple marshmallows, and cranberry orange bread are waiting for me in the kitchen. This dressing is also waiting, in my fridge, and it's about to become my lunch (along with a big salad and some leftover chicken from earlier this week #preptimewin).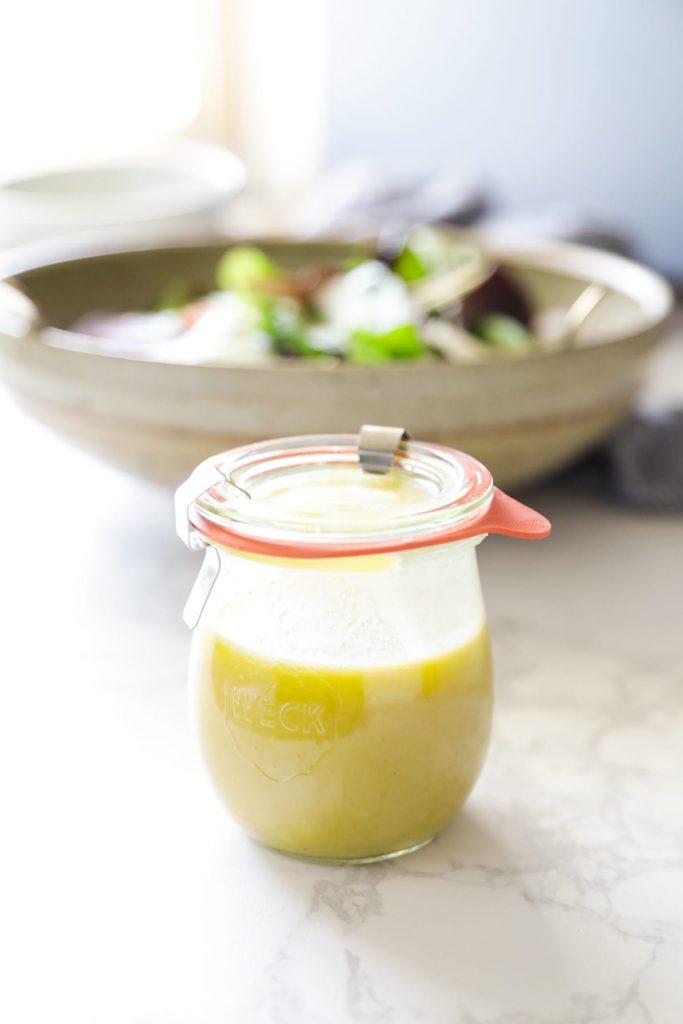 Tahini Vinaigrette Dressing
A simple, easy-to-make tahini vinaigrette salad dressing.
Ingredients
Instructions
Add the olive oil, lemon juice, tahini, garlic, salt, and pepper to a small jar (an 8-ounce mason jar works well). Seal the jar with a lid, and shake to combine the ingredients.

Use the dressing immeadiately, or store the dressing (sealed) in the fridge for up to 2 weeks.
Nutrition
Calories:
164
kcal
Carbohydrates:
1
g
Protein:
1
g
Fat:
17
g
Saturated Fat:
2
g
Sodium:
118
mg
Potassium:
27
mg
Vitamin C:
1.2
mg
Calcium:
8
mg
Iron:
0.3
mg