Today's recipe has become a regularly prepared meal in our kitchen, particularly when we have company over for lunch (along with "regular" chicken salad). Each time this salad is served, I'm met with the same reaction from our guests, "I'm not a big curry fan." I personally feel that way about curry, too.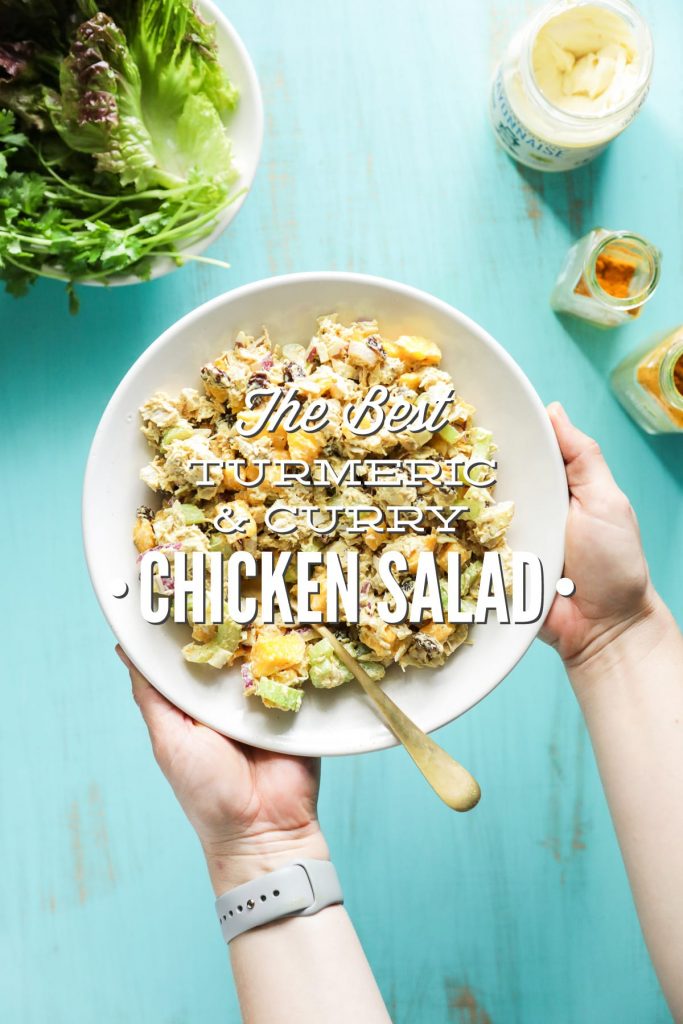 Since I'm one determined gal, I always suggest that our visitors, "just try one bite" before going with the "regular" chicken salad option.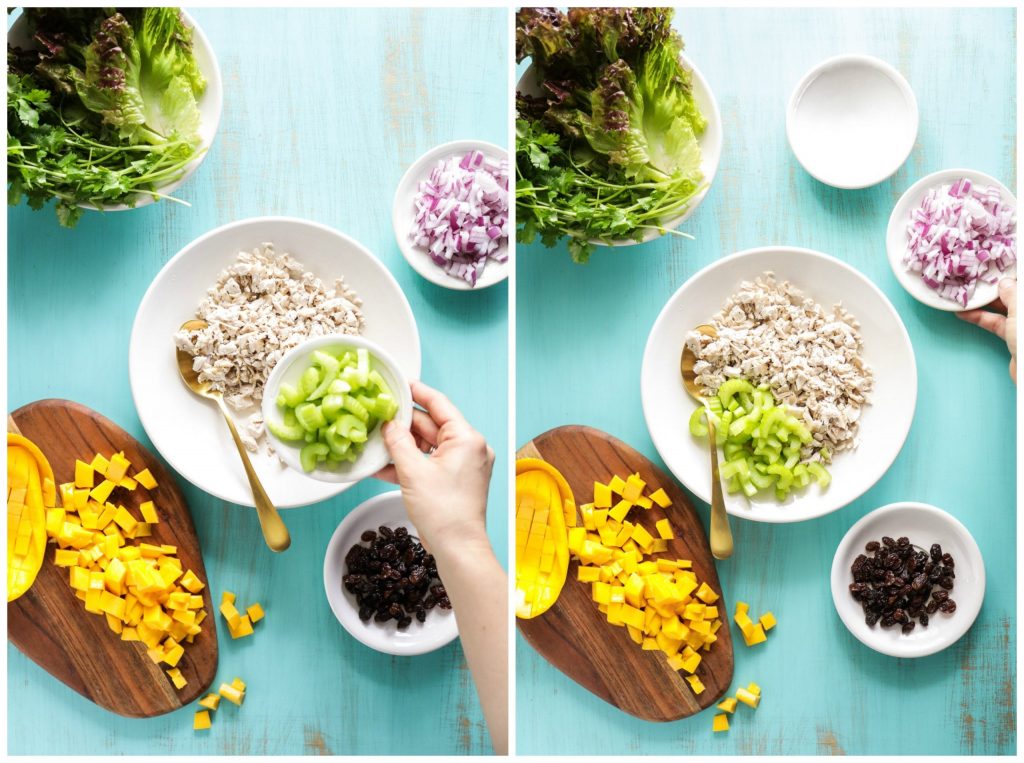 One bite is generally all it takes for the not-really-into-curry visitor to turn into a curry-lover. Well, maybe they aren't fully converted from a curry-hater to a curry-lover that quickly, but they certainly are quick to endorse this salad as "amazing".
Friend, meet THE BEST curry chicken salad. Will you give it a chance, too?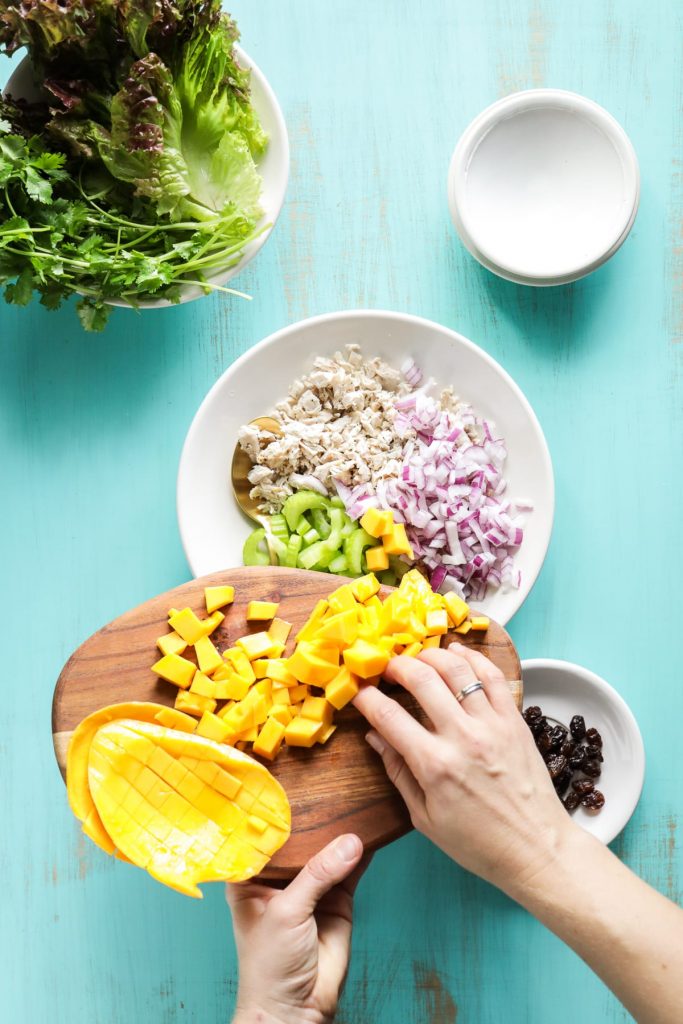 What makes today's recipe so good? Okay, let's revisit that, because good isn't good enough here. This salad is the best curry chicken salad. What makes today's recipe the best?
I believe the answer can be summed up with one little word, balance.
The balance of the earthy curry and turmeric perfectly pair with the sweetness of mango and raisins. The sweet fruit balances the savory ingredients: chicken, onion, and celery. The onion and celery also provide the crunch needed to balance out the softer fruit and chicken.
"Balance? That just sounds like one strange combo?" <–Maybe that's what you're thinking. If so, you're not alone. Just one bite will convince you, like it did me, otherwise.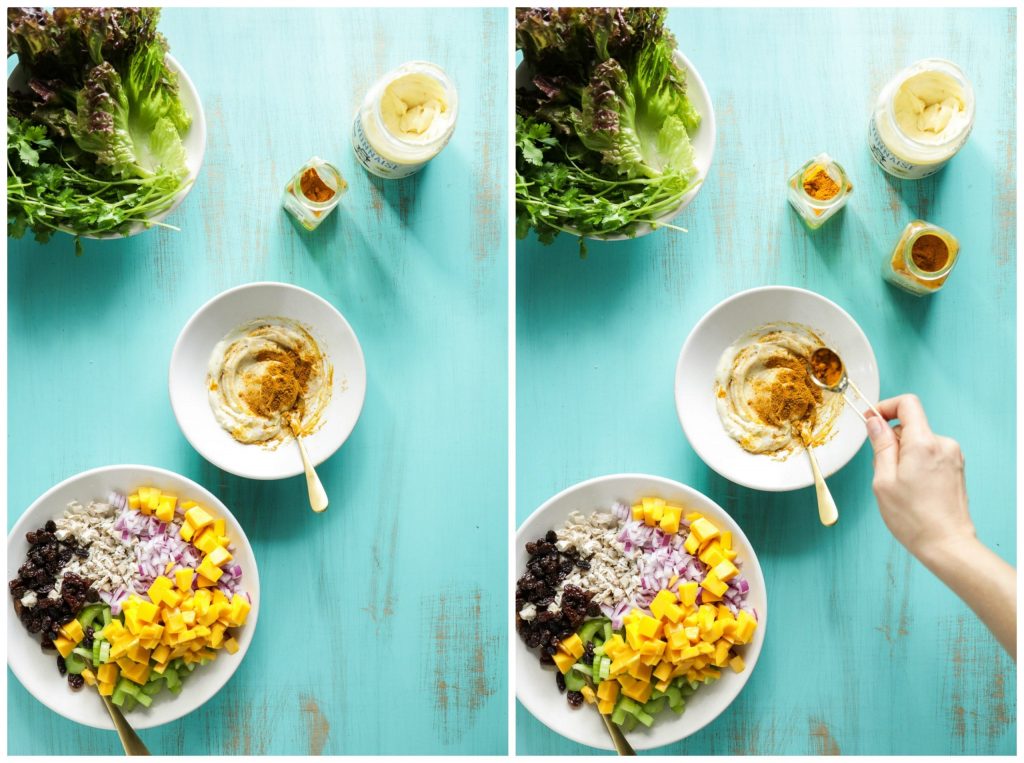 The initial idea for combining these ingredients actually came from our trip to Michigan. The Saturday we arrived in East Lansing, my Aunt packed a picnic for an outing. One of the items packed was a curry chicken salad from Whole Foods. The salad received rave reviews from everyone in attendance.
As a good recipe developer does, I asked for the top of the chicken salad container so I could check out the ingredients. There were quite a few ingredients on the label that I consider to be typical for a curry chicken salad (chicken, onions, celery, mayo, curry, and even turmeric), but there were also a few that aren't so typical, mainly mango chutney and raisins. The combo struck me as unusual, but each ingredient worked perfectly to balance out the slightly sweet, earthy, and savory salad.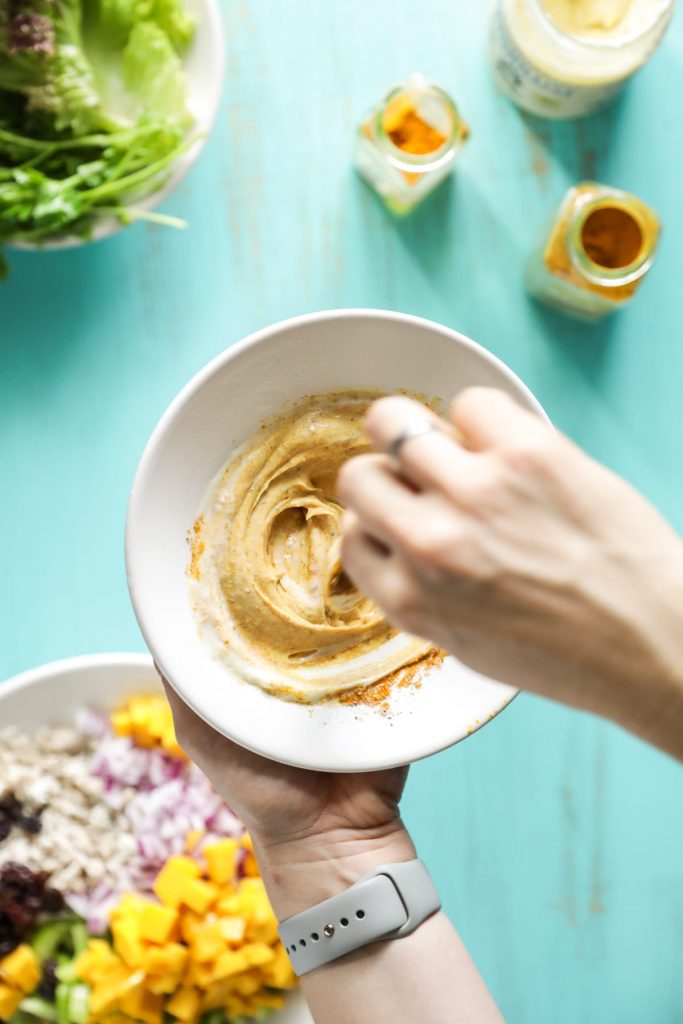 Upon arriving home, I had to make this salad for myself–it was that unforgettable.
Since I don't usually stock mango chutney in my fridge (actually, I've never purchased chutney before), a fresh (honey) mango became my at-home substitution. The mango worked perfectly as a substitute. In fact, I think the fresh mango offers a bit more flavor and freshness to the salad than the chutney originally did.
A quick-fix meal, like today's curry chicken salad, is the perfect way to enjoy these final summer days. It's the kind of meal that doesn't require much effort (other than chopping and stirring) or heating the oven (well, other than roasting or crock-potting the chicken).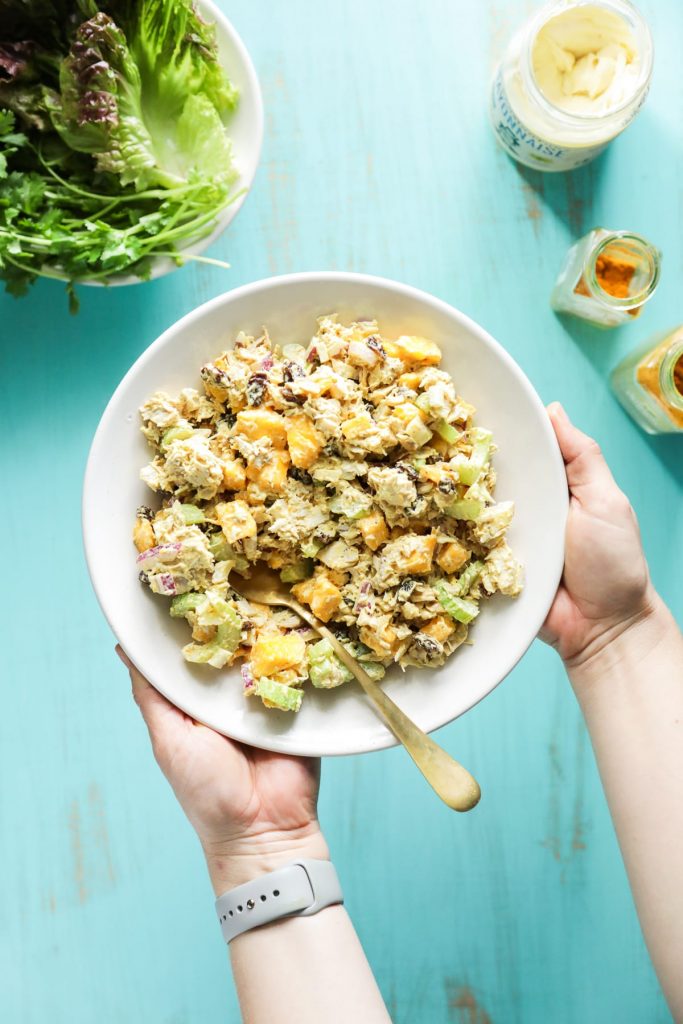 Before sharing the recipe, let's talk about kids and this salad for a minute.
I understand this is the kind of meal that many kids (including my eldest) are skeptical about tasting. Here's my suggestion…
Prepare a few (extra) familiar ingredients (mango, celery, chicken, and whole raisins) and place them on a plate. Talk about how the ingredients are used to make the salad and encourage him/her to sample the individual ingredients and "just try one bite" of the salad (maybe with crackers or bread). Even if the salad isn't for them on that particular day, they still have nourishing ingredients to enjoy.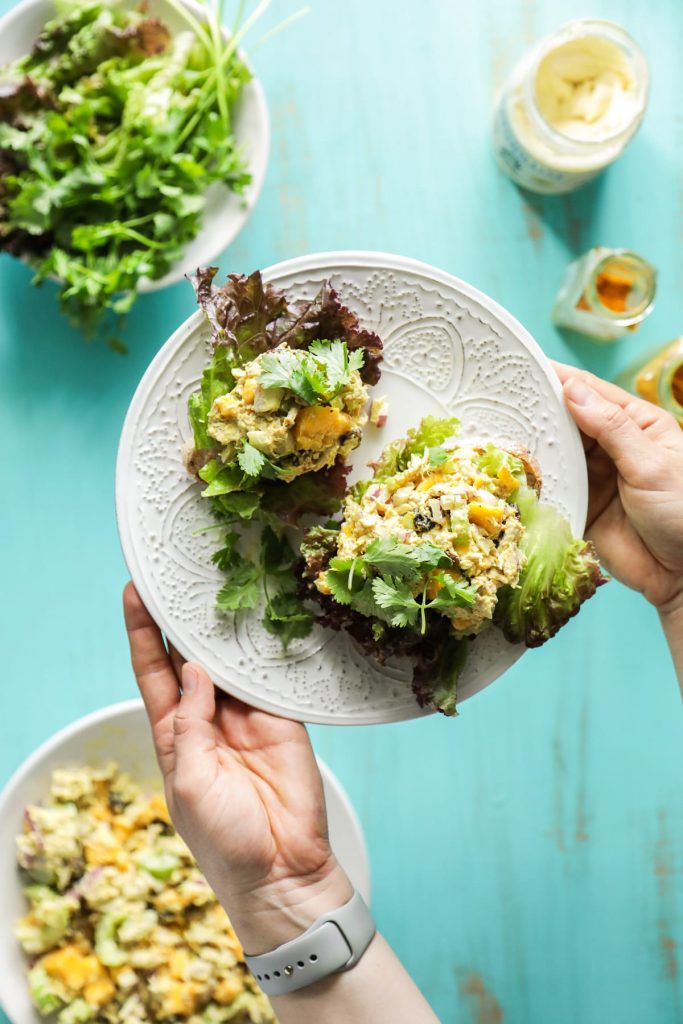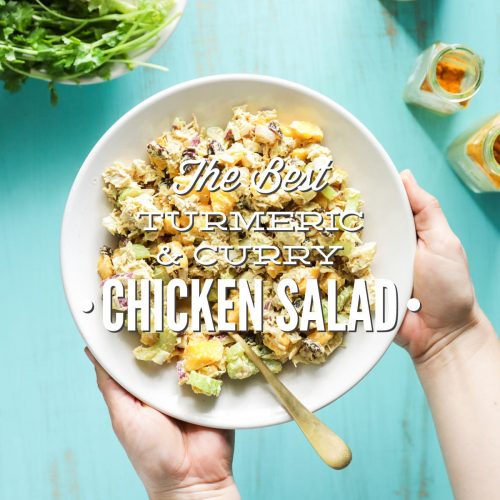 Turmeric and Curry Chicken Salad
A balance of sweet and savory ingredients come together to make the best curry chicken salad.

Ingredients
Chicken Salad:
1 1/2

cups

cooked and chopped/shredded chicken

*

1

ataulfo "honey" mango

diced (about 1/2 cup, once diced)**

1/2

cup

diced red onion

(about 1/4-1/2 of a large red onion)

1

celery stalk/rib

chopped

1/4

cup

raisins
Curry and Turmeric Mayonnaise:
Instructions
For the Chicken Salad:
Combine the ingredients in a medium bowl.
For the Curry and Turmeric Mayonnaise:
Combine the ingredients in a small bowl, whisking to blend the curry and turmeric powders with the mayo.
Assemble:
Spoon the spiced mayo mixture over the chicken salad. Stir until the mayo evenly coats the chicken salad ingredients. Serve on bread, a tortilla (as a wrap), in pita, on crackers, or wrapped in lettuce.

Store any leftover chicken salad in an air-tight container in the fridge for up to 3 days.
Nutrition
Calories:
365
kcal
Carbohydrates:
19
g
Protein:
11
g
Fat:
27
g
Saturated Fat:
5
g
Cholesterol:
52
mg
Sodium:
600
mg
Potassium:
333
mg
Fiber:
2
g
Sugar:
8
g
Vitamin A:
735
IU
Vitamin C:
22
mg
Calcium:
21
mg
Iron:
1.2
mg