This series was created during the very beginning of my blogging days. This was before thousands and millions visited and read and made the recipes from my blog. Because of this, the early recipes weren't tested over and over to perfection like they are today. My plan is to go back and retest these recipes at some point this year. For now, I'm letting you know that this recipe isn't the best representation of what you'll find on Live Simply for recipes. My recipe testing and creation has come a long way since the beginning days of the blog. Want to make a tested and perfected baked good? Head over here for all my favorite recipes.

Last week we started the Ultimate Fall Baking Series with a gorgeous chocolate cake and a lesson on spelt flour. We ended our time with a warm bowl of spelt dumpling soup and ten spelt recipes to get you started with spelt baking.
Today, I'm excited to share one of my favorite whole grains, einkorn. This grain is considered one of the most ancient grains and boasts an amazingly light and sweet flavor. While einkorn requires a bit of working knowledge in order to experience baking success, it's guaranteed to become one of your favorite grains to use in real food baking this fall.
What is Einkorn?
Einkorn is known as the oldest variety of wheat making it an "ancient" grain. The ancient grain is believed to have originated in the Tigris-Euphrates region and is possibly the main grain referenced in the earliest accounts of the Bible.  To put it simply, einkorn is the wheat men were eating in the earliest days before modern-day wheat varieties. While modern wheat has undergone hybridization, einkorn still holds true to its original properties. Einkorn is slowly gaining popularity, but is still grown in only a few regions in Europe.
The sweet, ancient grain has a lighter texture and taste than modern-day wheat, and contains a more favorable gluten ratio. People with minor gluten sensitives can often consume einkorn without the issues associated with whole wheat due the lack of D-genome, however, einkorn is not gluten-free. 
Why Should I Use Einkorn Flour?
Due to the amount of wheat sensitivities today, many people are beginning to search for alternatives.  The combo of fewer chromosomes in einkorn and a gliadin that performs very differently than modern wheat, makes this grain much easier to digest.  The sweet versatile einkorn grain produces amazingly sweet, soft baked goods without a heavy wheat taste.
Einkorn is packed with nutrition, containing high levels of protein along with the antioxidant beta-carotene lutein and minerals.
How Can I Use Einkorn Flour?
My first experience with einkorn was frustrating. I expected to easily substitute the ancient grain, for the whole wheat I used in baking, without any recipe modifications. While I soon experienced good success with quick breads and muffins, yeast breads continued to pose a problem for many months. My dough was sticky, wet, and hard to handle. What was the problem?
Einkorn slowly absorbs water and requires less working time and more rest. Sounds like my kind of dough! More rest? I'll take it!
I've learned to love working with einkorn flour for all my baking, including yeast breads and pizza. This love stems from learning the basics of how to use einkorn.
In many recipes, the amount of liquid called for must be adjusted when substituting whole wheat or all-purpose flour with einkorn. This means using less liquid particularly in yeast breads. According to Jovial Foods, "Sometimes, the amount of liquid in the recipe needs to be reduced by roughly 15-20%." (source)
As mentioned earlier, einkorn likes to rest, which means less kneading is needed when working with yeast dough. It's preferable to avoid using a stand-mixer when kneading einkorn dough. Instead, use your hands and knead the dough just until "hydrated."
I often refer to Jovial's "Baking with Einkorn" page for tips on using einkorn flour in my favorite recipes. Jovial's tips for increasing the eggs called for in cake-like recipes, kneading, and proofing yeast have helped me produce delicious baked goods countless times.
How Do I Store Einkorn Flour?
Einkorn berries have a longer shelf-life than einkorn flour (ground berries) when kept in sealed containers to prevent moisture and bugs from contaminating the grain. Einkorn flour (ground berries) can be stored in a cool, dry place for one to three months or long-term in the freezer. 
Purchasing Tips
Einkorn can be difficult to find as it's still grown on a much smaller scale than modern wheat. Einkorn is more expensive than most modern-day wheat products, but I truly believe the cost is worth the extra benefits of purchasing this ancient grain.
I purchase both Jovial Foods' einkorn berries (which I grind in my mill) and einkorn flour.
Einkorn berries and flour can be found online through Amazon, Jovial Foods, and locally at some natural food stores.
Einkorn Recipes to Get You Started
To get you started with einkorn, I've compiled a few real food recipes that specifically call for einkorn flour. Remember, you can also use einkorn flour in your favorite recipes that call for all-purpose white flour or whole wheat, but you'll need to consider a few baking tips before getting started. 
Chocolate Baked Einkorn Doughnuts from My Humble Kitchen
Einkorn Flour Naturally Sweetened Pumpkin Bars from My Humble Kitchen
Pumpkin Chocolate Chip Cookies from Real Food Outlaws
Apple Pie Cookie Bites from Back to the Book Nutrition
Freezer-Friendly Banana Pancakes from Live Simply
Slow Rise No-Knead Einkorn Bread from Jovial Foods
Whole Grain Einkorn Pumpkin Bread from Jovial Foods
Almond Einkorn Cookies from Nourished Kitchen
Harvest Einkorn Pound Cake from Food Loves Writing
Finally, before we depart ways, I've prepared a favorite fall breakfast for you. This simple "pancake" is often referred to as a "Dutch Baby," a light a fluffy (almost custard-like) German pancake made with eggs, a light flour, and milk. Dutch Baby pancakes are most commonly made with a light all-purpose flour, but einkorn makes for the perfect nutrition-packed substitute, offering a light texture and sweet taste.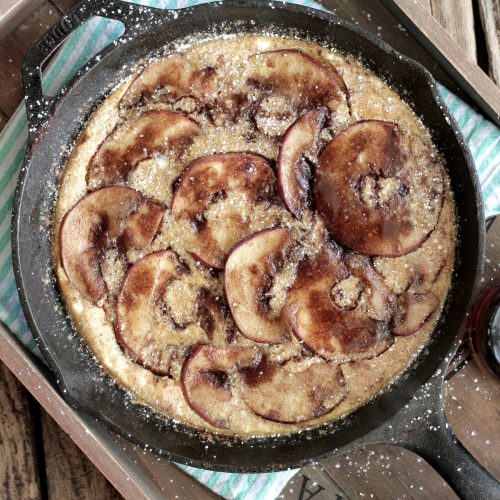 Einkorn Flour Apple Dutch Baby
This simple "pancake" is often referred to as a "Dutch Baby," a light a fluffy (almost custard-like) German pancake made with eggs, a light flour, and milk. Dutch Baby pancakes are most commonly made with a light all-purpose flour, but einkorn makes for the perfect nutrition-packed substitute, offering a light texture and sweet taste.
Ingredients
1

apple

core removed and thinly sliced

2

TB

butter

2

TB

honey

1

tsp

ground cinnamon

1/2

tsp

ground ginger

3

eggs

3/4

cup

whole milk

1

tsp

pure vanilla extract

1

pinch

salt
Instructions
Preheat the oven to 400F.

In a large skillet

(I use a cast iron skillet)

, melt the butter over medium heat. Add the apple slices and sprinkle with the cinnamon, ginger, and honey. Gently toss the apples in the spices and honey. Cook for 5 minutes until the apples are slightly soft. Turn off the heat and place the apples and juices on a plate. Set aside.

In a large bowl, whisk together the eggs, milk, and vanilla extract. Add the flour and salt. Whisk the ingredients together for 30 seconds.

Pour the batter into the skillet. Place the apples on top of the batter. Drizzle the "juices" over the top of the apples and batter.

Bake for 12-15 minutes. The pancake will fluff and then collapse shortly after removing it from the oven. This is perfectly normal!

Serve warm with pure maple syrup, and for an extra special treat a sprinkle of organic powdered sugar.
Nutrition
Calories:
1089
kcal
Carbohydrates:
144
g
Protein:
33
g
Fat:
42
g
Saturated Fat:
22
g
Cholesterol:
570
mg
Sodium:
513
mg
Potassium:
718
mg
Fiber:
8
g
Sugar:
64
g
Vitamin A:
1820
IU
Vitamin C:
8.4
mg
Calcium:
332
mg
Iron:
7.1
mg
Next week we'll resume the baking series with two new flours and new recipes. 
Disclosure: This post is sponsored by Jovial Foods. The opinions and photos expressed are completely my own. I'm thrilled to team up with my favorite companies to bring you this fall baking series. As a blogger, I'm privileged to partner with companies making a difference in the natural and real food world.  I only endorse companies and products I 100% love and believe in.
More Ultimate Fall Baking You May Like:
Chocolate Zucchini Bundt Cake + A Baking Video 
 How to Use Spelt Flour + Chicken Spelt Dumpling Soup
Fall Baking Essentials + 20 Recipes to Get You Started