I'm slow to embrace new food trends/ideas, like avocado toast and putting steamed cauliflower in smoothies.
This whole late/slow adopter thing isn't always a bad thing. Take for example the trend of egg white omelets. Need I say more? Yuck! Sometimes (real) food trends, although well intentioned, go horribly wrong.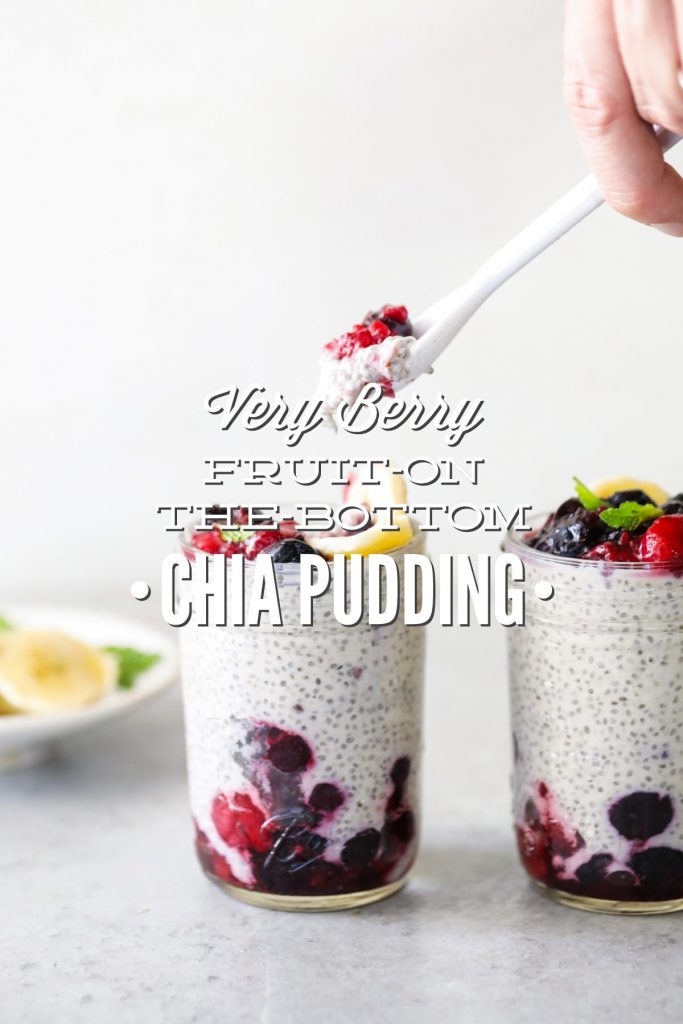 With that said, today, I'm sharing my take on a food trend that's been around for a couple of years now: chia pudding.
And while this is definitely a trendy new food idea, the ingredients used aren't anything new–meaning they're just good, real, natural ingredients that generations before us used to nourish their bodies. It just took a very creative person to put the ingredients together to create something called, chia "pudding".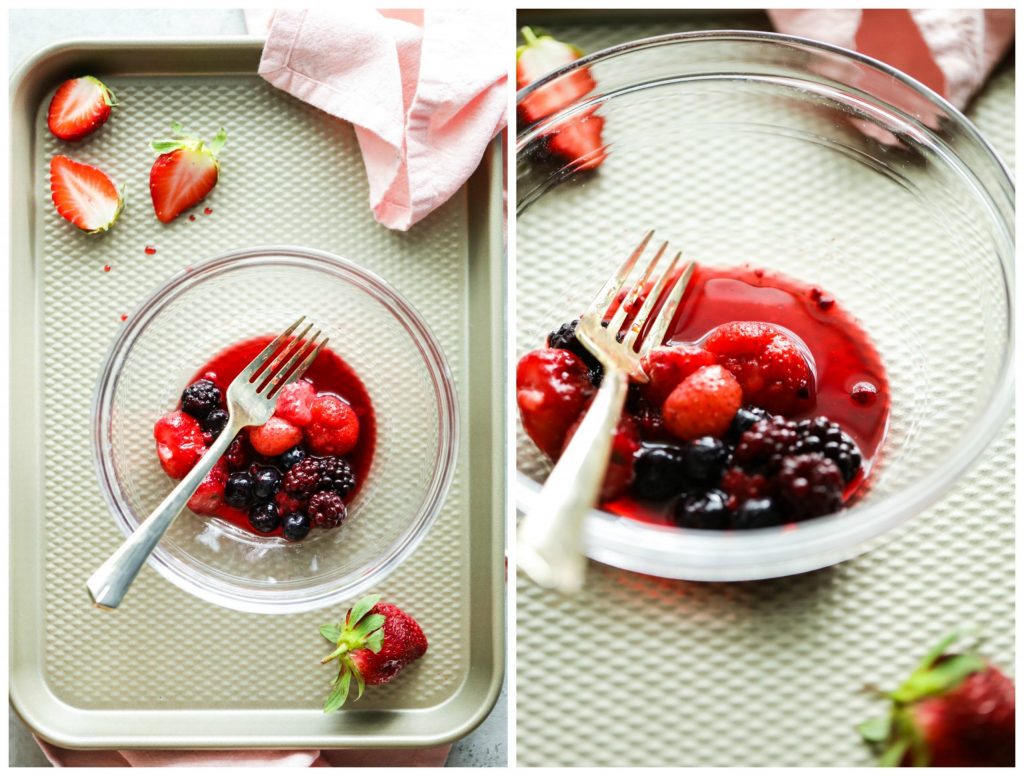 Can I just stop here and climb up on a soapbox for a minute? Yes? Oh good, it was coming…
Aren't real ingredients amazing? Oh the possibilities! What are the possibilities with processed food? Nothing! A Pop Tart can only ever be one "food"… a Pop Tart. Berries, milk, chia seeds, maple syrup, and vanilla extract can become a great many (good and nourishing) foods.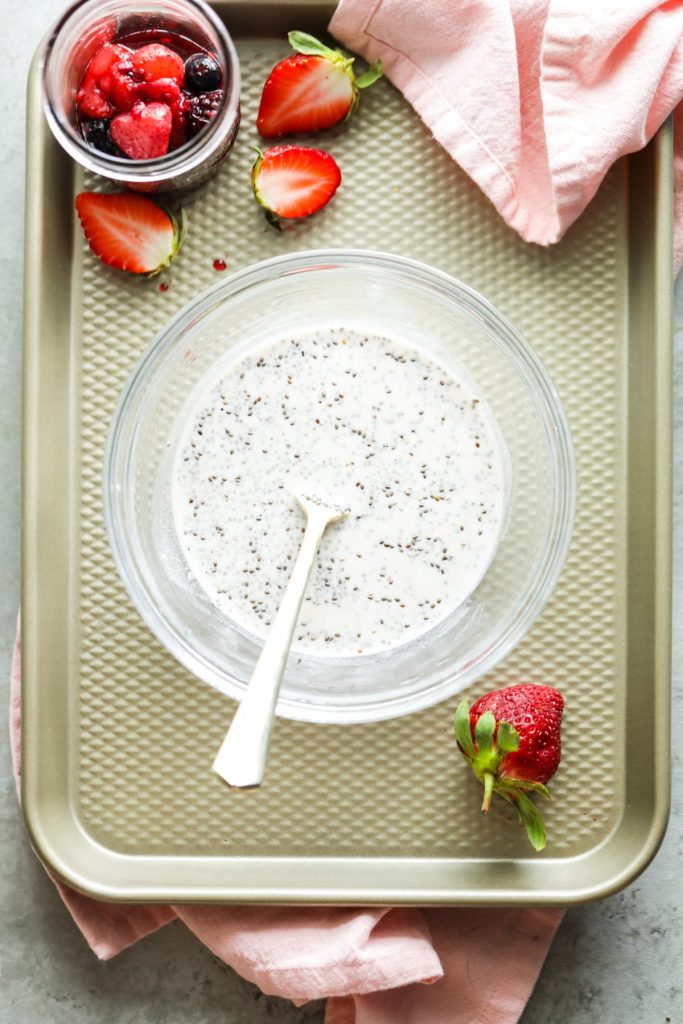 If you're new to the chia pudding idea, here's what you need to know…
Chia pudding is made with milk (such as: nut milk or coconut milk), chia seeds, and natural flavorings (like berries, honey, cinnamon). When chia seeds come in contact with liquid, they swell–it's their natural response–which takes a basic liquid from watery to more gel-like. When the chia seeds are swirled into milk, the end result is a thick, gel-like food that reminded the original creator of this trend of, pudding.
Now, let me just stop right here to make a quick note. Chia pudding definitely isn't the pudding from my childhood, but then again, the pudding from my childhood was exactly real either (Hey, it was the '80s and '90s.). Chia pudding definitely has a different texture than a traditional pudding, but don't knock it (like I did) until you try it.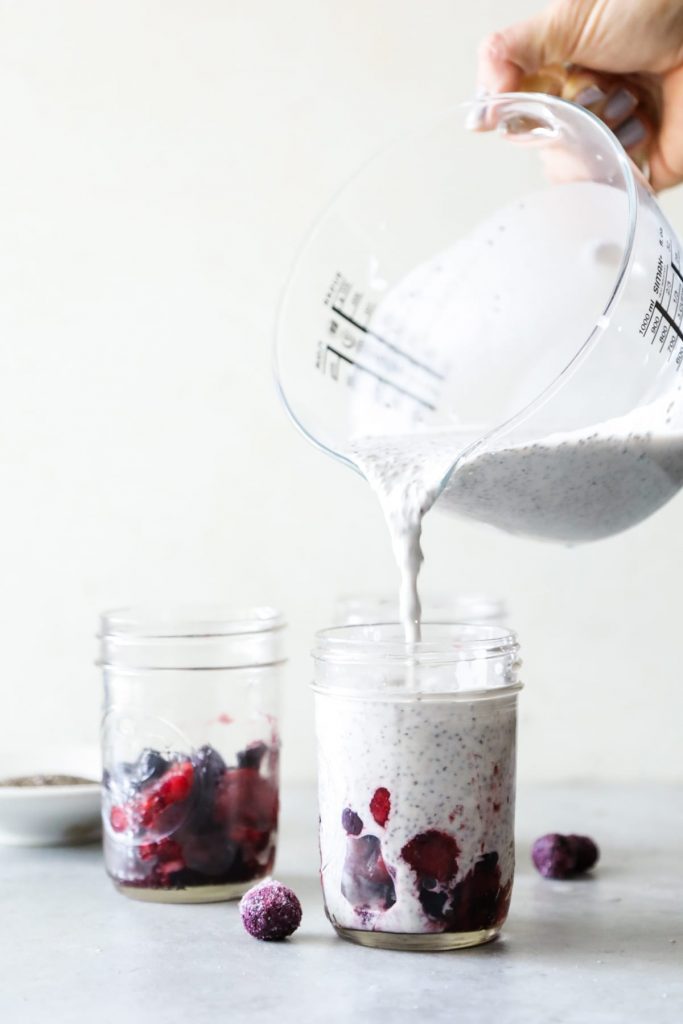 I like to add a bit of extra dazzle to my chia pudding by placing frozen berries at the bottom of my storage jar and then pouring the prepared pudding mixture over the top. The end result reminds of a fruit-on-the-bottom yogurt (yep, another memory from my childhood). Maybe I should call this, "Very Berry Fruit-on-the-Bottom Chia Pudding"? Cue the waiting room music. I'll be right back to fix that title…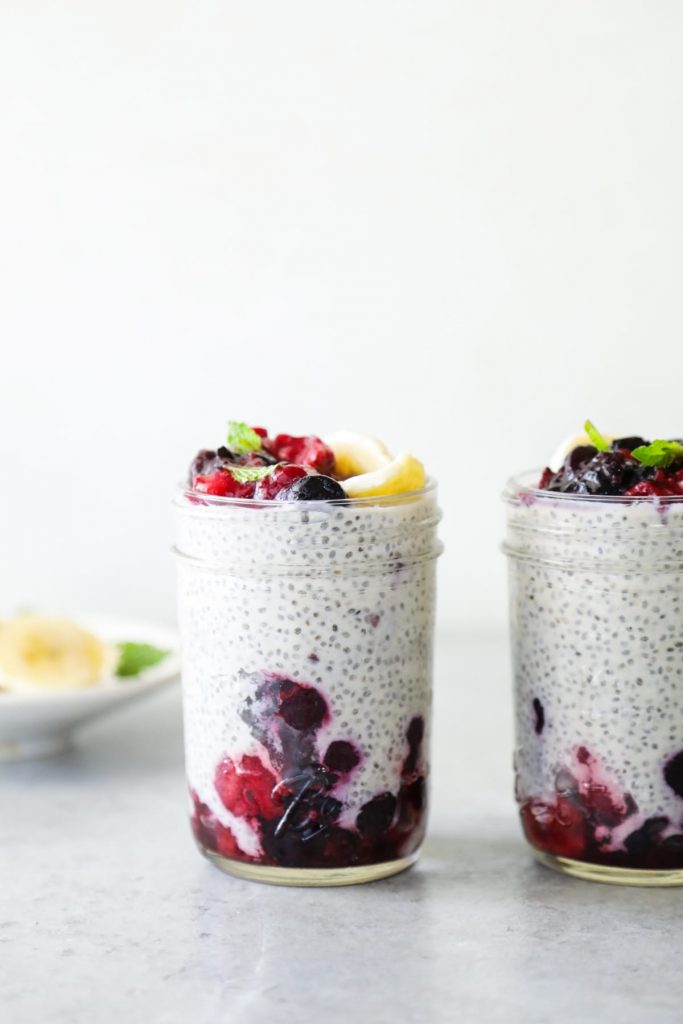 I don't find that chia pudding fills me up as a meal, so I generally enjoy a pudding early in the morning before a workout (when it's still too early for a full breakfast), in the afternoon as a snack, or in the evening as a dessert. The pudding needs to be prepped in advance, which means there's usually one jar waiting in the fridge for me (or another family member) to enjoy whenever we need something light and slightly-sweet.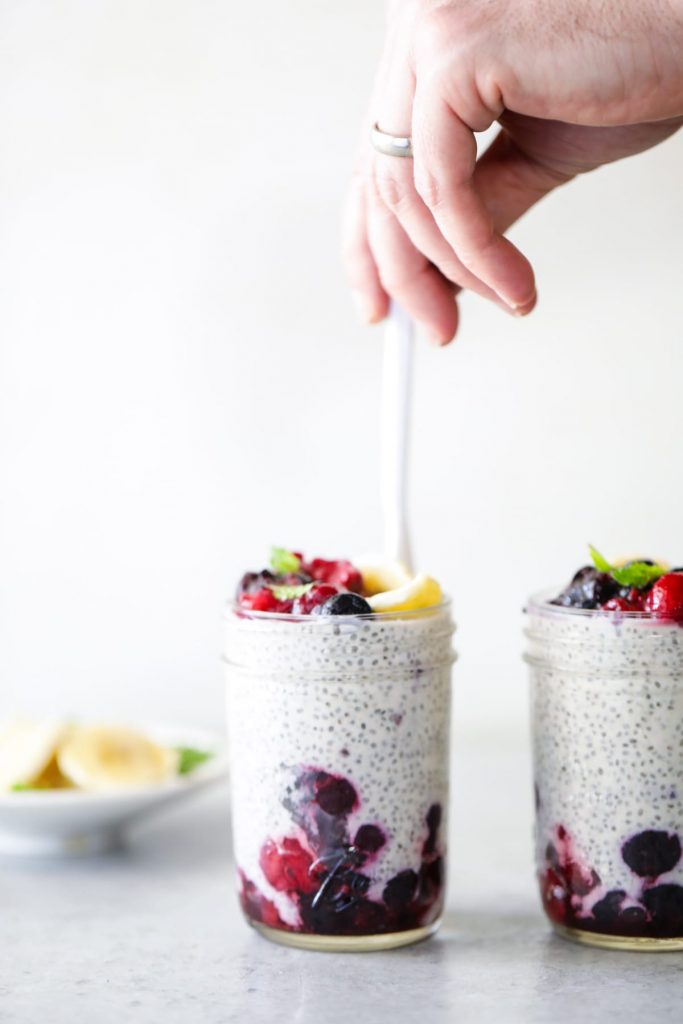 Very Berry Fruit-on-the-Bottom Chia Pudding
A quick, simple, and naturally-sweetened chia pudding with berries on the bottom. Prep this in advance and store it in the fridge for a quick breakfast, snack, or dessert.
Ingredients
1/2

cup

frozen berries

I prefer mixed frozen berries

1/2

cup

whole milk

such as: a nut milk or coconut milk

1/2

tsp

sweetener

to taste, pure maple syrup or honey (optional)*

1/4

tsp

pure vanilla extract

to taste

2

TB

chia seeds
Instructions
Place the frozen berries in a medium-size bowl. Allow the berries to defrost until they're slightly soft. Slightly mash the berries with the back of a fork. The goal is just soft, slightly-mashed berries; not a berry puree. If there's lots of extra juice (this depends on your berries), set that aside and use it in smoothies or for something else.

Place the slightly-mashed berries in the bottom of a mason jar (or a tall storage jar with a lid). I use a tall 8-ounce mason jar. Keep in mind, this recipe makes one jar of pudding.


Using the same bowl, whisk together the milk, sweetener (if using), and vanilla extract. Sprinkle the chia seeds over the milk mixture and then vigorously whisk in the chia seeds. Make sure you whisk the chia seeds and milk mixture immediately upon contact, too. There shouldn't be any chia seed clumps at this point. If you see clumps, keep whisking.

Pour the chia milk over the berries. Give the milk mixture a little swirl with a spoon if the chia seeds begin to settle towards the bottom. Place the lid on the jar, and then place the jar in the fridge. Allow the chia seeds to set, which turns the milk into a thicker consistency. This can take several hours or overnight. Also, if you notice that the chia seeds are clumping together after a few hours, give the chia mixture a stir to distribute the seeds evenly.

Serve the pudding cold. Optional: Top the pudding with additional frozen (defrosted berries), sliced bananas, coconut or toasted coconut, granola, or nut butter. Or, just enjoy the pudding as-is.
Nutrition
Calories:
236
kcal
Carbohydrates:
30
g
Protein:
8
g
Fat:
11
g
Saturated Fat:
3
g
Cholesterol:
12
mg
Sodium:
57
mg
Potassium:
300
mg
Fiber:
10
g
Sugar:
12
g
Vitamin A:
200
IU
Vitamin C:
2
mg
Calcium:
289
mg
Iron:
1.9
mg
Troubleshooting Notes 
A couple of folks have had issues with the milk and chia seeds not fully setting and reaching the desired thick consistency shown in my photos. I'm honestly not sure what's happening. I know it's frustrating to make a recipe and not have great results, and I pride myself on our well-tested and accurate recipes here on Live Simply. I make this chia pudding weekly, using homemade nut milk (cashew or almond milk). I promise my chia seeds and milk aren't magical ;). I wish I had a clear answer for what may be happening in these cases. With that said, I'll do my best to offer a few troubleshooting thoughts…
1. The berry mixture should sit at the bottom of the jar and the milk should rest on top of the berries (on the bottom). I use a tall 8-ounce mason jar (as seen in the photos) versus a wide mason jar–I've never tried using a different (shorter/wider) container.
2. If the chia seeds aren't setting at all, then I'm wondering if there's an acid in the particular milk used that's interfering with the process, or even the frozen berry mixture. Acids don't work with chia seeds.
3. If the chia seeds are clumping at the bottom, give the pudding a stir (or a few stirs) to evenly distribute the seeds. Try not to disrupt the berry mixture  (or see #4). If that doesn't help, try adding 1-2 more teaspoons of chia seeds, and stir.
4. If the chia seeds are still having issues, and you want to start over… try warming the milk first (along with the sweetener and vanilla), and then add the chia seeds. This may help to distribute the seeds, since the milk is warm versus cold. I don't know if this will help, but a friend told me this is her secret trick.
5. I use homemade nut milk, which is very creamy and slightly thick (not watery). Using a reduced fat milk, or a nut milk from a carton that's watered down a quite a bit–more like water than milk, may cause issues.
6. If you're still having issues, try making the milk and chia mixture in a separate bowl or mason jar so you can observe the issues (don't involve the berries right now). Stir the mixture if needed, add a bit more chia seeds (maybe a teaspoon or two) if the pudding isn't setting as thick as you'd like, etc. Then serve the chia pudding over defrosted berries, or add everything together once the pudding is set and place the assembled jars in the fridge.
7. This pudding isn't as thick as some recipes. I personally don't like the texture of super thick chia pudding. I also think the thickness of the pudding depends slightly on the milk used (some nut milks are thick–for example: homemade nut milk can vary depending on the water to nut ratio). If you'd like a thicker pudding, feel free to add more chia seeds according to your preference.
Finally, if the pudding didn't work for you, blend everything in a blender to make a delicious, thick smoothie!