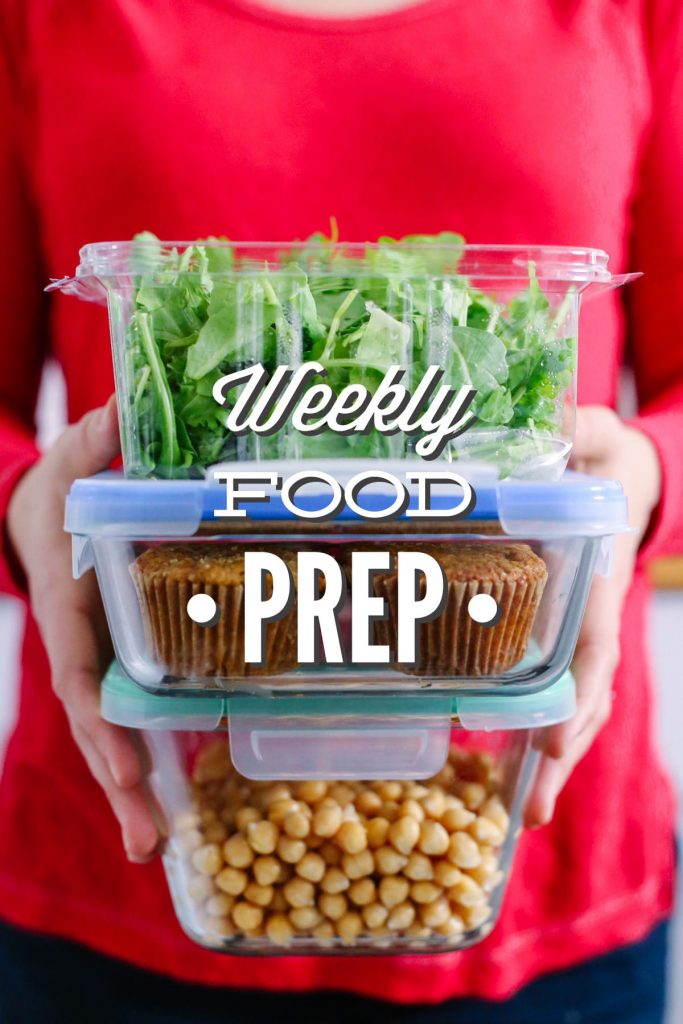 Last week I showed you exactly what a real food shopping trip looks like for me (watch the video). Once I shop for our food, I spend 1-2 hours on a Sunday or Monday prepping for the week ahead.
Now, I'm not talking about an extreme prep time. I'm sure you've seen the extreme prep times plastered across Facebook and Pinterest. The prep times that make you think, "Woah! That's amazing!" And once you give it a go, you realize a prep time like that will require surrendering your entire weekend to cooking and dishes. Oh no! Nothing extreme here. What I am talking about is a dedicated time each week (or multiple times throughout the week) reserved for prepping important foods/ingredients based on your schedule.
My prep time looks different each week depending on the food I purchase and what our schedule looks like. My goal is to spend just a couple of hours in the kitchen to help jumpstart our real food meals.
My Meal Plan
My weekly prep time is determined by my meal plan. If you'd like to learn more about planning real food, I highly recommend taking the Real Food Planning Challenge. Here's my meal plan for the week…
Monday- Breakfast: Green smoothie // Dinner: Roasted Herb Chicken Thighs with White Beans and Rosemary (crock-pot)
Tuesday- Breakfast: Yogurt with Granola (already made from last week's prep time) and Fruit + Hardboiled Eggs // Dinner: Salmon Burgers (salmon already in the freezer from my Costco trip) with Tuscan Kale Salad (add chickpeas)
Wednesday- Breakfast: Smoothie (green or fruit-based) and Muffins // Dinner: Sheet Pan Flank Steak Fajitas with Peppers and Onions (tortillas already in the freezer)
Thursday- Breakfast: Oatmeal and Fruit (chopped apples) // Dinner: Quesadillas with leftovers from fajitas (tortillas already in the freezer)
Friday- Breakfast: Oatmeal and Fruit (cinnamon pears) + Eggs // Dinner: Cheese pizza + Pear and Arugula Pizza (adults)
Saturday- Breakfast: Eggs in a Hole (sheet pan style) and Fruit (probably pears or grapefruit) //Dinner: Cobb Salad (add chickpeas) with Homemade Bread (maybe)
My Prep Time
After planning our meals and shopping, I determined my top prep activities. Based on my meal plan, there are many different foods/ingredients I could prep in advance. Before determining what I would prep for the week ahead, I thought about everything I could prep: marinate chicken thighs, create lunch options for Piper, wash and chop greens, make coffee creamer (a 60-second recipe), make cinnamon pears, shred cheese for pizza, par-bake pizzas, boil eggs, make muffins (I'm out of my freezer stock), chop vegetables for the fajitas and possibly the salad, make almond milk for smoothies.
My mental list may not seem like a lot of activities (or maybe it does), but realistically those activities could consume an entire day! If I had all day to spend prepping, then by all means I would prep everything. Instead, I only spend 1-2 hours prepping each week, so I prioritize based on the foods that can be used in multiple ways and our weekly schedule.
Mornings are super busy for us, so making breakfast food is always high on my priority list. Piper is always hungry when I pick him up from school, which means food that can double as a snack is a huge bonus. We also keep snack time super easy with just a piece of fruit most days. Dustin and I enjoy leftovers for lunch, but packing lunch for Piper can be a challenge so I like to make easy lunch food (pasta, chicken and rice, beans, make-ahead jelly and seed butter sandwiches). Finally, anything that will be used for multiple dinners is considered a top priority. Based on these "rules", here's what I decided to prep this week:
No. 1: Wash and chop greens for salads, lunch sandwiches-if needed, smoothies, fajitas, quesadillas, kale salad, and arugula pizza. This activity also extends the life of leafy greens.
No. 2: Cook chickpeas in the crock-pot. Also, make hummus with the chickpeas for snacks and lunch.
No. 3: Boil eggs for breakfast and Piper's lunch.
No. 4: Cook pasta with frozen peas from the freezer. I top the pasta with butter and parmesan cheese for an easy lunch. A great alternative to the mac and cheese so many of Piper's friends consume at lunchtime.
No. 5: Bake muffins for breakfast, lunch, or a snack. I usually double the muffin recipe so I have plenty for the freezer.
No. 6: Make almond milk for smoothies.
Normally I keep my prep time limited to five activities. Since cooking the chickpeas, boiling eggs, and cooking pasta were very easy activities, I added almond milk to my list.
Your Turn
To help you get started with prep time, I created a printable resource, Prep Time Action Plan, to help you prioritize your prep choices. I also recommend reading Prep Day: The Why, What, and How To of Prepping Food In Advance.