Summer is here, which means one thing when you live in sunny and HOT Florida: it's time to sweat!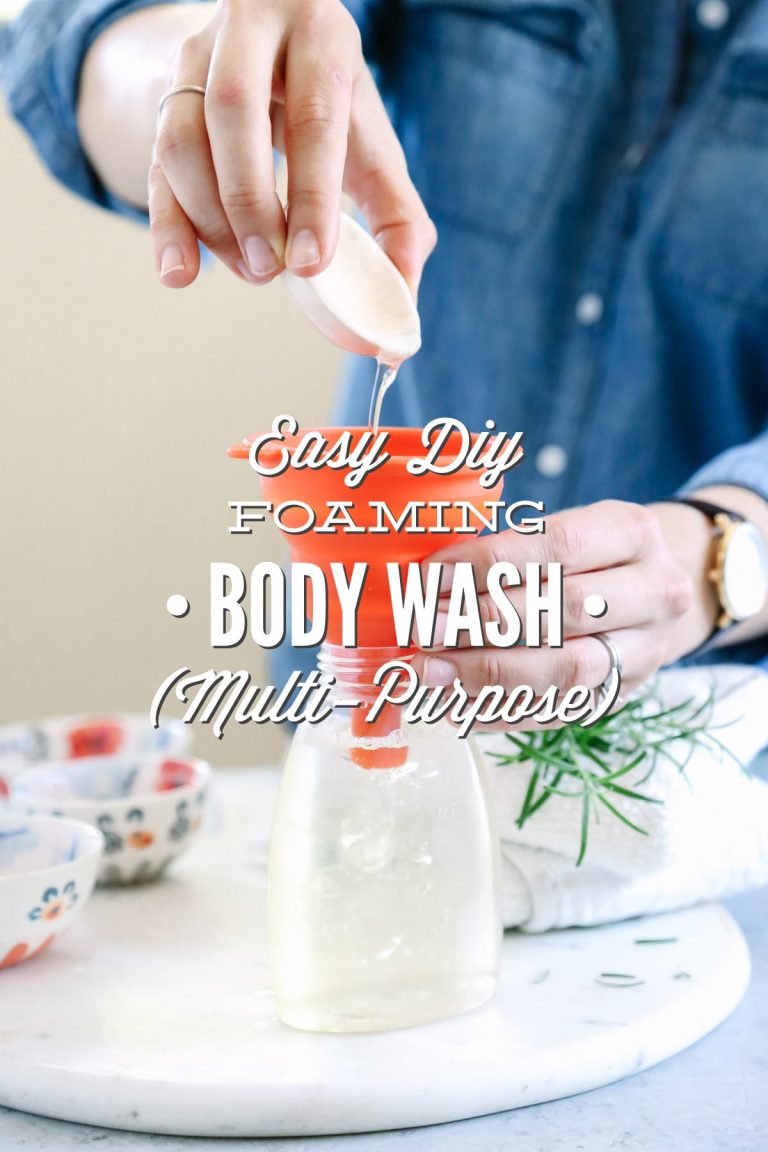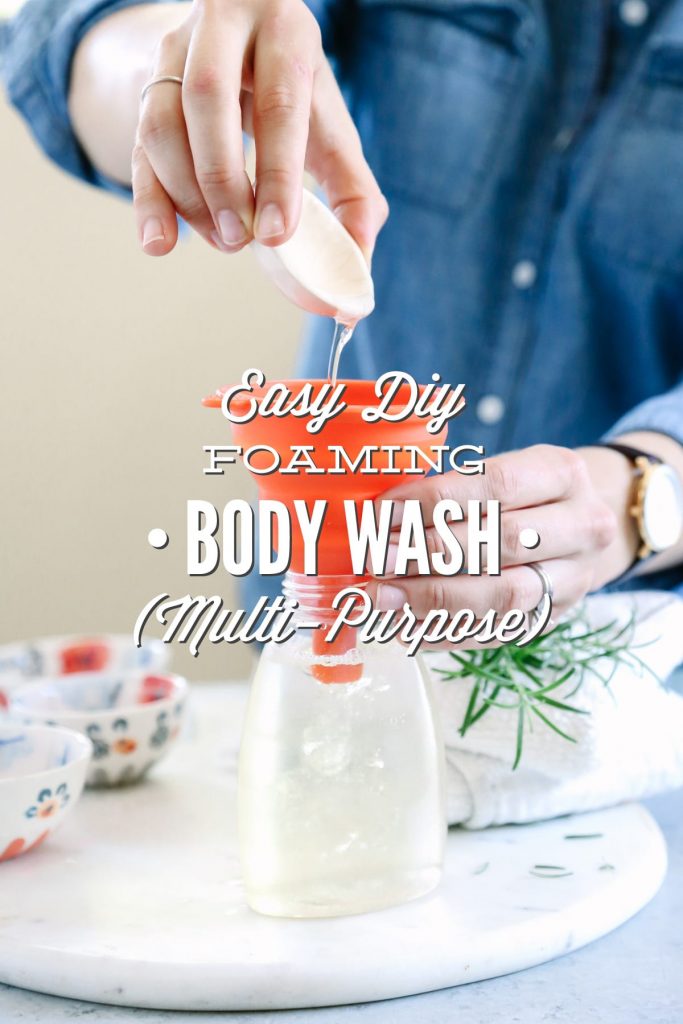 I understand that summer is supposed to be a hot weather season, but living in Florida takes this reality to an extreme. Just walking outside your front door to retrieve the mail brings on a workout-style sweat session. This means a Florida gal needs a hard-working (natural) deodorant and a really good way to wash off all that sweat at the end of the day.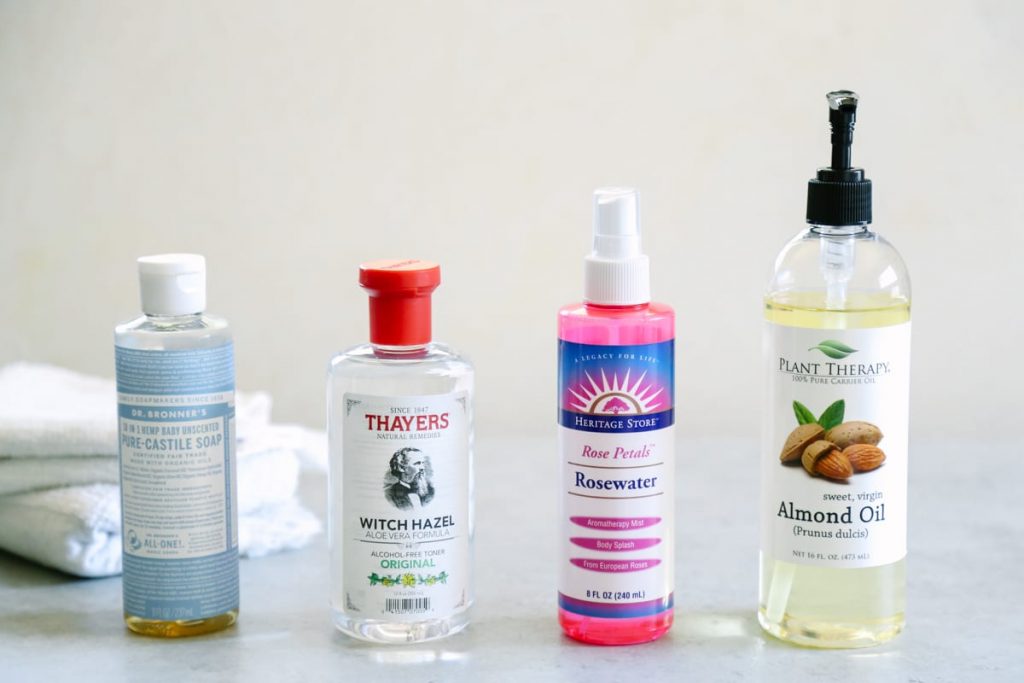 Friend, let me introduce you to my Easy DIY Foaming Body Wash.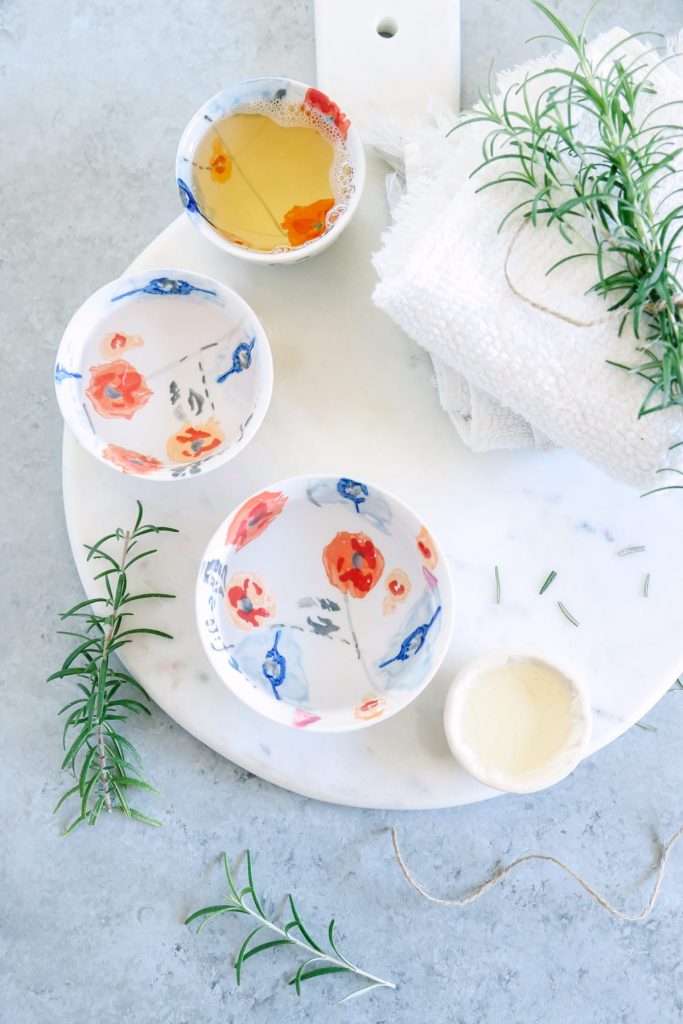 This body wash only contains 4 natural ingredients, all of which come together to gently and effectively wash away the summer sweat and dirt. The ingredients are all liquid, which means they are pretty watery (and hard to work with as a body wash) without the secret "ingredient" that takes this body wash from a runny liquid mixture to the ultimate foaming soap: a foaming soap dispenser. Let's take a look at each ingredient…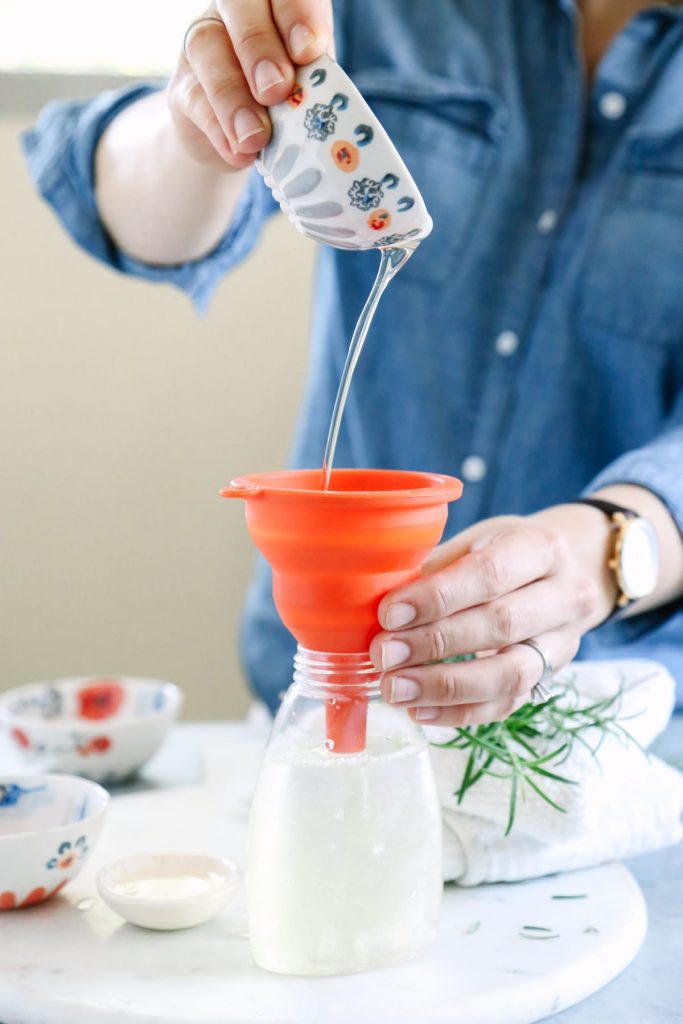 Rosewater: Rosewater is simply a flavored water that's created by distilling the petals of the rose with steam, or steeping the petals in water. The result is a fragrant liquid that boasts anti-inflammatory and anti-bacterial properties. Thanks to these anti-inflammatory and anti-bacterial properties, rosewater has been hailed as an amazing skin spray, toner, and a wonderful addition to lotions and creams. Rosewater is a refreshing addition to this summer body wash (which, by the way, may be used all year long, not just during the summer).
Witch Hazel: Witch hazel is a natural astringent, and is used to fight acne due to its anti-bacterial properties. Witch hazel is added to this recipe to help remove excess oils on the skin. I purchase alcohol-free witch hazel so it doesn't try out my skin. While witch hazel is a gentle pH neutral product, you may leave this ingredient out and add more rosewater in its place if you have very sensitive skin.
Castile Soap: Castile soap is a concentrated vegetable-based soap made of ingredients you can actually pronounce. This soap is gentle on the skin and effective in the fight against dirt and unwanted germs. When it comes to using castile soap on my body (it may also be used in cleaning products), I prefer Baby Mild Unscented Castile Soap. Lavender and citrus castile soap are two great options if you'd like a scented body wash. Since this body wash also includes witch hazel, I only use two tablespoons of castile soap in this recipe. You're welcome to increase this amount, if desired, but adding more castile soap with the witch hazel may cause your skin to feel dry.
Nourishing Oil: Since oil dissolves oil, it's only natural to add a nourishing oil to a cleansing body wash. The nourishing oil also helps keep the soap and witch hazel from drying out my skin. I prefer to use 2 tablespoons of almond, jojoba, or olive oil (depending on what I have available). I recommend starting with 1 tablespoon, testing the body wash on your hands, and increasing the nourishing oil until you feel comfortable with how your hands feel once they're dry.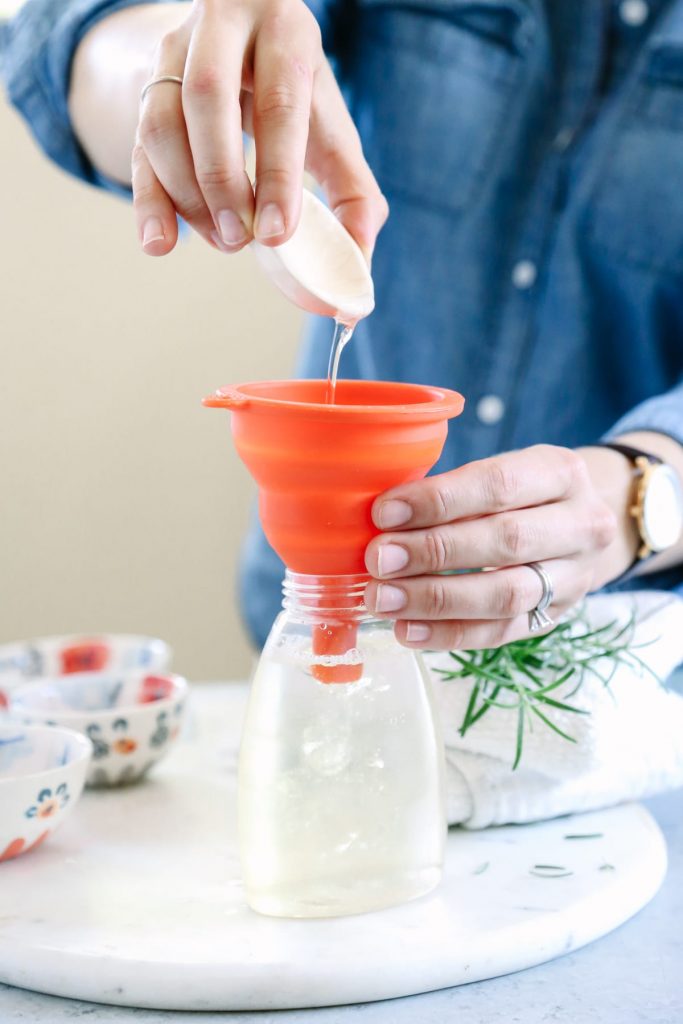 Each ingredient in this simple body wash, including the special foaming soap dispenser, may be used to make multiple other DIYs.
Rose Water may be used as a replacement to water in any DIY beauty recipe, or used as a facial toner (my favorite way to use rosewater). Witch hazel may be used as a gentle facial toner or refreshing summer spray (this spray is perfect to use after a workout). The castile soap–probably the most versatile ingredient–may be used to make multiple homemade products, from an all-purpose cleaner and dusting spray to facial wipes. Finally, the nourishing oil may be used for cooking purposes (if you use olive oil), or added to any body-care recipe, such as: facial cleanser or facial wipes.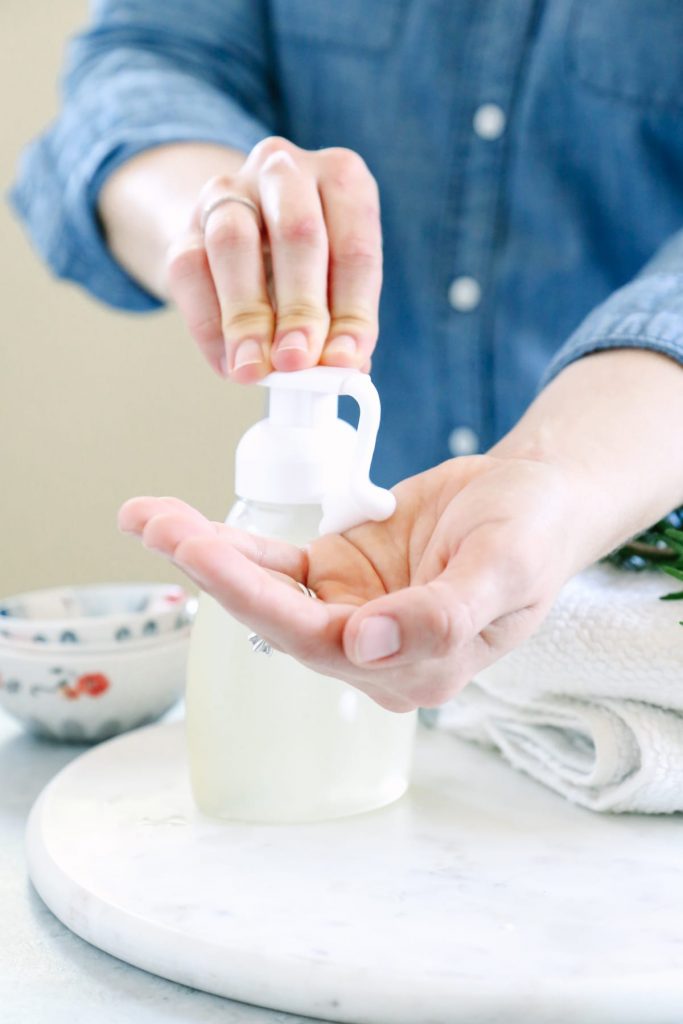 Even the body wash itself may be used in multiple ways. I use this foaming soap during the summer as a refreshing, natural body wash, but it may also be used as hand soap or a face wash. As always, I recommend testing a small amount on your skin first before liberally using it all over your body, just to make sure it agrees with your skin, particularly if you're going to try it out as a face wash.
Florida, let's do this summer thing! I'm ready for you.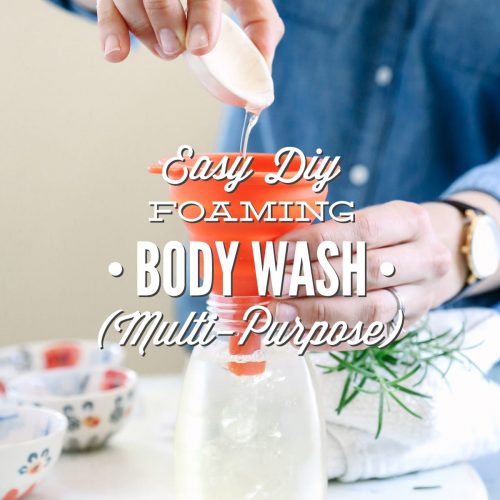 Easy DIY Foaming Body Wash (Multi-Purpose)
A homemade body wash recipe made with castile soap and natural ingredients. This DIY gentle body wash is easy to make in under 5 minutes!
Instructions
Combine all the ingredients in a foaming soap dispenser, adding the castile soap as the last ingredient.

Gently shake the bottle, with the top on, to combine the ingredients. Store the body wash for up to 3 weeks.
To Use:
Press the pump down to dispense the body wash. Use your hand, a washcloth, or a puff to massage the body wash over the skin. This body wash may also be used as hand soap or a face wash.
Notes
When you introduce water into a product without a preservative you always run the risk of introducing bacteria, so use water-based products quickly.
The foaming soap dispensers I purchased from Amazon last year aren't available anymore. You can find a foaming soap dispenser at most home stores (like Target, HomeGoods, or Walmart), or via Amazon.
Rosewater can be a pricey product, so feel free to use distilled water instead to reduce the overall cost of this body wash, or use 1/4 cup water and 1/4 cup rosewater.
If you'd like to add a scent to this body wash, and you're using unscented castile soap, add a few drops of a skin-friendly essential oil.
From my home testing, this body wash has a pH of 7.