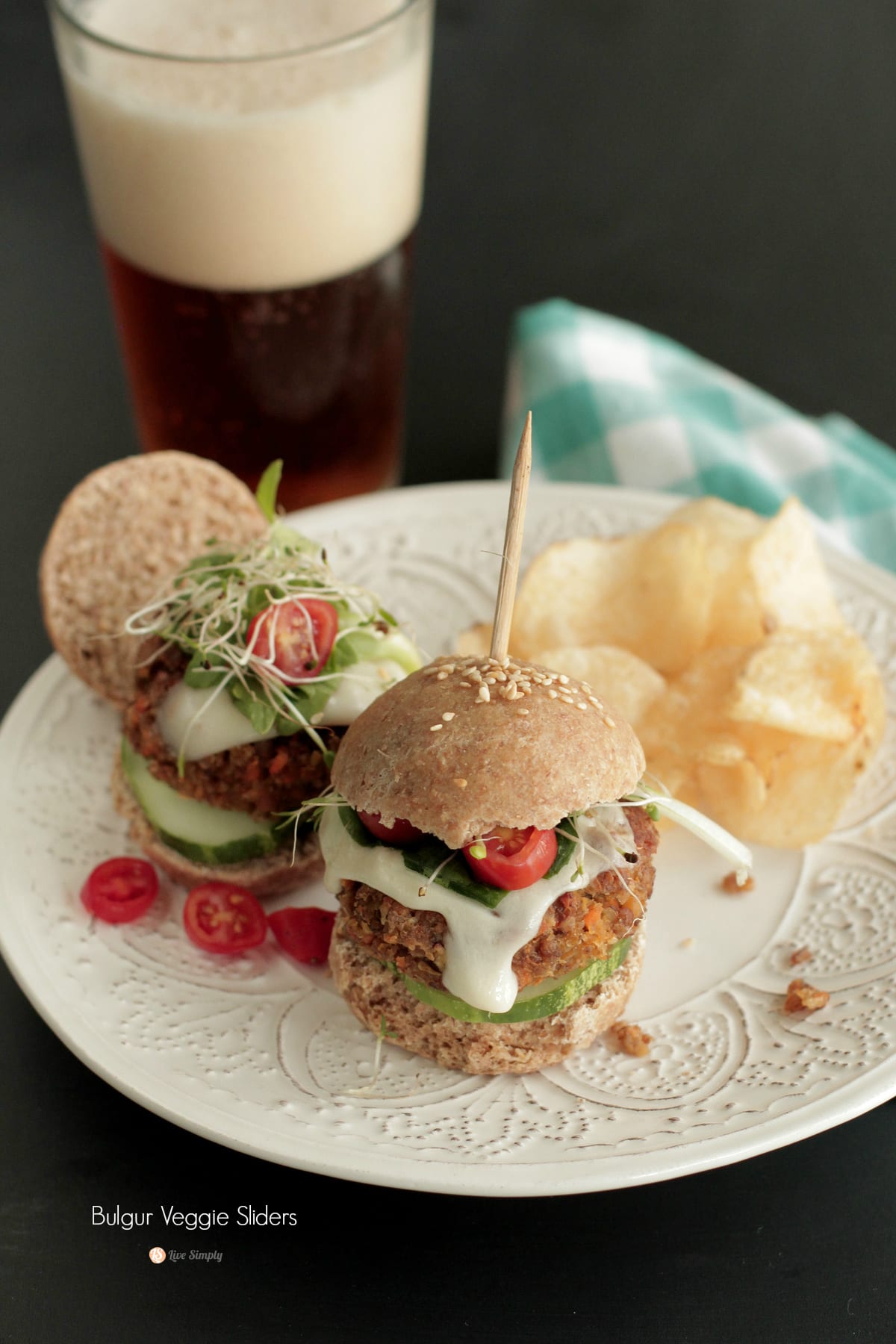 Happy day-after-Fourth-of-July to all my fellow American friends. Today, we're going to have a serious meat intervention. I'm sure most of us (not us, of course, just our friends) indulged in more than our fair share of grass-fed burgers and wieners yesterday. So, let's back away from the grill and pull-out the veggies, beans, and bulgur for a lighter version of the great American classic.
Veggie burgers can be incredibly tasty little gems or possess a complete "ick" factor. It's true! There's really no middle ground when it comes to a burger loaded with veggies or even beans. But, these little burgers possess all the right qualities. There isn't any "I wish I went with the meat burger" disappointment here.
What makes these burgers different?
I'm glad you asked!
First, these cute little patties claim a secret ingredient, Bob's Red Mill Bulgur. Bulgur is a whole grain staple commonly found in Mediterranean and Middle Eastern dishes, think: Tabbouleh.
Bob's Red Mill Bulgur is made from Whole Grain Red Wheat that's been parboiled, dried and cracked; making it a quick-cooking, whole grain staple for the real food kitchen. Bulgur is incredibly versatile . It can be used in salads, enjoyed as hot cereal, or even mixed in meatballs or muffins. Bulgur gives these burgers a nutty taste and packs nutrition by providing protein and fiber in each bite.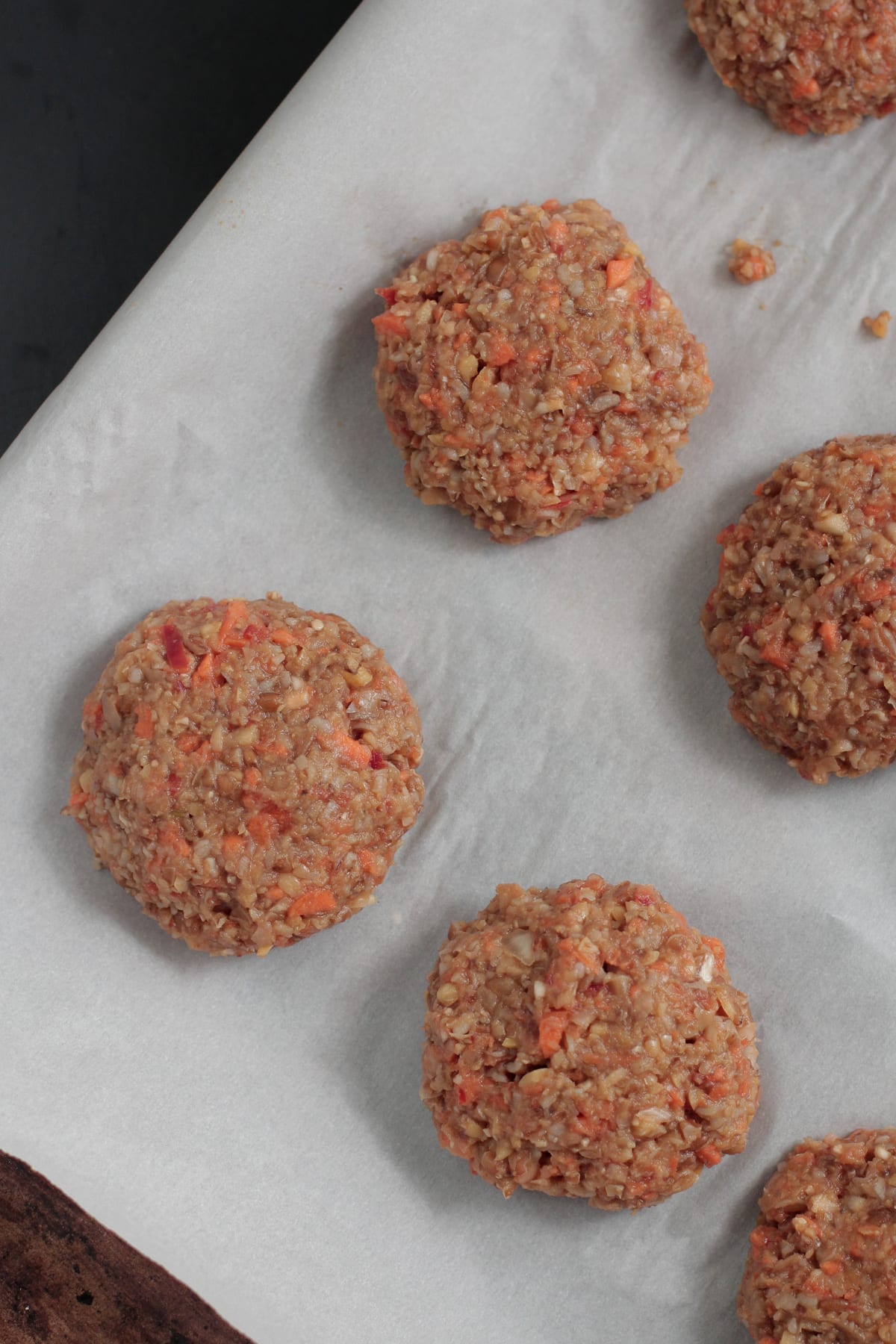 Second, sliders! Yep, these little burgers get a fancy upgrade, meet "the slider".
Veggie burgers aren't meat burgers, therefore, typical homemade veggie burgers have a difficult time staying true to form when shaped into a monstrous burger. I'm sure you've taken a bite of a homemade veggie burger, shaped to disguise itself as a full-grown meat burger. The result? Mush! A big bite of mushy beans and veggies. No, thanks! These burgers are shaped into miniature patties, "sliders", for the perfect bite-sized, protein-packed (thank you, Bob's Red Mill Bulgur) veggie burger. No mush here, friend!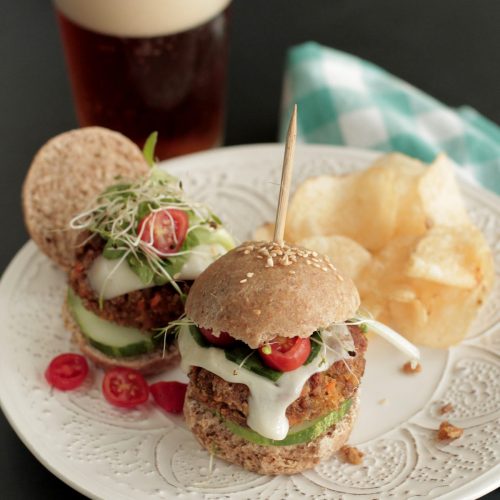 Bulgur Veggie Burger Sliders
First, these cute little patties claim a secret ingredient, Bob's Red Mill Bulgur. Bulgur is a whole grain staple commonly found in Mediterranean and Middle Eastern dishes, think: Tabbouleh.
Ingredients
Burgers:
Bob's Red Mill Bulgur

see recipe above

1 1/2

cups

garbanzo beans

cooked

1

cup

cremini mushrooms

chopped

1/2

cup

carrot

chopped

1/4

cup

yellow onion

chopped

1/4

cup

red bell pepper

chopped

1

egg

3

garlic cloves

2

tsp

ground cumin

1/2

tsp

salt

1/4

cup

coconut oil

for frying

burger buns and toppings of choice
Instructions
For the bulgur:
In a small saucepan bring 2/3 cup chicken broth (or veggie broth) to a boil. Add the bulgur to the boiling broth. Place the lid on the pot and turn off the heat. Allow the covered bulgur to sit for fifteen minutes until the bulgur is fluffy and cooked. Set aside.

In a food processor

(my favorite)

add: garbanzo beans, garlic, mushrooms, carrot, yellow onion, and red bell pepper. Pulse until the picture is wet and sticks together (about 1 minute). Note: The trick to this step is cutting the veggies relatively the same size before pulsing.

Pour the bean and veggie mixture into a large bowl. Add: egg, cooked bulgur, cumin, and salt. Mix well.

Cover a plate or tray with parchment paper. Using your hands form the burger mixture into small sliders, rolling into balls and flattening. Place the slider patties on the parchment-lined plate. Refrigerate for at least thirty minutes.

Preheat the oven to 375F. Place 1/4 cup coconut oil in a large saucepan over medium-high heat. Remove the patties from the fridge and carefully place in the oil. Brown the patties on each side for 5 minutes. Place the patties on a baking sheet and bake for 20 minutes, until the patties are firm.

Serve on mini burger buns and top with your favorite toppings.
Nutrition
Calories:
1281
kcal
Carbohydrates:
142
g
Protein:
40
g
Fat:
67
g
Saturated Fat:
49
g
Cholesterol:
163
mg
Sodium:
1940
mg
Potassium:
1835
mg
Fiber:
35
g
Sugar:
21
g
Vitamin A:
12545
IU
Vitamin C:
60.3
mg
Calcium:
257
mg
Iron:
12.7
mg

I've teamed up with my friends at Bob's Red Mill to bring you a bag of my favorite whole grain bulgur (yay!) and a $50 Bob's Red Mill Gift Card. That means you can enjoy a Bulgur Veggie Burger Slider and shop for your favorite Bob's products, like: baking soda, baking powder, flour, and oats.
There are seven opportunities to enter the giveaway. Simply follow the widget below to enter.
The giveaway contest runs from July 6, 2014 (8am EST) to July 14, 2014 (11:59pm EST). The winner will be announced within 48 hours of the giveaway ending, here on the blog. This giveaway is open to addresses in the continental US and Canada only. Must be at least 18 years old to enter.
Disclosure: This post is sponsored by Bob's Red Mill. The opinions and photos expressed are completely my own. As a blogger, I'm privileged to partner with companies making a difference in the natural and real food world. I only endorse companies and products I 100% love and believe in.
More Recipes You May Like:
Spring Quinoa with Peas and Corn