The children are finally asleep, I take a deep breath, and walk downstairs. As my feet hit the bottom of the steps, I peek at the larger-than-Mount-Everest pile of laundry encompassing my living room and think, "Hmmm…I must have more important things to do tonight!".
Of course, I think of all the important things- unread emails, bills, dirty dishes, and even that mountain-high pile of laundry. I think long and hard, and then make a vital decision and detour to my kitchen. Smart choice, right?  In all honesty, what's more important than making another mess in the kitchen at 10pm to feed an infectious (healthified) sweet tooth? Please don't answer. Let's just agree to agree. Okay?
If you follow me on Instagram, you know all about my confession: I severely dislike baking during the warm summer. It's not that I don't bake, it's just hard to get in a comfy-cozy baking mood at 10pm with a 105 degree heat-wave. Messes made on warm summer nights rarely involve chocolate smudges (homemade brownies) or flour sprinkled counters (homemade cookies). When it's 105, late night, responsibility-avoiding indulgences consist of cold, no-bake treats such as: granola bars, brownies, and creamsicles.
A couple of weeks ago I splurged on new popsicle molds for my late night adventures. One can never have enough popsicle molds or chocolate.
I get it, we don't need one more thing to do or make, but friend, homemade popsicles are so easy! In fact, I'm a bit embarrassed to admit I once bought popsicles at the store, but it's true… I'm a former popsicle-buyer. With five minutes of time and a good set of popsicle molds, homemade popsicles are perfectly achievable and make for the perfect late-night treat.
It's okay Mom, the laundry can wait, let's make strawberry-lemonade cream pops! Icy strawberry-lemonade met with sweet coconut cream and yogurt…I know you'll approve of the late-night kitchen mess!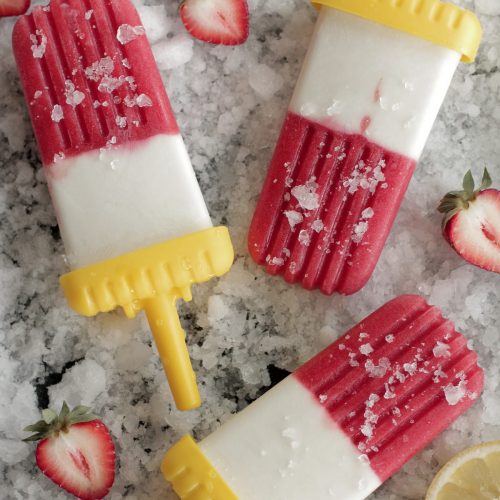 Strawberry Lemonade Cream Pops
Icy strawberry-lemonade met with sweet coconut cream and yogurt…I know you'll approve of the late-night kitchen mess!
Ingredients
Strawberry-Lemonade Layer
2

cups

frozen strawberries

1/4

cup

lemon juice

1/4

cup

water

2

TB

honey
Coconut-Cream Layer
1/2

cup

coconut cream

skimmed from the top of a can of coconut milk

1/2

cup

plain whole milk yogurt

2

TB

honey

1

tsp

pure vanilla extract
Instructions
In a blender, blend the strawberries, lemon juice, water, and honey. Pour the mixture in popsicle molds, filling half-way. Freeze for at least two hours, until semi-frozen.

While the strawberry layer sets, in a medium bowl whisk together: coconut cream, yogurt, honey, and vanilla extract. Place the bowl in the fridge to chill.

Once the strawberry layer is firm and semi-frozen, pour the second coconut-cream layer into the molds. Top the molds with popsicle sticks and freeze until firm, about 4 hours.

Run water over the molds to remove the popsicles and enjoy!
Nutrition
Calories:
140
kcal
Carbohydrates:
18
g
Protein:
1
g
Fat:
7
g
Saturated Fat:
6
g
Cholesterol:
2
mg
Sodium:
11
mg
Potassium:
180
mg
Fiber:
1
g
Sugar:
15
g
Vitamin A:
20
IU
Vitamin C:
32.8
mg
Calcium:
35
mg
Iron:
0.6
mg
More Recipes You May Like: