Today was a full day. The day started with an early morning alarm, followed by breakfast and getting the kids ready for school. We successfully made it to school on time, which is nothing short of a miracle. The rest of the day consisted of blog work, running a few errands, picking up the kids from school, and karate. Monday is definitely the fullest day of the week for our family. I share this with you not to brag about being busy; rather, I hope this encourages you…
Eating real food isn't always easy, but it's 100% doable. Here are two ways I'm currently keeping it real during the fuller seasons of life.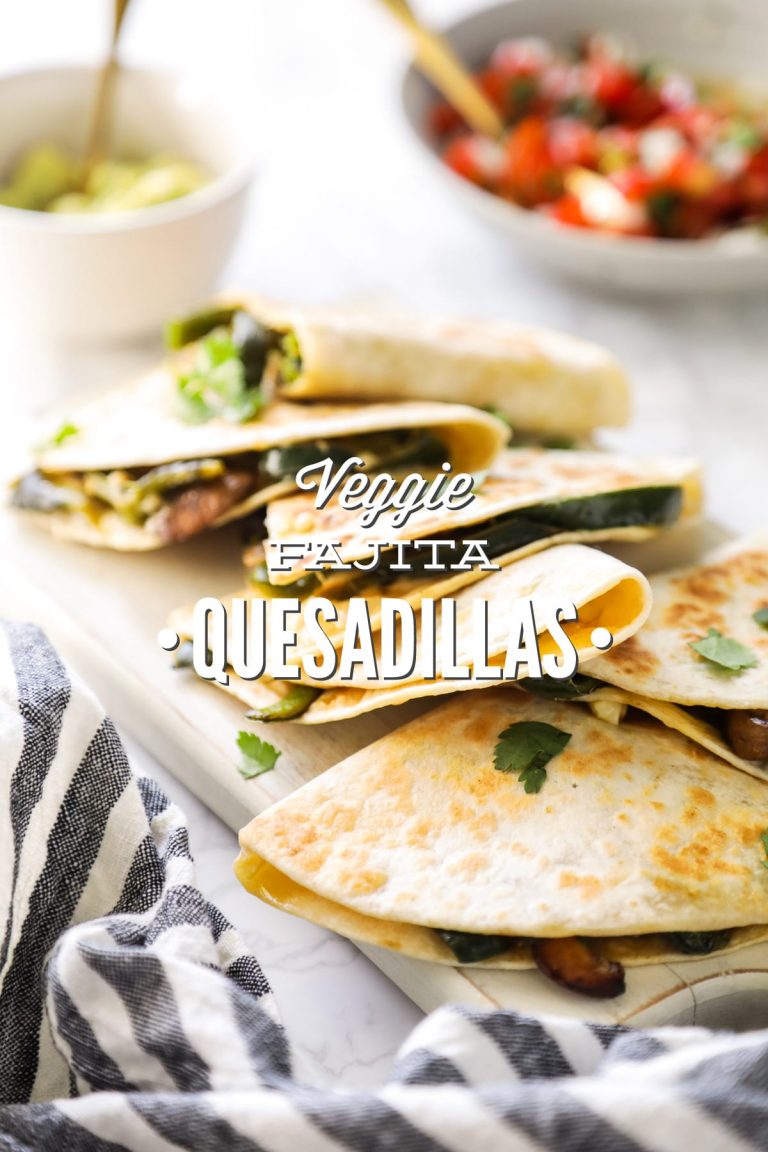 1. Busy Weeknight Meal List
This is my go-to list for meal planning during the busy seasons of life. Each week, I simply glance at the list on my fridge, which includes a list of meals that may be cooked in less than 30 minutes and/or lots of prep may be done in advance, and create a meal plan from these recipes/ideas. Another idea is to note recipes (or meal ideas) that are easy and quick on your Favorite Meals list using a special icon.
How to
Print my Busy Weeknight Meal printable, or simply pull out a piece of notebook paper. Think about what criteria you'll use to determine the meals that go on this list. Remember, the goal during this time is nourishment and simplicity not Pinterest perfection. Next, jot down every recipe and/or meal idea that you know will work on a busy day. This may be an on-going list. Here are some ideas: breakfast for dinner, salad with grilled chicken (or a shredded rotisserie chicken, or chicken from the Instant Pot or slow-cooker), burgers, salmon, sheet pan meals, Instant Pot meals, quesadillas, one-pot meals.
Use this list to quickly create a practical plan when you need super easy meals. Be practical and intentional about what will work within your set schedule.
2. Cook Once, Eat Twice
"Cook once, eat twice" simply means doubling a recipe or meal to create two meals. For me, this means planning to cook 4 times a week, doubling the recipes/portions, and then enjoying the leftovers on the "off" nights.
How to
Simply plan, and shop accordingly, to double the meals on your meal plan. Some meals may naturally result in leftovers. Or, set aside some prep time to get ingredients and foods ready for multiple meals: chopping veggies, shredding chicken, making salad dressing, cooking rice, washing and chopping greens, etc.
For example: Last night, I picked up a rotisserie chicken from Whole Foods (a time saver). I used some of the chicken to prepare chicken caesar salads for lunch over the next three days, set aside some chicken to mix with lentils and rice for the kids' lunches (also prepped the lentils and rice last night), and used the leftover chicken tonight to make "Buddha Bowls." You'll find an example of this concept over on my Instagram page (see photo here).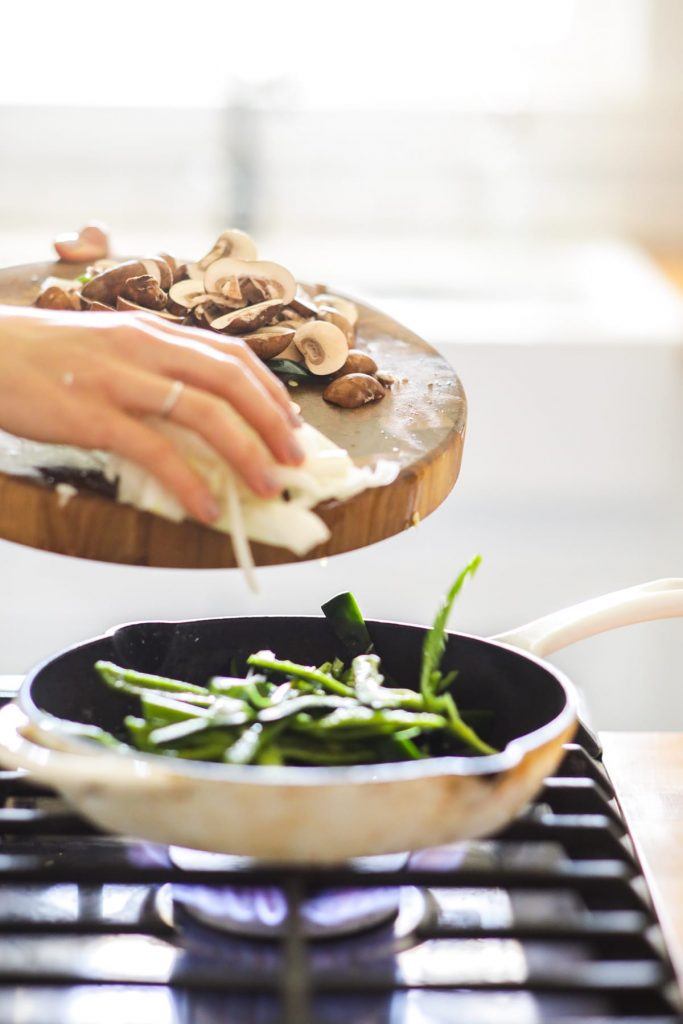 Quesadillas end up on my meal plan regularly during full seasons of life, or full days of the week. Quesadillas are easy to make, can be made in a variety ways, and they are always a family winner. As long as I have a stack of tortillas in the fridge or freezer, I can easily find a handful of nourishing ingredients in the fridge to make really good quesadillas.
There are a couple of quesadilla recipes already on the blog: Easy Vegetarian Spinach and 15-Minute Vegetarian Bean and Kale. Today, I want to share another favorite, a fajita-style quesadilla.
My fajita-style quesadillas are made with simple veggies: peppers, onions, mushrooms (for a meaty feel), garlic, and spinach. I prefer to use poblano peppers for a touch of heat and a unique flavor. If you're serving these quesadillas to kids, particularly kids who aren't into spicy foods, then I would skip the poblanos and go with sweet bell peppers. You'll still get the fajita feel, just without the spicy heat that come from the poblanos.
If I have extra time, I like to chop up a few tomatoes to make a simple pico de gallo, and then mash up an avocado and toss it with salt and lime juice. The pico and no-fuss guacamole are the perfect topping for the veggie-packed quesadillas.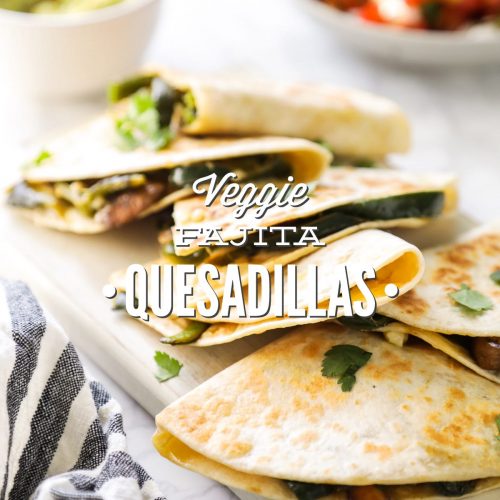 Veggie Fajita Quesadillas
Quick and easy veggie-packed quesadillas. These quesadillas taste just like your favorite fajitas. Top the quesadillas with pico de gallo, sour cream, and/or guacamole.
Ingredients
2

tsp

extra virgin olive oil

or avocado oil, and more for cooking the quesadillas

2

medium

poblano peppers

thinly sliced, or bell peppers

8

ounces

mushrooms

cremini, white, or baby portobello

1/2

medium

yellow onion

thinly sliced

1/2

tsp

salt

2

medium

garlic cloves

minced

1

cup

baby spinach

roughly chopped

1

lime

juiced

2-3

cups

shredded cheese

such as: cheddar cheese, colby, or monterey jack*

4-

6 inch

flour tortillas

**
Special Equipment:
Instructions
Heat the oil in a large skillet, over medium-high heat. Once hot, add the mushrooms, poblano peppers, and onions. Saute the veggies until the onions are translucent and the mushrooms begin to brown, or about 5-7 minutes.

Sprinkle the salt over the veggies. Add the garlic cloves, and saute for another 1-2 minutes until fragrant.

Turn off the heat, and gently stir the spinach into the veggie mixture until slightly wilted. Squeeze the lime juice over the veggies.

Assemble the quesadillas: Spread some of the shredded cheese over one half of each tortilla. Evenly distribute the veggie mixture over the top of the cheese layer. Add another layer of cheese over the veggies. Fold the other side of each tortilla over the veggies and cheese.


Heat the skillet again (wipe it out, if needed), or use a griddle for this next step. Brush one side of the quesadillas with a small amount of oil. Place the oiled side of the quesadillas down in the hot skillet, and cook for 2-3 minutes, until golden and crispy. Before flipping, brush the other side of the quesadillas with oil. Flip the quesadillas and cook for 2-3 minutes, until golden and crispy.

Serve warm with guacamole, salsa, and/or sour cream.
Nutrition
Calories:
228
kcal
Carbohydrates:
9
g
Protein:
15
g
Fat:
15
g
Saturated Fat:
7
g
Cholesterol:
44
mg
Sodium:
660
mg
Potassium:
405
mg
Fiber:
2
g
Sugar:
4
g
Vitamin A:
1300
IU
Vitamin C:
57
mg
Calcium:
305
mg
Iron:
1
mg