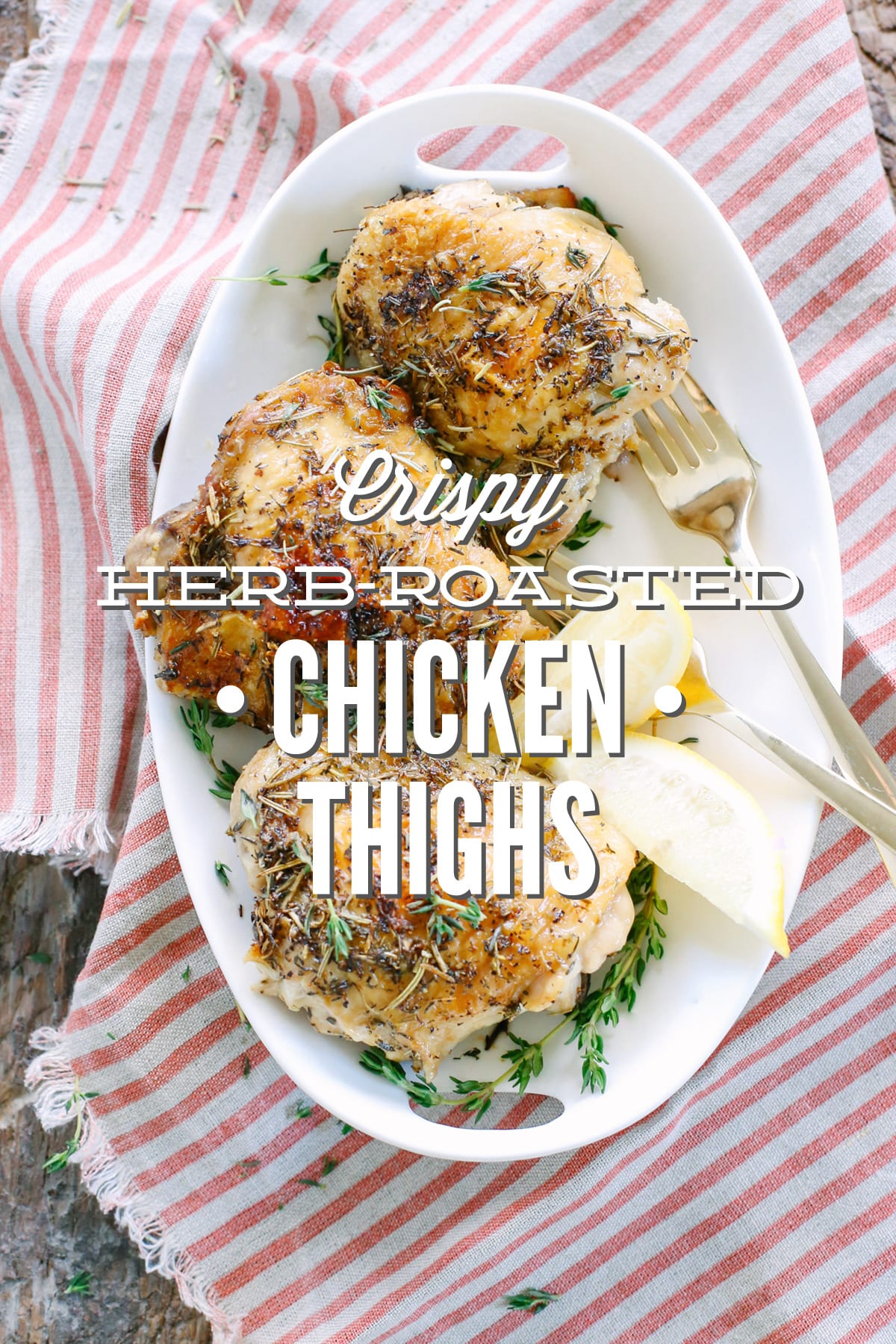 Well, this could officially be the end of my blogging, laundry, and cooking days. Okay wait, let me rephrase that…
I discovered this show called Fixer Upper on Monday, and since that discovery I've lacked any and all motivation to do anything but watch "the worst house on the block" transform into the most amazing house EVER!
Addicted to a television show?
Who me?
Okay, maybe.
The truth is that I need an intervention, a Fixer Upper intervention. Someone please pry my fingers away from the remote at 9pm each night, please. This gal has food photos to edit, a long list of DIYs I've been waiting to share, friends (hey, I see you!) to chat with about real life, and I've neglected my laundry routine for a solid week.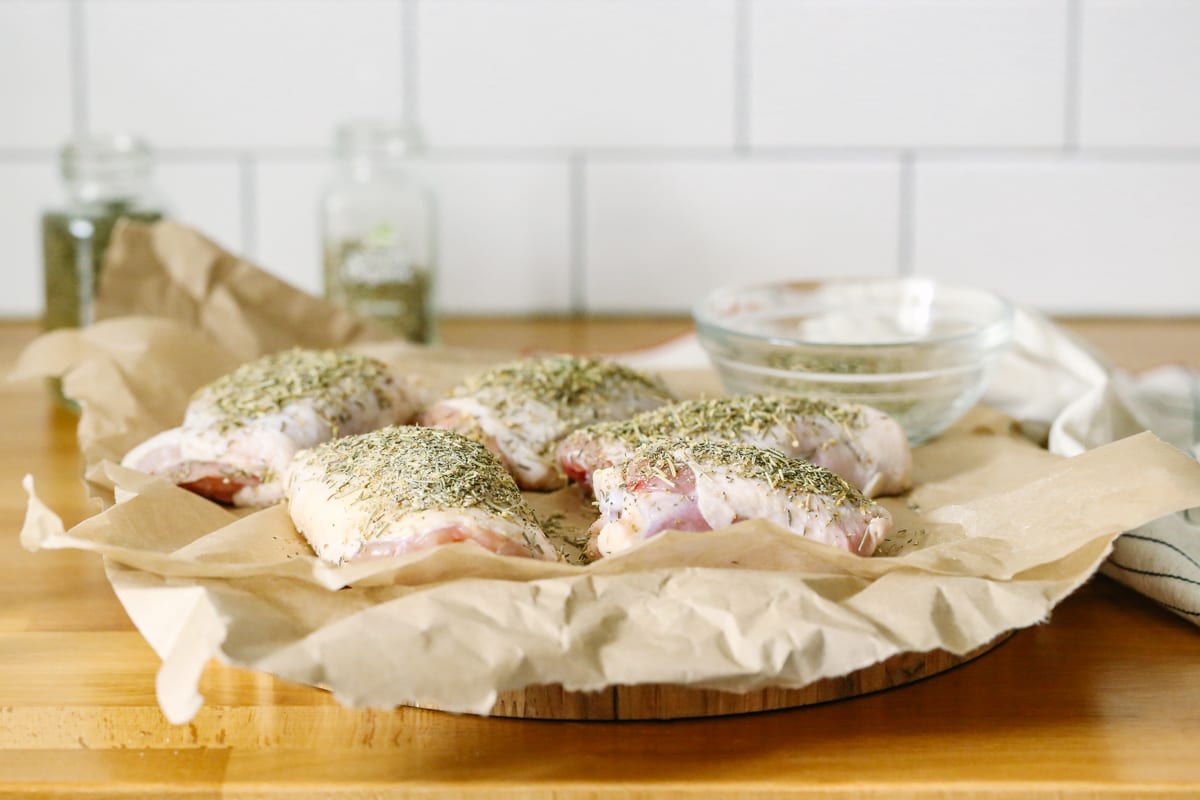 I'm sure the Fixer Upper show will get old quickly, or maybe not. MUST. SEE. NEXT. HOUSE. But I promise not to let my new TV show addiction (which is a rare obsession for someone who doesn't watch a lot of TV…thank you, Netflix) get in the way of our weekly time. And don't worry, Honey, the laundry will get done soon.
This is a blog about food and natural stuff (you know, hand soap, cleaning, beauty, etc.), so I promise all this talk has something to do with today's recipe…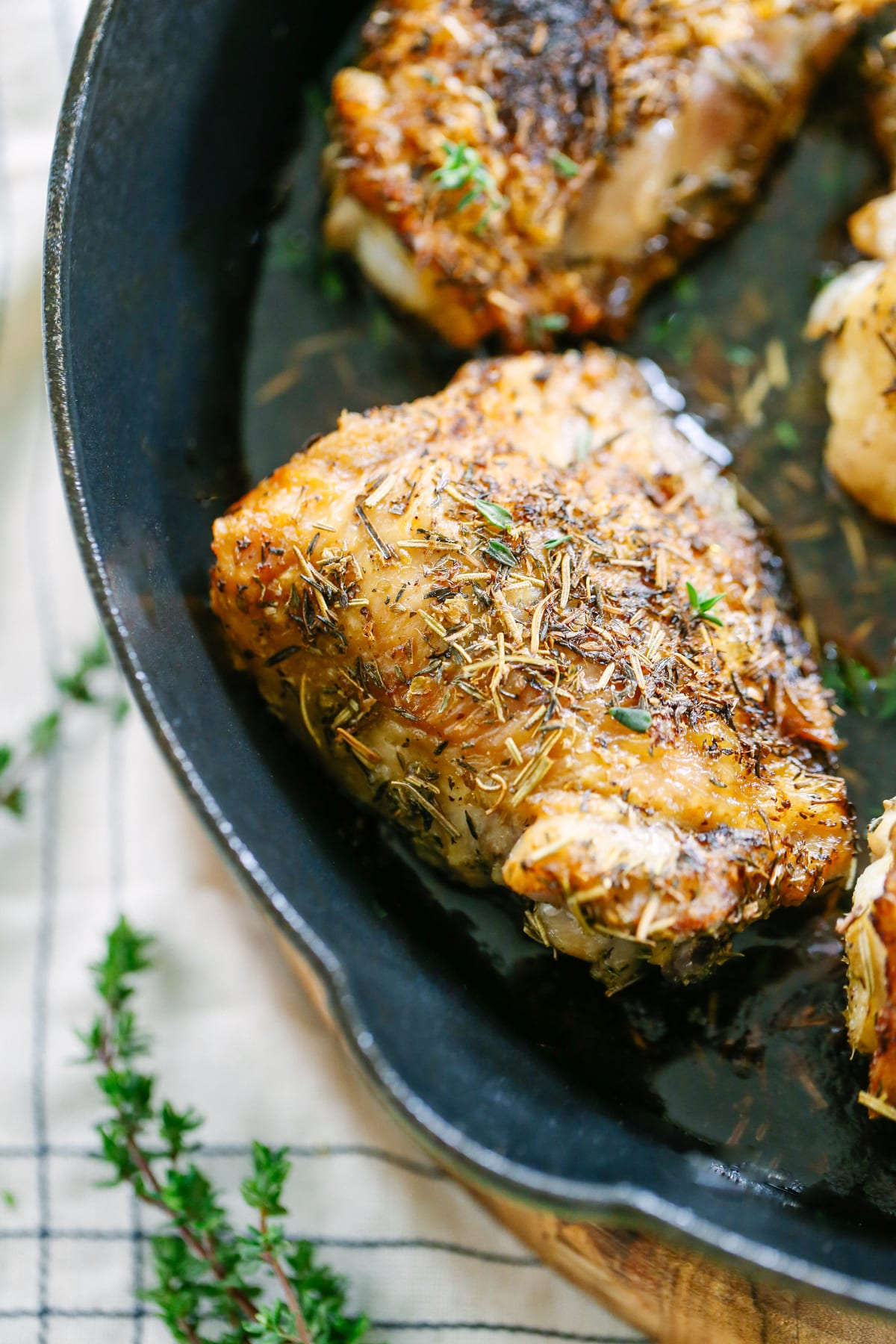 Today's recipe reminds me a lot of my new love, Fixer Upper. See, the premise of Fixer Upper is that something ugly and worn down can be revived with the right amount of vision and skill. Joanna and Chip Gaines, the stars of the show and a super fun couple to watch, take houses that no one in their right mind would purchase and transform them into gorgeous homes. Now, let's carry this idea over to food and the humble chicken thigh.
The humble chicken thigh is not exactly the most beautiful or praised cut of meat. In fact, it's a bit of a neglected cut, like the houses on Fixer Upper, thanks to the modern-day desire for boneless and skinless everything (AKA: flavorless meat). With a bit of vision (a delicious dinner) and a bit of skill (seasoning and a hot cast iron skillet), the chicken thigh can be transformed into the most delicious meat EVER! Hmmm…maybe this recipe should be renamed. Fixer Upper Chicken, anyone? Like I mentioned above, I might need an intervention…oy!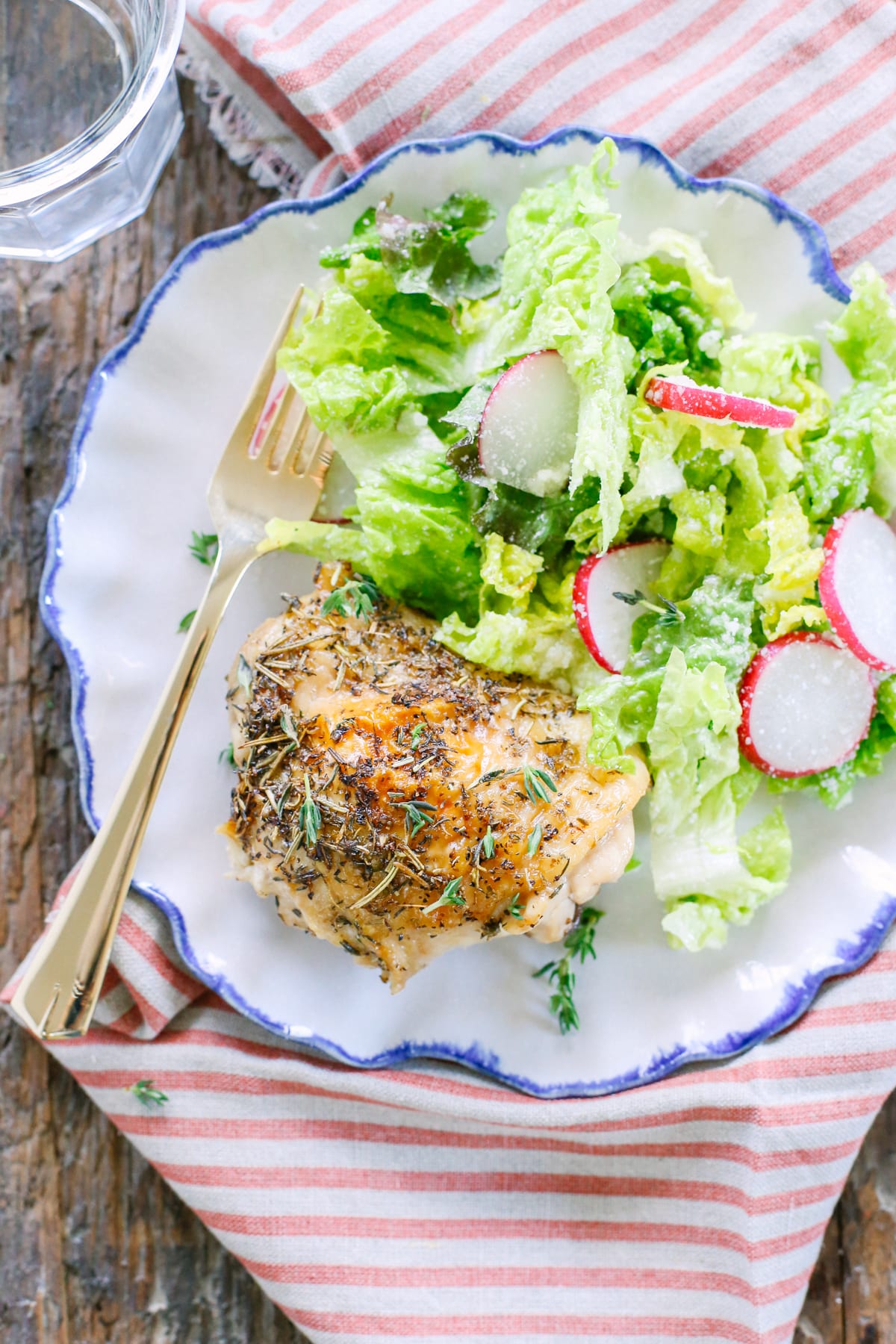 This Fixer Upper Chicken starts off on the stove-top with a hot skillet and a few herbs. I personally like to sprinkle the herbs over the chicken for a super crispy and flavorful herb topping, but salt and pepper alone will also work with this recipe's cooking method. After crisping the skin on the stove-top, the chicken is transferred to a hot oven. The end result is super crispy skin on the outside and moist meat on the inside.
Thanks to the flavor, simplicity, and inexpensive nature of this recipe, I make Crispy Herb-Roasted Chicken Thighs at least once a week for dinner. At that time, I usually double the recipe to make chicken salad the next day, or even chicken soup.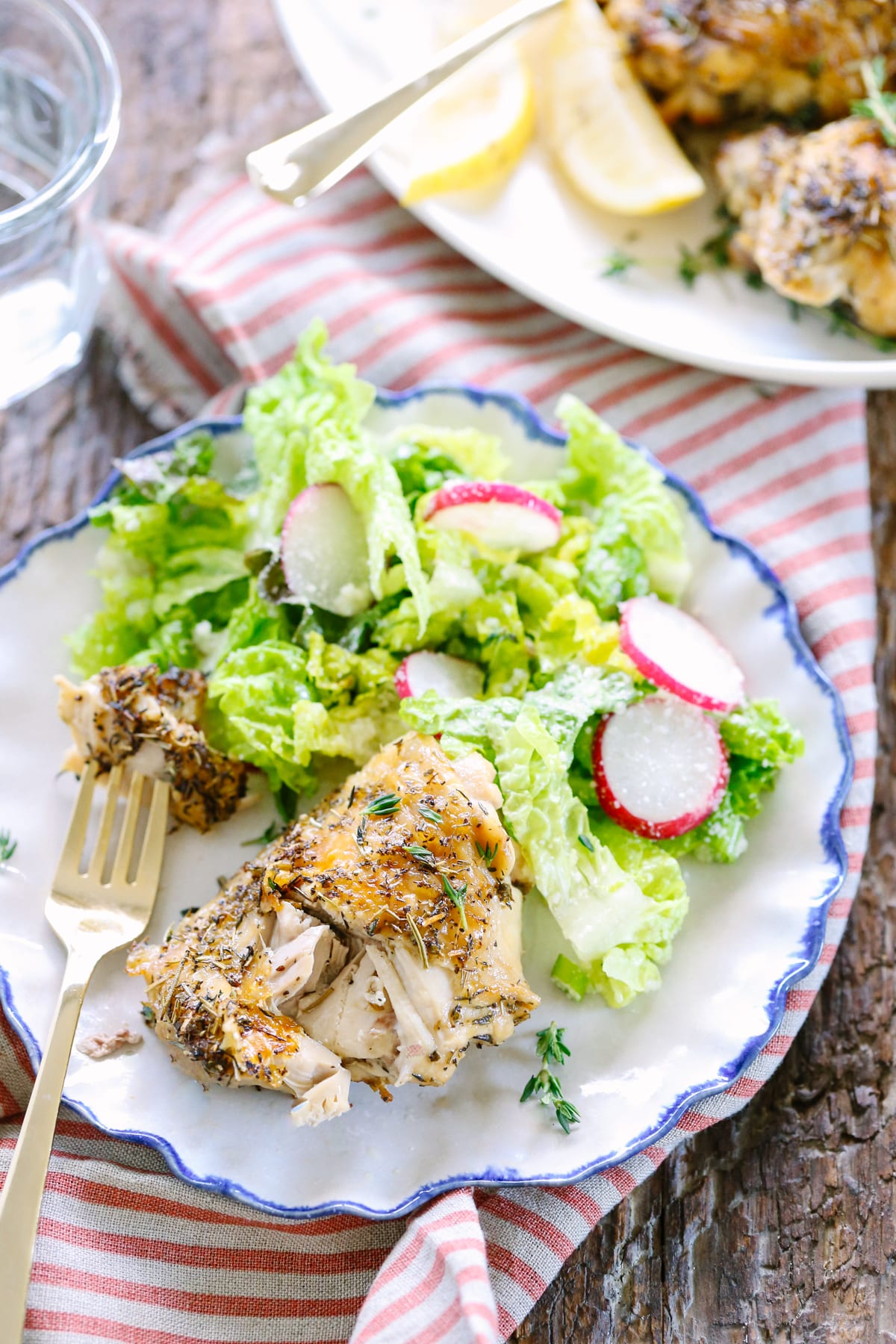 Well, I think today's intervention went well. Netflix and Fixer Upper Chicken are calling my name. Until next time…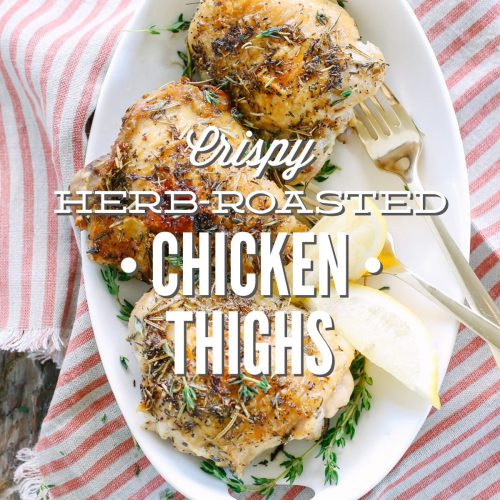 Crispy Herb-Roasted Chicken Thighs
Thanks to the flavor, simplicity, and inexpensive nature of this recipe, I make Crispy Herb-Roasted Chicken Thighs at least once a week for dinner.
Ingredients
6

chicken thighs

bone-in and skin-on

2

tsp

dried rosemary

2

tsp

dried thyme

2

tsp

oregano

1

tsp

garlic powder

1

tsp

salt

1/2

tsp

black pepper

1

TB

avocado oil

or ghee, olive oil, or coconut oil
Instructions
Preheat the oven to 400F.

In a small bowl, whisk together the rosemary, thyme, oregano, garlic powder, salt, and pepper. Note: The rosemary can be crushed with your fingers or the back of a wooden spoon if you don't want large rosemary leaves on your chicken–this is completely up to you.

Rinse and pat the chicken dry. Sprinkle each piece of chicken (the top of the chicken thighs) with the seasoning.

Add the oil to a large cast iron skillet. Heat the skillet over medium-high heat. Once the skillet is hot, add the chicken so the top of the chicken is facing down in the skillet. The oil should sizzle as soon as you place the chicken in the skillet. If the oil doesn't sizzle, your skillet isn't hot enough yet to add the chicken. Cook the chicken for 6 minutes. After about 6 minutes, the skin (and chicken) should easily pull away from the skillet. If the skin doesn't pull away from skillet, cook the chicken for a minute or two longer. Flip the chicken and cook for 5-6 minutes.

Transfer the skillet (and chicken) to the hot oven. Cook the chicken for about 30 minutes, or until cooked all the way through (165F).
Nutrition
Calories:
273
kcal
Carbohydrates:
1
g
Protein:
18
g
Fat:
21
g
Saturated Fat:
5
g
Cholesterol:
110
mg
Sodium:
475
mg
Potassium:
237
mg
Vitamin A:
115
IU
Vitamin C:
0.4
mg
Calcium:
26
mg
Iron:
1.4
mg
Side Dish Serving Ideas
Serve this recipe with one of my favorite side dishes…
Take the Guess Work OUt of meal planning
Free 64 Rotational Meals Ideas Cheat Sheet
Breakfast, lunch, dinner, and snack recipes to rotate week after week. Put healthy meals on auto-pilot.