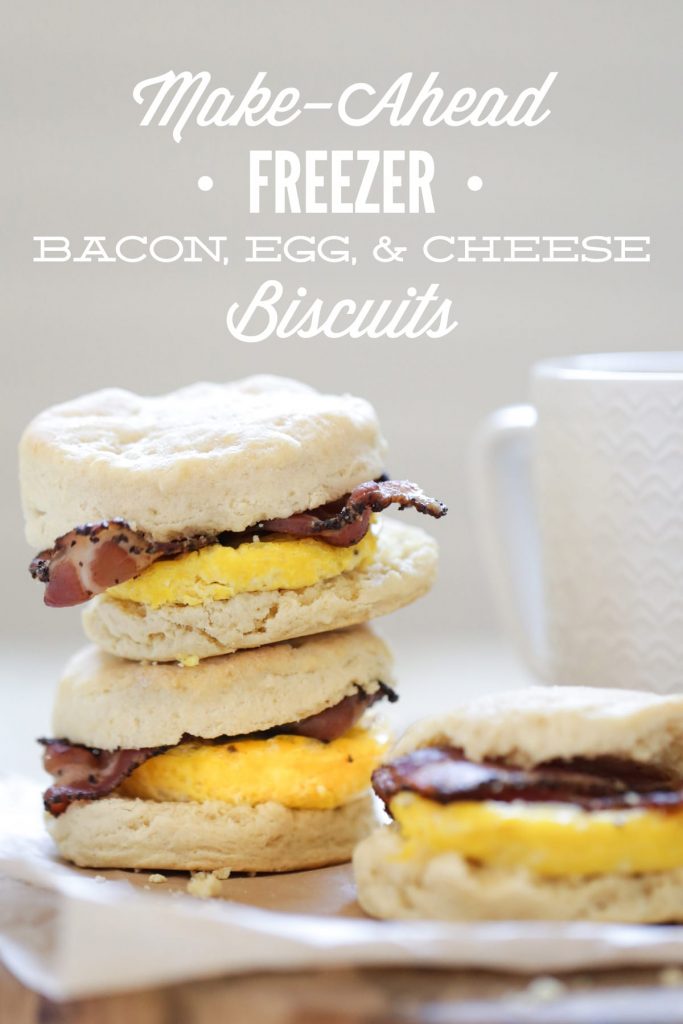 I know what you're thinking.
Go ahead, go back to the main picture and take another look. Yes Ma'am, those are fluffy biscuits loaded with bacon, eggs, and cheese! And I promise, they are 100% real. No nasty ingredients. No additives. Nothing to feel guilty about. Amen!
These biscuits are not only loaded with bacon, eggs, and cheese, they are make-ahead freezer biscuits which means you'll never ever have an excuse to stop at a drive-thru or buy a box of frozen mystery biscuits ever again! Seriously, ever again! Let's hear it– Amen!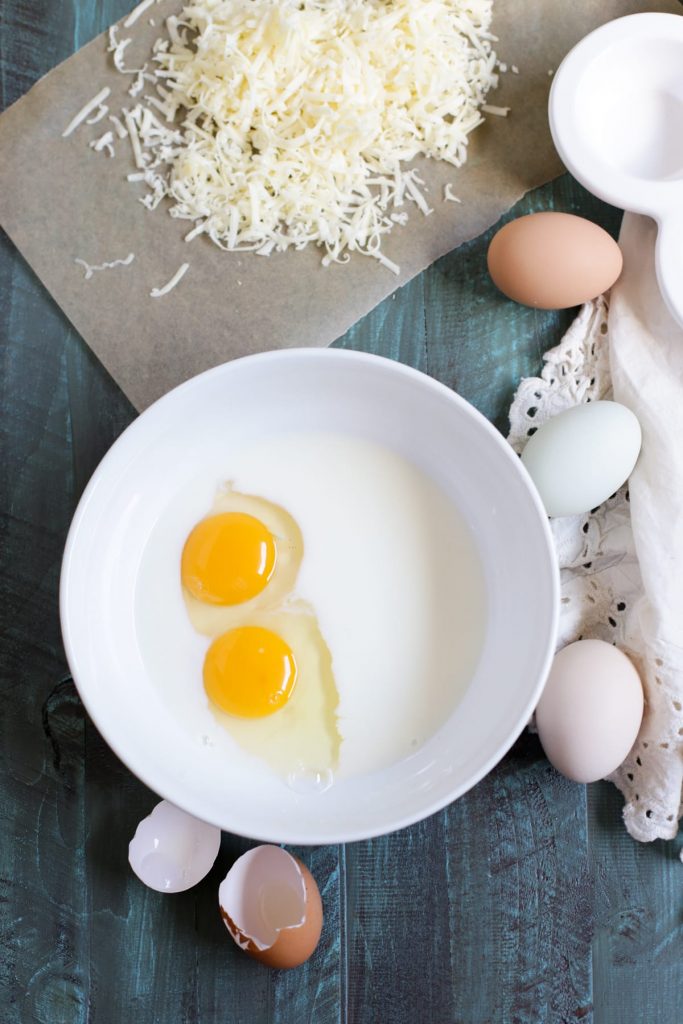 If you've been around Live Simply for long, then you know all about my childhood food experiences. But, let's recap, because as Dustin regularly reminds me, "Kristin, you just love to share childhood stories!" So, a quick recap…
I'm a child of the 80's and 90's. This simply means I grew up envying big hair, tie-dyed shirts, overalls, and jumpers. I might have even owned a few of those items.
My mom lovingly cooked many homemade meals, but the 80's and 90's aren't exactly known as the age of health food, so those homemade meals were usually accompanied by margarine and regular visits from the Pillsbury Dough Boy.
My mom made sure I enjoyed a balanced breakfast of oatmeal, cereal, eggs, fruit, and many homemade goodies. Bacon, egg, and cheese biscuits were my favorite breakfast, and a very special treat. These biscuits usually came from a box or a drive-thru.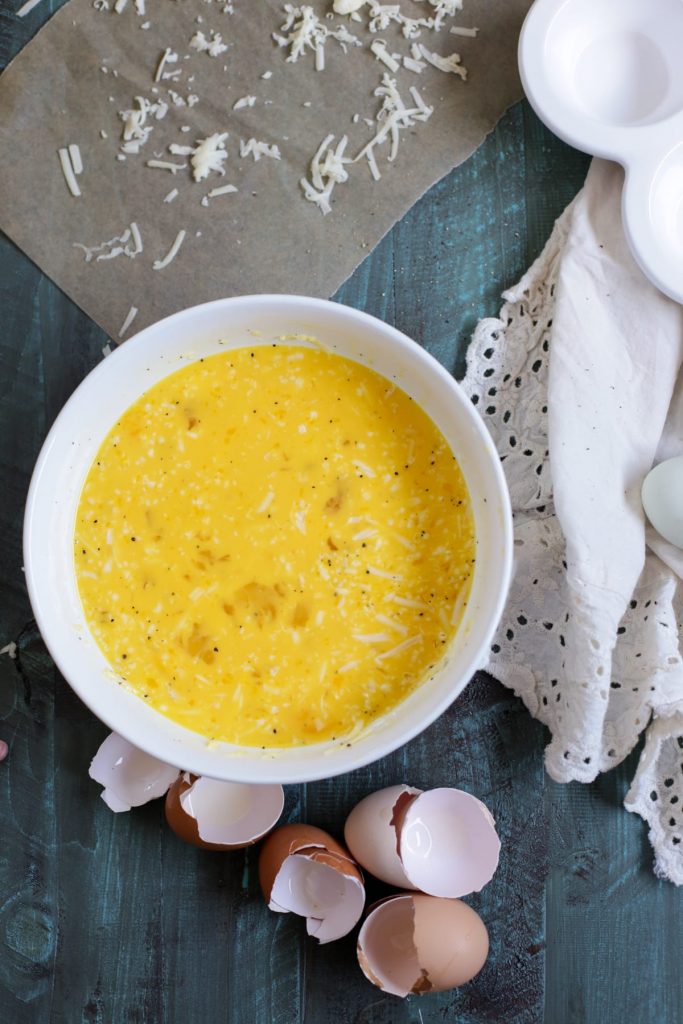 To this day I still dream about childhood bacon, egg, and cheese biscuits. Then I think about the ingredient labels (which I never paid attention to as a kid), and that dream quickly turns into a processed food nightmare.
I think most of us will agree that the ingredient list on 99% of the bacon, egg, and cheese biscuit offerings contain far more than a simple piece of bacon and cheese, an egg, and buttery biscuit. And that, my friend, is why real food is so incredible! What the big food industry complicates, real food simplifies! Let's think about it. Why does a bacon, egg, and cheese biscuit need to contain a hundred different ingredients? Why not make a simple biscuit, fry pastured bacon, and top those heavenly ingredients with an egg from a happy chicken?
Let's just get right to it.
You knew there was a homemade biscuit filled with bacon, egg, and cheese waiting for you at the end of my childhood storytelling, didn't you? Thank you for listening.
I would go on to describe these amazing biscuits, but they are pretty self-explanatory and I think we already covered the basics–bacon, egg, cheese, and a biscuit. That's it! No complicated ingredients. Just simple real food that can be frozen for busy mornings when that urge to stop at a drive-thru is pressing hard against your tired brain, or when that childhood memory wakes up your real-food-loving taste buds yet again.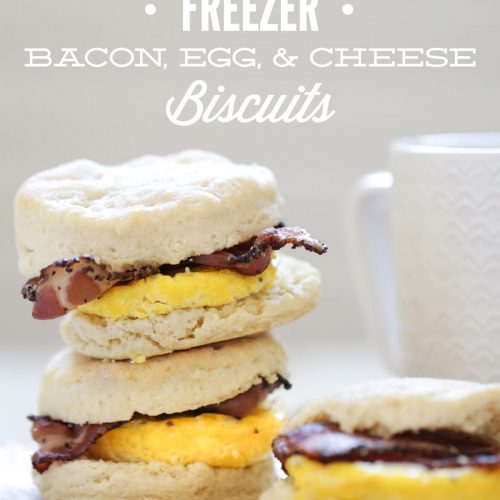 Make-Ahead Freezer Bacon, Egg, and Cheese Biscuits
You knew there was a homemade biscuit filled with bacon, egg, and cheese waiting for you at the end of my childhood storytelling, didn't you? Thank you for listening.
Ingredients
Filling:
butter

or coconut oil

5

eggs

1/4

cup

whole milk

1

cup

shredded cheddar cheese

salt

and pepper, to taste

12

slices

bacon

or 6 slices of bacon, halved

12

slices

cheddar cheese

or 1 cup shredded cheddar cheese
Instructions
For the filling:
Preheat the oven to 350F.

In a medium-size bowl, whisk the eggs, milk, and cheese. Add the salt and pepper to taste. Grease a muffin pan with butter or coconut oil. Note: A muffin pan with large cups works well so the egg filing fits the biscuits.

Fill the muffin pan with 2-3 tablespoons of egg filling in each cup (depending on the size of your pan). Bake for 15-20 minutes until the eggs are puffy and "spring" when touched. Set aside to cool. The eggs will collapse while they cool. This is perfectly normal!

While the eggs cook, cook the bacon in a skillet on the stove-top. Drain the grease, and set the bacon aside.
Biscuits:
Increase the oven temperature to 400F.

In a large bowl, whisk the flour, baking powder, and salt. Add the cold cubed butter to the flour. Use a pastry cutter (or your hands) to crumble the butter into the flour mixture, until the butter resembles coarse crumbs. Add the milk and stir, just until the flour mixture is wet.

Using your hands (gently kneading the dough if necessary), form the dough into a ball.

Sprinkle a surface with a small amount of flour. Roll the dough, on the floured surface, into a long rectangle. Fold the dough in half, lengthwise, and gently press together.

Using a biscuit cutter

(like this)

cut out individual biscuits. Continue to roll the dough, fold, and cut until all the biscuits are formed (12 biscuits). Place the biscuits on a baking sheet. If a golden top is desired, brush the top of each biscuit with an extra 1 tablespoon of milk.

Bake for 15 minutes, until the tops are golden and the sides are firm. Set aside and allow the biscuits to cool for 5-10 minutes.
To Assemble:
Carefully cut the biscuits in half. Place an egg patty, cheese, and then bacon (or any order you desire) on a biscuit.

Note: The next step isn't necessary, but I find it helps with the reheating process. Flash freeze the bacon, egg, and cheese biscuits on a cookie sheet (without the tops) for 45 minutes-1 hour, until the biscuits are almost frozen solid. Add the top to each biscuit, place the biscuits in a bag(s), or appropriate freezer container, and freeze.
To Reheat:
Remove a bacon, egg, and cheese biscuit from the freezer. Remove the top of the biscuit and heat (in the microwave or toaster oven, not a toaster) until the egg patty is defrosted (the time will vary with each microwave or toaster oven), then add the top and continue heating for a few more seconds until the biscuit is warm.
Notes
Find all my favorite kitchen tool essentials, here.
Nutrition
Calories:
498
kcal
Carbohydrates:
31
g
Protein:
19
g
Fat:
32
g
Saturated Fat:
17
g
Cholesterol:
147
mg
Sodium:
689
mg
Potassium:
386
mg
Fiber:
1
g
Sugar:
1
g
Vitamin A:
800
IU
Calcium:
410
mg
Iron:
2.5
mg
Reheating Notes: You'll need to adjust the reheating time according to your appliance. For me, our microwave (yes, I'm still using one) doesn't evenly heat the biscuits and eggs, so that's why I choose to remove the tops before the initial reheating phase. The actual reheating process shouldn't take more than a couple of minutes.  If you'd like to reheat these biscuits in the oven, I recommend wrapping them in a moist (not dripping wet) paper-towel to avoid drying out the biscuits.
More Real Food You May Like: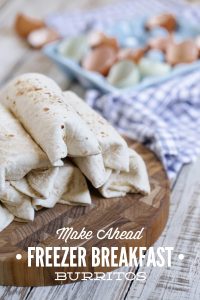 Make-Ahead Freezer Breakfast Burritos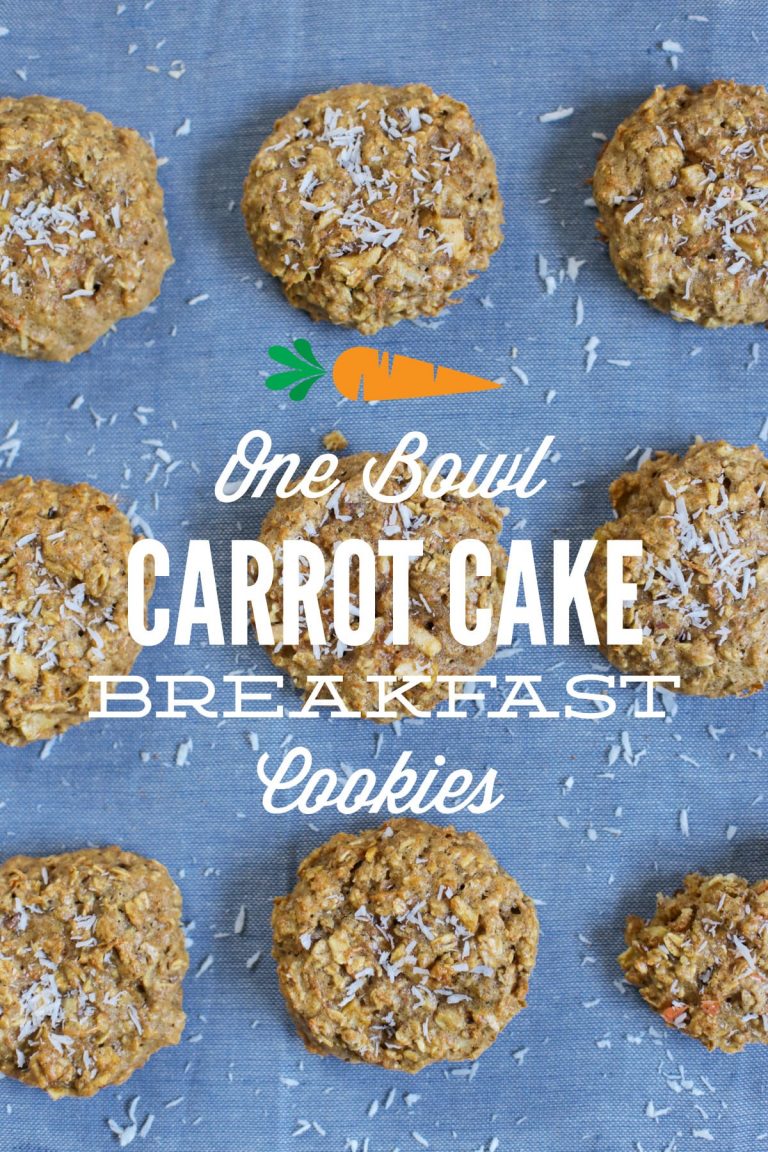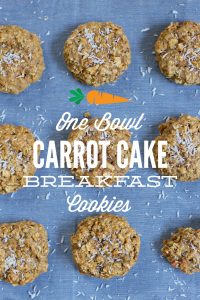 One Bowl Carrot Cake Breakfast Cookies