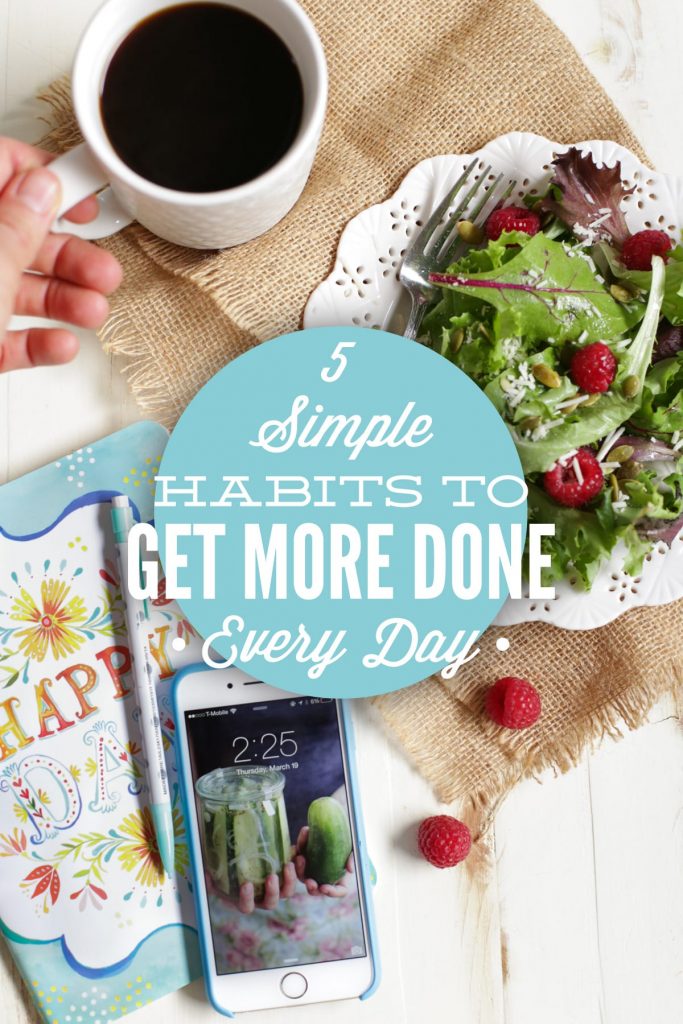 How in the world do you get so much done every day?
That, my friend, is the golden question.
I'm sure we all know people who appear to be "Super Mom." You know, that lady who puts Martha Stewart to shame with her parties, always pays the bills on time, and works months in advance on super cool projects. Maybe that mom doesn't really exist, but it's easy to look at people who are accomplishing tasks and wonder, "How in the world are they able to get so much done every day?"
That was me at the end of last year. I was tired of just "getting by" and trying to accomplish "everything" without ever really accomplishing anything. Between raising kids, a growing blog, freelance photography and recipe work, and just finding couple time with Dustin, I was exhausted and in desperate need of new, productive habits. I spent a few weeks before the close of 2014 reworking the year to come (2015). Not in a controlling way, rather brainstorming ways to get more done with the limited 24 hours I'm blessed with each day.
I certainly can't claim to "do it all" (I don't think "doing it all" is even possible), but I've been able to develop five small habits that are making a huge difference in my daily productivity and quest for simplifying life.
These small habits have revolutionized (seriously, no joke!) my days and allow me to get more (important) tasks done and even spend time reading and enjoying my family.  By developing these small habits, I've been able to daily feed my family real food (even spend time prepping food in advance), blog, work freelance photography and recipe jobs, and enjoy family time.
5 Simple Habits to Get More Done Every Day
1. Delete social media.
Wait! Don't run away. I promise this is the hardest, yet most rewarding habit.
I'm not saying social media is inherently bad. Rather, I think it's pretty amazing. Think about it for a second…
My family is spread across the United States, but thanks to social media (mainly Facebook) family members are able to watch, comment, and share in my life. They were "there" for the birth of my children, special birthdays, and the day I launched this blog. Pretty amazing, huh?
But, here's the thing. Even a good thing can be dangerous and unproductive.
Facebook (and other social media platforms, but let's talk about Facebook) is like a drug. Yep, a drug! Facebook can have the same effect on a person as a lethal drug- the highs of seeing your friends, or even people you don't really know face-to-face, comment and like your photos and posts. There's something addictive about this behavior–constantly checking for new comments and likes, and feeling the need to constantly click on the little red notification button. Trust me, I've been there. And truthfully, it's such an addictive behavior that it's easy to fall back into the same social media addiction–just like drugs!
Because Facebook is like an addictive drug, it's easy to spend way too much time being "productive" on Facebook and less time actually accomplishing real life tasks: making dinner, prepping food, work, bills, playing with the kids, running errands.
In the name of getting more done every single day, hitting the delete button on your social media drug of choice is the first habit that must be developed. Yep, it's going to be hard and painful. I'm not suggesting that you delete your social media accounts, rather here are my two recommendations:
Delete the Facebook App (or other social media) from your phone. My phone is always with me which makes it far too easy to access my Facebook App. "Oh, I'll just pop on Facebook and connect/network with friends." Soon just "popping" on social media turns into 5, 10, then 20 minutes. Imagine what I could get done in that amount of time? A lot!
Log out of Facebook (or other social media) on your computer. I spend a lot of time in the morning on my computer answering emails, writing blogposts, and editing photos. It's so easy (too easy) to just click on a new tab and open Facebook. The moment I see the little red notification number in the top right corner, I'm hooked! Soon, I realize 30 minutes has been spent commenting, liking, and watching cute chicken videos. By simply logging out of Facebook (and other social media accounts) the drug-high effect disappears. When I click on a new tab and open Facebook, I'm now welcomed by a screen requesting my username and password.  This act is powerful and instantly reminds me that I have tasks to complete before I can enjoy Facebook time.
If you're feeling discouraged, read on. I promise you'll like number two!
2. Set up a social media schedule.
Now that you've deleted your App(s) and logged out of social media (cough cough, Facebook) on your computer, it's time to set-up a schedule. Social media is a beautiful thing, as I mentioned in the first habit, when used with appropriate balance. Let's create social media balance…
Take a look at your calendar and create a social media schedule. We're actually going to schedule the time you can browse social media. For example: I have weekday evenings from 9:00-9:30 blocked for social media browsing on my Google Calendar. During this time I can log-in to my account(s) and connect with family and friends, watch chicken videos, and browse Pinterest. At 9:30 I have to log-out and say "good-bye" until tomorrow.
3. Download or brain-dump before going to bed.
When I wake-up each morning I feel a bit lost. I'm not quite sure what I need to do, and all I can think about is a warm cup of coffee and a hot shower. Feeling lost in the morning is an open door to wasting valuable time. To solve this problem I now download or "brain-dump" before I go to bed. Next to my bed I keep a day planner where I write down everything I want to accomplish the next day. And I mean everything, even if accomplishing that many tasks feels overwhelming and/or impossible. Having a list of tasks to accomplish the next day helps guide my morning and keeps my day super productive.
4. Focus on three important tasks each day.
With an official task list in my day-planner, the next morning I'm able to focus on the tasks at hand. To start, I take a look at my long list from the download/brain-dump session after pouring a cup of coffee, making breakfast, and taking a shower (the non-negotiables). There are only so many hours in a day, so I choose the top three tasks to accomplish each day. For example:
1. Write a blogpost.
2. Pick up stamps and mail packages at the post office.
3. Make freezer breakfast burritos for the month.
While more tasks may actually get done, the VITs (Very Important Tasks) of the day are the non-negotiables. If nothing else gets accomplished, I know these tasks are going to get done because I've made them a priority. Without making your important tasks a priority each morning (and numbering them 1,2,3) they probably won't get done which only leads to frustration and defeat.
5. Wake-up early.
I'll admit, waking up early isn't in my DNA. I love have a deep passion for staying in bed well past the initial sound of the first alarm clock. And yes, that's how much I love sleeping, I need multiple alarm clocks. The mornings are the most productive, profitable hours so I've learned to embrace them and, while it pains me to say it, I've learned to love the early morning hours.
Of course, early is a relative term and means different times to different people, but the most important take-away here is: wake-up early!
I make it a priority to accomplish my most important tasks (VITs) before noon each day. This means the early morning hours, before my kids start running around and chickens start squawking, are the most important hours of the day. I also enjoy listening or reading a book each morning while I make breakfast, along with a quiet time. My current book choice is The One Thing which I listen to via Audible.com (an amazing time-saving resource).
I promise, this habit will be hard and painful to develop, but the reward of getting more accomplished each day- the most important tasks- is incredibly satisfying!
More Simple Living You May Like: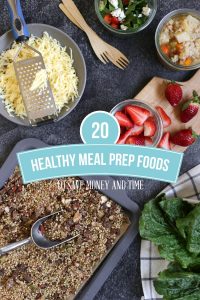 20 Healthy Meal Prep Foods To Save Money and Time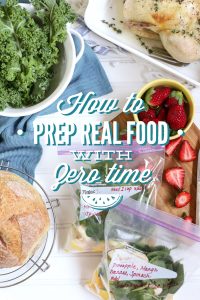 How To Prep Real Food with Zero Time