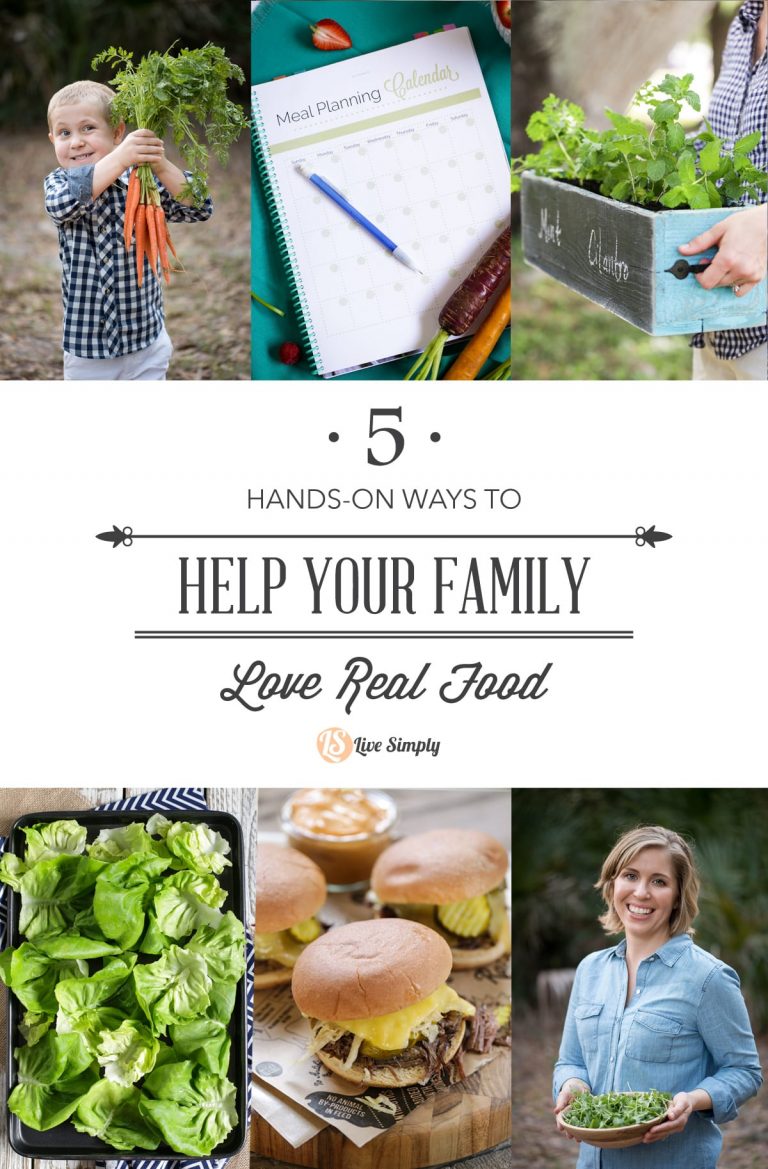 What's your greatest challenge when it comes to creating a doable real food lifestyle?
The food budget? 
Stocking a new pantry? 
Time? 
My greatest challenge was my family, and from the emails and comments I receive, many of you share this same concern. While the budget can be tackled and kitchen time reduced and conquered, changing the minds and tastebuds of a family used to the addictive pleasures of processed food can be difficult and frustrating.
PS: Don't stop reading. There's hope. Keep reading…
Dustin initially proposed the idea of experimenting with a real food diet, and while he was definitely more inclined to a healthier way of eating thanks to his up-bringing, I don't think he realized our trial would turn into a long-term lifestyle. A lifestyle that meant saying good-bye to processed lunch outings at his favorite chain barbecue restaurant (I'm all for barbecue, but I don't think this place used anything that would qualify as "real") and cherry coke.
At the time of our lifestyle change Piper was a toddler. Yes, we ate "healthy" before he was born, but much of our healthier eating revolved around processed soy products and nicely packaged organic food.  I'm not sure if my constant paranoia over food (mainly animal-based foods) caused his pickiness at such a young age, or he was just naturally a "picky" eater. Whatever it was, he would turn his nose up at most of the new foods I wanted to incorporate into our real food lifestyle.
My challenge: How do I convince my family to love real food?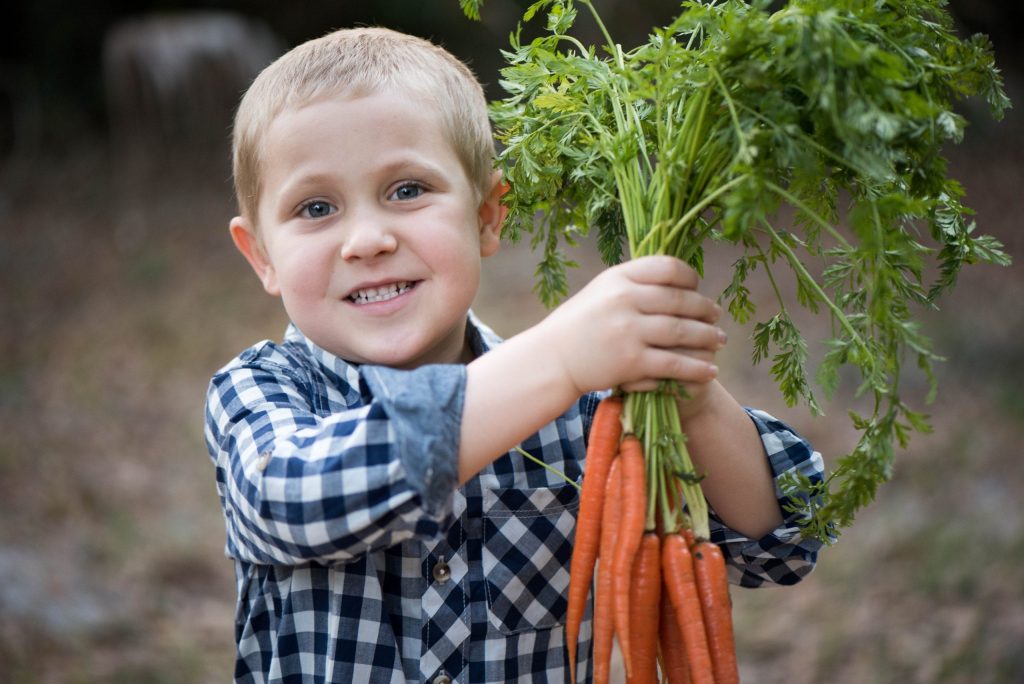 I knew cooking individual meals for each one of us was not sustainable, so I decided to take a more creative and hands-on approach. I knew my strategy was working the day Dustin came home rather perplexed, "I went to the barbecue chain today and well, it just didn't taste good. In fact, the food made me sick! Our food tastes so much better." Mission accomplished.
Piper's taken a bit longer to come around to our real food ways, but slowly he's started to embrace new foods and even love them! Instead of refusing to eat new foods he regularly explores samples and proclaims, "Wow, Mom! This is good!"
Let's talk hands-on strategy today. The gentle ways you can nudge your family toward loving a real food lifestyle. These are the very strategies I used when we first made the switch to real food.
5 Hands-On Ways to Help Your Family Love Real Food
1. Talk about favorite meals.
Real food doesn't mean tossing out all your family's favorite meals. Instead of replacing favorite burgers and granola bars with gigantic bowls of kale and sprouts, find ways to recreate favorites into healthier, homemade meals! 
How To: 
Gather your family together for a family pow-wow. You'll want to bring a paper and pencil with you.  Ask your family, "What are you favorite foods/meals?" Anything goes! Pizza? Write it down. Hamburgers? Add it to the list. Granola bars? Yep, add it to the list. Nachos? Awesome, on the list!
If you have young children ask them to draw pictures (or cut pictures from a magazine) of their favorite foods and add them to a special My Favorite Meals paper. You can download my free printable, here.
Now it's time to find homemade or better-quality versions of your family's favorite foods. Instead of buying chicken nuggets, make them at home. Replace the packaged granola bars with a homemade version (my favorite baked granola bar recipe is coming very soon!). If your family loves cereal, make the transition from the overly-processed mile-long ingredient list cereal to a better store-bought alternative, and maybe eventually a homemade granola.
2. Plan favorite meals and introduce new food experiences.
Once you have a list of favorite foods it's time to start planning! Meal plan around your family's favorite meals, but also add new experiences/foods.
How To:
I use my family's favorite meals to create my regular meal plan. After writing these meals on my meal plan calendar I leave a few spots open for new meals I'd like to try. Sometimes these new foods are paired with a meal I know my family will love. For example: Hamburgers with sautéed yellow squash. The hamburgers are the favorite, the squash is the new experience/food.
3. Grow food and shop together.
Often times family members feel like they are subject to whatever the head cook wants to eat. Encouraging your family to participate in the shopping/growing experience can help open new doors to food experiences and positive attitudes.
How To:
While shopping with kids can be a challenge, I try to encourage a more kid-friendly food experience by providing my kids with a grocery budget. Piper and Londyn receive $5 each week for the market or local health food store.
Dustin is too busy to join a shopping trip most weeks, but just a simple call, "Hey, would you like any particular foods in the fridge/pantry this week?" encourages him that I care about what he likes to eat.
If you have any space (even a small windowsill) and time, growing food in a family garden or pot can help your family find excitement in eating fresh meals.
4. Don't give up! Be creative. 
If your family doesn't care for a particular meal that doesn't mean they don't like the actual food used to make it. A bad food experience just means it's time to be creative! Thankfully, there's more than one way to eat _______ (insert food of choice).
How To:
If your family doesn't care for steamed broccoli try roasting it with olive oil and garlic. If roasting doesn't work, maybe Broccoli Nuggets from Momables will win over the broccoli-haters? If your kids don't like greens/salads try a Kid-Friendly Green Smoothie. Don't give up after a one-time failure. Try a few different meal preparations before crossing a food off the list.
5. Prepare Food Together. 
Most of my evenings are super busy so asking my kids to help prepare a salad or chop veggies with a kid-friendly knife is the last thing on my mind, but I try to slow down on the weekends and encourage participation. Most kids are happy to help prepare a meal: chopping veggies, washing fruits/veggies, or mixing a sauce/salad dressing. And the participation doesn't need to end with dinner. My kids regularly ask to make chocolate chip cookies or ice cream for a treat.
How To:
Encourage your kids to participate in food preparation. Ask young children (preschool-elementary age) to choose veggies from the fridge to create a salad for dinner, or whisk a sauce with your guidance. Older children can handle more responsibility in the kitchen and even create meals. You may be surprised at the foods your kids are willing to eat because they helped with the preparation.
Special Note: Thank you Jeanine Leigh Photography for the beautiful pictures of my family enjoying real food.