This post may contain affiliate links. Affiliate links come at no extra cost to you. These links allow me to share the products I authentically recommend (and use) and support Live Simply by receiving a small commission.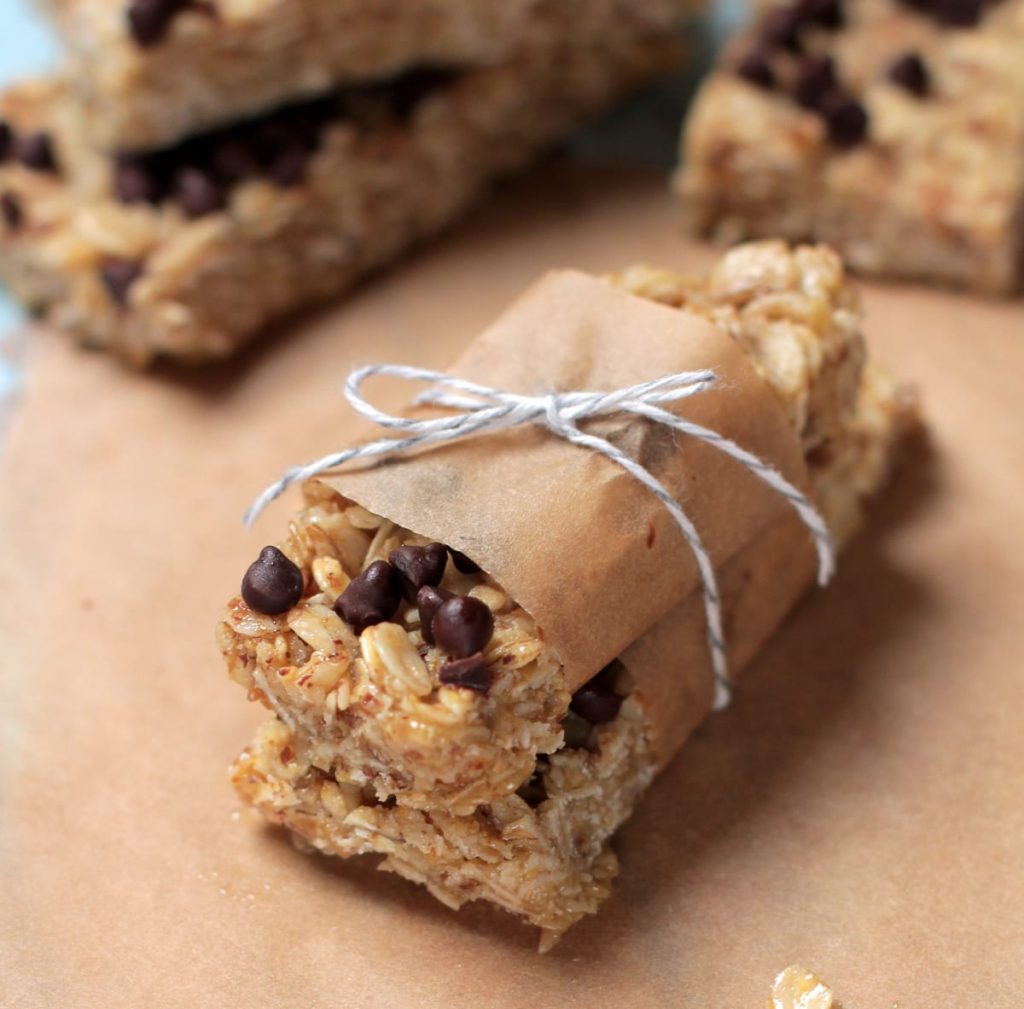 I do not know about your family, but in our house these few words resound a lot, "Mama, I'm hungry can I have a snack?"
In my quest to find real food that nourishes my family, I came to a dilemma: Finding satisfying snacks I felt good about feeding my family besides just fruit and vegetables.
Now, don't get me wrong, fruits and veggies are great snacks and wonderful sources of nutrition, but sometimes you just need something sweet and chewy that makes you say "Mmmmm". Problem is I've found most snacks from my local grocery store that are sweet and chewy and make you say "Mmmmm" are not nutrient-dense foods that fill you up and tide you over for meal time.
I was doing my best by choosing what I thought were safe and healthy options. I mean really, how bad can store- bought "natural" granola bars be, right?
FREE Real Food Crash Course
I get it, switching from processed food to a real food lifestyle can feel overwhelming and confusing. Friend, it doesn't have to be this way.
Here's what to expect: 
printable charts (real food defined, a seasonal produce guide, 

meal planning)

how to get started with a real food lifestyle

how to create a meal plan and stay within a budget

7 real food recipes

emails from me to help you enjoy real food
Bonus: Step-By-Step Guide to Real Food
Wrong!
When I took a look at my so called "healthy options," I found ingredients like: corn syrup, sugar, caramel coloring, preservatives, and synthetic oils.  Those are the ones I could read.
My kids and husband love those little oat bars with chocolate and sometimes peanut butter. If I was going to rid our pantry of those chewy, sweet bars, I needed a darn good replacement. One that would be equally if not more satisfying and unlike the store-bought bars, nourishing. Guess what?
I did it!
Not only are these bars delicious and nutritious, they are so easy to make even a caveman could do it. These chewy, store-bought knock-offs are a healthy snack and one I can feel good about feeding my family.
Homemade No-Bake Granola Bars
Not only are these bars delicious and nutritious, they are so easy to make even a caveman could do it. These chewy, store-bought knock-offs are a healthy snack and one I can feel good about feeding my family.
Ingredients
1/4

cup

coconut oil

or butter

1/2

cup

honey

1

tsp

pure vanilla extract

2

cups

old-fashioned rolled oats

1/8

cup

flax seed

milled or whole

1-2

TB

peanut butter

optional

1/3

cup

dried fruit

and/or nuts, optional
Instructions
Heat your stove top to medium heat.

To a saucepan over medium heat, add your coconut oil and honey. Stir to melt and combine.

The oil and honey will start to bubble. When you see this, keep watch as it will soon take on a nice amber color, but do not let it get to dark or you will have made candy.

Once you get a nice rolling bubble, let it go for about 30 seconds to a minute and then turn off your heat and add your vanilla.

Add in the oats, flax seed, and optional peanut butter. Stir together until combined

Line a 9x9 pan with parchment paper (be sure to have some extra hanging off both sides).

Pour in the oat mixture. Using the back of a spatula press down about 1/2 inch until mixture is smooth.

Sprinkle chocolate chips, nuts, and/or dried fruit over oat mixture. Place in the fridge for about 30 minutes to cool.

The cutting process: Remove the pan from the fridge. Use the extra parchment hanging off sides as handles to pull your entire granola out of the pan and place on counter. It will be a solid piece. Cut width-wise into one-inch sections. Then one long cut down the center of the pan. This will allow for 12 individual servings all equal size.

Note: This recipe can easily be doubled for 24 using a 9x13 pan.

Store in an air-tight container in the fridge.
*Rolled oats can vary in texture and thickness between brands. If the bars are not "sticking" well reduce the oats amount by 1/4 -1/2 cup.
Note: Press the granola mixture firmly into the pan before cooling. This will help the granola bars "stick" once cooled.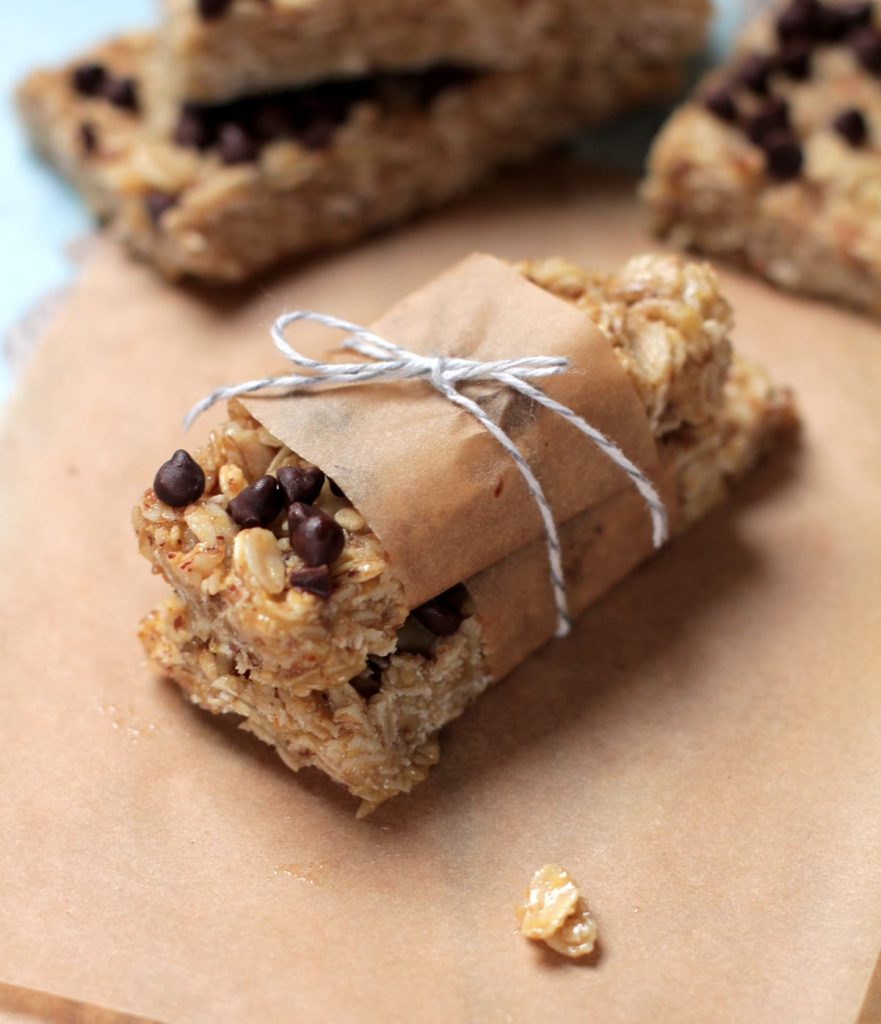 More Snack Ideas You May Like:
 90 Healthy On-the-Go Summer Snacks
 Homemade Peanut Butter Granola