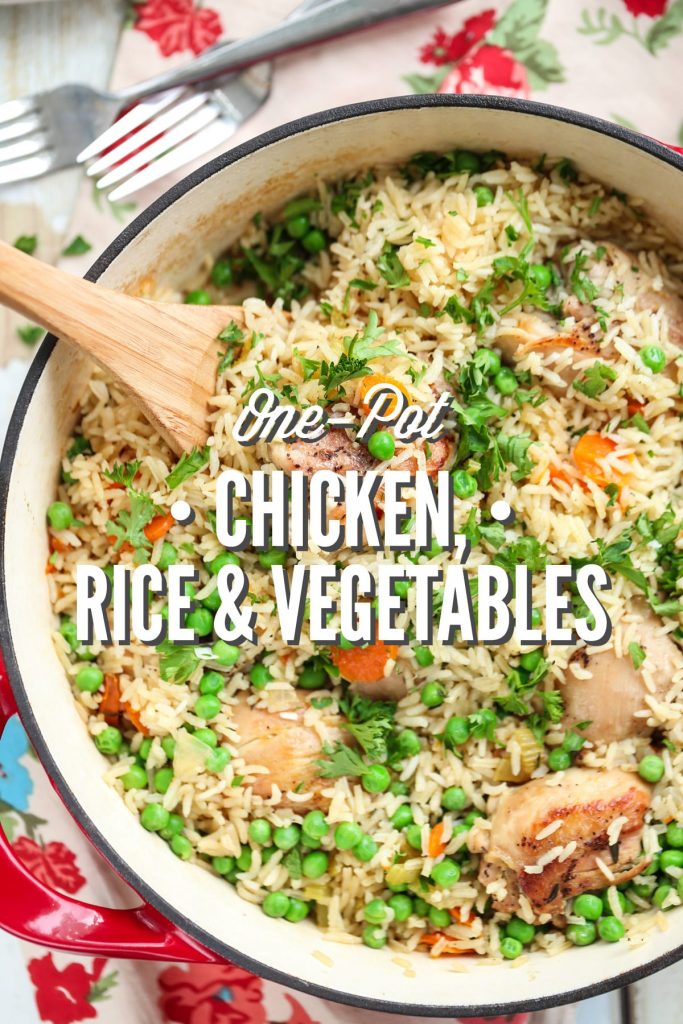 One-pot and 40 minutes, from start to finish. Okay, you'll also need a cutting board and knife. But really, one-pot and forty minutes! That's all this chicken, rice and vegetables recipe requires. Think of this recipe as comfort food meets simplicity. Kind of like that Crock-Pot Shepherd's Pie…remember that one?
And with that one sentence, I've pretty much covered the flavor-packed, healthy, and family-friendly goodness of this recipe, so let's talk about a kitchen remodel, okay?
Friend, the picture you're about to feast your eyes on was taken in my new kitchen sink. Actually, my new kitchen farm sink to be exact. Let's just bask in its glory for two seconds…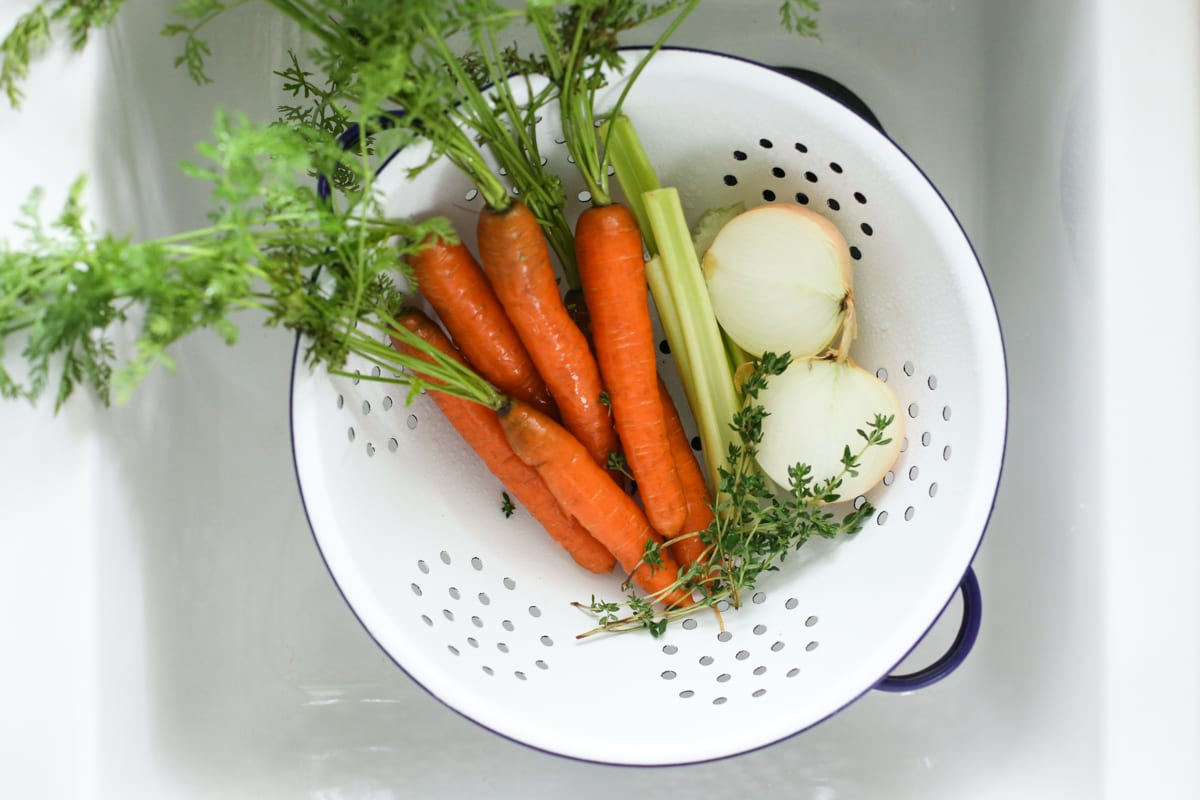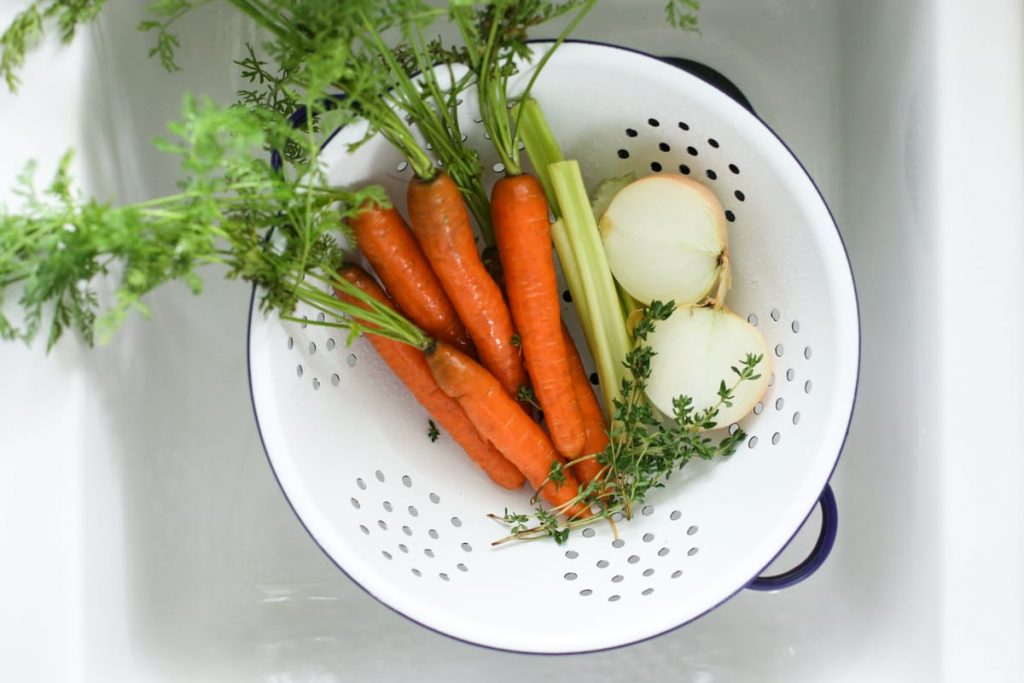 I'm planning to share a whole blogpost highlighting the kitchen remodel, including before and after photos and a full walk-through video tour. For now, I'll share a little sneak peek into my new space.  We still have some work to do: paint baseboards and crown molding, replace the kitchen window, and hang the final shelf.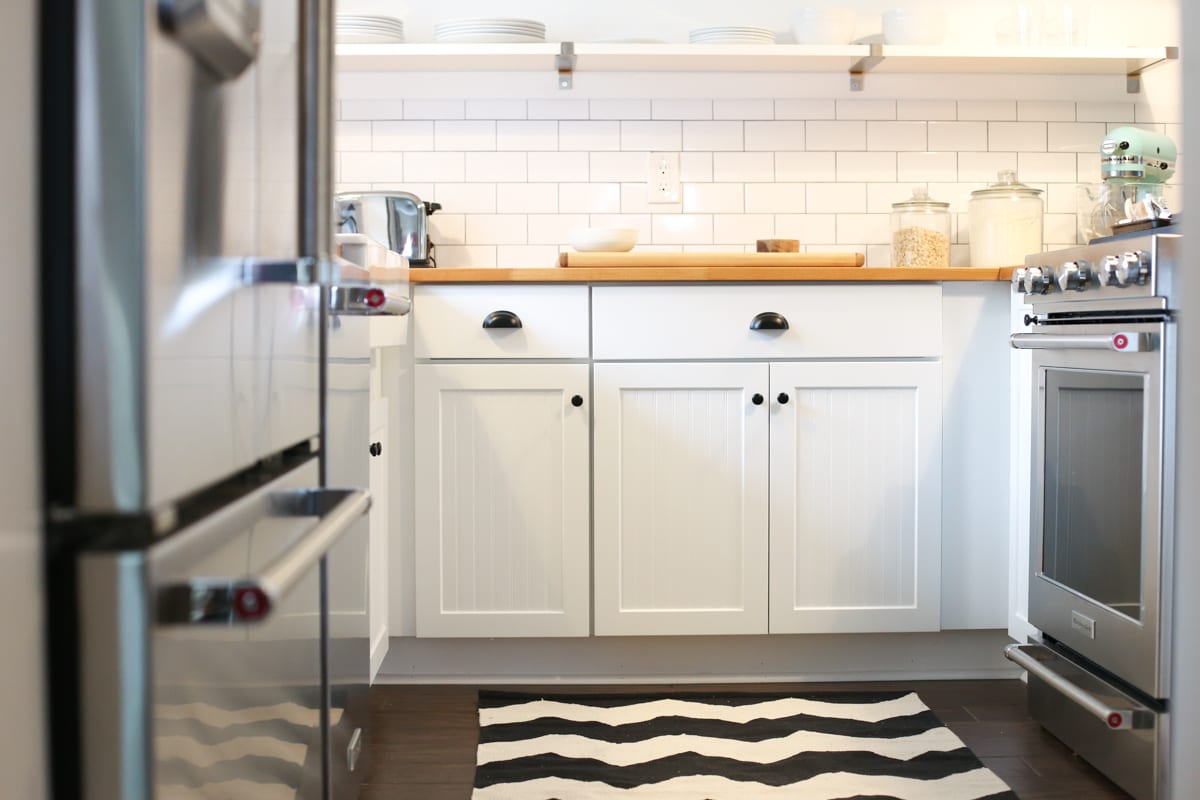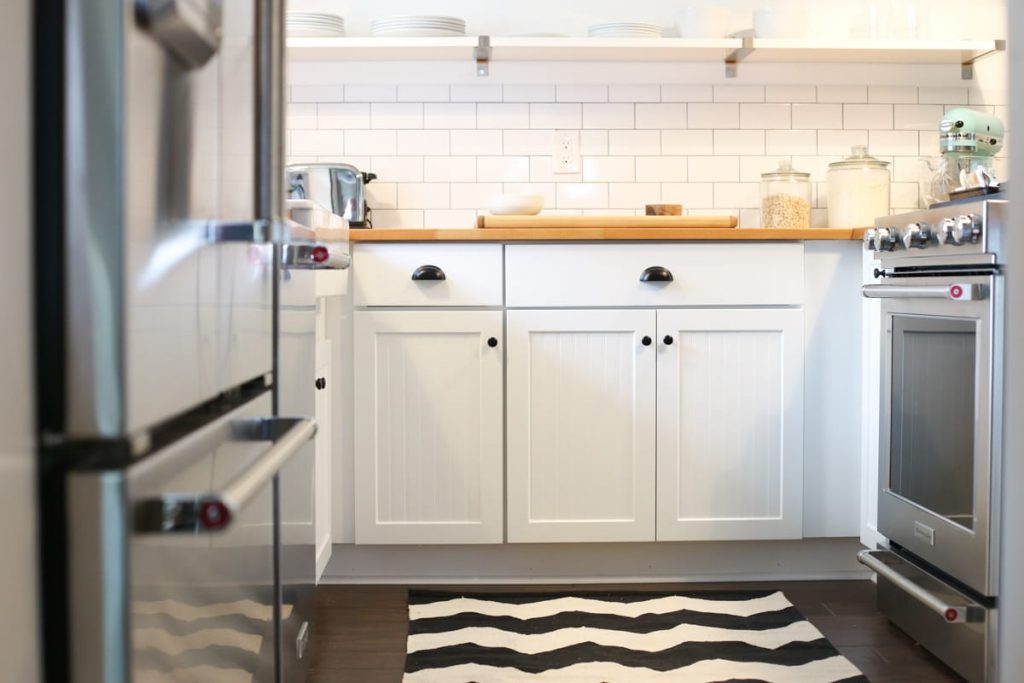 Our remodel process was rather short, lasting only three months. Along with the kitchen remodel, we also replaced a bathroom (after discovering an unexpected damaged floor) and the entire downstairs floor. During this process, I've learned some valuable remodeling lessons:
1. Always plan to spend more! No matter how good you are at budgeting, remodeling always brings unexpected projects. The bathroom is a prime example of an unexpected expense. Another example: We had to move out of our house for a week so the tile floors (that's tile, not wood) could be laid. That week, Florida experienced seven days of non-stop rain. Non-stop! This meant our couch and any fabric furniture grew mold as it sat outside on the back porch. Mold = a new couch and living room chair. Granted, I'm not complaining about either upgrade, but I never expected to be spending money on our living room or bathroom during a kitchen remodel.
2. Avoid the Superwoman syndrome. I really thought I could "do it all" during this remodel process. A garage kitchen? Oh yea, I can cook four course meals. Dust all over? I got this. Let me shoot a freelance photography campaign in my downstairs office (alongside the dust). Those were my exact thoughts three months ago.
The reality is that I realized a remodel is hard work, particularly when you have children and reside in the home. A remodel project is the perfect time to start saying "no" to a few things, and give yourself some grace. I finally accepted this mentality two weeks ago. This acceptance was followed by four nights of Chipotle for dinner. Grace, my friend, grace. Don't be superwoman.
3. Quick and easy meals are always the best option. I thought cooking would be "normal" in my temporary garage kitchen, but I soon learned my kitchen was often out of commission. There were lots of days when the electrician had to turn off the power, or stand on the "kitchen" countertops and drill into a wall (hello, dust…extra fiber, right?!). I quickly learned, after a bit of frustration, that quick and easy meals are always the best plan during a remodel, particularly when your kitchen is under attack. We ate a lot of crock-pot black beans and rice, crock-pot chicken, sandwiches, freezer soup, and one pot chicken and rice.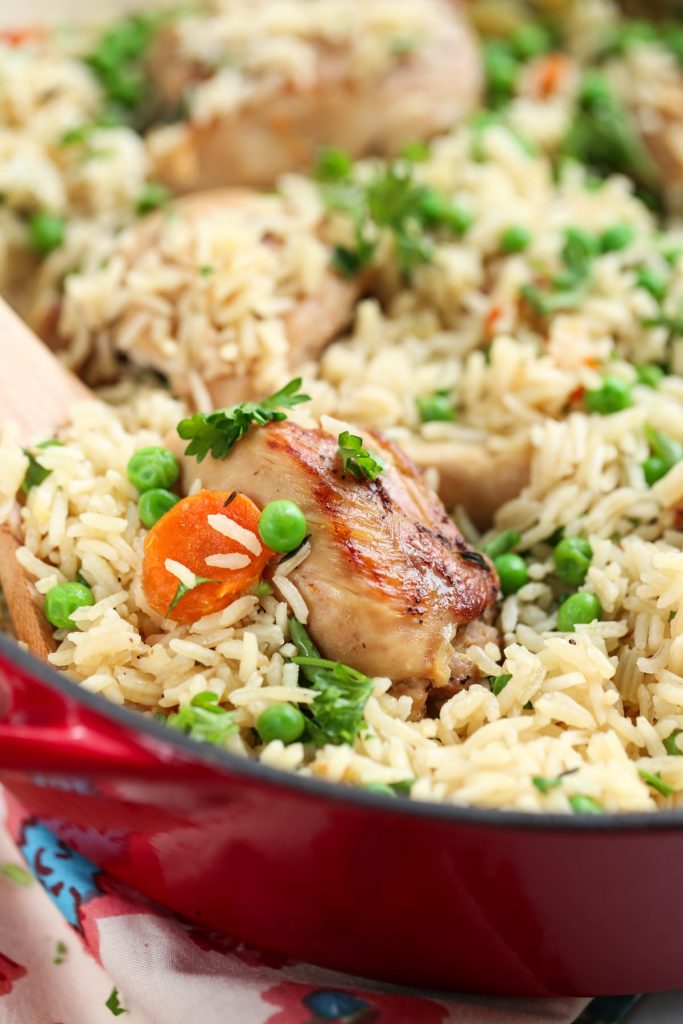 One-Pot Chicken, Rice and Vegetables became a staple meal during our kitchen remodel. This meal was an all around winner: one-pot, quick, family-friendly, nourishing, and made with inexpensive ingredients. I like to think of this meal as a one-pot wonder. I love to serve this comfort dish (or comfort pot, but that just sounds all wrong) with a glass of raw milk and warm bread. Yes, that's a total carbohydrate party, but when you serve a comfort meal like this, bread is always the answer….and a cold glass of raw milk. Always! 
Whether you're remodeling, starting to plan for the busy school season ahead, or just need a quick and nourishing meal to add to your weekly meal plan, this recipe is sure to win over your family's taste-buds. They may just think you're Superwoman ;).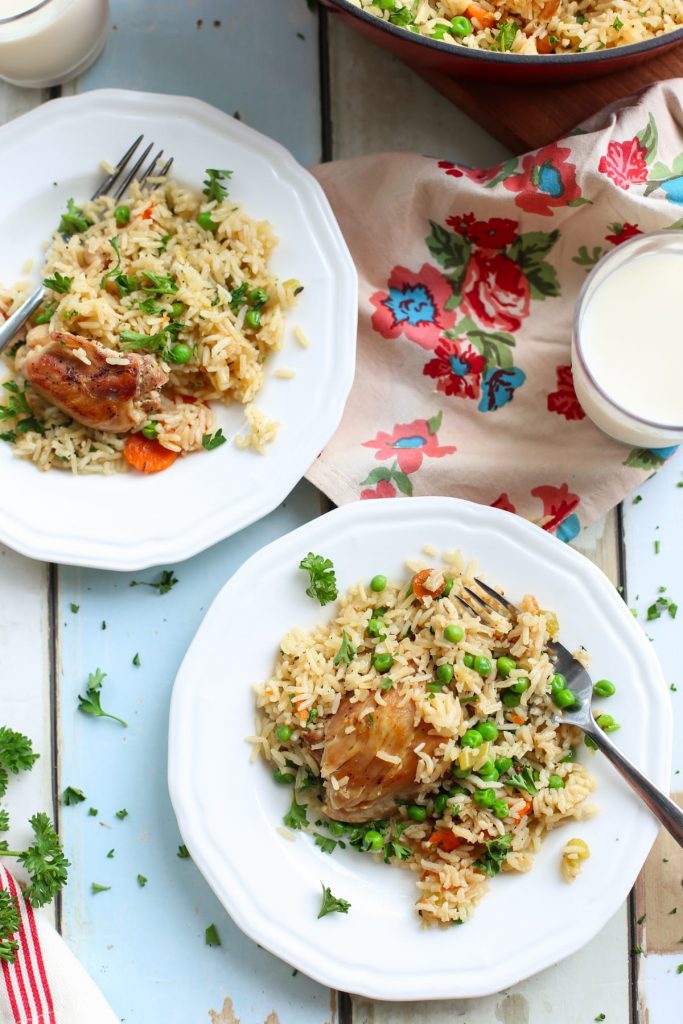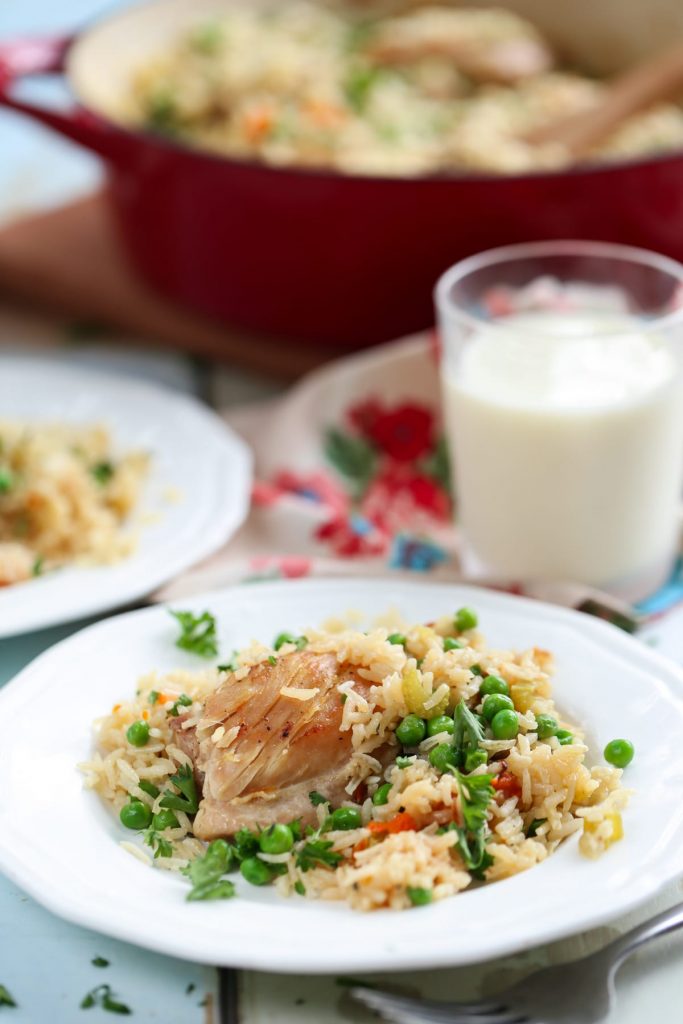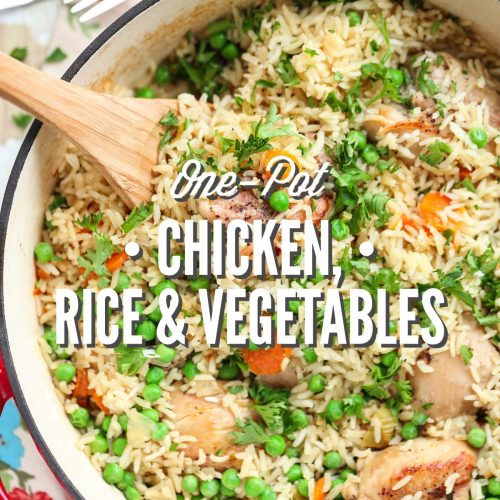 One Pot Chicken, Rice and Vegetables
One-Pot Chicken, Rice and Vegetables became a staple meal during our kitchen remodel. This meal was an all around winner: one-pot, quick, family-friendly, nourishing, and made with inexpensive ingredients.
Ingredients
8

chicken thighs

preferably with skin and bones but boneless and skinless will also work

1

tsp

salt

1/2

tsp

black pepper

3

TB

butter

or olive oil, divided

2

large

carrots

diced (about 1 cup)

2

celery stalks

diced (about 1 cup)

1/2

white onion

diced (about 1/2 cup)

2

garlic cloves

minced

1 1/2

cups

white rice

or brown rice, I like white jasmine rice

3

cups

broth

Vegetable or chicken broth work great. Water may also be used as a substitute

8

sprigs

fresh thyme

1

cup

frozen peas
Instructions
Sprinkle the chicken thighs with the salt and pepper. Set aside.

In a large pot with a lid (I use a

Dutch Oven

), over medium-high heat, melt 2 tablespoons of butter. Once the butter is melted, add the carrots, celery, and onion. Saute for 5 minutes, stirring frequently, until the onions are translucent and veggies begin to "sweat." Add the garlic and saute for 1 minute, until fragrant. Remove the vegetables from the pot and set aside.

Return the pot to the stovetop and melt 1 tablespoon of butter. Once melted, add the chicken thighs, skin side down. Cook the chicken thighs for 10 minutes until they are slightly brown and crispy. Turn the chicken over with tongs and cook for 4-5 minutes.

Add the vegetables back to the pot (with the chicken), followed by the rice, broth, and fresh thyme. Make sure all the ingredients are submerged in the broth.

Bring the broth to a boil. Once boiling, reduce the heat to a simmer and place the lid on the pot. Simmer for 25-30 minutes, until the rice has absorbed the broth and is fluffy, and the chicken is no longer pink. Before serving, add the peas and stir to combine. Allow the peas to rest in the rice until soft (2-3 minutes).

Serve warm.
Nutrition
Calories:
890
kcal
Carbohydrates:
69
g
Protein:
44
g
Fat:
46
g
Saturated Fat:
15
g
Cholesterol:
244
mg
Sodium:
1874
mg
Potassium:
830
mg
Fiber:
4
g
Sugar:
6
g
Vitamin A:
7295
IU
Vitamin C:
21.9
mg
Calcium:
83
mg
Iron:
3.1
mg
PS: If you want to see the beginning stages of the remodel, check out this post and the halfway reveal in this post.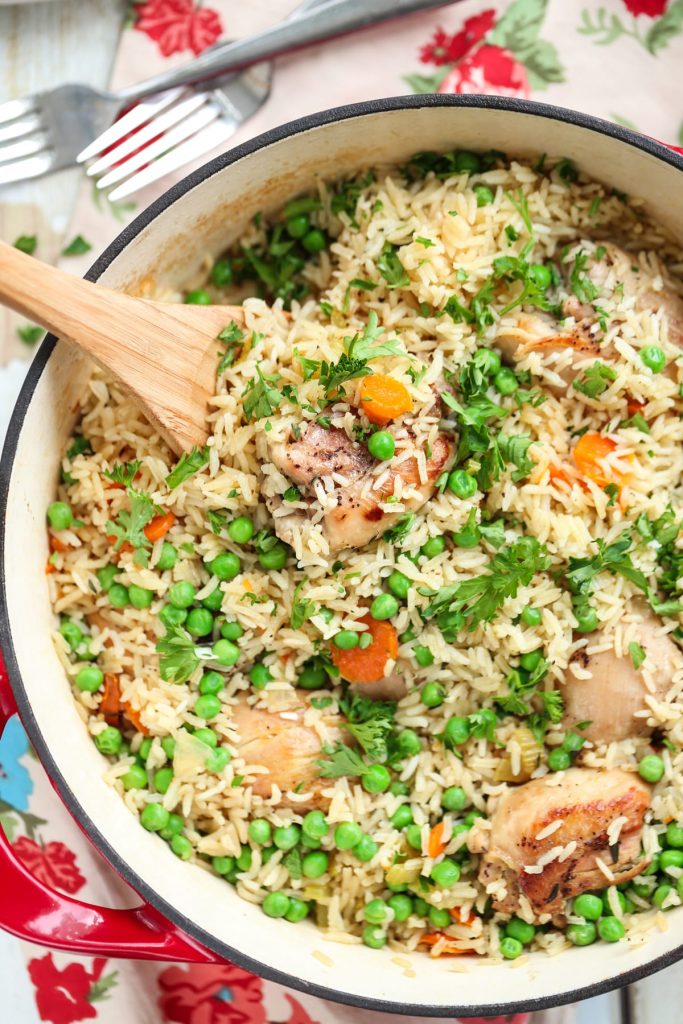 More Real Food You May Like: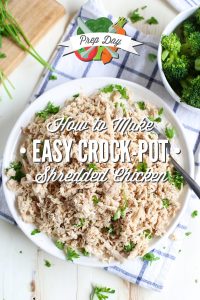 How to Make Easy Crock-Pot Shredded Chicken