This post may contain affiliate links. Affiliate links come at no extra cost to you. These links allow me to share the products I authentically recommend (and use) and support Live Simply by receiving a small commission.
A few years ago, just as I was jumping on the "crunchy" real food wagon, I started hearing about homemade laundry soap. The idea of making my own soap was intriguing and something all the cool crunchy moms did. There was no way I was going to fess up to using chemical-ridden Tide, so I joined the cool play-date moms and made my own.
The majority of recipes I found called for a bar of soap, Washing Soda, and Borax. Simple, cost-effective, and much safer than most store-bought detergents. I'll never forget the look on my family's face when I proudly announced my new venture, homemade laundry soap. You made what?
Of course, I was eager to test out my new creation. I poured in the powder soap, turned on the machine, and loaded the clothes. The sense of accomplishment I felt while my washing machine swished and swirled was like none other. Forget graduating college or landing my first real job, I just made homemade laundry soap!
The moment of truth came. I eagerly opened the machine and pulled out the first few clothes. Disappointment set in. Chalk-like stains decorated every piece of clothing I pulled out. Darn. I washed, rewashed, re-rewashed, kept washing. Nothing worked.
So, here I am, the creator and author of a simple living, all-natural blog and I use Tide. It's real around here. No judging. Just the plain ol' truth. I know it's not good for our clothes, skin, or the environment, but my family has a legitimate need–clean clothes. I can't send my husband to work stained and smelling like BO. The word is already out we keep chickens and drink raw milk, we don't need BO.
I've been conflicted. Wanting to make my own homemade laundry detergent, but stuck in the comfort and certainty of the store-bought detergent. I've spent many nap times, quietly sipping my coffee with toys scattered across the floor, the laundry pile starring me down, formulating the perfect homemade soap in my tired mommy-brain. A soap that's effective at fighting stains, odors, and doesn't ruin our clothes.
Finally, last week, I took the plunge, again. I ventured down the road of homemade laundry soap. With four simple ingredients and ten minutes, I whipped up the soap I've been formulating. Nothing fancy, just simple ingredients. After multiple tests, including a chocolate chip stain, I've decided homemade laundry soap is here to stay. Sorry, Tide, it's time to break-up.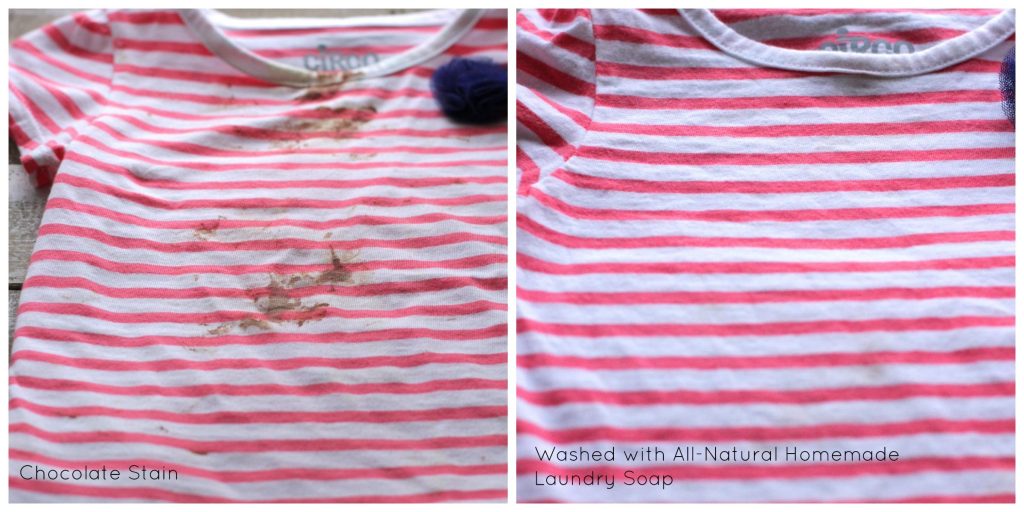 Meet my new go-to homemade laundry soap.
This simple laundry soap makes a little bit over one-gallon. The total cost of the ingredients is approximately $15. The ingredients can all be used multiple times, bringing the cost much, much lower. This homemade liquid laundry soap is highly concentrated which means you need only a small amount to get the dirty job done.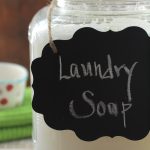 Homemade Liquid Laundry Detergent
Instructions
In a large saucepan, bring 6 cups of water to a slight boil. Once the water begins to boil, turn off the burner and add the

Borax

and

Washing Soda

. Stir to dissolve.

In a large bucket (I use a 2 gallon bucket from the hardware store), combine the remaining 11 cups of room-temperature water and 1 cup

Dr. Bronner's Liquid Soap

-15 drops Essential Oil (optional).

Pour the hot Borax mixture from the saucepan into the bucket.

Stir the mixture together.

Pour your mixture into desired storage container. I use a glass jar,

like this

, which I found at Target for a few dollars.

As the soap sits, the mixture may form into a gel. There may also be liquid and gel separation, simply stir or shake. This is normal. I use 1/8-1/4 a cup of soap per load of laundry. For stains, I use a small amount of soap directly on the stain. The gel will dissolve in the water of the washing machine.
When you introduce water into a product without a preservative you always run the risk of introducing bacteria, so I recommend using this soap quickly. If you don't think you'll be able to use the soap quickly, then I recommend reducing the recipe in half. Or, if you'd like to make a non-water-based powder recipe, you can find my recipe here.
HE Washers Note
This soap should work in an HE washer. You'll only need 1-2 tablespoons per load in an HE washer.
If you make this recipe, be sure to snap a photo and hashtag it #LIVESIMPLYBLOG. I'd love to see what you make!
My Free Crash Courses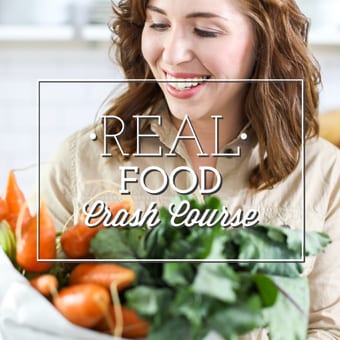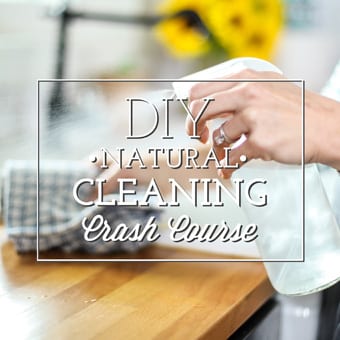 Subscribe to download the Courses