When lockdowns went into place a few months ago, the world went crazy for sourdough. Who knew that a virus and some time at home would lead to a worldwide sourdough revival.
If you still have an active sourdough starter sitting on your counter, today's recipe (sourdough banana bread muffins) is a must-make. And if you're new to sourdough, don't click away. You can make this recipe, too. I'll share how to do that below.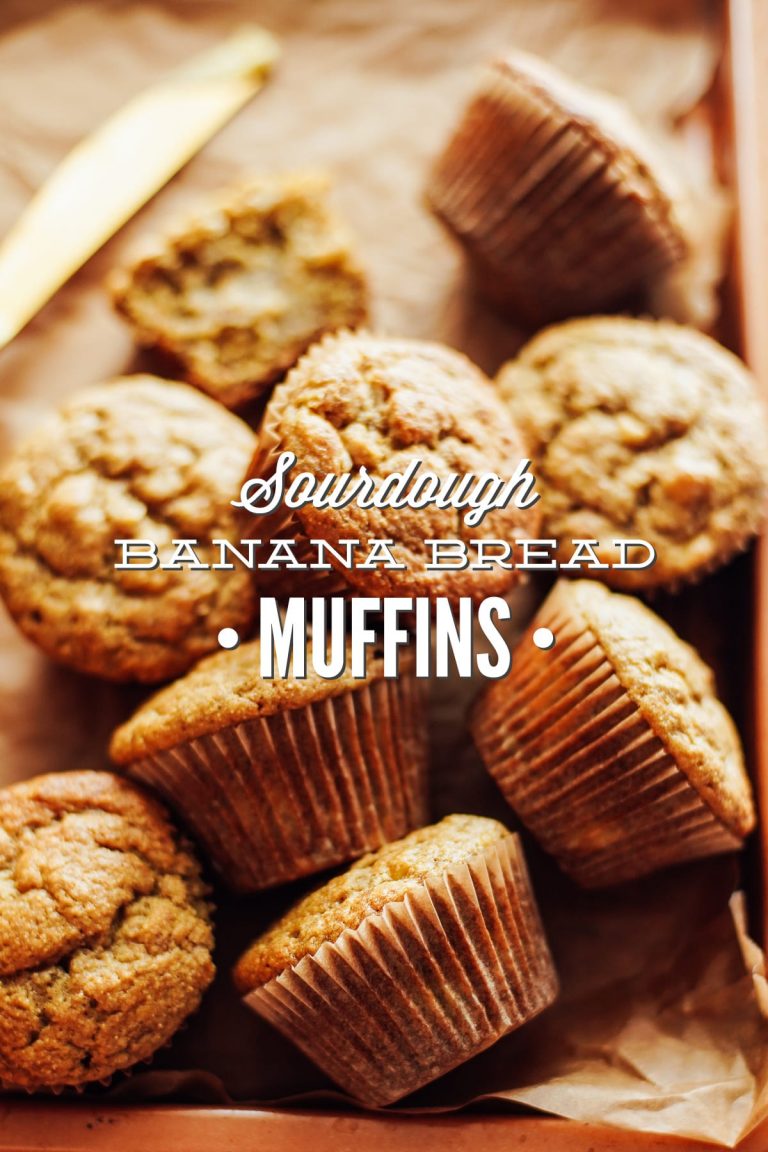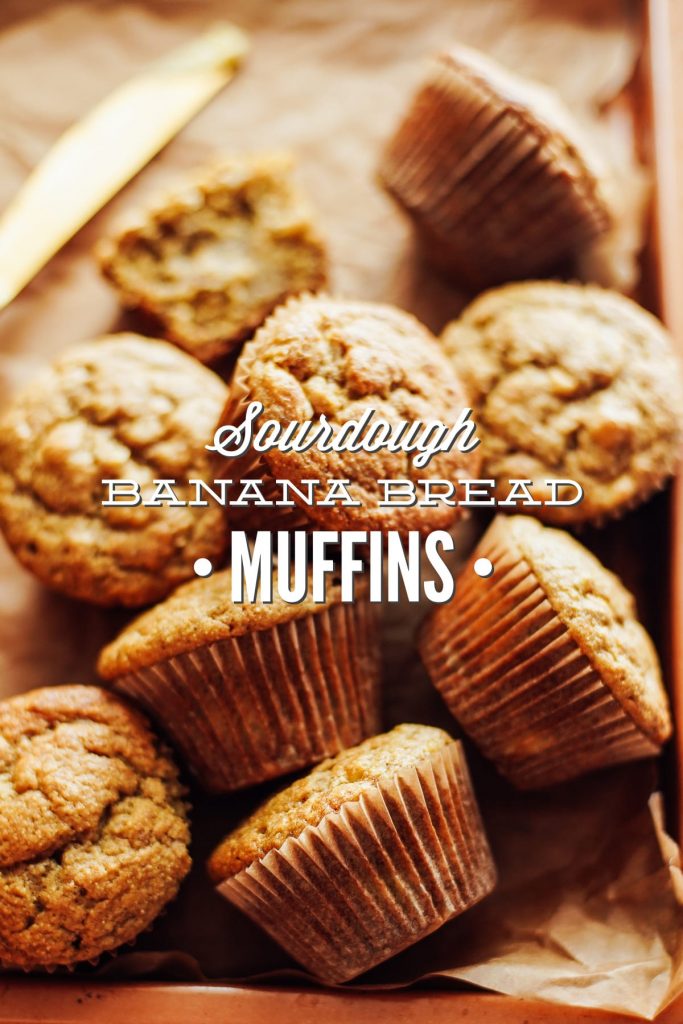 If you're new to sourdough, it's a topic we've discussed on the blog via the podcast before as well in posts. I recommend listening to this podcast all about sourdough.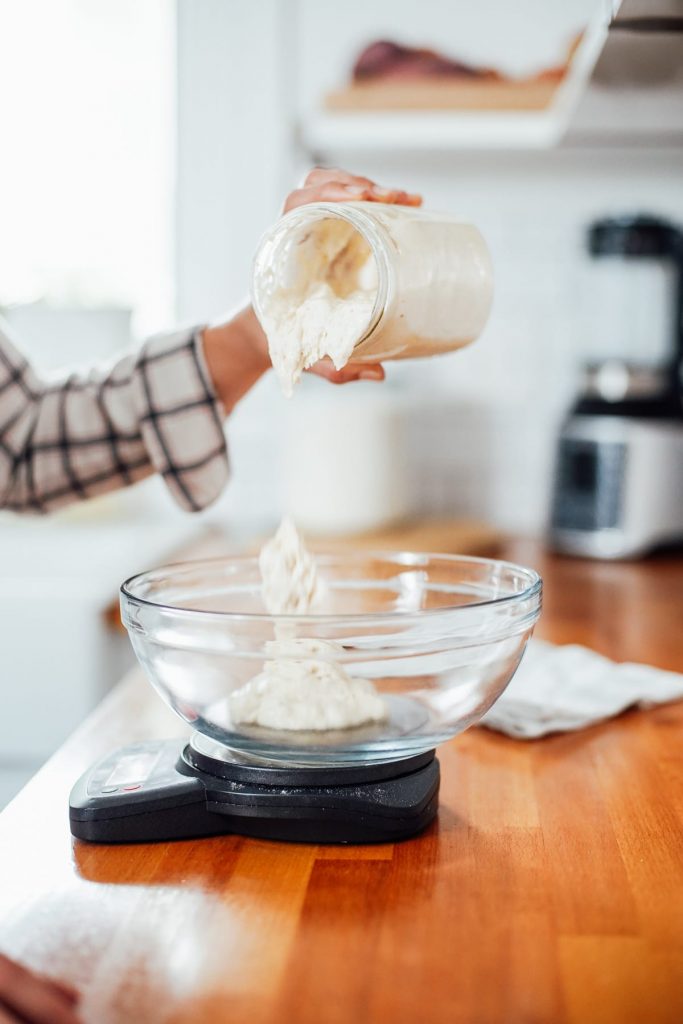 Sourdough is made by first creating a starter, which is simply a blend of water and flour and wild yeast. Wild yeast lives everywhere, so the intent of creating a sourdough starter is to capture naturally-occurring wild yeast and use it for baking bread. This means a sourdough starter, the base of every sourdough recipe, is full of life, literally, in the form of healthy and active bacteria.
This bacteria, when mixed with flour (and usually some water and maybe a few other ingredients) and given time (hours to rest and make a fermented dough), goes to work at breaking down (pre-digesting) the gluten and phytic acid found in grains. This makes sourdough easier to digest and full or beneficial nutrients. Sourdough is truly a magical process. It's fascinating to watch how something so simple (water, flour, and air) can create the most delicious breads, muffins, pancakes, waffles, crackers, and so much more.
(PS: If you have Netflix, I recommend watching Michael Pollan's Cooked and the episode about Air which is all about fermentation and sourdough.)
When it comes to sourdough, a lot of people think solely about crusty bread. But the truth is, you can use a sourdough starter to make just about any baked good, from muffins to crackers to waffles to cakes to biscuits and pizza dough. (Find 9 easy sourdough recipes in this post.)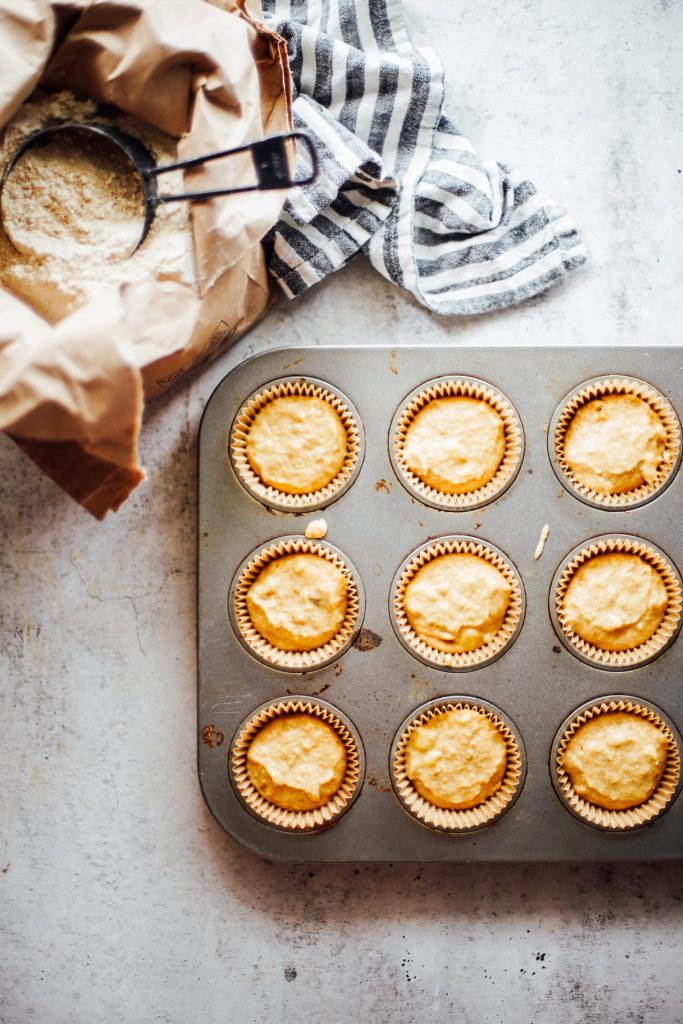 How to Make Banana Bread with a Sourdough Starter
To make sourdough banana bread muffins, you need a sourdough starter. You don't need to purchase a starter (unless you want to, or you can get a starter from a friend), you simply need to make one. Once you make a sourdough starter, it can last hundreds of years (even longer than its owner) and there are tales of starters being passed down by generations of bakers and within families. You can use the same starter for years to make a variety of different baked goods.
If you already have a starter that's mature and active (meaning it's bubbly and rises and falls each time you feed it), then you're ready to make today's recipe.
If you don't have a starter yet, now is the time to make one. It's time to join the rebirth of sourdough in our culture. You'll need flour and water and patience. It will take about 5-10 days before your starter is ready for baking. After that, it will be ready anytime you want to make something. To make a starter, follow this recipe.
Having a sourdough starter is like having a pet, you must feed it daily (unless you keep a mature starter in the fridge during a hibernation period when you aren't actively using it–for example: during the week your starter lives in the fridge when it doesn't require feeding and on the weekend you take your starer out and feed and use it.). Before feeding a starter (with flour and water), you have to discard half the starter first.
Many times, the discard portion is exactly that: discard. That is unless you have a purpose for that discard. With the sourdough discard, you can make pancakes, waffles, or today's banana bread muffins. You may also use active sourdough starter (as in, you recently fed the sourdough starter just a few hours ago and the starter is now growing and increasing in size). It's up to you, use discard starter or freshly-fed and bubbly starter–your choice as both work great in this recipe.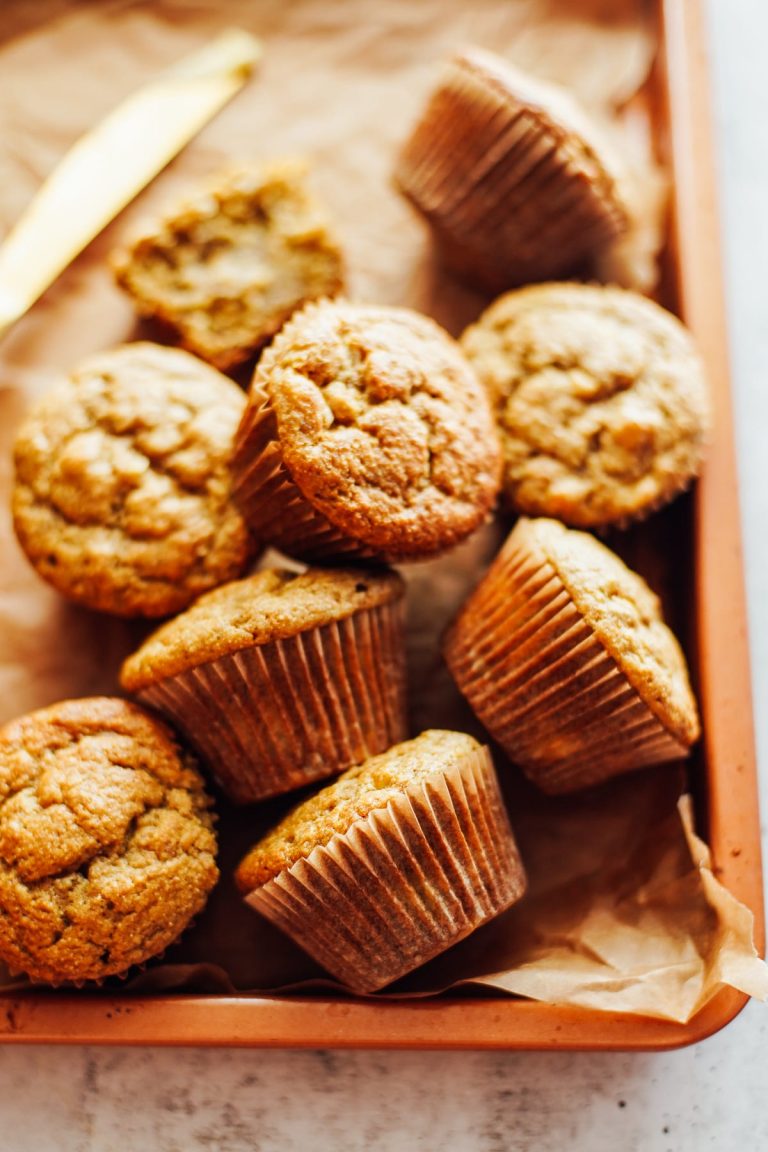 A Few Prep-Ahead Time-Saving Tips
Before we make this recipe, I want to mention a few time-saving tips.
This is a great recipe to add to your recipe list for the school year since the muffins may be made in advance and served for breakfast and lunch during the week.
The recipe doubles and freezes well. If you have a large amount of starter, double the recipe and store the extra in the freezer.
The muffins keep at room temperature for about 2 days. After that, store the muffins in the fridge or the freezer.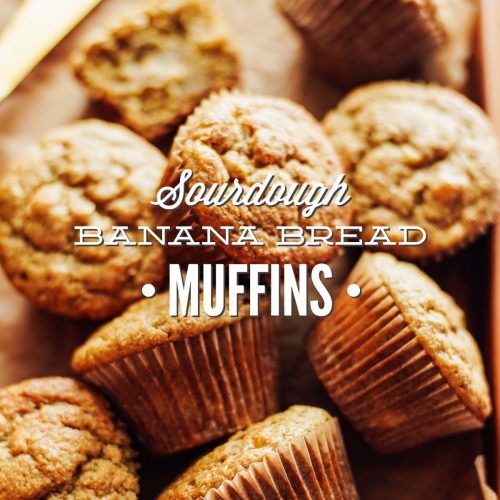 Sourdough Banana Bread Muffins
Ingredients
400

grams

overripe bananas

weighed without skin on (about 3 medium bananas)

100

grams

sourdough starter

discard or just fed within a few hours (your choice), about 1/2 cup

1/2

cup

unsalted butter

melted (116 grams)

1/3

cup

maple syrup

or honey (100 grams)

1/4

cup

kefir

or milk (60 grams)

2

eggs

1

tsp

pure vanilla extract

250

grams

whole wheat einkorn flour

(2 cups), I believe you could also use a different gluten-based flour, however, I haven't tested this recipe with other flours.

1 1/2

tsp

baking soda

1/4

tsp

salt
Instructions
Preheat the oven to 375F. Line a muffin pan with muffin liners. Or, if you prefer to make bread, line a standard-size bread pan with parchment paper.

In a large bowl, mash the bananas. Then whisk in the remaining wet ingredients: sourdough starter, unsalted melted butter, maple syrup (or honey), kefir (or milk), eggs, and vanilla extract.

Add the dry ingredients to the bowl: flour, baking soda, and salt. Stir to combine all the ingredients.

Fill the muffin cups with the batter (about 3/4 the way full). Reduce the oven temperature to 350F.

Bake the muffins for 22-25 minutes, or until golden brown and the tops feel springy and set when touched. If you prefer to make bread, add the batter to a bread pan and bake for about 50-60 minutes (or until a knife inserted into the center of the bread comes out clean).

Store at room temperature for up to 2 days (in an air-tight bag or container) or in the fridge for up to 5 days (or in the freezer for up to 2-3 months).
Notes
Mini Muffins: If you want to make mini muffins for the lunchbox or a toddler breakfast, this recipe will work in a mini muffin pan since there aren't any mix-ins (large chunks of blueberries, etc.) You'll need to reduce the cooking time to just about 12-15ish minutes (my guess). 
Chocolate Chips: I know a lot of people love chocolate chips added to banana bread. You can definitely add chocolate chips to the batter of this recipe. I'm guessing about 1 cup works best. 
Einkorn Flour: Since this recipe is not long-fermented, I like to use einkorn flour as it's easier to digest. Learn more about einkorn flour in this post. 
Nutrition
Calories:
161
kcal
Carbohydrates:
23
g
Protein:
3
g
Fat:
7
g
Saturated Fat:
4
g
Cholesterol:
36
mg
Sodium:
166
mg
Potassium:
169
mg
Fiber:
2
g
Sugar:
7
g
Vitamin A:
231
IU
Vitamin C:
2
mg
Calcium:
23
mg
Iron:
1
mg