This post may contain affiliate links. As an Amazon Associate I earn from qualifying purchases.
Each month we chat about making the switch to non-toxic products. The goal of this series is to take things slow, making one change at a time. 
So far, we've talked about non-toxic options for dish and dishwasher soap, toothpaste, and deodorant. I've also talked about my natural skincare routine. During these chats, I've shared my favorite products (both homemade and store-bought). If you don't want to wait for more chats, you can also pick up my digital resource, Natural Body Care Simplified. I've included printable product lists at the end of each section (makeup, face essentials, body) to help you find non-toxic products from head to toe.
Today, let's talk about a swap that is appropriate for the summer: sunscreen.
While I use a facial sunscreen oil year-round, I typically reach for full-on body coverage during the spring and summer months for myself and the kids. We spend a lot of time in the sun over the summer months, so extra protection is a must. Along with sunscreen, we also wear hats. Side note: Target has some really cute summer hats right now.
In this guide, you'll learn how to…
be an informed consumer and read ingredient lists
make your own body products using simple ingredients (i.e.cocoa powder, baking soda, oats, yogurt, honey)
determine what to buy versus make
There are a number of concerning ingredients in sunscreen products. The concern isn't chemicals (remember, everything is a chemical); rather, it's the effect particular chemicals may have on the body (i.e. hormone disruption). The Environmental Working Group wrote an informative article about these chemicals. I recommend reading it over here.
The products on today's list are my favorite sunscreen options. These are the products I've purchased with my own money and tried on my own family. I don't write sponsored brand content, partner with brands to promote a particular product, or take free samples.
I've included the EWG score for each brand/product. A 1 is considered the best score for a product, and the score increases from there based on the concerning ingredients in a product. You can search how well your sunscreen scores using this link (use the search bar "search for your sunscreen").
A quick note about using non-toxic sunscreen options. Most mineral-based sunscreen products start off very white on the skin so it's easy to tell when you need to apply more. This is only true with traditional sunscreen, not tinted moisturizers, facial products, or tinted lip balms. I've also found that most of these mineral-based products need to be applied a few times during the day, especially if you're swimming. 
Switching to Natural Products
Non-Toxic Sunscreen
This recipe was shared on Live Simply a few years ago. Over the years, many readers have made the recipe and loved it. Some folks have also expressed concern about making your own sunscreen at home. I get that. There are a ton of great products on the market today, so you don't have to make your own. I'm going to add this option in case you love making "all the things."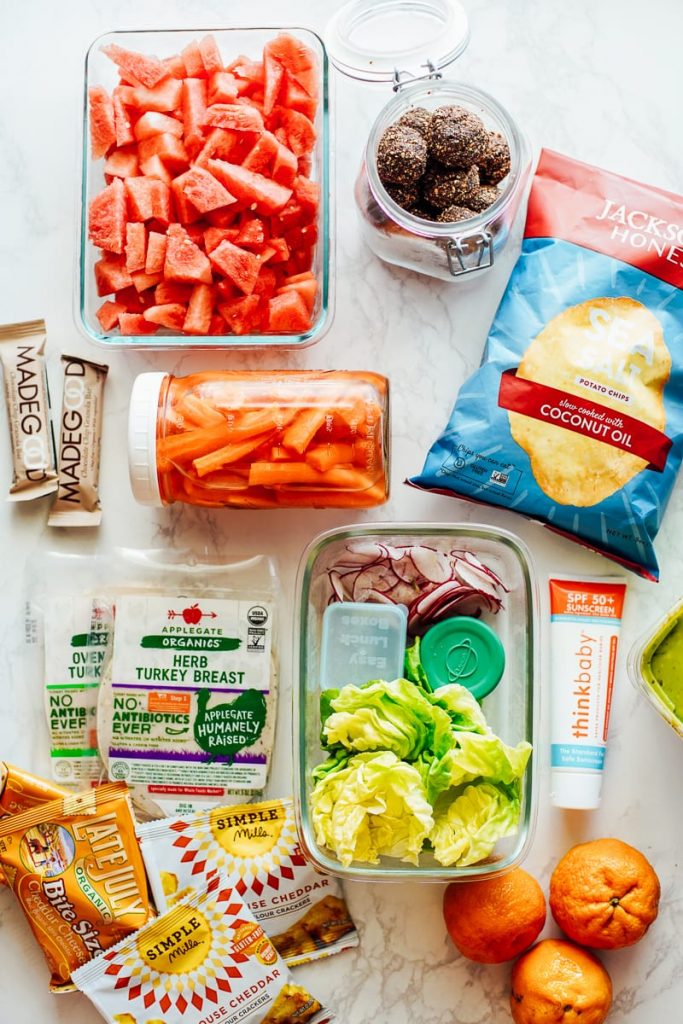 Currently (as of 2019), this is my favorite sunscreen. It works well (no sunburns, although I recommend reapplying throughout the day) and doesn't leave us looking like ghosts while at the beach or park. Plus, it's easy to find at most health food stores and Whole Foods, or on Amazon. And it's very well priced.
Environmental Working Group Score: 1 (both, Think Sport and Think Baby) 
This is one of the easiest sunscreen options to find. I've used the Badger line of sunscreen products on my kids for several years. I've used the Tangerine and Vanilla. The products are available at most health food stores and on Amazon. The sunscreen options range from SPF 15-35.
Environmental Working Group Score: 1 (nearly all sunscreen products)
This brand makes a variety of sunscreen options, ranging from regular sunscreen to a BB cream with SPF. I've found Coola to be incredibly effective, although it's not always easy to find (online only in my area). The company sells squeeze tubes, sticks, and spray options. Coola also makes a SPF 15 lipbalm (not tinted). The sunscreen options range from SPF 15-50.
Environmental Working Group Score: varies depending on product, ranging from 1-3. View the results on the EWG.  
The company sells squeeze tubes, sticks, and metal tin options. Their sunscreen butter, which is my favorite in the line, is labeled "very water resistant" and "reef friendly." All Good also makes tinted lip balm with SPF 15. I'm planning to try the lip tint this summer. The sunscreen options range from SPF 18-50.
Environmental Working Group Score: 1 (all sunscreen products)
This sunscreen came highly recommended by numerous reader friends on Instagram. This is the one sunscreen on this list that I haven't used yet. The company makes both a tinted and regular sunscreen option. Just like All Good, Raw Elements sells sunscreen in squeeze tubes and metal tins. Every sunscreen product is SPF 30.
Environmental Working Group Score: 1 (all sunscreen products)
This is another easy-to-find sunscreen brand. I personally think this product performs just as good as Badger. My recommendation is to choose the option that's easiest for you to find. One product that stands out to me as unique is the SPF Face the Day Sunscreen Firming Primer. If you don't want to go the tinted moisturizer route, but also don't want to use a facial sunscreen, this may be a good option. The sunscreen options range from SPF 30-50. 
Environmental Working Group Score: 1 (most sunscreen options). Goddess Garden makes a few products that don't score very well with the EWG. Stay away from the tinted lip balm and spray products.
I used BeautyCounter sunscreen (the squeeze tube) a couple of summers ago, and was pleased with how well it works. I didn't continue using it due to the price ($32) and the fact that I can only order through the BeautyCounter website. BeautyCounter sells a variety of application options: stick (for face and body), squeeze tube, and a lip balm. The sunscreen options range from SPF 15-30. BeautyCounter also makes a tinted moisturizer called, Dew Skin. I've used Dew Skin in the past and really enjoyed it. The only reason I stopped buying it was the price point ($45 for a tube that didn't last very long). 
Environmental Working Group Score: 1 (sunscreen options), 2 (lip balm). I don't know how well the new Countersun products work or how well they score.
This is the facial sunscreen I love and use year-round. I personally wouldn't recommend this oil as all-day body protection at the beach (at least not in the tropical Florida sun), but for daily life this stuff is awesome. Plus, the fact that it moisturizes and improves my skin (due to the wonderful oils) is a huge plus–it's almost like a daytime serum. You can read more about the SPF of this sunscreen on the product page (linked above).
Environmental Working Group Score: N/A The EWG doesn't usually score small company products. But based on the ingredients my guess is the score would be a 1.
I use W3LL People makeup (mascara, blush, and face powder). I love their makeup and the accessibility of the products (sold at Target stores nationwide). The fact that I can run to Target to purchase this product is a huge plus (hello, convenience). I purchased this product last week and I'm in love. IN LOVE! It goes on smooth and gives me a dewy look. And the coverage is fantastic. It's by the far the best non-toxic SPF tinted moisturizer I've used. My plan is to use this moisturizer and the Luminance oil all summer. I'm wearing Light. 
Environmental Working Group Score: 2 (all tinted facial moisturizers)
Everything this man makes is incredible and he puts such intention behind the ingredients used. The day cream with SPF 30 comes in a non-tinted and tinted option. It's on the higher end of the price scale, but if you're looking for a non-tinted option, this is my top pick.
Environmental Working Group Score: no score as this is a smaller company, all the ingredients are 100% safe 
I'd love to hear what you're loving and using in the comment section below. Sharing is incredibly valuable for the community. We're all on this journey together.