If you're like me, it's way too easy to get into a salad rut. So let's fix that today with an arugula salad recipe that will spice things up this summer. Today's arugula salad is the perfect blend of fresh greens, leftover (sourdough) bread, peaches, and soft goat cheese (or feta if you're not a goat cheese person).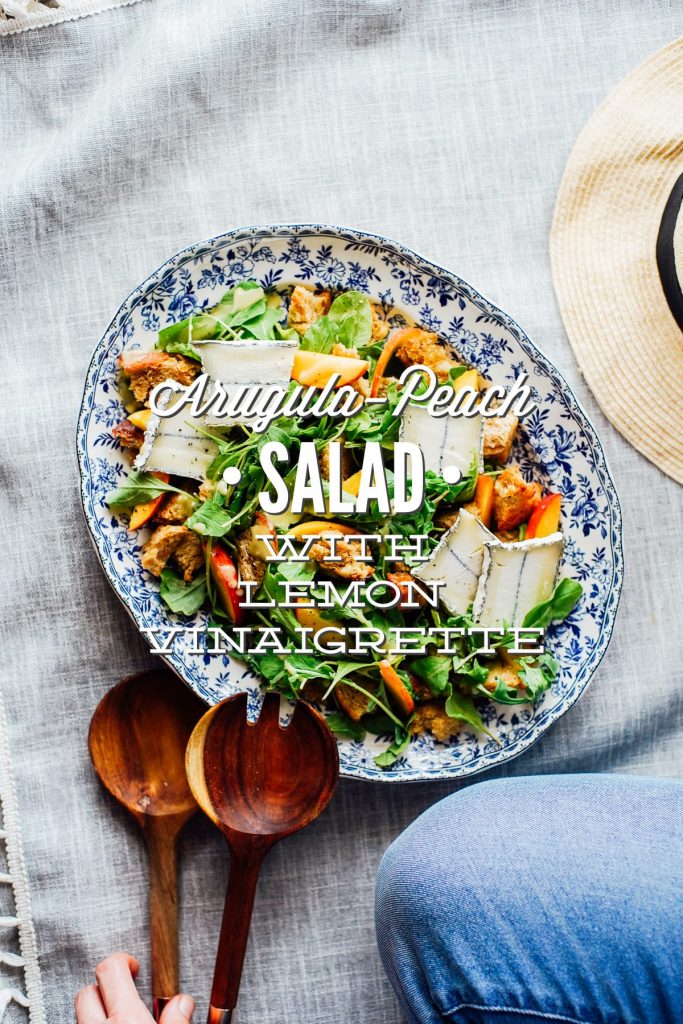 Arugula, also known as rucola, salad rocket, or Italian cress, is one of my favorite salad greens. It's a break away from traditional, mild tasting greens that are often used to make salads. Arugula originated in the Mediterranean region and is more of a baby green in that it's delicate but has a robust, almost spicy flavor. Arugula can be enjoyed as-is, as a salad green, on top of a burger, on top of avocado toast, or tossed with pasta. It can also be used to make pesto (just sub out the basil for arugula).
Interestingly, arugula is part of the Cruciferous family of vegetables. Also in this category:
bok choy
broccoli
Brussels sprouts
cabbage
cauliflower
collard greens
horseradish
kale
radishes
rutabaga
turnips
watercress
I personally try to incorporate cruciferous vegetables into my diet daily due to the positive impact they have on lowering estrogen on the body and hormone health. This is something we talked about in this episode of the podcast. If you're a woman, I highly recommend listening–hormone health is something we should all be talking about.
Secrets for Making an Incredible Salad
Last summer, I shared how to make an amazing salad (AKA: how to make salad that doesn't taste like crap). In that post, I shared a few "secrets" to making an amazing salad. In a way, these secrets are mistakes to avoid. Mistakes that I see many people making, like using store-bought salad dressing and serving wet greens. If you want to read that post in all its glory, check it out here. Below are 3 tips or "secrets" that are particularly important to consider when making this salad.
1. Fresh Ingredients Matter
Quality ingredients that are fresh and in-season are going to taste 1000 times better than any veggie or fruit that was picked before its prime and then shipped from halfway across the world. If you've been following me over the past year, particularly on Instagram, then you know that I'm a huge advocate for shopping seasonally, particularly from local farms or farmers markets. When you shop local, you're getting the freshest, most seasonal food. You're enjoying food that's essentially grown in your backyard. And this freshness is reflected in the taste.
Today's salad takes advantage of the freshness of summer and the season's best ingredients. So you already have a head start with making an amazing salad.
If you can, get out of the grocery store this season and find a local farmer's market, farm, or a produce stand. Here are a few ways to find local farms and farmers markets in your area:
Weston A Price Chapter Leader: There are various "leaders" throughout the country. These leaders are a wealth of knowledge when it comes to finding local food sources in your area. And don't feel weird about reaching out to a leader–this is their passion and the reason their contact information is listed on the website.
Localharvest.org: An online database for farms and farmers markets. Find farmer's markets, farms, and CSA communities (community supported agriculture) in your area.
Eatwild.com: Another online database for farms and farmers markets, dedicated to helping people find local grass-fed meat, eggs, and dairy.
2. Make Your Own Salad Dressing
A salad dressing will make or break a salad. Yea, it's kind of a big deal. For this reason, I recommend making your own dressing. I know, you're probably thinking, What? First a farmers market and now homemade salad dressing? Hold on, stick with me…
Most store-bought salad dressings are far from simple, real foods. Most are made with preservatives (which is understandable for a product that needs to last many years), hydrogenated oils, and even artificial colors and flavors (check out this post to learn more). Next time you're in a grocery store, even a place like Whole Foods, pick up a few salad dressing options and read the ingredient lists. It's an eye-opening experience. Plus, in terms of flavor, a store-bought dressing will NEVER compare with a homemade dressing. The taste difference is considerable.
In today's arugula salad recipe, I've provided you with the instructions for making a simple and homemade lemon vinaigrette. This dressing is perfect for dressing the delicate arugula leaves, but it may also be saved and used to serve with multiple other salads during the week. I make this dressing weekly and use it on all salads.
3. Dry Your Greens Thoroughly
No one wants soggy greens. NO ONE! It's super important to have dry leafy greens when making a green salad. Why? Because if water is left on the greens, the dressing won't stick to the greens. The extra water will make your salad dressing taste bland, due to the added water content in your salad. Just say no to wet greens and thoroughly dry them before tossing the greens with the rest of the ingredients and dressing. I recommend washing your greens before using and then drying with a salad spinner.
Now let's make a salad!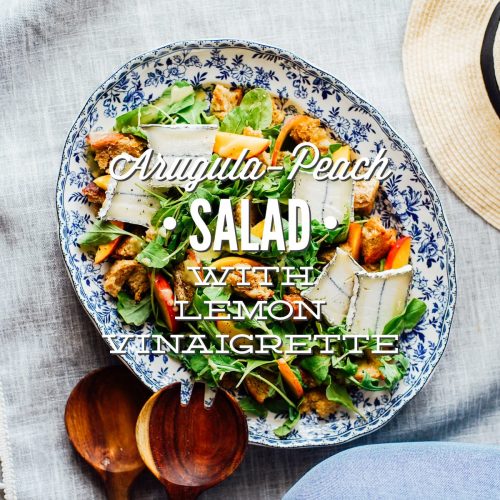 Peach, Arugula, Goat Cheese Salad
A summer salad made with the season's best ingredients: greens and peaches. Topped with homemade croutons, goat cheese, and a homemade lemon vinaigrette. This salad is the perfect blend of fresh greens, leftover bread, stone fruit, and soft goat cheese.
Ingredients
Instructions
For the Croutons:
Preheat the oven to 375°F.

Toss the bread squares in the olive oil and spread them on a baking sheet lined with parchment paper. Parchment is optional if your baking sheet doesn't have an issue with food sticking. Sprinkle the bread with a pinch of salt. Bake until the bread is crispy, or about 15 minutes. Set the croutons aside and allow to cool.
For the Salad Dressing:
Add the olive oil, tahini, lemon juice, apple cider vinegar, garlic, salt, and pepper to a small jar (an 8-ounce mason jar works well). Seal the jar with a lid, and shake to combine the ingredients. Use the dressing immeadiately (see directions for salad assembly below) and reserve any extra to store in the fridge for up to 2 weeks. This is a great all-purpose dressing to use any salad.
For the Salad:
Add the arugula leaves and fresh herbs (if using–I love a mixture of mint and basil or just basil) to a large plate or salad bowl. Arrange the peach slices throughout the salad, along with the goat cheese (slices or crumbles, always best served at room temperature), and the cooled croutons. Before adding the salad dressing, sprinkle the salad with a pinch or two of salt and fresh pepper. Dress with as much salad dressing as desired. This salad will not keep, so it's best consumed after making. To make this a meal, add shredded chicken, shrimp, salmon, or grilled steak.
Nutrition
Calories:
663
kcal
Carbohydrates:
70
g
Protein:
18
g
Fat:
36
g
Saturated Fat:
7
g
Cholesterol:
7
mg
Sodium:
822
mg
Potassium:
503
mg
Fiber:
7
g
Sugar:
14
g
Vitamin A:
1063
IU
Vitamin C:
17
mg
Calcium:
244
mg
Iron:
6
mg