It's time for a little chat today, one that's been a long time coming, and I feel needs to be hashed out. Ready?
Grab your coffee or better yet, pumpkin spice latte and a comfy chair.
My family's real food journey started out quite simple, yet complicated: a documentary, dare, the produce section, and veganism. See, simple-complicated. Let me bring you up to speed.
Years ago, I discovered the documentary Food INC. A much anticipated documentary which exposed the true horrors and secrets of our current food system. I watched the film over and over, mortified at the system I trusted and realized change had to be made.
One night at dinner (after watching Food INC. way too many times), Dustin issued a dare, "I bet you can't shop from just the produce department of the grocery store for a week!" I'm not one to turn down a good dare (within reason), and since I knew this was exactly the kind of change we needed, I accepted. That week was hard, but amazing.
With my knowledge of Food INC. and a new feel-good dare mastered, I decided to take the plunge into veganism. Essentially I kissed bacon, burgers, honey, and anything that comes from an animal good-bye.
Veganism opened up a new world for me. Suddenly I couldn't just reach for a package of ground beef or eggs, I had to dive into new foods with a creative flare. I learned the art of cooking green leafy veggies and how to cook beans from scratch (something I thought only came from a can). I enjoyed being a vegan, but after about a year my restrictive diet began to take a toll on my health and social life.
I began to crave meat like my life depended on it, but did my best to dismiss the intense cravings. Social outings were far from pleasurable as I spent most of my time with friends and family worrying about the bread on my plate and if it contained eggs or honey. Food consumed me. I began to worry about food and obsess over my every meal. Neither of which were healthy. I also became pregnant during this time with my first child and began to experience energy lows which I blamed on the "I'm huge" aspect of my life.
Two years later, Dustin and I faced a decision: make dietary changes for our son (you can read his story here) or continue on our restrictive diet. We chose to make changes, and slowly introduced grass-fed meats into our home along with raw milk and cheese. Freedom and health were restored. I realized that my restrictive eating had caused health issues for myself and our son along with unnecessary stress over food.
Over the past couple of years, since our change, it's been my mission to cook and serve my family nourishing food. Yes, we avoid processed food, but my kids partake in the store-bought cake at birthday parties. Yes, we purchase grass-fed meats from a farm, but I'm not going to leave a family gathering due to a beef stew prepared with conventional beef. It's a matter of doing the best we can, but not letting food rule over us in a stressful, all-consuming way.
This is where I wanted to end up in our conversation. Is your coffee cup almost empty? I promise, I'm almost done.
When I started Live Simply, our family had wholeheartedly embraced Nourishing Traditions (a phenomenal book which I highly recommend reading). Along with consuming good fats in a well-balanced diet, Sally Fallon strongly encourages soaking, sprouting, or souring grains before they are consumed. It's because of this recommendation that many of my first recipes on Live Simply were soaked (such as this pancake recipe).
Over the last six months, I've moved away from soaking or sprouting all of our grains to just using plain ol' non-soaked grains. I believe soaking, sprouting, and souring are excellent for digestion, but these practices started to consume me. Creating soaked recipes can be incredibly time-consuming and often hit or miss which means lots of time in the kitchen and a ton of failed results.
I'm learning the art of balance once again. The art of cooking from scratch with wholesome ingredients and techniques, but not letting food and its preparation consume me in a way that's stressful or worrisome. You'll still find me soaking, souring, or sprouting my grains from time to time, but I've also embraced using plain ol' grains and flour.
Simple real food is not about embracing by an ideology that bogs one down, but rather finding enjoyment and pleasure in the art of good, real food prepared by loving hands. An art which I'm once again learning to embrace by letting go of perfection and worrisome ideology.
After all this talk (thank you for letting me share), I'm sure you're hungry and since we're putting perfection behind, I know you'll love a non-soaked, sprouted, or soured muffin complete with the flavors of a fall: pumpkin and warm spices. I'll pour you another latte; stay, sit, and let's enjoy a pumpkin muffin together prepared with love and wholesome ingredients.
Whole Grain Pumpkin Muffins with Oat Streusel
I'm sure you're hungry and since we're putting perfection behind, I know you'll love a non-soaked, sprouted, or soured muffin complete with the flavors of a fall: pumpkin and warm spices. I'll pour you another latte; stay, sit, and let's enjoy a pumpkin muffin together prepared with love and wholesome ingredients.
Ingredients
2

cups

spelt flour

or whole white wheat flour

1

tsp

baking soda

1/2

tsp

salt

1

TB

pumpkin pie spice

3/4

cup

pumpkin puree

homemade or canned

1/2

cup

honey

1/2

cup

butter

softened

1/4

cup

unsweetened applesauce

avoid applesauce with corn syrup or added sugar

1/3

cup

whole milk

2

eggs

beaten

1

tsp

pure vanilla extract
Instructions
Preheat the oven to 350F. Grease a muffin pan (I use coconut oil) or line with muffin liners.

In a medium-size bowl whisk together the dry ingredients: flour, baking soda, salt, and pumpkin pie spice. Set aside.

Using a stand-mixer (a hand-mixer or wooden spoon will also work), beat the butter and honey together until creamy. Stir in the applesauce, milk, eggs, and vanilla extract.

Stir the dry ingredients into the wet ingredients until combined. Spoon the batter into the muffin pan.

For the streusel top: In the dry ingredient bowl (now empty), place the butter, oats, flour, and sucanat. Using your hands work the mixture together until it's lumpy and the ingredients are combined. Place a small teaspoon (more or less) of streusel topping on each muffin.

Bake for 22-25 minutes, depending on size of the muffins.

Serve once cool or freeze for busy a morning or snack.
Nutrition
Calories:
503
kcal
Carbohydrates:
65
g
Protein:
9
g
Fat:
22
g
Saturated Fat:
12
g
Cholesterol:
106
mg
Sodium:
604
mg
Potassium:
136
mg
Fiber:
7
g
Sugar:
30
g
Vitamin A:
5460
IU
Vitamin C:
1.7
mg
Calcium:
44
mg
Iron:
3.2
mg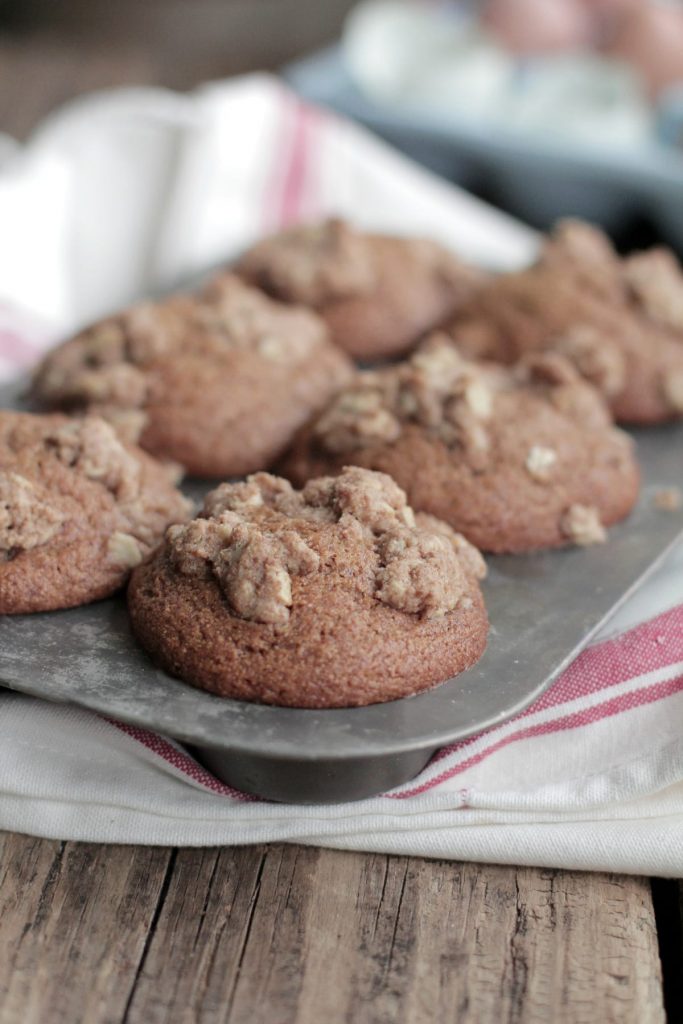 More Recipes You May Like:
Almond Flour Pumpkin Glazed Donuts