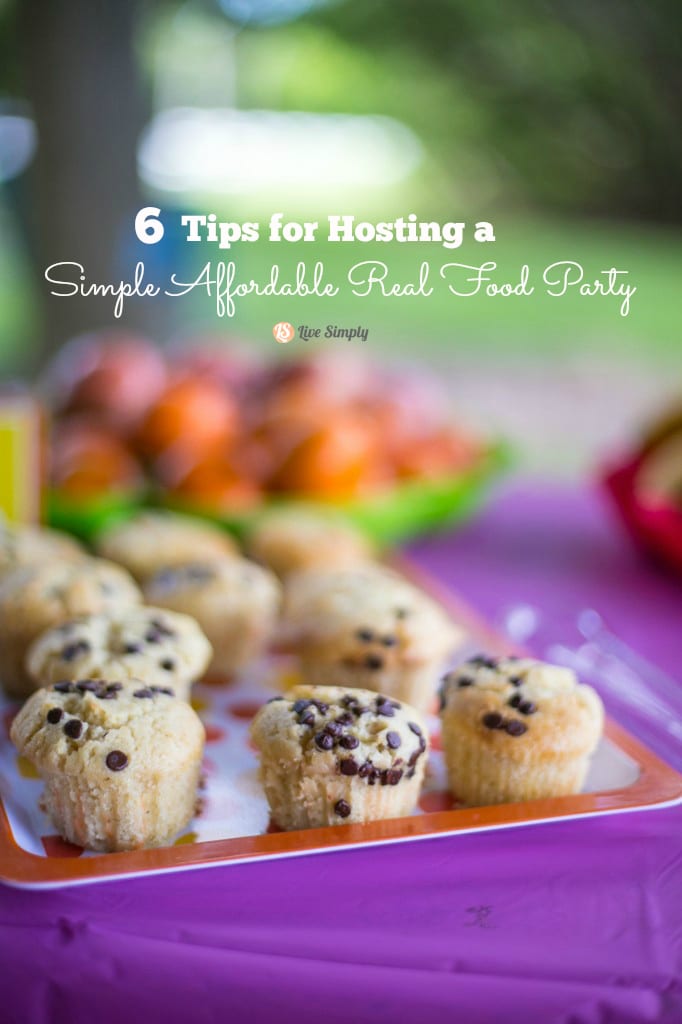 A Note From Kristin
I'm so excited to introduce another amazing blogger joining the Live Simply Creative Team, Christina from Christina Maldonado Photography. Christina has an amazing talent for capturing life through photography, creating, thrifting, and beautifying just about anything with a simple touch. Check out Christina's author-box (at the bottom of this post) to learn more about her blog and life.
It's that time of the year again.
You want to throw a party and celebrate your little one's big day. A special party to celebrate the accomplishments and growing is to be revered. If you're anything like me, you've been planning the perfect party in your head for months. Aimlessly pinning ideas for hours (to be totally honest, more like days) onto your "secret" Pinterest board. Dreaming of bounce houses, character appearances, DIY projects galore, and a smorgasbord of delicious food.
Somewhere in the midst of my birthday daydreams, I started to have "flash backs" from last year's party. The months (literally!) of planning and endless preparation, the three tiered cake that ended up collapsing in transit, the unexpected rain and all the stress that came with planning a huge soiree. After a few moments, I came to realize that I didn't even enjoy her party because I was so consumed with what needed to be done.
I decided that this year would be different! This year's party would be simple, fun, real, and not deplete my bank account. Today I am going to share with you my six tips on how to keep a kid's birthday party simple, affordable, and real without the processed junk or unwanted stress.
1. Set a budget: The easiest way to get started planning, is to know what you have to work with. Set your budget, allot an amount for each category (food, decorations, games, etc), and stick to it. My budget this year for my daughters party was only $100.oo!
2. Choose a location that's all inclusive for your needs: Last year I spent a lot of time and effort setting up tents, tables and chairs in my backyard for my daughter's party. This year I wanted a location that had everything I already needed, easy peasy. I decided to host the party at my daughter's favorite park. It was shaded, had a pavillion with picnic tables and best of all, it was free.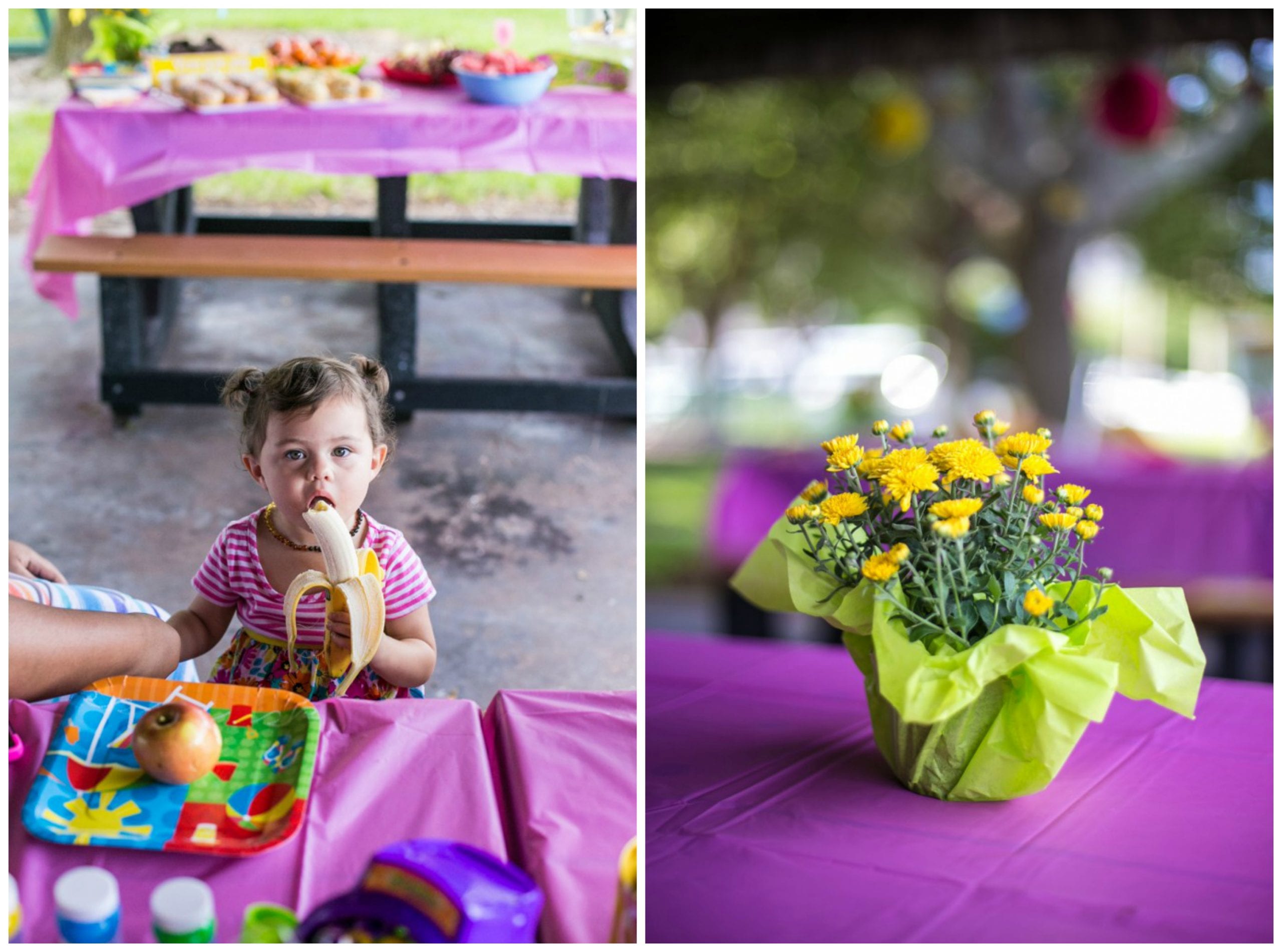 3. Use what you already have: I bet you have a plethora of items in your home that you could incorporate into your next party. I had saved the drink dispenser and serving trays from her party last year, so I used those. The activities for the kids were items that we already had in our home – bubbles, bubble machine, chalk, hoola hoops and beach balls. Seasonal flowers that can be planted later can be used to decorate tables. I even used frames from my kitchen wall to frame my free printables I found on Pinterest. This is where you can get really creative!
4. Food– think homemade, nutritious and simple: Since we decided to have the party in the morning, I decided on a kid-friendly breakfast theme by serving an assortment of fresh fruits and pastries. Instead of having an array of different drinks, we opted for fruit infused water. My goal was to serve nutritious real food, that didn't require utensils or prep time the day of the party. Keep party favors free of junk food by assembling a small bag with an organic lolipop and little tub of homemade playdough with a cookie cutter.
Here are a few ideas for real food options that are party-friendly:
Fruit platter with dips: peanut butter, yogurt with honey
Whole fruits (pictured below): apples, oranges, bananas, grapes, watermelon
Homemade sandwich bites or wraps: pb&j, shredded chicken, ham & cheese, burritos
Muffins: blueberry, chocolate banana, zucchini (I promise, the kids won't even know they're eating zucchini)
Homemade pizza bar: If the party is in your home, prepare dough, sauce, shredded cheese, and a few toppings. Allow the kids to roll-out mini dough balls and cover with toppings. Bake the pizzas at 450F for 10 minutes.
Taco bar: Prepare crock-pot chicken fajitas for a no fuss meal option. Serve with tortillas and toppings. Kids and parents will love creating their own homemade tacos.
Fruit infused water: fill large serving pitchers with water and desired fruit combos (such as raspberries and strawberries or oranges). Allow the pitchers to sit in the fridge overnight and then serve.
Birthday cake or cupcakes: homemade cake or grain-free chocolate cake. These recipes can also be turned into cupcakes for an easier option.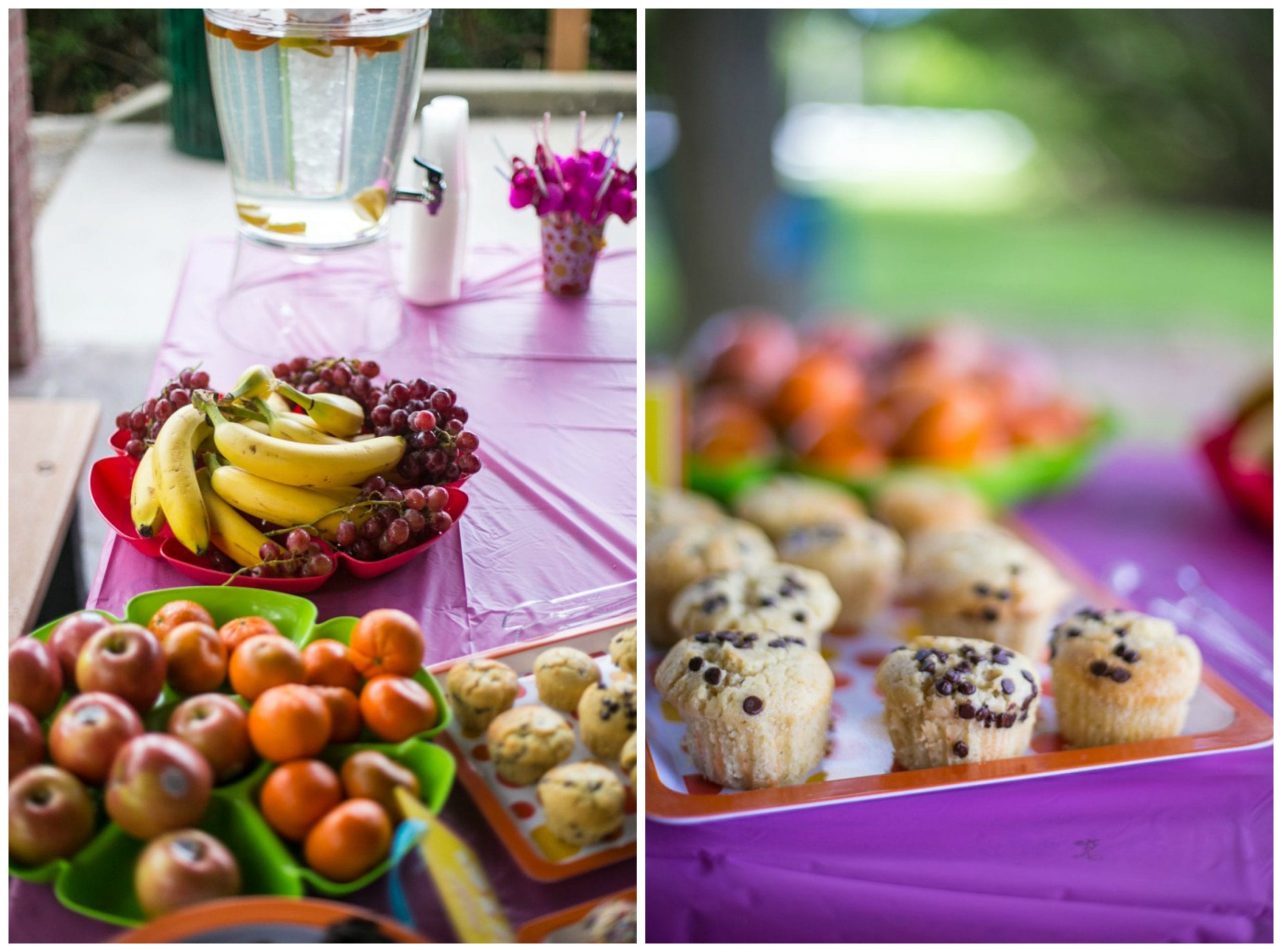 5. Send invitations electronically: Several years ago electronic invitations would have been taboo, but in this day and age it's almost a necessity. Not only does it save you the time and money from physically mailing invitations, but most event programs sync to google maps to provide directions to your guests. Try Facebook events or Evite.
6. Remember to relax, have fun and be present: Sometime's we need to step away from technology and just live in the moment. If you're worried about capturing the day, hand the camera to a friend. Or better yet, hire a professional to capture the day for you. During the party my daughter made it to the top of the rock climbing wall by herself for the first time. When she got to the top, she threw her hands in the air victoriously. I was so happy to be present with her in that moment, they are only little for so long.
A birthday party is about celebrating your child. Remember to keep things simple with easy real food options, a practical budget, decorations you already own, simple invitations, and most of all a relaxed and enjoyable atmosphere. With these simple tips your child will have a healthy and fun party that can be remembered for years to come.
If you are interested in seeing more images from the party, please view them here: Amora's Frozen inspired second birthday.
More Kid-Friendly Tips You May Like: