After Dustin and I made the choice to remove processed food from our lives, I read every book I could get my hands on about the problems with the industrial food system, real food, and sourcing food. I was hungry for information.
Before this, our main food sources consisted of overly-processed packaged foods and just a few veggies: baby carrots, broccoli (in a microwave bag), and potatoes (wrapped in plastic and cooked in the microwave).
As I read more about real food (many thanks to Michael Pollan for opening my eyes to the world of "real food") and how to source this food, I decided to broaden my grocery shopping to include more local sources: farmers, markets, butchers, and small health food stores.
One of my first experiences with sourcing food outside the big, conventional grocery store was at the Saturday Morning Market in St. Pete. I remember strolling the small booths, looking at all the veggies, wondering what I was supposed to do with them. Do people really eat all of this? I wondered. How do you prepare this weird purple bulb thing? And what about all these leafy greens? What am I supposed to do with them? 
It took me a full year of visiting the market to finally feel adventurous enough to start picking up different veggies, like: kohlrabi, fennel (still not a huge fan), beets, squash, and different lettuce and leafy green varieties. I challenged myself each time I visited the market to try one new veggie. Just one.
Over time, I began to take great joy in trying new vegetables. Sometimes the new (to me) veggie was a big hit. Other times, we didn't care for a particular veggie. Because of this, I had to push myself to find new ways to prepare vegetables, in hopes that we would fall in love with a different preparation method and the resulting meal.
Zucchini quickly made Dustin's "it's okay, but I'd rather not eat it" list. Instead of giving up on zucchini, I discovered favorable ways to prepare it: roasted, baked in muffins, and blended in smoothies.
A few months ago, in preparation for summer and zucchini season, I asked Laura (a recipe developer/tester for Live Simply) to create a zucchini lasagna. I figured Dustin might not be too thrilled about eating multiple test samples of a zucchini-based lasagna.
After Laura finalized the recipe, I made the zucchini lasagna for dinner, using a giant zucchini from the farmer's market. Dustin wasn't too sure about the idea of a zucchini-based lasagna (Keep in mind, lasagna is his favorite meal. It would be an act of treason to ruin it.), so I tried my hardest to set him up for success, "I think you'll like this! The recipe calls for cheese and meat!"
Dustin raved about dinner that night, "It's so good! I can't believe this is made with zucchini instead of traditional noodles." And he insisted that I make the lasagna again.
Another point for zucchini (and Laura).
Before sharing the Dustin-approved zucchini lasagna (which means it's really good lasagna), let me share a few thoughts on embracing different veggies, particularly if you're making the transition from eating processed food to enjoying a variety of real food (including different veggies). These thoughts are entirely based on what's worked for our family over the years…
1. Don't be afraid to try "different" veggies. I recommend trying something new every few weeks; just one thing. Maybe that will be sprouts, brussels sprouts, kohlrabi, swiss chard, squash (like zucchini or various seasonal squashes) or radishes. Even if you've tried a veggie before and didn't like it, pick it up again and try a different preparation method.
2. Use simple methods to prepare new veggies: roasted, served in salads, quick pickled (radishes are great veggies to quick pickle), or served raw or roasted with a dip or sauce. If you don't care for a particular veggie or preparation method, research new ways to prepare it (i.e. search online: zucchini recipe ideas).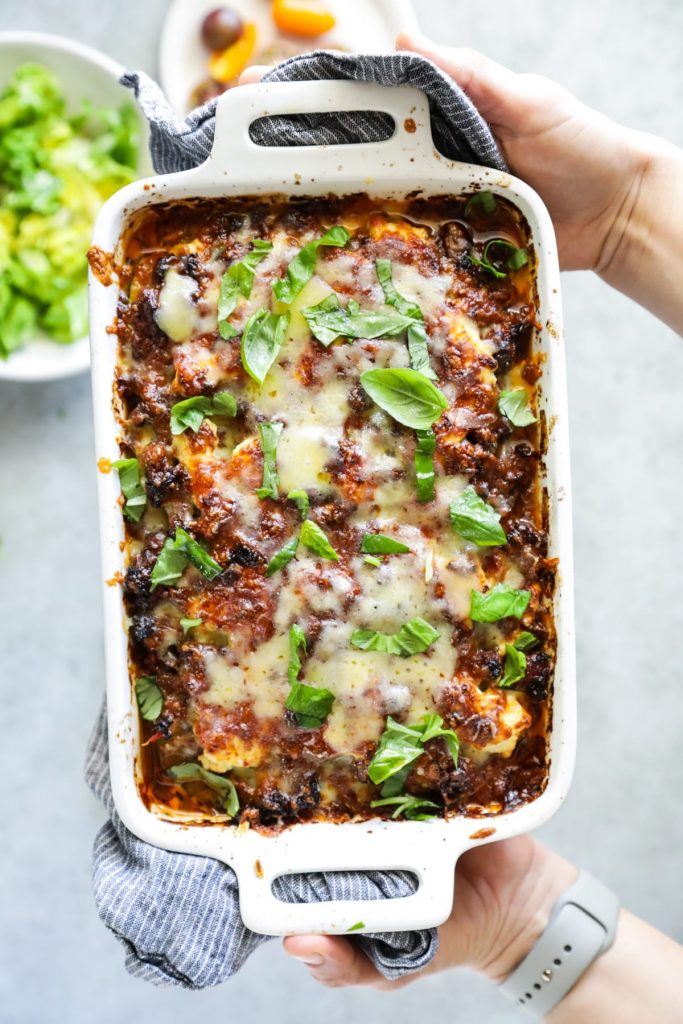 Now, how about some zucchini lasagna?
Zucchini Lasagna Casserole
Use seasonal zucchini to make this veggie-packed twist on classic cheese and meat lasagna.
Ingredients
Zucchini "Noodles" Layer:
3

medium

zucchini

salt

for sprinkling the zucchini
Meat Sauce:
2

TB

extra virgin olive oil

1

medium

yellow onion

diced

1

medium

green bell pepper

diced

3

garlic cloves

minced

1

lb

ground beef

1/2

tsp

salt

1/4

tsp

black pepper

2

TB

tomato paste

1/4

cup

water

1

14.5 ounce

can diced tomatoes

2

TB

red wine

1

tsp

dried oregano

1

tsp

dried thyme
Cheese:
1

cup

ricotta cheese

1

cup

shredded mozzarella cheese

1/4

cup

grated parmesan cheese
Instructions
Slice the zucchini into thin strips (they shouldn't fall apart, just thin enough to be considered lasagna noodles). Sprinkle both sides of the zucchini slices lightly with salt to draw out the moisture, then set aside. I keep my slices on a couple of cutting boards.

Heat the olive oil in a large skillet with high sides, over medium heat, then add the onions and green peppers. Saute the veggies for about 5 minutes, or until the peppers begin to soften and the onions are translucent.

Add the ground beef, salt, and black pepper to the skillet. Cook the mixture until the beef is completely browned. Drain off any excess fat. Add the garlic, stirring to combine the garlic with the other ingredients in the skillet.

Combine the tomato paste and water in a small bowl, and then pour it into the beef mixture, along with the diced tomatoes, wine, oregano, and thyme. Simmer for about 5 minutes, stirring frequently, until much of the moisture is gone.

Pat the zucchini dry with a paper towel (or kitchen towel), then lay several zucchini "noodles" in a single layer in the bottom of a 9x12 baking dish (you can also use a 9x9 pan).

Preheat the oven to 375F.

Spread 1 1/4 cup layer of meat sauce evenly in the base of the baking dish, then evenly distribute a 1/4 cup of ricotta cheese over the meat (think: small blobs scattered over the sauce). Finally, sprinkle some of the mozzarella cheese over the sauce and ricotta.

Repeat the layers (zucchini, meat sauce, ricotta, mozzarella) 3 times to build the lasagna.

Top with the final layer of zucchini, then sprinkle evenly with parmesan cheese and the remaining mozzarella cheese.

Cover the lasagna with foil and and bake for 30 minutes. Remove the foil and bake 20 more minutes. The lasagna will bubble and the cheese should be golden brown.

Let the lasagna sit for 10-15 minutes before serving.
Notes
I recommend cutting the zucchini in half, and then cutting the zucchini halves into strips/noodles. I've found this to be the easiest method for cutting even zucchini strips/noodles. Of course, this may vary with the length of your zucchini. 
I love the addition of red wine. It adds a subtle flavor to the sauce. If you'd prefer to skip this ingredient, you're welcome to do so. The sauce and lasagna taste great even without the wine. 
Nutrition
Calories:
402
kcal
Carbohydrates:
9
g
Protein:
24
g
Fat:
29
g
Saturated Fat:
12
g
Cholesterol:
87
mg
Sodium:
503
mg
Potassium:
637
mg
Fiber:
1
g
Sugar:
4
g
Vitamin A:
650
IU
Vitamin C:
36.5
mg
Calcium:
250
mg
Iron:
2.6
mg